Platinum-selling producer ILLENIUM drops his latest album, Fallen Embers, and introduces fans to the newest chapter of his music.
---
Few producers have seen as meteoric of a rise as ILLENIUM. With chart-topping hits, billions of streams, and sold-out, headlining performances across the world, he's garnered a massive and devoted fanbase who have anxiously been awaiting a new album. Coming fresh off the high of his historic three-set Trilogy show in Las Vegas celebrating his first three albums – Ashes, Awake and Ascend – he now presents Fallen Embers, out now on 12Tone Music.
For his fourth studio album, ILLENIUM embarks on a new sonic chapter of his career as he evolves beyond the melodic and future bass music foundations of his previous albums. Fallen Embers features six previously released singles as well as six brand new tracks – and he's joined by powerhouse collaborators including Tori Kelly, Annika Wells, Dabin, SLANDER, Excision, and Said the Sky along the way.
Listen to Fallen Embers on Spotify or your preferred platform, and read on for a deeper dive into the tracks found within it.
Stream ILLENIUM – Fallen Embers on Spotify:
---
The story begins with "Blame Myself" feauring GRAMMY award winning singer Tori Kelly.
"Blame Myself" is the perfect embodiment of the pop-crossover style that's propelled ILLENIUM into mainstream success. The dynamic drums and guitar-forward production is reminiscent of tracks off Ascend. The soundscape tugs at heartstrings and Tori Kelly's vocals are perfectly placed within its runtime – it's a fantastic kick-off to the album and will leave listeners excited to hear more.
"Heavenly Side" featuring Matt Maeson was the last single release and arrives second on the album. Here ILLENIUM diverges from his previous genres, introducing his evolution into pop-rock seemingly expanding his audience by appealing to a younger demographic. Critics of this new sound said he was pandering, and that they expected more of the same as his previous albums. But that being said, ILLENIUM has spoken about being a fan of pop-rock and punk, so it makes sense that he would draw from those genres for inspiration. Artists should be given the chance to grow. Whether or not you enjoy the evolution of their sound, you can still appreciate the work behind it.
Pop-rock influences continue in "Fragments" featuring Natalie Taylor, "First Time" featuring iann dior, and "U & Me" featuring Sasha Sloane. All three are vocally driven and still incorporate the backing sound that is signature to ILLENIUM but with a fresh take. Tom DeLonge and Angels & Airwaves take the rock/electronic crossover to a whole new level in "Paper Thin" and further cement the transition that he's made in his style.
Valierie Broussard and Nurko join ILLENIUM on "Sideways," a melodic bass track with trance elements in the build. The lyrics sing, "If the world is going sideways I know my place is here with you." It's about support and love during difficult times, which is so apt for the past year and a half. The song has already resonated with so many fans since its release as a single.
On "Nightlight," ILLENIUM brings back singer Annika Wells who was previously featured in tracks on Awake and Ascend. As the lead single off the album, "Nightlight" has already seen praise globally from tastemakers and his fans alike. Magic happens when Wells and ILLENIUM come together. During the verses, her beautiful voice is front and center by the song builds into an epic hook packed full to the brim with orchestral strings and electric guitar to create the cinematic universe that is Fallen Embers.
A beautiful guitar melody opens "Hearts on Fire." You can hear more of Dabin's electric guitar stylings under Lights' vocals. The highly-anticipated collaboration with Krewella and SLANDER, "Lay It Down" follows. The gentle touch on this song comes through in full with the vulnerability of its lyrics that are amplified by its euphoric beat. There's just enough energy to get you moving while the emotion-fueled vocals will bring tears to your eyes.
Listeners are in for a ride with "In My Mind" with its melodic dubstep touches, HALIENE's stunning voice, and the intense second drop to be expected from an Excision collab. The faction of fans who love ILLENIUM's harder bass music are given just a taste of that era in this track.
And an album from ILLENIUM wouldn't be complete without a collaboration with his best friend Said the Sky. "Crazy Times" features Rock Mafia's vocals pitched up over soft piano chords and snare drums, reminding us that life is worth living. Both that song and the final one on Fallen Embers, "Brave Soul," were previewed at the Trilogy show. Written with Emma Grace, "Brave Soul" is an extremely emotional song about the loss of her brother. Not only is ILLENIUM close to the Grace family but also dealt with addiction himself so the song is deeply personal.
Fallen Embers is the beginning of a new chapter for ILLENIUM that delves into some of the deepest emotions of love and grief that make up the human experience. Whether you're a longtime or new fan, you can find themes that resonate and hit home, which speaks to ILLENIUM's love for songwriting. Stylistic nuances from his older music as well as new genre-blending production show his growth as a producer and it will leave you wondering what he has planned next.
---
ILLENIUM – Fallen Embers – Tracklist:
Blame Myself w/ Tori Kelly
Heavenly Side w/ Matt Maeson
Fragments w/ Natalie Taylor
Sideways w/ Valerie Broussard and Nurko
First Time w/ iann dior
U & Me w/ Sasha Sloan
Nightlight w/ Anikka Wells
Hearts on Fire w/ Dabin and Lights
Lay It Down w/ Krewella and SLANDER
Losing Patience w/ nothing,nowhere
In My Mind w/ Excision and HALIENE
Paper Thin w/ Tom DeLonge and Angels & Airwaves
Crazy Times w/ SAID THE SKY and Rock Mafia
Brave Soul w/ Emma Grace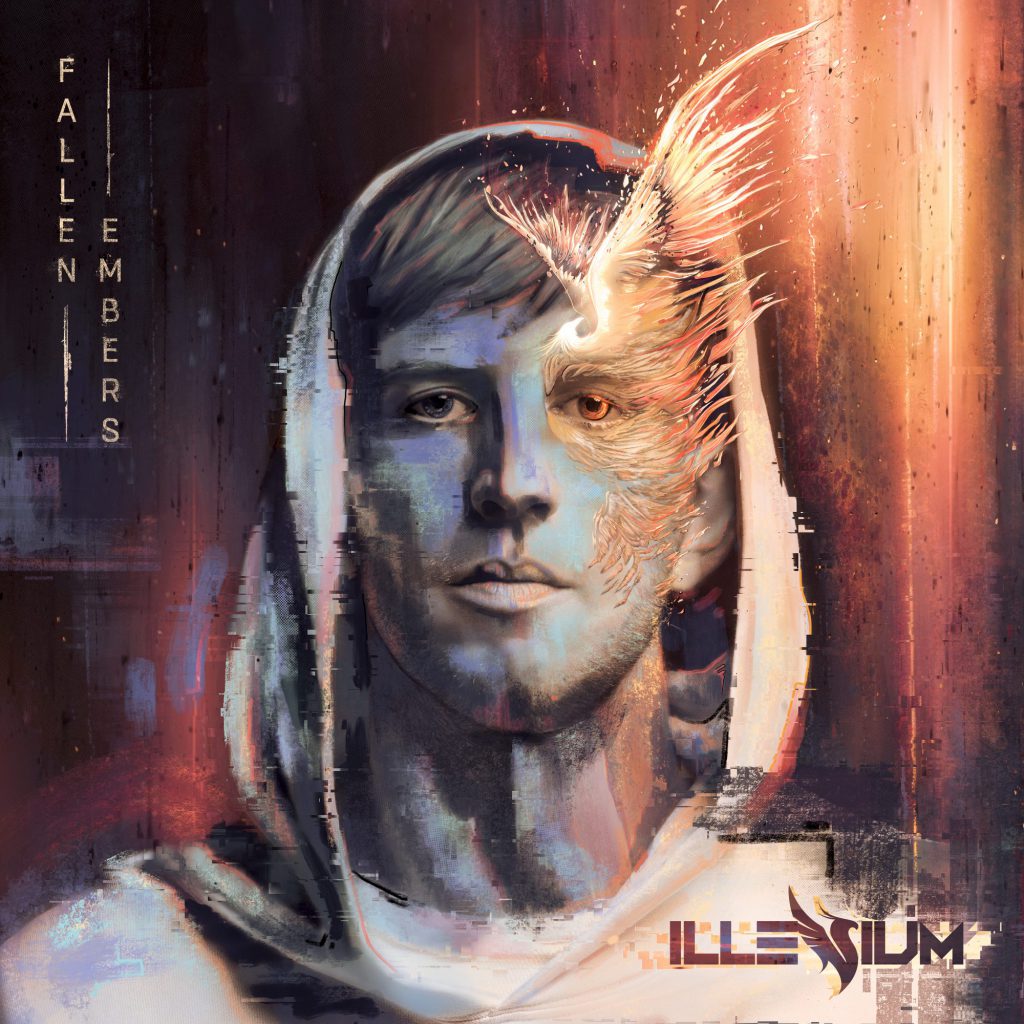 ---
Follow ILLENIUM on Social Media:
Website | Facebook | Twitter | Instagram | SoundCloud | YouTube | Twitch