The Widdler, The Glitch Mob, Mickman, DMVU, N-Type, Anna Morgan, Hamdi, and more are slated to play the upcoming edition of Infrasound.
---
Hidden in the woods of Southern Minnesota farmland resides a precious gem of a festival known as Infrasound. An event celebrating sound system culture, Infrasound has been steadily pushing this style of electronic music in the Midwest for over a decade. Each of the three stages at Infrasound boasts a different designer sound system, and they alternate systems between the spring event and the fall event, Equinox. This year's Spring event will be taking place May 18-20 at their beautiful Harmony Park Music Garden home in Clarks Grove, MN.
Before the official lineup announcement, it was revealed that wave musicians Skeler, barnacle boi, and brothel's US tour would be making a stop at Infrasound, and these are definitely performances that the infra-fam has been waiting to see at Harmony Park. Today, the rest of the lineup was revealed for their faithful attendees to feast their eyes on. Immediate standouts include beloved artists like Mr Carmack, The Glitch Mob, Mickman, The Widdler, Pushloop, and kLL Bill, not to mention two sets from Ternion Sound, Gentlemens Club, Mad Zach, N-Type, and DMVU, and it only gets better from there.
Artists who have been dominating the scene lately who will be joining in on the fun at Infrasound include Hamdi, Hypho, Potions, sumthin sumthin, Black Carl!, and Saka. And there's no doubt that you should be at sets from Anna Morgan, Resonant Language, Redrum, LYNY, Kode9, Jon Casey, and Deadcrow, who will be sure to put on insane performances when they take the stage.
Tickets for this year's spring edition of Infrasound Festival are on sale now via The Ticketing Co., so be sure to grab yours if you plan on joining us under the oaks at Harmony Park next month.
---
Infrasound 2023 – Lineup: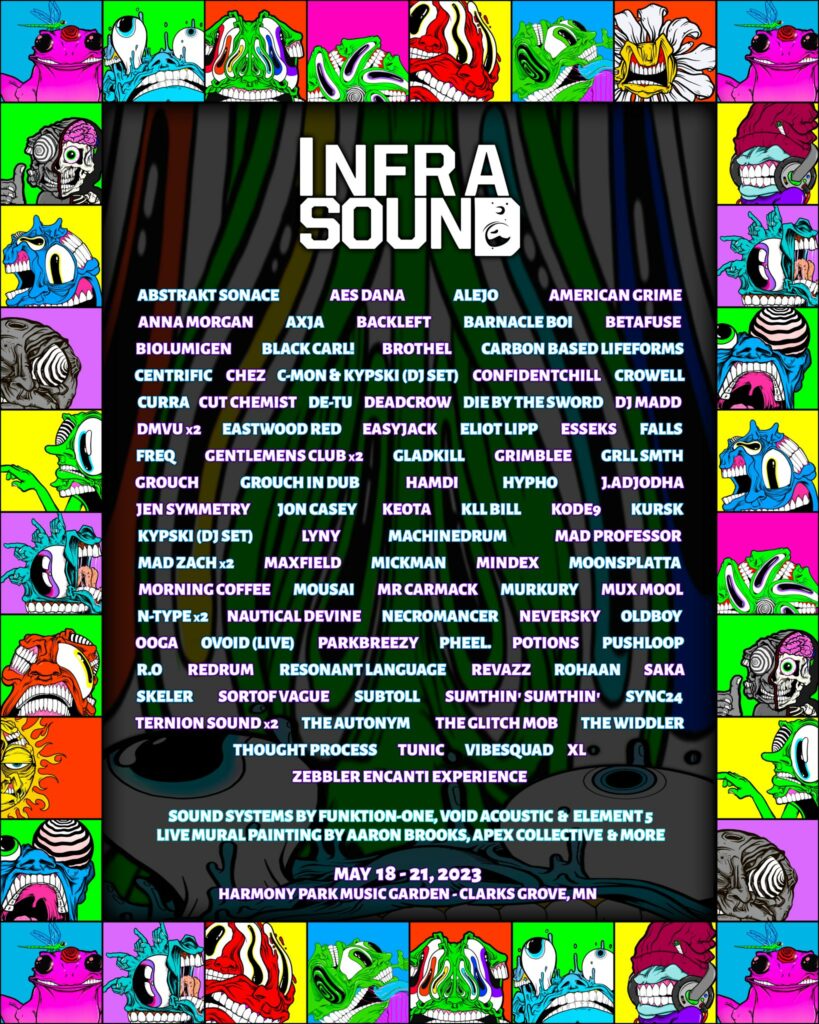 ---
Follow Infrasound: