Vibe Digital and Kompass Management are bringing wave music to a city near you this spring with Skeler, brothel., and barnacle boi.
---
The wave music masterminds of Vibe Digital USA have teamed up with Kompass Management to put together a full US tour of strictly wave music, and their die-hard fans seriously can't wait. Those who have fallen in love with the genre have been waiting quite some time for more of this niche electronic music style to appear on more stages throughout the US, as wave music shows tend to be few and far between. Now, they're getting just that with Skeler, brothel., and barnacle boi's forthcoming run of shows.
Their nameless, co-headline 2023 tour is set to run from April 6 – May 20 and includes almost every major US city one could hope for. It kicks off for the opening date of the tour run in Los Angeles with Brownies & Lemonade and includes plenty of exciting venues and festivals along the way, like DEF in Atlanta, Sol Fest, and Infrasound, whose full lineup has yet to be revealed.
While most of the tour dates are set to include all three of the wave talents listed on the flyer, Skeler, brothel, and barnacle boi, it includes a key marking who exactly will be at each of the shows. The Vibe Digital team also revealed that some dates would have additional support from Noah B, REMNANT, and Ktrek. There's no doubt that if you're a wave music fan, you are not going to want to miss this tour.
Tickets for Skeler, brothel., and barnacle boi are on sale now, so be sure to scoop yours if you plan on embarking on the full wave experience and let us know if you plan to attend on Twitter!
---
barnacle boi, brothel, and Skeler – 2023 US Tour Dates: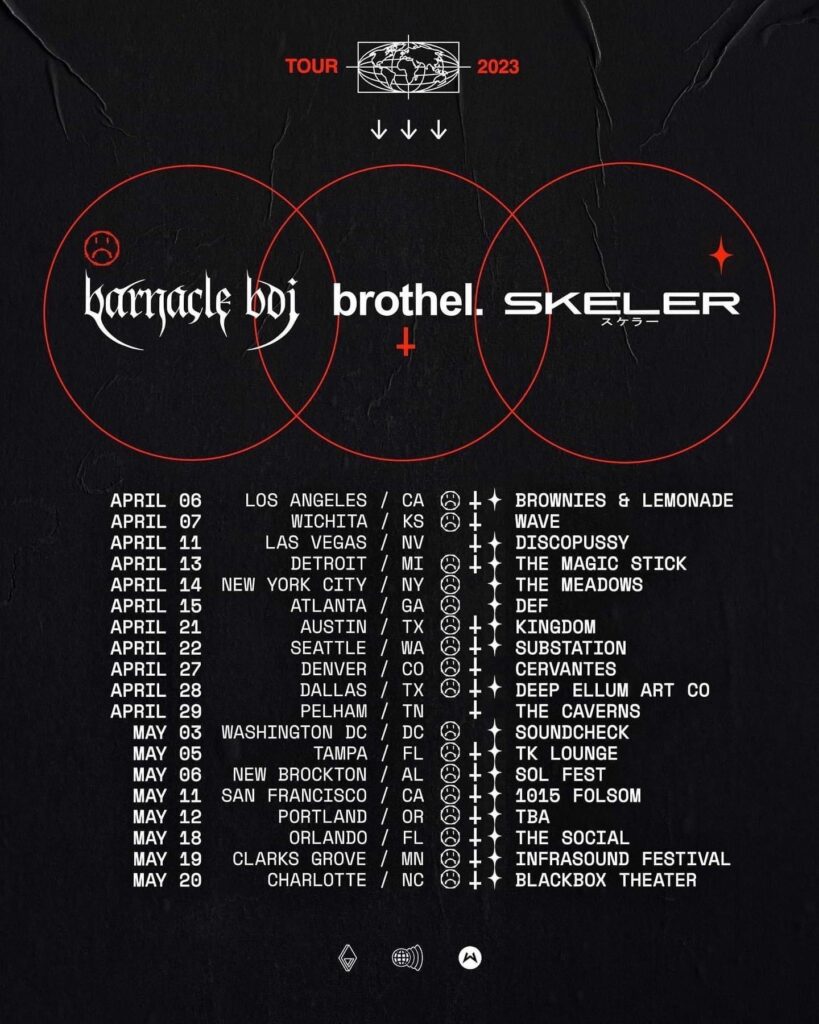 ---
Follow Vibe Digital:
Website | Facebook | Twitter | Instagram | SoundCloud