RVDIOVCTIVE co-founder Devon James pushes the boundaries of his creativity with the release of his debut album, Love Reach.
---
Devon James is no stranger to the music industry, having worked with artists and brands in various genres while also becoming a force to be reckoned with as co-founder of RVDIOVCTIVE along the way. And during this time, he developed a passion for indie dance, disco, and house music that has since been at the forefront of his releases. After launching the label side of RVDIOVCTIVE a decade after throwing its first shows, the imprint has hosted a plethora of sounds from talented artists who are bringing something fresh to the scene – and now it's Devon James' turn to impress with Love Reach.
Out now across all platforms, Love Reach might be Devon James' debut album, but it also acts as an effective "coming of age" story that explores his influences and showcases his desire to shake things up in the scene. Dynamic soundscapes filled with dancefloor-ready grooves that are boosted by a hearty list of collaborators, all of whom are friends and family of James, are found within its nine tracks, and there's little doubt that you won't come back for a repeat listen after it concludes.
My intention [with the album] is to just say something different—nothing any better, nothing any worse. I just want to bring the conversation somewhere else. It's the same philosophy we've had with RVDIOVCTIVE and wanting to put on different artists. It's something very important to me in general: not doing the same thing that other people are doing, but pushing things forward or outward in a different direction.

Devon James
While each of the tracks stands tall in this collection, there are some that deserve some added love. "Still in Love" is a disco-infused gem that brings stunning vocals from Avianna Acid into the mix for a groovy ride that will surely strike a chord in your soul. The throwback vibes and vocals from Pretty Heavy on "Brighter Day" will beam sunshine straight into your mind, while Devon James' solo track "Turn You Scars Into Stars" plays in contrast with more pensive atmospheres.
We'd be remiss not to mention the title track, which features vocals from legendary artist Lee Scratch Perry and was recorded prior to his passing. It's a gorgeous tune that is perfect for any late night spent on a dark dancefloor when you're vibing out with friends. From the vocals to the hypnotic beat, it's a true standout on this album that you can't help but move your body to.
Listen to Love Reach on Spotify, grab your copy on Beatport, and make sure to follow Devon James to stay in the know on future releases and shows.
Stream Devon James – Love Reach on Spotify:
---
Devon James – Love Reach – Tracklist:
Still in Love (with Avianna Acid)
Risky Business (with Hundreds Thousands)
Brighter Day (with Pretty Heavy)
Cross the Line (with Tin)
Turn Your Scars Into Stars
Do You (with Jessi Olsen)
Strangers (with Pretty Heavy and IAN LIVE)
Love Reach (with Lee "Scratch" Perry)
Move, Again (with Pretty Heavy)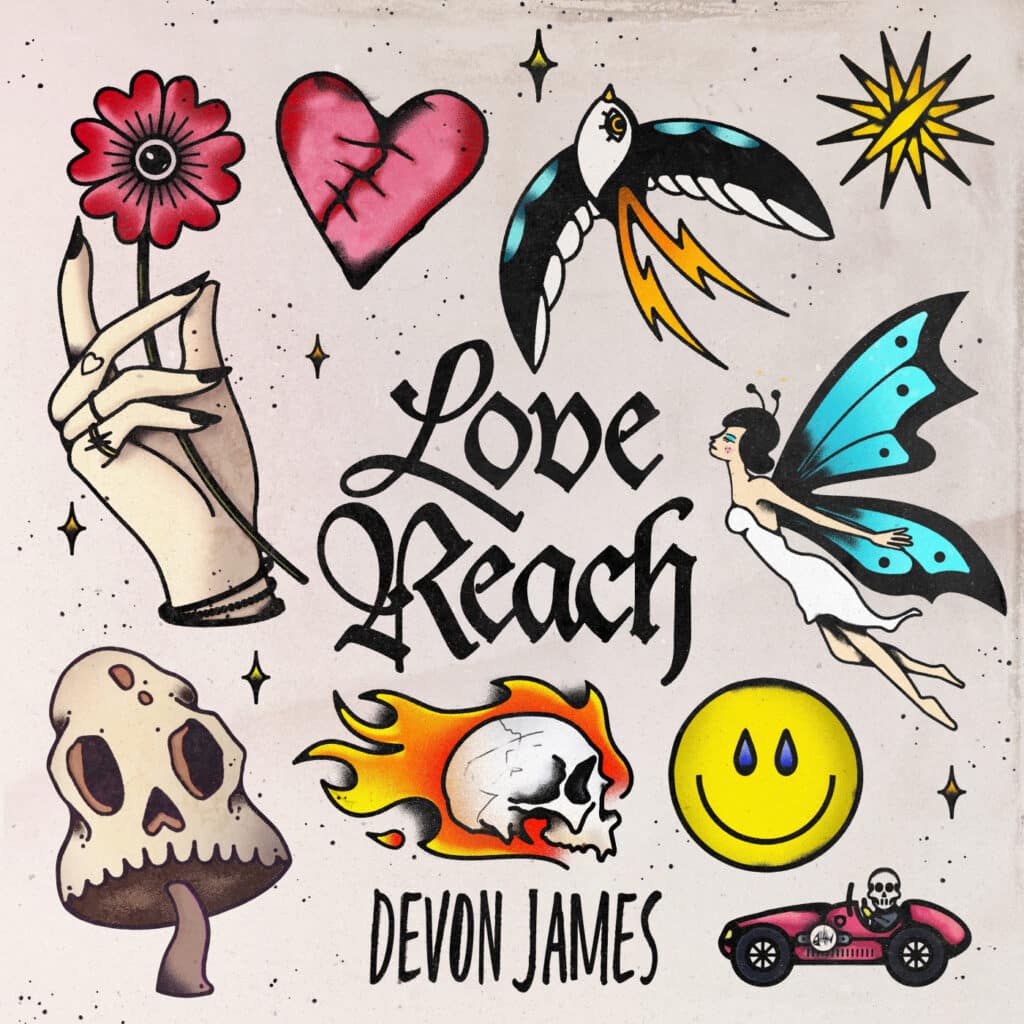 ---
Follow Devon James:
Facebook | Twitter | Instagram | SoundCloud