As Miami Music Week kicks off in style, Devon James swung by to chat about the launch of RVDIOVCTIVE Records and plenty more.
---
Since first appearing at Miami Music Week, Devon James and the RVDIOVCTIVE crew have become a force to be reckoned with for dance music lovers flocking to the sun-soaked city. This collective is based out of New York City, and they bring the heat with every one of their showcases when they head south.
Devon James should be a familiar name if you've been listening to house music lately or attended a show hosted by RVDIOVCTIVE in the past. Not only has he dropped some fantastic releases like the Madness EP with Warung and "Dazzler" with Felix Da Housecat and Gettoblaster, but he also continues to dominate dancefloors wherever he plays.
This year is shaping up to be another massive celebration for RVDIOVCTIVE with the recent launch of their imprint. This new venture sees Devon James take his years of experience managing other labels in the scene, and their debut release, RVDIOVCTIVE Vol. 1, showcases the immense curation they intend to offer. Among the 15 tracks are artists like Rufus, Choopsie, Tony Quattro, Subrinse, Ian Allen, and Devon James himself – making it quite the rocking start.
Ahead of the RVDIOVCTIVE showcase during Miami Music Week on March 23 and their other shows that will put artists from Desert Hearts, ANTS, SOUP, and more on display, Devon James swung by to give us all the juicy details. Check out his recent single, "No Boyfriend," on Spotify, download RVDIOVCTIVE Vol. 1 on Beatport, and read on for the full conversation.
Stream Devon James – No Boyfriend on Spotify:
---
Hi Devon, thanks so much for chatting with us today, and congrats on the launch of the imprint side of RVDIOVCTIVE. What was the driving force behind the creation of this new label?
I have been running other labels for the last few years now and was planning to launch my own label outside of RVDIOVCTIVE, actually. I was working on the branding for that when James, one of my partners in RVDIOVCTIVE, mentioned that our friend Ben Inada was talking to him about wanting to help us get an RVDIOVCTIVE label started. In the past, we never really wanted to put out music under the brand, but after the pandemic, I think we all changed our minds about that.
We prefer to operate live events but being stuck at home for two years definitely made us reconsider and think about ways to interact with and build our community outside of live events. 2022 also marks ten years for us, so it seemed like a good time to start a label and highlight many of the amazing artists we've worked with over the years. Ben, James, and I started meeting once a week a few months back and put the pieces together. 
You marked the label's launch with the release of a stunning compilation that featured a whopping 15 tracks from artists like Ian Allen, Wrenga, Tony Quattro, Choopsie, Billy Cave, and more. What was the curation process like when deciding which tunes made the cut?
We knew we wanted to have some of the artists we've been working with from the beginning, so we just started hitting up a few people asking for tracks. Tony Quattro was one of the first people we ever booked and has played so much for us in the past –  from NYC to Miami, LA to San Francisco, and Detroit. There are few people who have played for us more than Tony. I also reached out to Rufus, a good buddy of mine who had been living in Buffalo but is now in Austin. Our birthdays are a few days apart in January, and we have been doing a joint party weekend where he comes and plays NYC, and I went to Buffalo.
I also reached out to NEY x MISS MAK personally. They have been good friends for a while and usually play whenever we do events in the Bay Area. I've seen them hustling and working on music a lot over the pandemic, and their skills have improved tenfold. I was blown away by their submission, and it's actually one of my favorite tracks on the compilation. Love & Logic have been close collaborators on our events for the last few years, and a few of us have released music and done remixes for SOUP, so we wanted to include them in the launch.
John (Subrinse) is a good friend of ours and grew up with Will OB, one of the other partners. We met Billy Cave through John. Will OB and I have gone out to Nashville a few times to play for them, and it's always been such a blast. We wanted to show them some love on this for sure too. Alex Cecil is someone I met years ago in NYC but reconnected with in Miami during Art Basel. I told him we were working on the label, and he sent us some great options, but I chose Resté because of how unique it is.
One of the first records we signed was from Alex Remnick (Reminqe), who submitted after we made a Facebook post telling people to send us tunes. They have been a friend and supporter of ours for a very long time and is another person whose submission blew me away. I could tell they have been putting in the work in the studio. Same with Ian Allen. That kid has so much heat right now it's crazy. I knew about him and had been paying attention to what he's been doing since he was doing his other alias, Burn1.
The last track we signed was Choopsie's and is another one of my personal favorites. She emailed an account I hardly check but one day decided to comb through when I saw her email asking to play a party sometime. I checked out her profile and was like, damn, she has some cool tunes. I asked if she had any songs finished because the compilation was getting finalized that week. She sent over nine finished, amazing songs, and I picked up two of them. The rest of the tracks come from myself and our residents – James, Pierce (Sumkind), Mike (Rupert Wall), and Will OB – who launched his new alias, Wrenga. 
Do you already have some releases on the label for the coming months? Are you currently accepting promos from aspiring artists?
Our release plan for the first year is to do four compilations, one each quarter. The next one is coming out in June – then we are planning for September and December as well. Starting in 2023, we will start doing singles and EPs but also want to do at least one compilation a year. We are accepting submissions, and tracks can be sent to [email protected]. We welcome new aspiring artists to submit as well as people who have been around for 10+ years. We don't care what your name is, your status, what other labels you've released with, or any of that –  as long as they're putting out good tunes, we will consider it. 
Now that this label has arrived on the scene, where do you plan to take it in the coming years? 
I want RVDIOVCTIVE to be a household name known for putting out unique and fresh music. We are never going to follow a certain trend or sound. Just like we've done for our events. We want to give artists a place where they feel like they belong and can be comfortable experimenting or branching out from their sound. We hope to get some crazy collaborations between artists that you would expect. For inspiration, I look at labels like Ninja Tune, Warp, and XL Recordings.
We want to put out versatile dope music, and we want to do things at a high level in terms of our organization. I've released on labels that haven't submitted things on time or just kind of throw up a release and don't put much behind it. Each release we do will get our time, effort, and attention. Beyond that – we plan to produce live events and step up things there. Ultimately our lineups would include the artists we are releasing with or hope to release with. We also are planning to do some artist development/management, and I am currently building a team to manage that. That's a bit further down the road, though.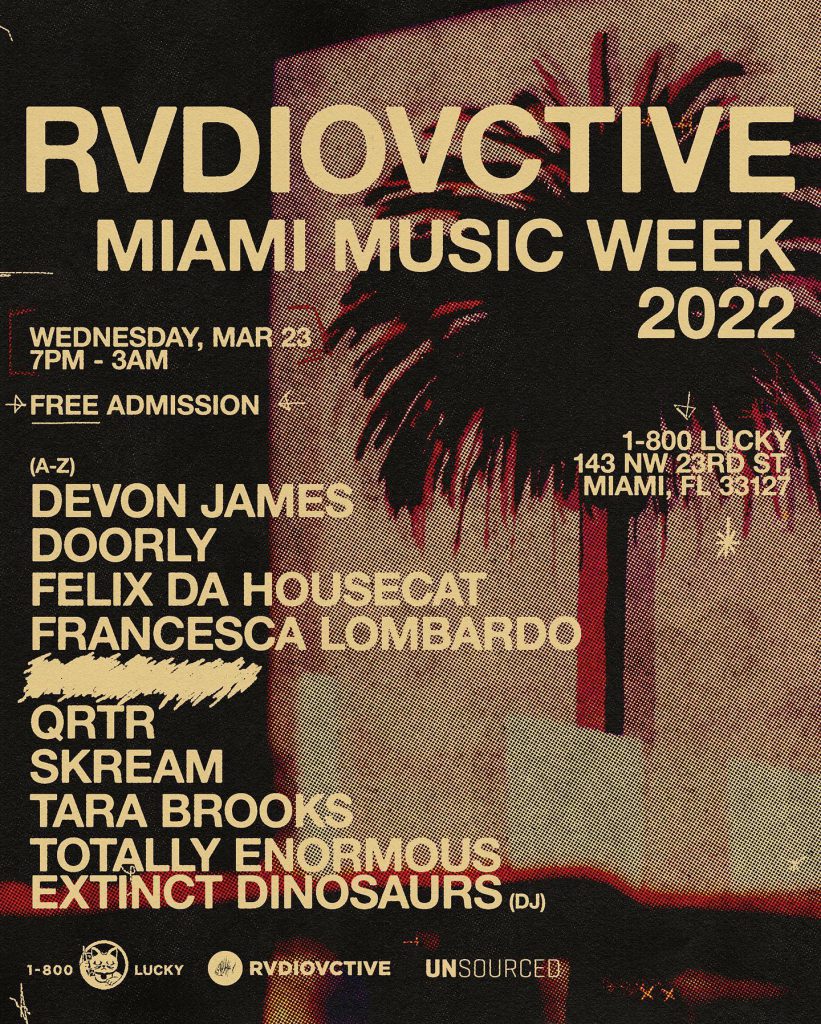 While the imprint might be new, RVDIOVCTIVE was previously defined by its curated showcases. What sparked your initial interest to start throwing shows, and looking back, is there one that stands out as extra special?
I have personally been organizing shows since I was 13, playing with my band in middle school. My dad is a keyboard player and manager of his band, so I grew up watching him play and put together tours worldwide. I went on tour with him the summer before I started college, and that absolutely changed my life and gave me a new perspective of what I wanted to do. When I graduated from college, I started working at Dubspot, which is where I met two of my partners, James and Pierce. Another one of my good friends, Jon Conklin, worked on the video team. We all became super close and started hanging out with each other outside of work, and ultimately we ended up moving in together at the infamous McKibben lofts in Brooklyn. We threw a couple of ragers in our apartment just for fun.
Then, Jon and Pierce got the idea to do a party while our other friend, Jim, painted a mural, and Jon would film the party and make it into a dope time-lapse recap. Pierce came up with the name RVDIOVCTIVE and the fish design. This is how RVDIOVCTIVE was born. It was just a support system between our friends working on different projects, not even events.
We used to film teasers for the parties and do other stuff to add to the experience, like having my best friend Matt Smiroldo come in and do live art, sometimes with another person. Matt is the designer for the cover art for the compilation too. The idea behind RVDIOVCTIVE was that we could all bring our respective projects to the table, and there would be at least six or seven other people who could support them in someone, even if it just meant being a body in the room at the start of a party. 
One of the most memorable, epic events was our Miami Music Week party in 2015. It was on the roof of the Congress Hotel, which has a pool and capacity of about 200 people. We booked Mija, Jauz, and NGHTMRE for that party before any of their careers blew up. We also had Felix Da Housecat, Djembe Djembe, Codes, Cassian, Astronomar, Tony Quattro, Meaux Green, J Paul Getto, DJ Mes, DJ E-Clyps – and a bunch more. It's crazy to look back on that party and see where some of those artists are today. It was a free party, and it got so crazy.
We had fire performers and live body painting, and at one point, a bunch of us jumped in the pool, and someone definitely got totally naked and almost kicked out. The cops came while Jauz was playing and tried to shut us down, but I asked them to show me the decibels that said we were over. They didn't have any equipment, so they left and let us keep the party going. Many bigger DJs came out to hang at that party and even some celebrities. [Laughs] It was one of the most ratchet events we've ever had, but it also started some amazing relationships that we still hold on to this day. 
Pandemic aside, what has been one of the biggest challenges you've faced while growing RVDIOVCTIVE over the years?
We started off by throwing free parties for the first few years of our existence. Literally, every party we did for like five years was completely and totally free. It was a serious challenge trying to grow the brand and book bigger artists that would be willing to play for what we had to offer. We developed some great relationships early on with a few amazing artists who didn't really care what we could pay but just wanted to come to play for a group of music lovers who appreciated them being there.
Shout out to Felix Da Housecat, Mija, Tony Quattro, Mess Kid, MikeQ, Codes, Treasure Fingers, and The Knocks. These people played for us in our very early days for pennies on the dollar and helped us get our name out there. We really leaned on these relationships, kept booking these artists, and slowly introduced new people who saw what we were doing and got excited.
It was definitely a challenge for those first few years getting agents to trust us with their bigger artists because we were doing all this rogue stuff and sending offers that some might find insulting. Just know that all of the artists who have played for us in the ten years of our existence have wanted to do so. We've been slowly but surely growing a community of like-minded people who want to come together to share and celebrate their art and expression.
You have a number of shows in the works during Miami Music Week this year, including a massive one at 1-800-LUCKY. What makes this week in music unique to you, and are there any surprises in store for those attending RVDIOVCTIVE's shows?
Miami Music Week is kind of like our Super Bowl or World Series. We live for this week. I did my first MMW in 2012. I had just started tour managing for Felix Da Housecat and somehow was tasked with producing his official Ultra after party. Busy P showed up with Justice and asked to play earlier so he could make another party that they were playing. Another DJ who shall not be named refused to accommodate, and Busy P left with Justice, my idols at the time, without playing.
After that party, we went over to Diddy's house for an after-party that he and Felix have been doing for years called "the Breakfast Club. It was the craziest party I've ever been to in my life. This was my first crash course in Miami, and it made me fall in love with the place. I got to see how special this week was for everyone in the music industry. It felt like everyone who was doing anything in dance music was there and was excited about it.
The following year I came back with my newly formed RVDIOVCTIVE crew, and we threw our first event. We started throwing our first events in Brooklyn just a few months before that, and as I mentioned previously, those events were free. We wanted to do a free party in Miami because we were just a bunch of young kids with no money, and we wanted to do a party for the people. We've been back every year since and have always had free parties with some amazing artists. These parties have helped us stand out and make a name for ourselves in the international dance music scene. 
---
Follow Devon James on Social Media:
Facebook | Twitter | Instagram | SoundCloud
Follow RVDIOVCTIVE on Social Media:
Website | Facebook | Twitter | Instagram | SoundCloud