Brooklyn's Moon Boots excites and diversifies as he returns to Anjunadeep with his imaginative third album, Ride Away.
---
Growing up, the kids in the neighborhood and I all wanted some Moon Boots, a very specific pair of oversized winter boots. We didn't want them for the practicality of winter weather on Long Island; for us, they were a status symbol, a connection to the culture and the stylish tastemakers who rocked them. Brooklyn's Pete Dougherty, who's aptly named his moniker for the stylish shoe, has kept that connection to the culture alive and thriving since his debut as Moon Boots.
Producing avidly for the last decade, Moon Boots' groovy and hypnotic productions blending deep house, soul music, and disco caught the eyes and ears of labels such as Nurvous, French Express, and Anjunadeep. The latter of the three has become a staple for his unique productions since 2015, with his single "Red Sky" landing on their renowned Anjunadeep compilation series.
In 2017, Moon Boots cemented his place on the British label with his debut LP, First Landing. Two years later, he returned with his follow-up album, Bimini Road. While First Landing gave the Anjunadeep faithful something distinctive, Bimini Road saw the producer diversify himself even more. Now, after a period of life changes, including the birth of his first daughter, the two-year creative process of Moon Boots' third album has culminated with Ride Away, which demonstrates yet another evolutionary chapter in his artistic journey.
Take a listen to Ride Away on Spotify or your preferred platform, and keep reading below for our thoughts on Moon Boots' album!
Stream Moon Boots – Ride Away on Spotify:
---
Roll the windows down, drop the top, and Ride Away.
Starting off with the title track, "Ride Away" sees the return of collaborator Steven Klavier, whose soulful falsetto compliments the bouncy, synth-laden production for an absolute earworm that sets the tone for the rest of the album. Following up, Cherry Glazerr lends her voice to the equally groovy "Come Back Around," while Black Gatsby's deep tones seduce and inject a hint of gospel on "Hot Minute." All three of these tracks draw from classic house that Dougherty was immersed in when he lived in Chicago, watching and becoming inspired by legends such as Frankie Knuckles and Derrick Carter as they defined the genre birthed in The Windy City.
"Manitou," as one of the two pure instrumentals on Ride Away, shifts into familiar territory for Moon Boots: laid-back, sunny deep house with vibrant piano notes and a groovy bassline while beautifully leading into the more slow-tempo "On & On (Effortless)." Dope Earth Alien is the perfect collaborator on this track; "On & On (Effortless)" is another testament to the eccentric combination of styles Moon Boots has crafted over his career, combining his slick piano house production with the stylish R&B vocals of the songwriter that transcends conventional approaches to both.
"Take Me To Your Body" sees the familiar Nic Hanson slide into the album effortlessly with another seductive house cut before Moon Boots slows it down again on the retrospective "Refuge," another team-up with Steven Klavier that sees the pair dive into synth-pop on this six-minute cruising anthem. The nostalgic vibes continue with "Only Direction," another synth-pop jam that combines French songstress Praa's upbeat vocals with Dougherty's bright production.
Penultimately, "Wrong Note" is one of the most energetic tracks on Ride Away, as Norway's Ora The Molecule channels classic vogue on this homage to the classic '80s Harlem house. A fresh take on the sound of Dougherty's upbringing, the connection to Brooklyn on "Wrong Note" stands out in a way that resonates with anyone who grew up listening to the high-tempo house and brings it into the new millennium with aplomb. Closing out the album is another instrumental, "Last Exit." Simultaneously upbeat yet somber and reflective, the melodic side of Dougherty's productions combined with the intricate attention to detail closes sees "Last Exit" close Ride Away with an exclamation point as opposed to a period.
Ride Away is about the drive, not the destination.
There's a lot to unpack on this album. In a lot of ways, Ride Away represents the duality of the musician's journey as an artist. On one hand, you have Pete Dougherty: a Brooklyn native, an introvert, and a lover of synthesizers since his childhood. Dougherty's adolescence was filled with block parties filled with the sounds of classic soul, and his college years at Princeton saw him discover a love of disco before the winds of change brought him to Chicago and their famous warehouse parties.
A few years of playing with his beloved synths for the band Hey Champ saw a passion for production bloom, and Moon Boots was born. On the other hand, you have the globe-trotting producer Moon Boots: an electric and eccentric DJ and musician whose encounter with legendary French Express label boss Perseus gave him a platform to shine. From there, Moon Boots' love of R&B and French house distinguished his productions from the rest of the pack, and over time, his productions evolved to become unique in their own right, gaining the love of Anjunadeep and seeing himself remixing Dua Lipa, Robyn, and legendary Chic guitarist and producer Nile Rodgers.
Ride Away represents the two halves of Dougherty and Moon Boots, the culmination of influences from a long-time musical aficionado, storied and traveled, with influences ranging from Brooklyn to Chicago, Motown to London, and R&B to Psychedelia. It's in these dualities, as well as the dualities of life itself and the tedious crafting of Ride Away, the periods of creative brilliance versus crippling self-doubt in the two years it took to write the album, that Moon Boots has birthed his most ambitious and encompassing work to date.
Yet, despite the influences, Dougherty drew from to make his diverse third album, the message of it is very simple in his own words: "My intention is for people to feel free when they hear this album, to get recharged, to be stimulated by something they've never heard before." All of the beauty in this album comes from the feeling of freedom, of getting in your car, putting this on, rolling the windows down, and leaving your worries in the rearview as you just "Ride Away."
---
Moon Boots – Ride Away – Tracklist:
Ride Away (feat. Steven Klavier)
Come Back Around (feat. Cherry Glazerr)
Hot Minute (feat. Black Gatsby)
Manitou
On & On (Effortless) (feat. Dope Earth Alien)
Take Me To Your Body (feat. Nic Hanson)
Refuge (feat. Steven Klavier)
Only Direction (feat. Praa)
Wrong Note (feat. Ora the Molecule)
Last Exit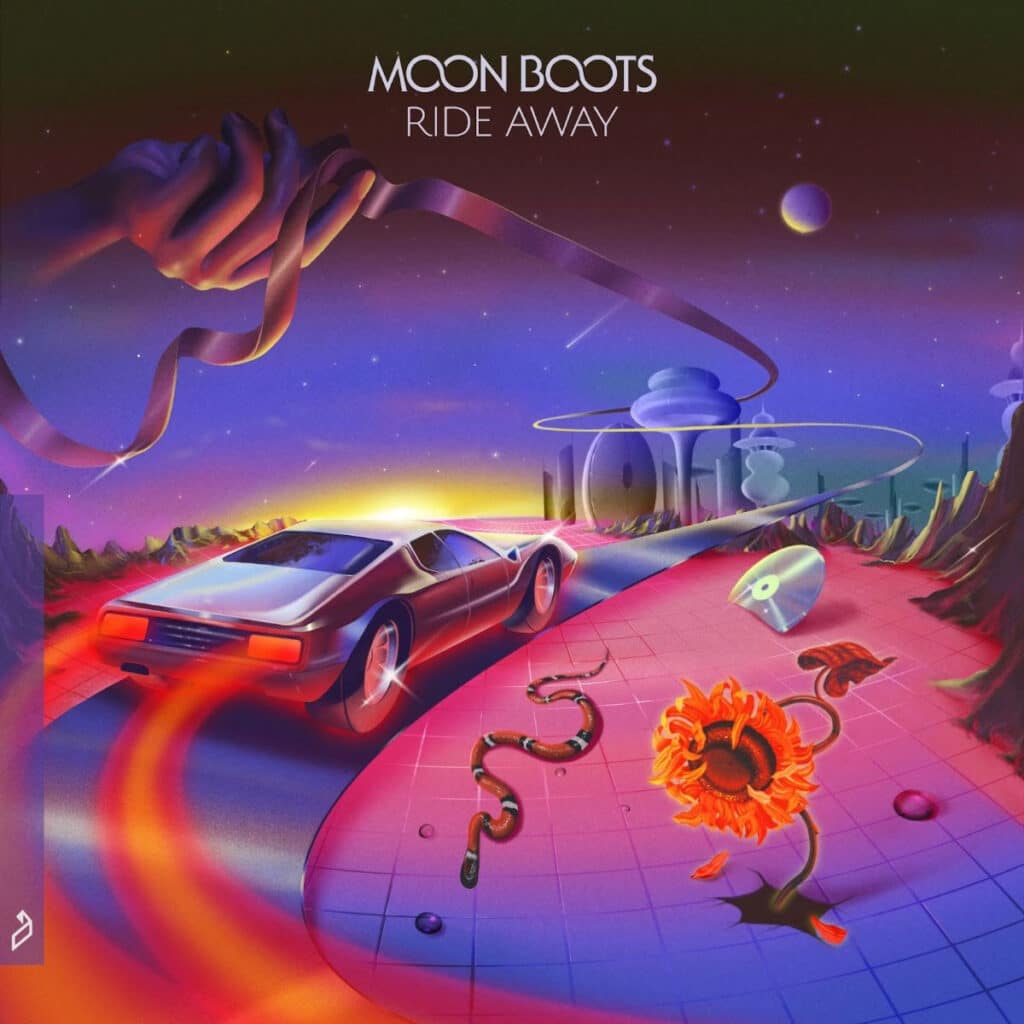 ---
Follow Moon Boots:
Website | Facebook | Twitter | Instagram | SoundCloud | YouTube