Nate Mars and DIA LUNA reunite for Out of the City, featuring six acid soaked tracks that call ravers to the nearest dancefloor!
---
Acid lines bonding tightly with pop effervescence, that's what listeners will uncover when they press play on Nate Mars and DIA LUNA's brand new album, Out of the City. Six tracks deep, the journey is rave-ready and boiling, crafted by the thump of the TB-303 synthesizer and an innovative mindset from the beatmakers putting in the work. Before the official drop, the world became privy to the LP's unique stylings with the unveiling of "Inside," an anthemic track, featuring DIA's smooth attention-demanding vocals and Nate's supreme attention to the essence of the underground.
We have been longtime collaborators on a few different projects. I had always been drawn to the sound of the TB-303 but still see so much room for it to evolve outside of Acid House. When DIA LUNA and I got together for a few studio sessions, everything just clicked. We played several shows before the pandemic hit and saw how well everything works well in a live environment, when there's real energy from a crowd. We're putting together a new run of shows and can't wait to get back out there.

Nate Mars
"Inside" was a great representative for what was to come and "¿YouAre?" answers back by dialing up the hypnotic energy. The soft high hat adds just enough spark to complement the swirling background melodics as DIA LUNA's voice dances through the air like a soft kiss from the sun. But, don't swoon just yet because these two have something a little turbulent up their sleeves, or better yet, a "Fire" that they ignite to push the club into a frenzy. This track is brilliantly trippy with a whopping dose of sass spilling out of DIA's vocal chords.
The halfway mark brings us to "Buy Your Time," a chilling tune featuring the ticking of a clock and vocals plucked straight out of a dark daydream. As the track progresses, the euphoric energy builds in tandem, causing every hair on the body to stand in salute. "Acid Your Time" materializes in response, featuring organic top end details and a rise that will spin the brain straight up to the stars. But, while this track is incredibly ethereal, there comes a moment when the eerie essence of its predecessor circles back around, sending afterhours debauchery into overdrive.
In closing, the title track, "Out of the City" cools the senses with a light tempo and glistening synth tones. This may be DIA's most powerful performance of the lot. The conviction in her voice is beyond inspiring, and as the synth ping pongs around each line, the body reacts by swaying back and forth in restful hypnotic fashion. Nate Mars and DIA LUNA smashed it out of the park on this project and it will be an absolute pleasure to see what they come up with next!
This grouping of songs to me is really about taking a sharp look at the rituals of the modern age, particularly over the past years of pandemia, and asking what solutions we can find for survival in a culture that so often pushes us towards destruction. It was great to be able to focus on these kinds of themes using Nate's unique production style to create tracks that are intense and danceable at the same time.

DIA LUNA
Without further ado, it's your turn to get swept away by the beats! Stream the album on Spotify, and let us know what you think about the music on Twitter!
Stream Nate Mars and DIA LUNA – Out Of The City on Spotify:
---
Nate Mars and DIA LUNA – Out of the City – Tracklist:
Inside
¿YouAre?
Fire
Buy Your Time
Acid Your Time
Out Of The City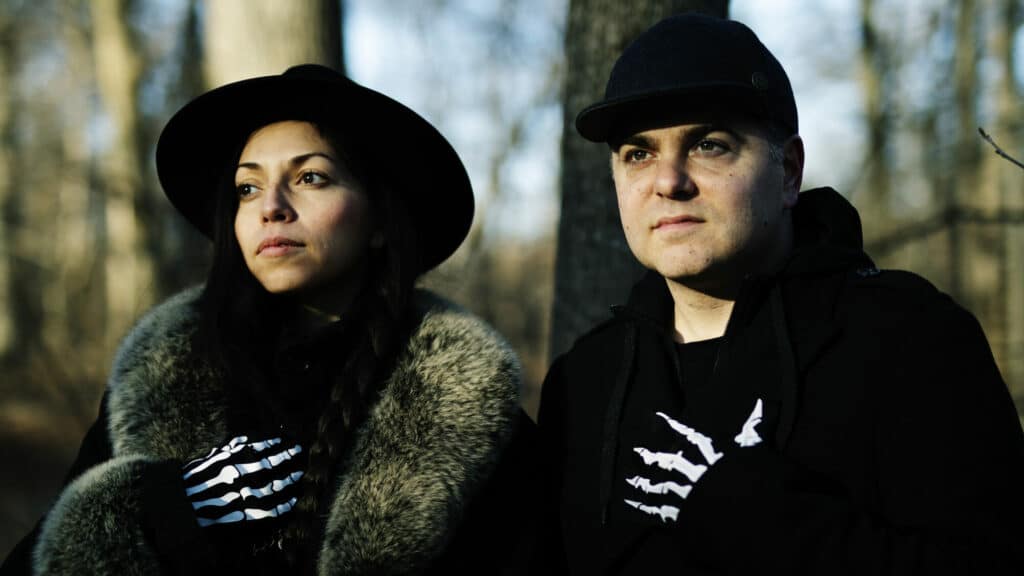 ---
Follow Nate Mars:
Website | Facebook | Twitter | Instagram | SoundCloud | Spotify
Follow DIA LUNA: