Coachella is nearly here, with performances, delightful treats, and more on the horizon. Stay in the know with all of the essential info!
---
Eager music lovers from all over the map are gearing up to flock to the Indio desert for a weekend of great music, food, and company at this year's edition of Coachella. Every year come springtime, the Empire Polo Club becomes a temporary oasis for those looking to get away from the stressors of everyday life and revel in pure California sunshine and bliss. In just a few short days, festivalgoers will make their way to the fields to kick off all festivities this weekend.
Out of the multitudes of attention-grabbing amenities that Coachella offers attendees each year, the main appeal for many is the smorgasbord of acts that occupy the festival's lineup. As usual, there's no shortage of phenomenal electronic acts – crowd favorites like Calvin Harris, The Chemical Brothers, and Fisher + Chris Lake have people buzzing. But dig into the undercard, and you'll find that there's so much more to be excited about, including Whyte Fang, Jan Blomqvist, Francis Mercier, LP Giobbi, and more. Not to mention all the treasured acts that are set to play the Heineken House and Do LaB each weekend. Needless to say, memorable experiences will come in droves over the coming weekends.
Related: Want to dive deeper into the artists playing Coachella this year? Check out some of our favorite diverse artists and others on the undercard you shouldn't sleep on!
Now, with Coachella just days away and attendees making their final plans for the weekends ahead, we've compiled all the essential info you need to know before you go. Read on for the set times, maps, and what you should and shouldn't bring with you to maximize your experience at the festival this year!
---
Coachella 2023 – Essential Info:
Dates: April 14-16 and April 21-23, 2023
Venue Address: Empire Polo Club – 81-800 Avenue 51, Indio, CA 92201
Tickets: Weekend 1 is sold out, with limited tickets available for Weekend 2. Head to their website for more details.
Will Call Address: 78200 Miles Avenue, Indian Wells, CA 92210. Enter Gate 4 off of Miles Ave.
Will Call Hours:
Wednesday – 9am-7pm
Thursday – 9am-2am
Friday – 9am-11pm
Saturday – 9am-8pm
Sunday – 10am-6pm
Don't forget to download the Coachella app on your iOS or Android device to register your wristband and access up-to-date set times.
---
Coachella 2023 – Set Times: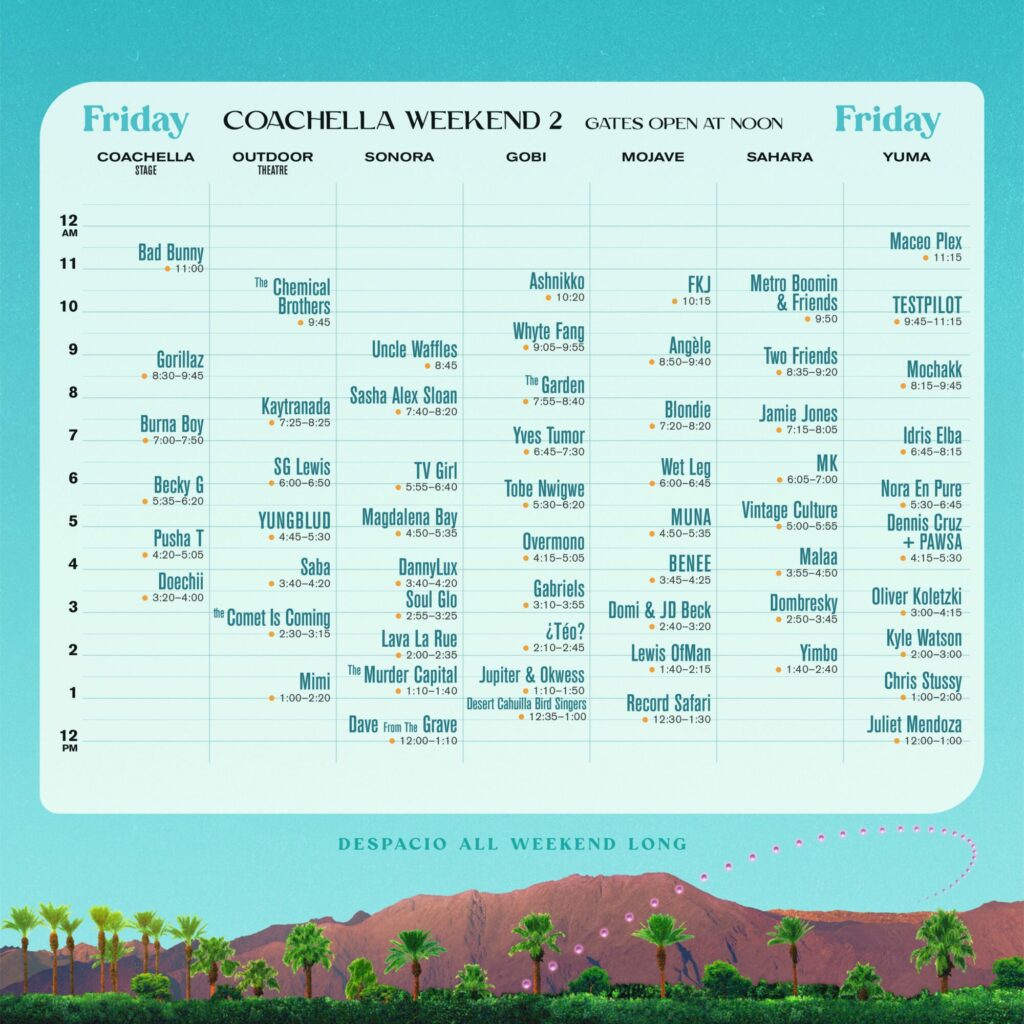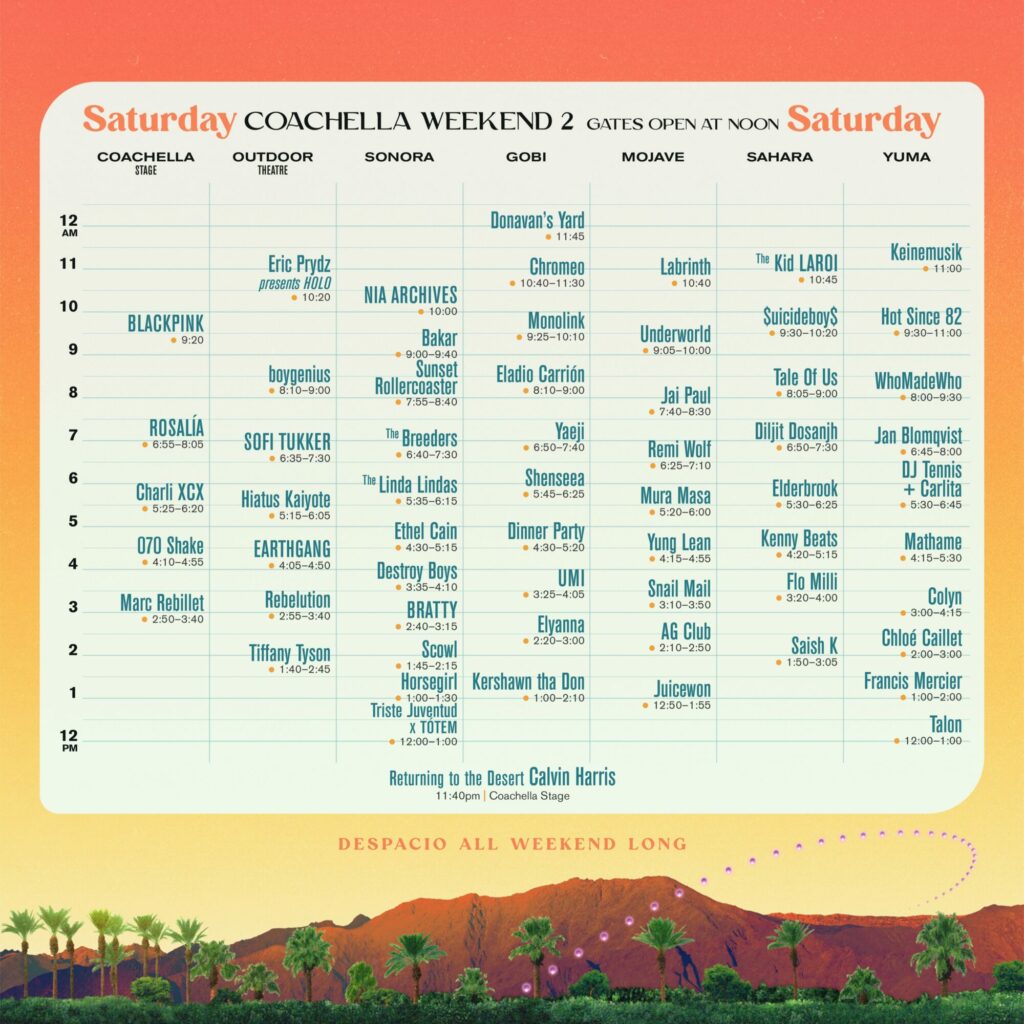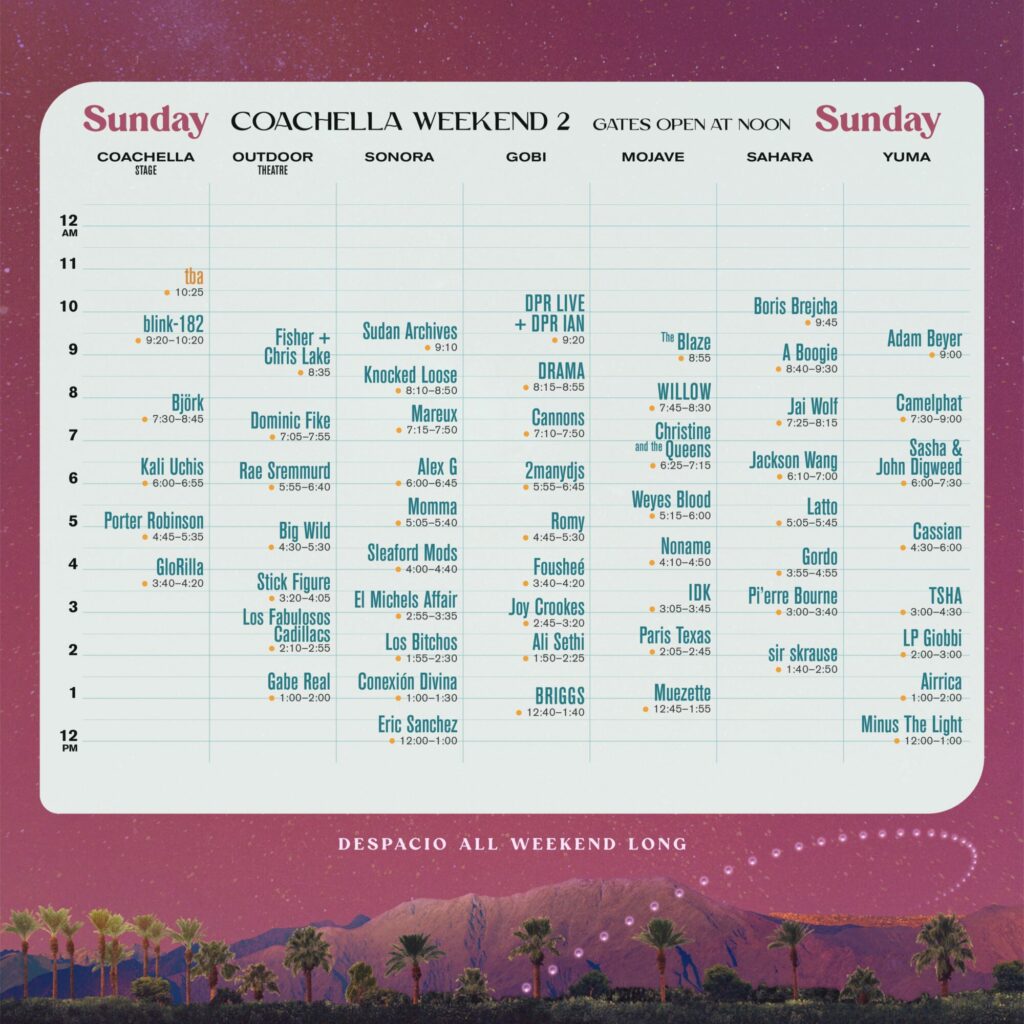 ---
The Do LaB 2023 – Set Times: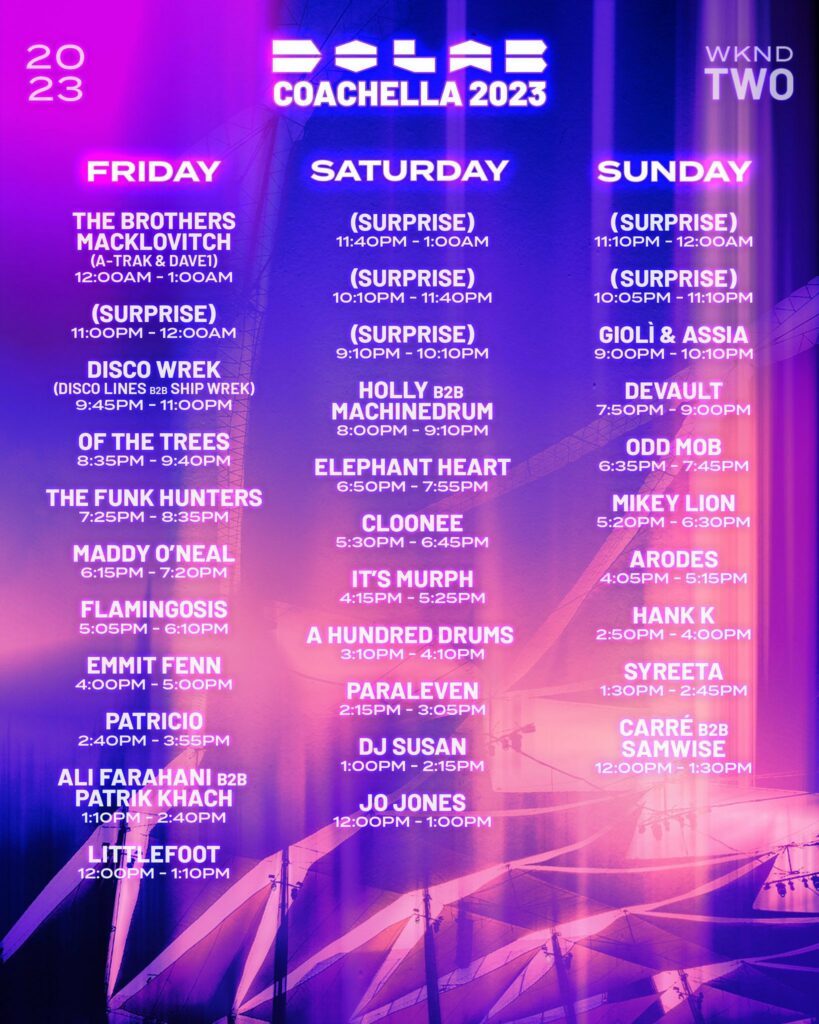 ---
The Heineken House 2023 – Set Times: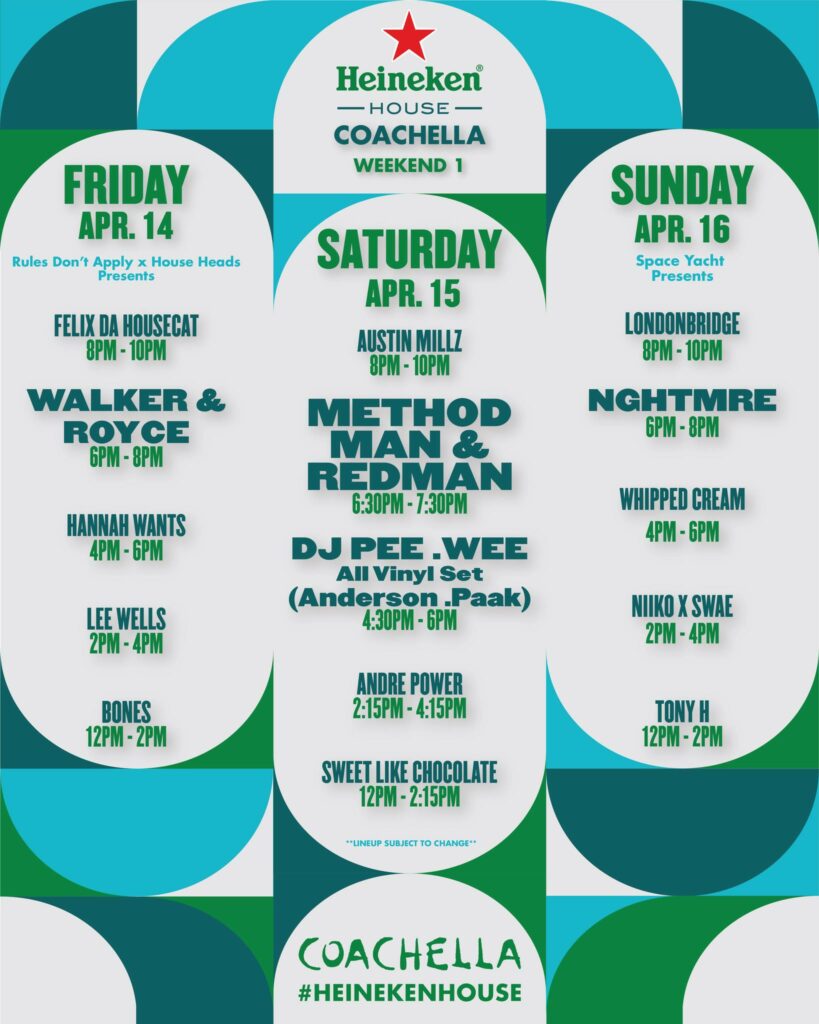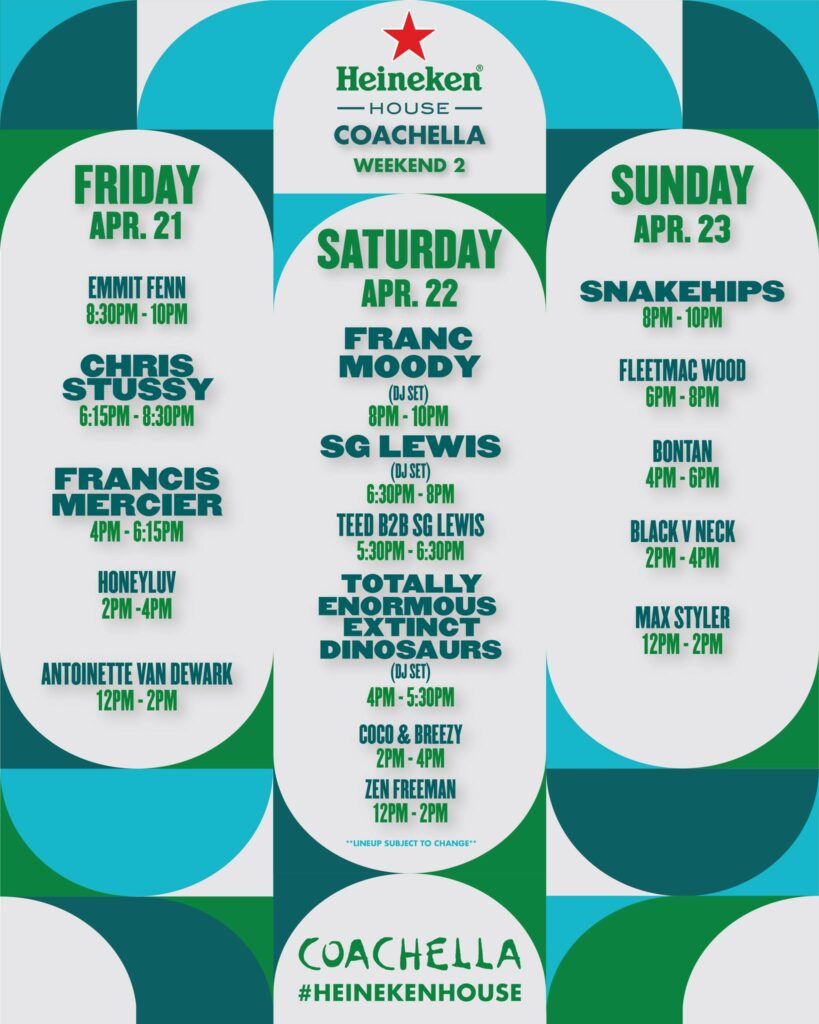 ---
Coachella 2023 – Festival and Camping Maps: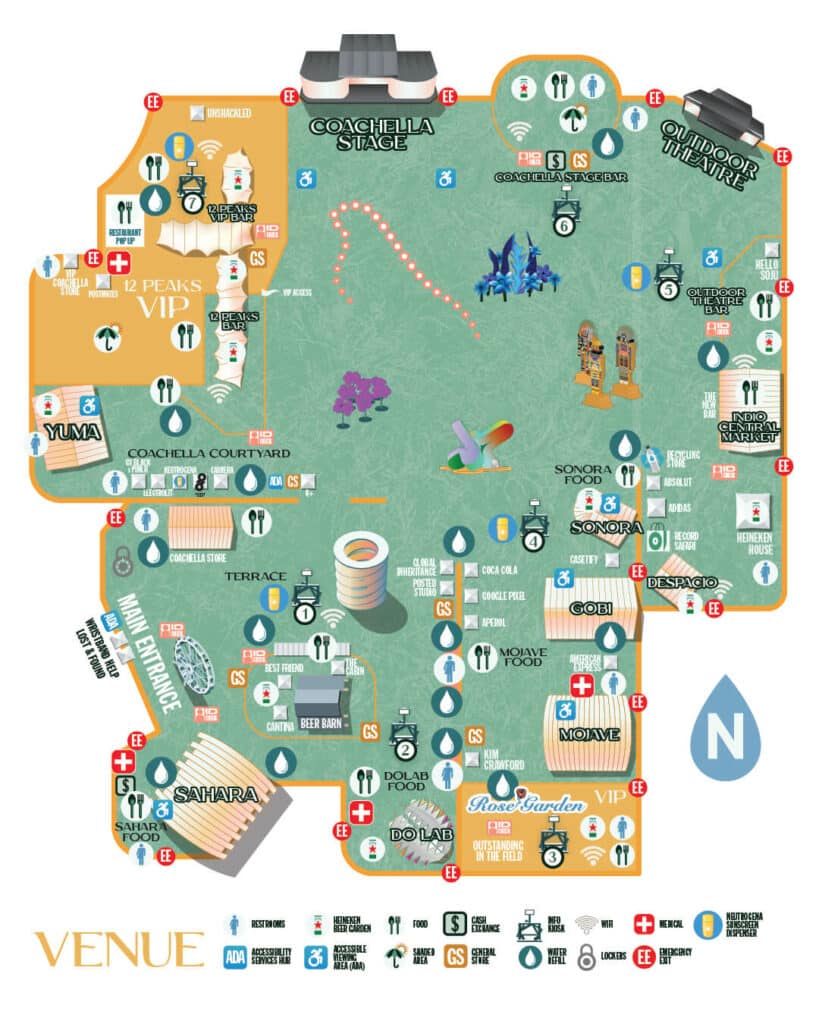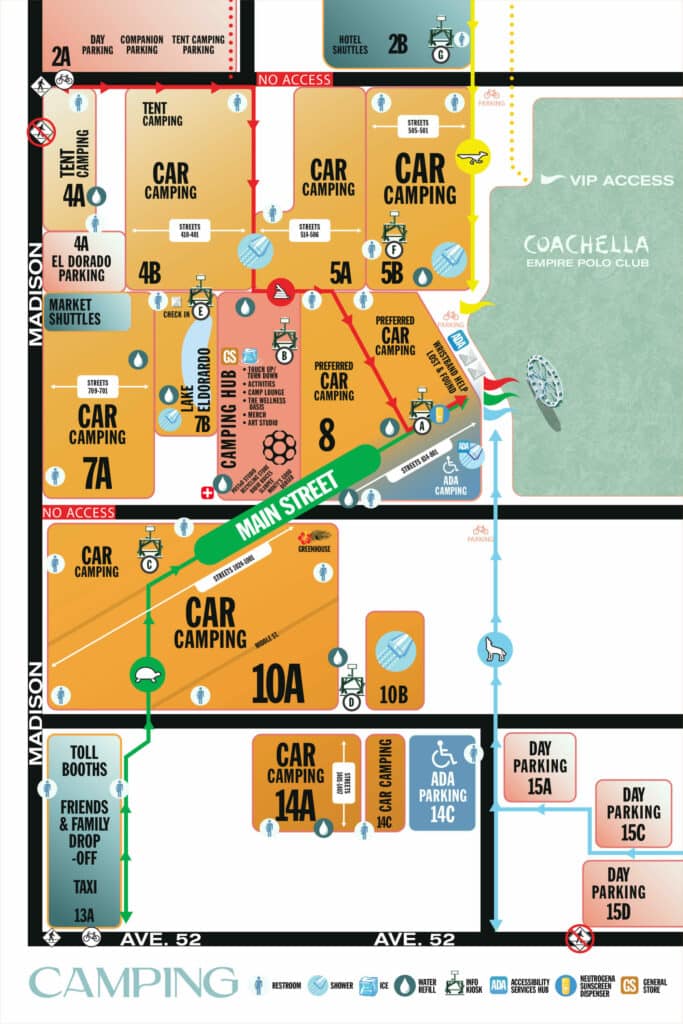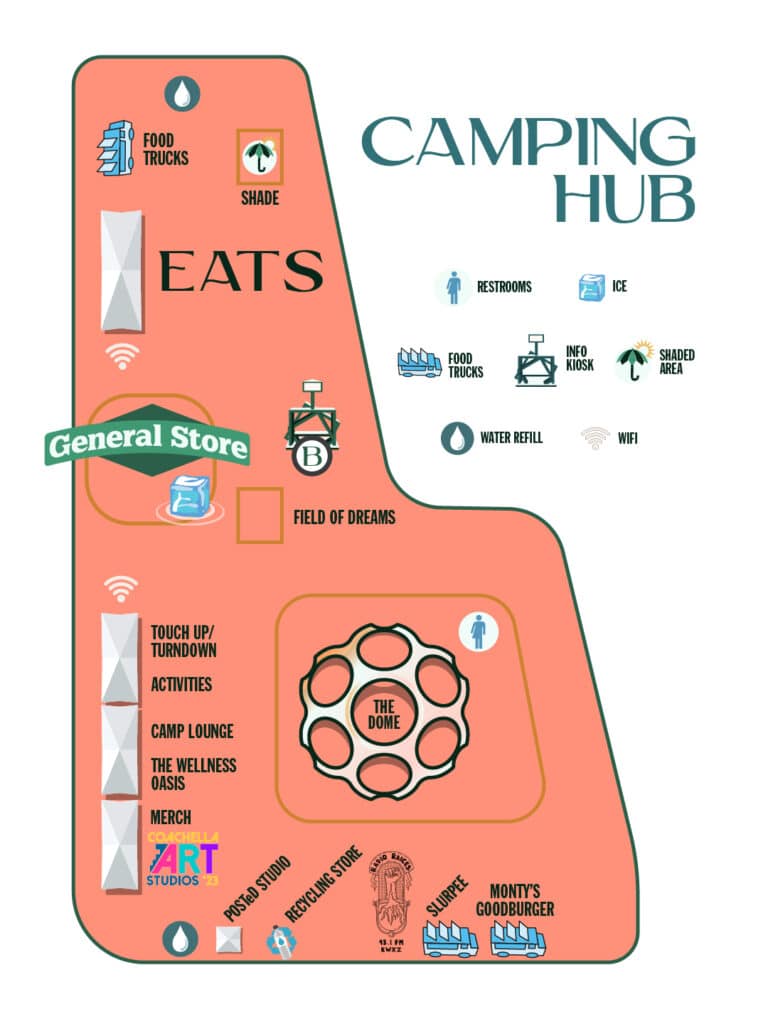 ---
Coachella 2023 – Parking Info:
Free Parking
Open Fri-Sun 10am-2am.
Cars left after 2am will be towed.
Everyone in the vehicle must be wearing a Festival Wristband.
No pick-ups or drop-offs.
Motorcycles may park in ADA lot.
Preferred Parking
Park and enter the Venue through the north entrance.
Purchase of sticker is required (valid Fri-Sun).
Open Fri-Sun 10am-2am.
Access the Preferred Parking Lot via Ave 49/Monroe St. Do not use Hjorth St.
No entry is allowed after 10pm.
Cars left after 2am will be towed.
No vehicle ins & outs.
Everyone in the vehicle must be wearing a Festival Wristband.
No pick-ups or drop-offs.
Vehicles parked must fit within the 8.5' x 16' spot.
---
Coachella 2023 – Parking Map & Directions: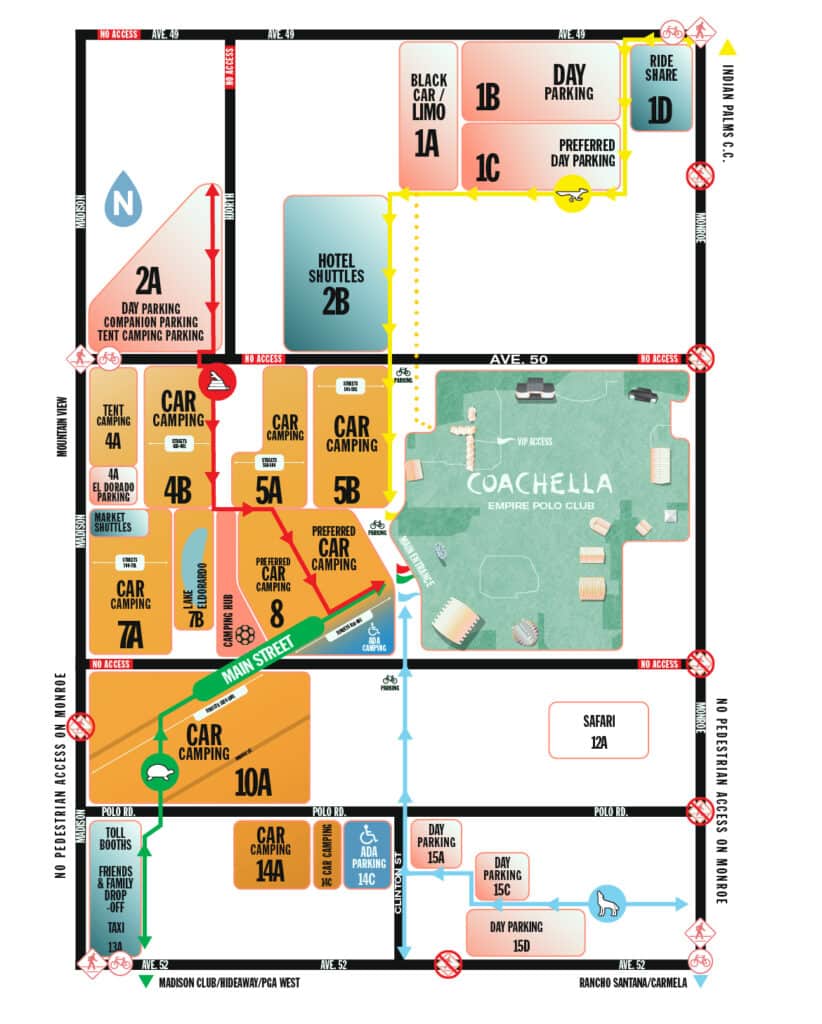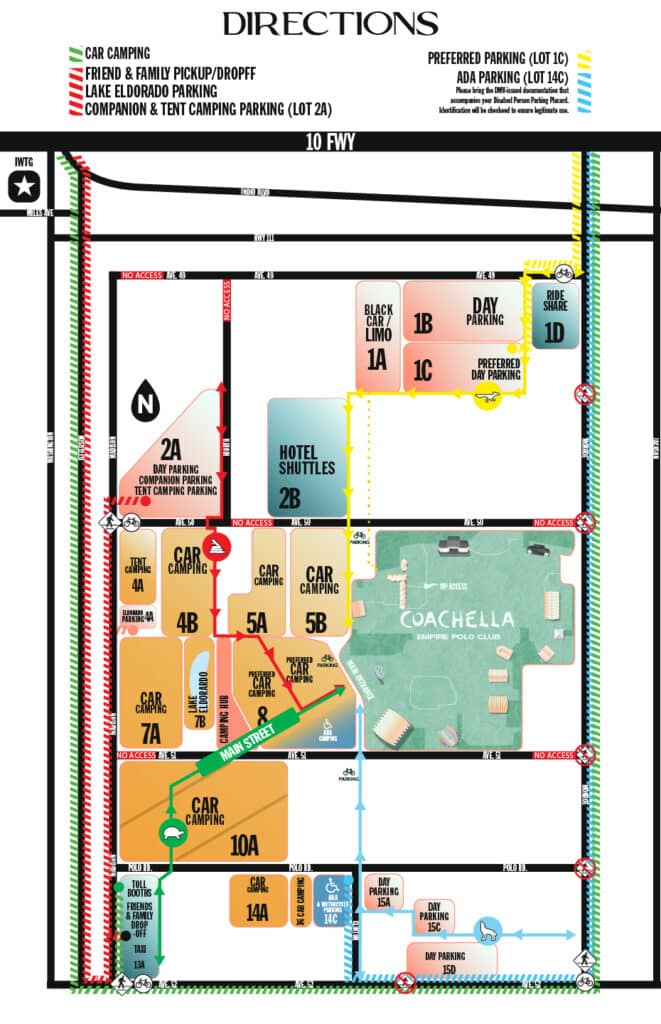 ---
Reminder To Mind Your Belongings:
Unfortunately, many people have reported pickpockets, bag slashings, and theft of wallets, smartphones, purses, and other valuables during this festival season. While this small number of bad apples in the bunch doesn't define an entire crowd, there are opportunistic people who come to these events to take advantage of unsuspecting partygoers, and it's important to be mindful of your valuables while at Coachella.
Looking for tips to keep your belongings safe? Check our post highlighting some ideas!
---
Coachella 2023 – Do's & Don'ts:
For a complete list of what you can and can't bring to Camp at Coachella, head over to their website.
Prohibited Items
NO Advanced First Aid Kits* (including, but not limited to, hemostatic gauze or powder, tourniquets, compression bandages, decompression needles, or chest seals)
NO Aerosol Products/Aerosol Cans
NO Air Horns
NO Animals
NO Audio Recording Devices
NO Bicycles, Skates, Scooters or Skateboards
NO Blankets
NO Body Armor
NO Chains or Chain Wallets
NO Chairs
NO Coolers
NO Detachable Lens Cameras
NO Discriminative or Appropriative Items
NO Divisive Symbols or Appropriative Imagery
NO Drones or Remote Control Aircraft, Cars or Toys
NO Fireworks, Explosives or Road Flares
NO Flags
NO Flyers, Samples, Giveaways or Promotional Items
NO Glass Bottles or Containers
NO Glow Sticks, Light Sticks, or LED Gloves
NO Hammocks
NO Hula Hoops
NO Hoverboards or Segways
NO Illegal Drugs or Drug Paraphernalia 
NO Instruments
NO IV Bags
NO Kites or Sky Lanterns
NO Laser Pointers
NO Markers or Paint Pens
NO Massagers
NO Metal Water Bottles or Containers
NO Outside Food or Beverage
NO Non-Personal Protective Equipment (e.g., costume)
NO Selfie Sticks, Tripods or Narcissists
NO Smelling Salts*
NO Stuffed Animals
NO Tents or Sleeping Bags
NO Tourniquets*
NO Toy Guns, Water Guns or Sling Shots
NO Totems
NO Umbrellas
NO Video Cameras
NO Wagons
NO Walkie Talkies
NO Weapons (Guns, Knives, Ammo, Pepper Spray, Mace, etc. including off-duty law enforcement or concealed carry permits)
Permitted Items
YES Backpacks (Medium) 18″x13″x8.5″
YES Bandaids
YES Binoculars
YES Breast Pump (Manual, Battery Operated, Or Powered Devices)
YES Cameras (Non-Pro Digital, Disposable, Polaroid and Film)
YES Chapstick and Lip Balm
YES Dancing Shoes
YES Ear Plugs
YES Eye Drops
YES Face Masks
YES Fanny Packs and Hip Bags
YES GoPros
YES Gum (sealed packs)
YES Hand Sanitizer
YES Hats
YES Hydration packs (Empty)
YES Inhalers
YES Lighters
YES Makeup
YES Mobile Phone Chargers
YES Naloxone (You are welcome to bring one, factory sealed box (containing no more than 2 units) of naloxone into the event.)
YES Parasols
YES Plastic Water Bottles (Empty and Reusable)
YES Prescription Medication (Name On Medication Must Correlate With Person's Drivers License or other appropriate state identification)
YES Purses and Handbags (no larger than 12"x6"x12")
YES Service Animals (See ADA Page)
YES Stored Breastmilk or Formula
YES Strollers (for baby/toddler only)
YES Sunblock (Non-Aerosol)
YES Sunglasses
YES Towels (small-medium size)
YES Water Misters
---
Connect with Coachella on Social Media: