Alison Wonderland put her Whyte Fang alias on display to deliver a fiery performance in New York ahead of her forthcoming LP, GENESIS.
---
Never ceasing to breathe new life into the world of electronic music, Alison Wonderland continues to move the beat of dance with her latest label venture. This past weekend, she marked the official launch of her new FMU Records under the Whyte Fang alias to unleash her deepest and unapologetic experimental sound production. Highly regarded as a creative forcer who effortlessly brings forth palpable and raw energy through her music as Alison Wonderland, she proves her immense capability to turn her signature introspective and personal beats into a daring, darker, and uncompromising sound in her side project as Whyte Fang.
The record launch kicked off in Brooklyn with an exclusive VIP meet and greet. Selected fans had an opportunity to purchase bespoke Whyte Fang merch, hang out, and take pictures with the charismatic DJ in a small, intimate setting. As the queue continued to snake inside the warehouse, the fans were earnestly anticipating their turn to interact up close with her as they soaked in the delight of an exhilarated night ahead. During this pre-show hour, it was clear that Alison Wonderland / Whyte Fang's music has earned not only her critical acclaim but also a dedicated fan base.
"If the right people are attracted to it, good. If not, who cares?"
To make it even sweeter, Whyte Fang released her latest single, "SCREAM" with Erick the Architect, on the same day and unveiled the announcement for her new album GENESIS, set for April 14. "SCREAM" showcases her authentic approach to creative production as the song builds on ominous and distorted synths before blasting into mind-melting elements of heavy percussion and aggressive beats. The vision of her musical creativity knows no boundaries, and she shared that her music under Whyte Fang started even before Alison Wonderland made her debut.
I'm definitely not crossing over the two, they should have their own homes. For me, this [Whyte Fang] is a different project and I want it to have its own legs and speak for itself. I don't want it to piggyback anything.I was making Whyte Fang music before I was Alison before I was signed to anything. All my 2008 and 2009 stuff that I was producing was under Whyte Fang so I think I'm just kind of like that. I'm real when I'm making records, I don't listen to anyone's record when I'm making Alison or Whyte Fang so I'm really just like going with the vibe of the day.

Whyte Fang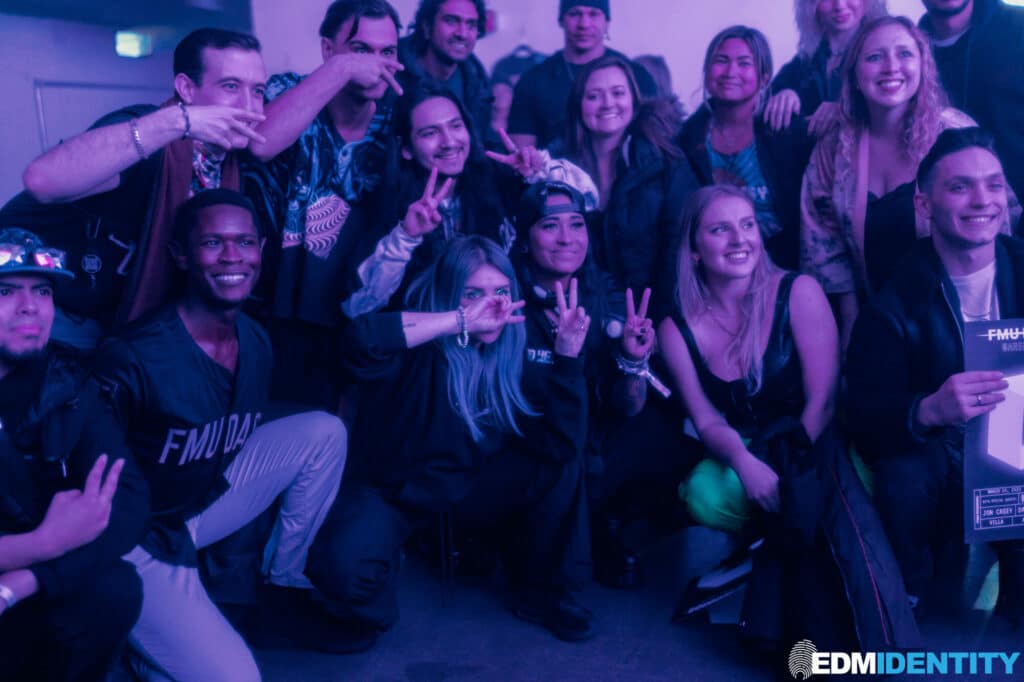 "Now it feels organic and free, and I am having fun. This feels awesome right now."
Before kicking off the show, Whyte Fang leaped onto the stage to address the intimate crowd and thanked them for coming through to support her new project. While her usual music incorporates a blend of various genres, including trap, future bass, and pop, she wished for new listeners of Whyte Fang to have explored new sounds. "I want them to have an open mind. I respect the crowd who is not pretentious and judgmental so I hope that is what attracts and resonates with the right people," she said. "If it doesn't, I'm also happy with that."
As she continued to reveal her thought processes behind the Whyte Fang alias. "Honestly, it is really great recently. I feel so free with this project, I am signed to my own label I run, and I don't put pressure on myself," the stellar supernova shared. "You know when you're a kid, and your parents tell you to do something, you don't wanna do it? That is how I feel when they try to make me post things. Now it feels organic and free, and I am having fun. This feels awesome right now."
Before the general crowd started to stream into the venue, she teased the fans, "I am going to play something. It is not going to be a mix; that will be later, and it will be heavy." Screams of excitement lit up the warehouse as Whyte Fang started to play a short snippet of "SCREAM." Immediately, the grinding beats and dark overtones set the crowd up perfectly for what is to come from the opening act Aliias.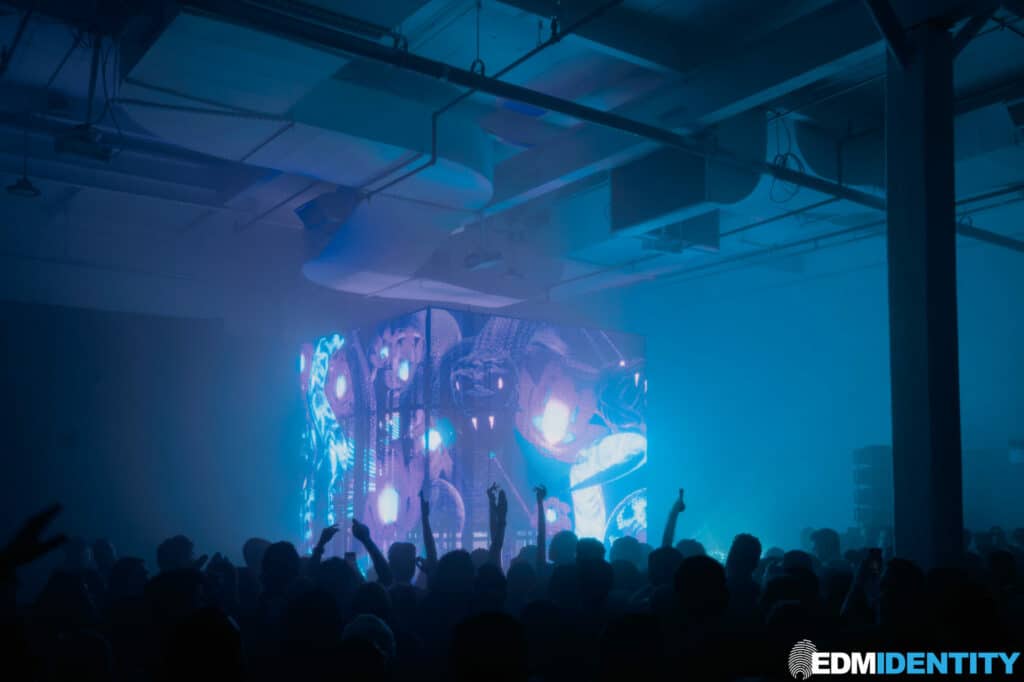 "The lighting and the visuals – they are all telling a story."
The highlight of the night arrived when it was time for Whyte Fang to take the stage. The scene looks almost like a ghoulish party that was spooked with an electrifying glow. The venue went dark before flashes of light started to flicker on stage unpredictably to reveal a giant cage where Whyte Fang stood. Dressed in a white outfit that teemed with neon glowing markers, her silhouette was enhanced by fog effects to amplify a creepy ambiance.
Almost instantly, the crowd went berserk as the screen displayed computerized-like wordings from Whyte Fang herself, "You will forget the darkness, I am here to help, I am here to be your friend, I am here to be your escape. I am Whyte Fang." Wasting no time, she brought the audience into a deep dimension through driving bass lines and head-banging climax with tracks that the fans are all too familiar with, such as "Transport God," "333," and "TIDES."
Tearing through every track on her upcoming album, GENESIS, Whyte Fang continued to command the dance floor and invited the crowd into her sonic playground. She demonstrated how she stayed true to her creativity and artistic persona as Whyte Fang. "For me, this is a different project, and I want it to have its own legs and speak for itself. If the right people are attracted to it, good. If not, who cares?"
Clearly, her latest project has cultivated a brand of "free expression" that incorporates intricate synth design, glistening electro-soul, pulsating bass lines, and just about everything of quality that you can expect to be composed of her creative sensibilities. Throughout her set, she generously served up a dynamic energy complemented by the immersive and surreal visuals that are all too vividly intense. With hues of purple, blue, green, and pink swirling endlessly, Whyte Fang took over the dance floor with an addictive edge as the psychedelic shapes of colorful visuals constantly morphed and changed to engulf the crowd into a different reality.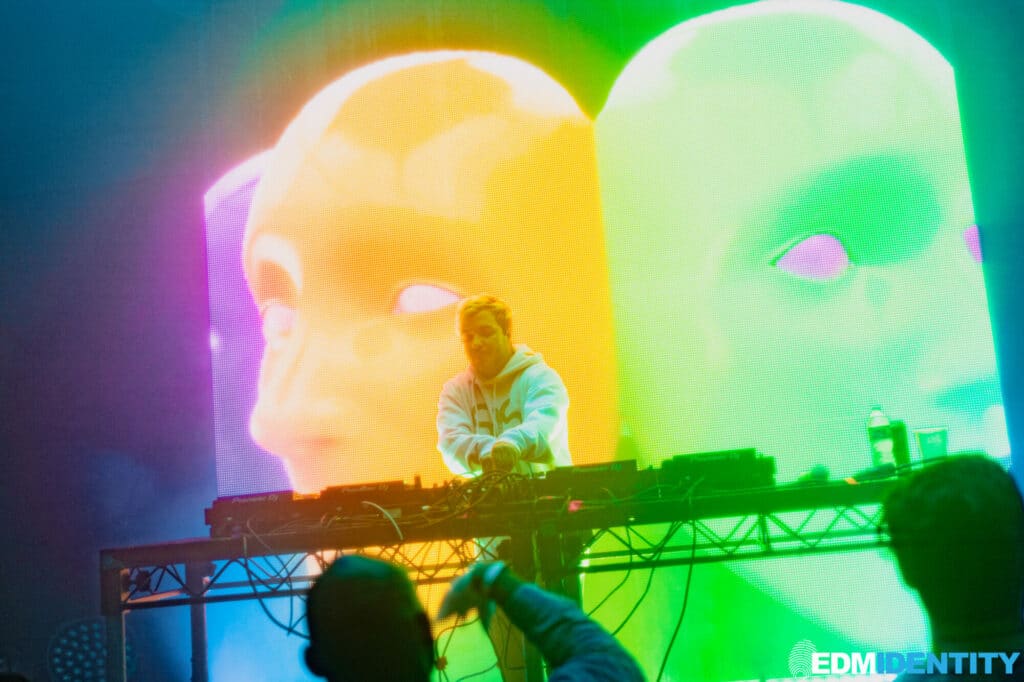 The creative freedom from the support acts kept the audience intrigued.
The launch party also brought out FMU Records' new signees. Fresh off the scene is rising artist Aliiias, who made his show debut as the opening act at the warehouse party. He kicked off the event with a free flow of intoxicating beats and wobbling bass lines to push home the powerful message that he is a force to be reckoned with. Delivering a string of mixes, including his latest release, "Fuck Right Off," he warmed the crowd with his glitchy rhythmic efficiency and twisted energy.
Next up, South African DJ Jon Casey and Argentinian producer Dabow played a b2b set that opened emphatically. They injected a dramatic atmosphere with their explosive combination of sounds ranging from dubstep to hip-hop and bass. From start to finish, their innovative set infiltrates the ears and transcends the traditional boundaries of electronic music genres.
California-born DJ sumthin sumthin turned the heat up with his hard-hitting flow of both underground and mainstream production. He deftly bridged the gap between light and dark through his grinding electronic output. Against the sharp and glowing visual backdrop that created a mind-bending experience, sumthin sumthin's glitch-powered set eluded an energetic flair in everything he does. As the night closes out, VILLA continued to blaze the heat with her melodic trap and hard wave sounds, leaving the crowd in high hopes that the night doesn't have to end just yet.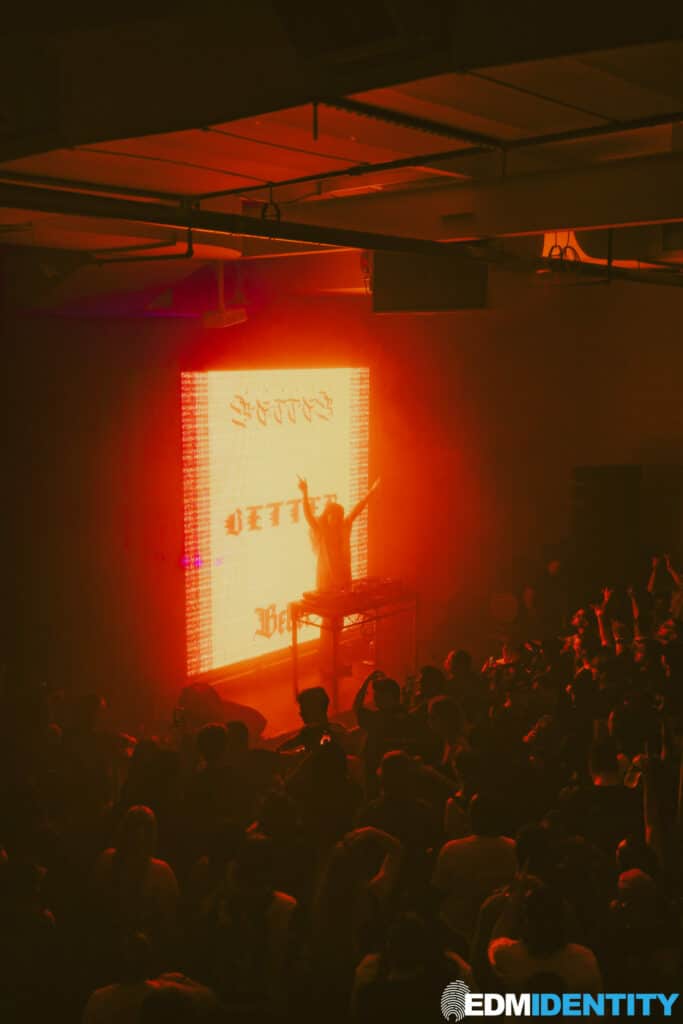 As FMU Records champions the artistic vision of these creatives, Alison Wonderland will continue to leave her mark as a formidable powerhouse, regardless of which moniker she chooses to make music with.
"I feel the same when I'm on stage. It is really deep and dark when I'm writing Alison and very much about my life at that time. This alias is like a different area, where is like for me – sonically different kind of dream- but for both of them, I'm having the best time on stage," she said. It was undeniable that the crowd had one of their most unforgettable warehouse rave launch party that night. The event ultimately rounded off with high energy as the crowd enjoyed an immersive, multi-sensory wonderland that was sure to be etched in their memory.
Pre-save Whyte Fang's new album Genesis, which is set to be released on April 14, and give "SCREAM" a listen on Spotify or your preferred platform.
---
Follow Whyte Fang:
Website | Twitter | Instagram | Facebook | SoundCloud
Follow FMU Records: