Space Yacht co-founder LondonBridge sat down to discuss the curation behind the Sea of Wonder stage, why he's all about house, and more!
---
LondonBridge, aka Rami Perlman, is a modern-day dance music multihyphenate. DJ, producer, curator, community leader, business partner, father – these are all hats that he wears on a daily basis as his journey through this music industry evolves. LondonBridge did just that this year at Beyond Wonderland SoCal, as he embarked down the rabbit hole not just to play a standout house set on the first night but also to organize, produce, and curate all of Night One of the festival, on an entirely new stage concept, the Sea Of Wonder, with the Space Yacht team.
To LondonBridge, house music is his home, and he looked right at home during his set at Beyond SoCal. Opening with his signature style of skillfully mixing soulful tech house tracks, he had the audience dancing in the palm of his hands in no time. His excitement being there was evident from the smile on his head to the tap in his toes, and that type of energy is infectious. His set helped to usher in that special rave feeling. You know the one – when the sun is setting around you and the night takes on its full potential, where you really start to lose yourself in the sounds around you.
After his set at the festival, we had the chance to dive deep with him on topics ranging from why he got into tech house in the first place, his new duo project with Adam Auburn, Friendly Fire, and how he finds balance between being a leader for his community, but also a father and husband for his family. Listen to the newest track from LondonBridge's duo project, Friendly Fire, on Spotify , and read on for our interview with LondonBridge at Beyond Wonderland SoCal 2023!
Stream Friendly Fire – Informer on Spotify:
---
Hi Rami – thanks for sitting down with me today. Not only did you just play a killer set at Insomniac's massive Beyond Wonderland SoCal, but you also played it on a stage literally created by you and your business partner under your Space Yacht brand! That's huge – how are you feeling?
Feeling really thankful right now. The production for the stage has been incredible, and we are totally honored by the fact that Insomniac gave us this opportunity. They have been big supporters of ours with our collaborative nights at Exchange and Academy, but doing this stage took it to an entirely different level. I also had a blast playing my set. I could really feel the Space Yacht love. Buzzing right now, for sure. 
What inspired you and your team to want to introduce the "Sea of Wonder" Space Yacht-curated stage at Beyond this year, and what's been your favorite part of this experience so far?
In terms of the new stage, we just feel lucky that Insomniac thought of us. We had done a few art cars at previous Insomniac festivals, so the Sea Of Wonder stage felt like a natural step up for us. In terms of my favorite part of the experience, it's been awesome to see a lineup of so many close friends and incredible artists who have been crushing it, not only on our stage but at the entire fest. Space Yacht has been a point of entry  for a lot of DJs and producers. Many of the people out here played our shows early in their careers before they blew up. It always gives us a warm feeling to see them go from our Tuesday night parties to the main stage.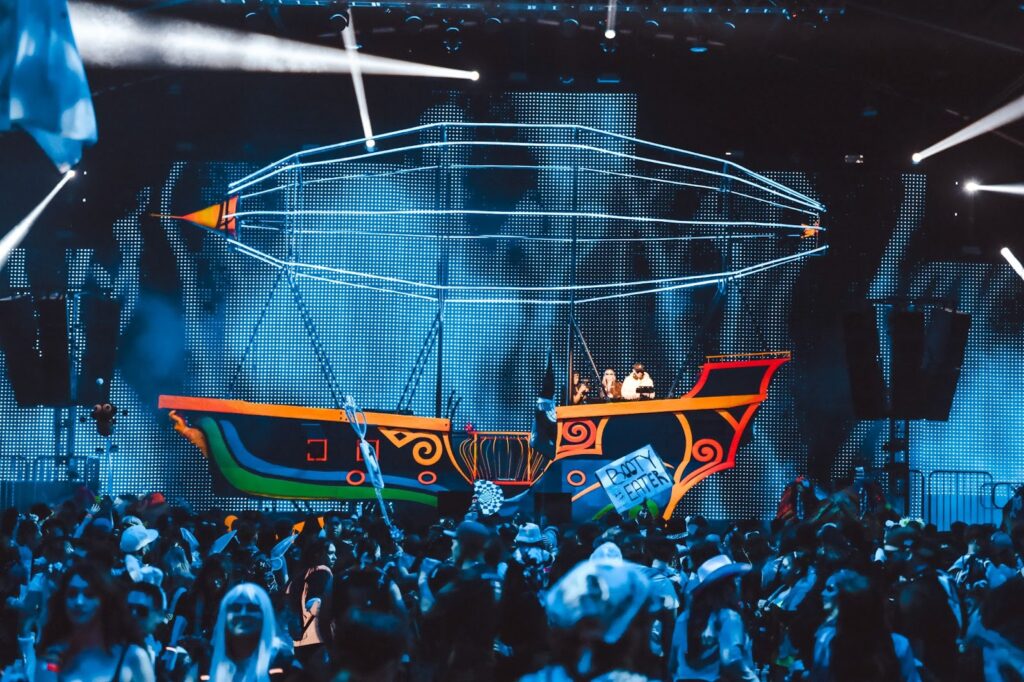 Let's talk more about your specific artist project. You've been a pivotal DJ/producer in LA's tech house scene since the beginning of it all – why did you get into tech house, and what's your favorite part about this subculture?
House music has been all I've ever DJed, even when I started in the early 2000s. It's just been the sound that makes me feel free. In the early days of Space Yacht, we were booking a lot of heavier-sounding bass house, dubstep, and trap, so the Tech House lineups took a second to catch on, but all of us at Space Yacht loved it so much that we just kept on pushing the sound and the shows started to get bigger. It also helped that people like Chris Lake and Fisher were putting out monster tracks and gaining mainstream notoriety. Once that started happening, there became a lot more opportunities for House DJs across the board. I love to see it.
We're seeing a lot of new musical trends in dance right now. Is there a genre of music that you never thought you would want to make and now you're dying to?
I'm a House purist for the most part, but I have been a long-time Jungle and D&B fan and have dabbled in it on the production side.  My problem is that there are so many talented D&B producers that I'd never let anyone listen to my stuff. It probably sounds super basic, but I love it.
How did you get into making music in the first place? Did you always know you wanted to be an artist?
I was raised in a musical family. My Dad is a violinist, and my Mom runs a music school. I've been playing instruments since I can remember. I played drums all through high school and even toured with a few bands. DJing was introduced to me in college when I did a semester abroad in Italy. All of my roommates would take me out to clubs to party. I was more into the music and would just dance and watch the DJ all night.  When I got home from that semester, I bought a pair of used Technics 1200s and started DJing at college parties. It wasn't till years later after I had moved to LA, that I thought of actually doing the DJ thing as an artist career. I always thought I would be in an indie band playing drums. [Laughs] But I do get a lot of musical satisfaction out of producing and playing live.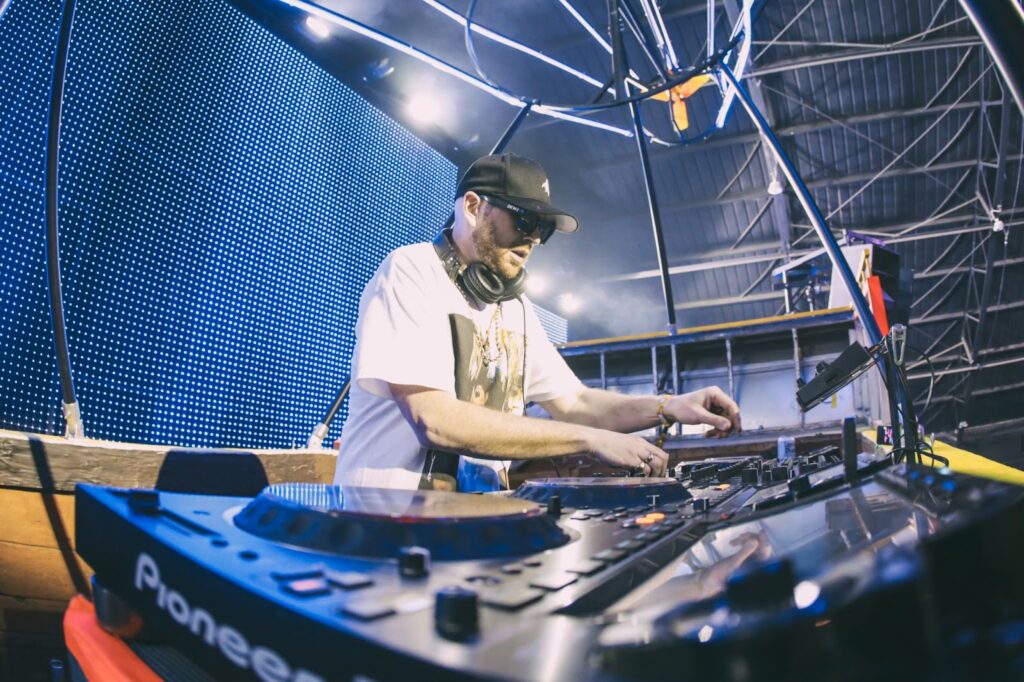 This year, Beyond Wonderland SoCal's theme is "psychedelic storybook." If you were writing your own psychedelic storybook, how would that journey go? 
I'd start by eating a bunch of mushrooms and sitting alone in my studio and seeing where the trip would take me.  Being outside and around people freaks me out in a psychedelic situation. I'm someone who likes to be in a familiar place away from people when I'm expanding my mind. I'm all about the inner journey.
What's coming up next for Londonbridge? Any new releases or tours that your fans should mark their calendars for?
In terms of music, my next releases will be with my duo group Friendly Fire, which is Adam Auburn and myself.  We have a bunch of tracks cooking that we are going to unleash this summer.  I do personally have a few festivals coming up, including Coachella, which I'm really excited about.  
I like to end my interviews on a note of positivity & mental health in our community is a hugely important topic right now. Can you share with our readers some things you do to maintain yours and why mental health is important to you?
The effect that sleep and rest have on one's mental state is huge.  I'm really focusing on rest and finding a balance between the club and my home life.  My wife and I have a 10-month-old, and she has an amazing career of her own, so I need to be there for my family even if I've come home late the night before.  So I think rest and staying off the heavy booze is the main key to both my physical and mental health. 
---
Follow LondonBridge:
Facebook | Twitter | Instagram | SoundCloud
Follow Space Yacht:
Website | Facebook | Twitter | Instagram | SoundCloud | Twitch