Despite its share of logistical hiccups and mixed reviews post-festival, Okeechobee brought another beautiful edition in 2023.
---
The Florida sun shone down relentlessly to welcome excited campers to the sixth edition of Insomniac and SoundSlinger's Okeechobee Music and Arts Festival last week. This charming camping festival in South Florida is one that should be on everyone's bucket list as it has everything from massive mainstage production to coveted underground performances in one of the most gorgeous event settings one could dream of.
I was embarking on my third Okeechobee adventure, and after having a fantastic experience in 2022, I was eager to see how this year's edition would play out. The addition of single-day passes was being implemented for the first time, which brought heightened concern from fans on social media pre-festival regarding the overall attitude and motive of the crowds attending.
This year, I was camping in GA+, another first-time upgrade option for 2023 which made for an ideally close campsite location to the venue and upgraded bathroom trailers. In previous years, however, anyone who arrived early enough could get those coveted close camping spots as GA camping. As the festival grows in size and with the addition of more upgraded camping options, it's getting more difficult every year to get lucky with a close spot with GA camping, as many of my friends had a hot 20-30 minute walk despite having been some of the first few hundred cars to arrive.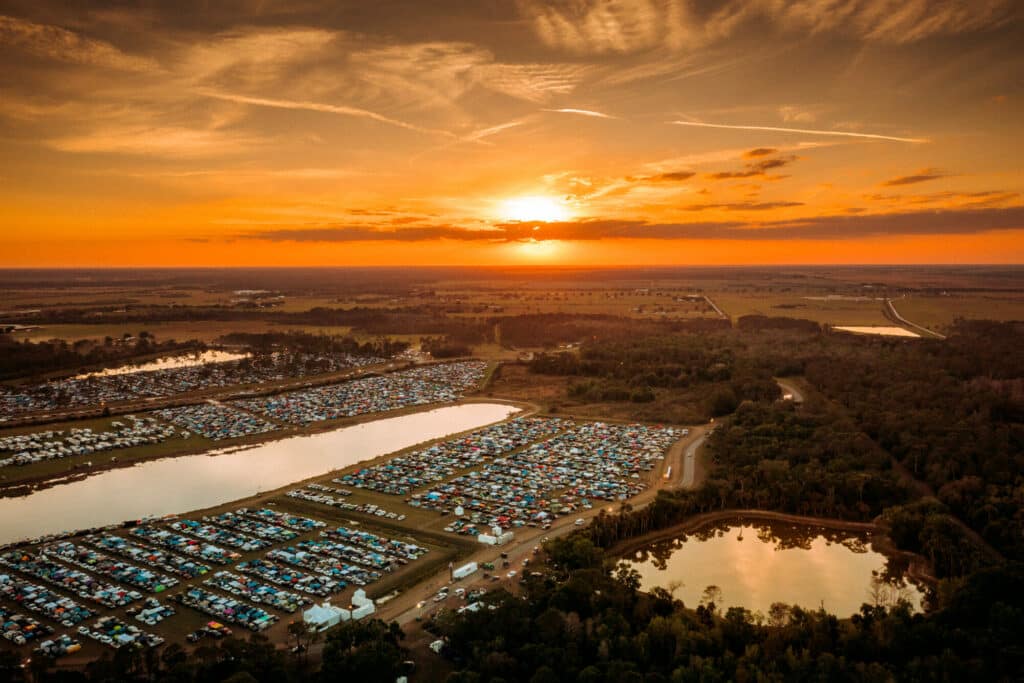 After a hot and windy campsite setup and introduction to my awesome neighbors for the weekend, with nightfall came exploring the beloved grounds I missed so much.
I immediately noticed that it wasn't cooling down as much as it has in the past. I always pack for all weather conditions for Okeechobee because I'll never forget being bundled head to toe to withstand 40-degree nights in 2018, but it was clear that this year, none of my cold-weather gear would be necessary.
Following the wicked daytime heat, the breezy night air was nothing short of perfect as I made my way to the magnificent Be stage to enjoy an awesome funky-bass performance from Daily Bread. The main shock I had when exploring around the first day was that the massive shade structure that normally spans the back of the hottest stage, the Aquachobee beach stage, was gone. With a hot Florida weekend ahead that turned out to be even higher temperatures than last year, I knew that this was going to be a fairly devastating loss as it offered huge relief from the hot sun glaring across the water.
One major upgrade that the Aquachobee stage did have, however, was the addition of Funktion-One sound courtesy of Nomad Sound Systems. After last year's sound at this stage was seriously unacceptable, this was the upgrade I had been hoping for the most. While it seemed like an unfair tradeoff for the shade structure, I'll take the good sound any day, and it had me even more stoked for the dubstep lineup curation in store for Saturday.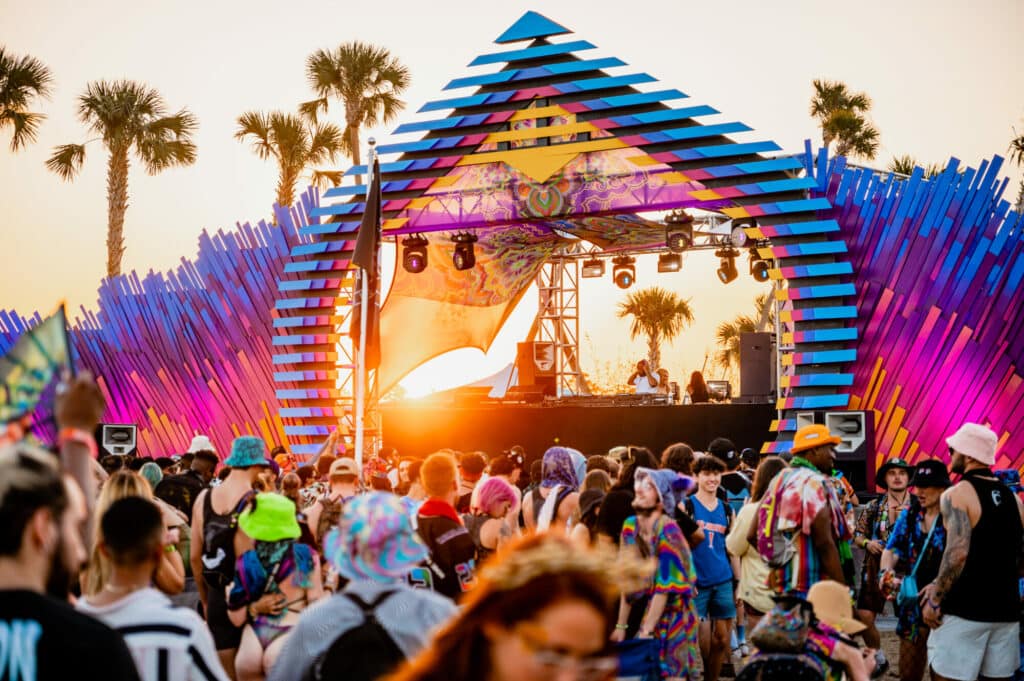 Friday brought challenges I've only had in my festival nightmares.
After spending the entire scorching daylight hours fighting to rebuild our camp in high winds that destroyed campsites and even delayed set times, my personal setback was being one of many people who had their bag stolen while in the crowd. My incident happened during an incredible set from one of my favorites, Ivy Lab, and when I returned to camp, my neighbors shared a similar story of their bags getting stolen during Odesza's headlining set.
Despite the chaos on Friday, my experience with Insomniac's Ground Control team was that they were kind and helpful when I reported my missing bag while also getting me a locksmith since I was now without my car keys. They were friends to me during my highest-stress time of the weekend, and my sweet friend Mary from the Ground Control team even found me later on during the festival to check up on me. I live for festival staff whose hearts are all in it for the attendees, and that's how I'd describe the lovely folks who helped me through this rough moment.
That being said, the presence of Ground Control could've been more throughout the weekend. I had only gotten the number to text them on Friday night because I had asked at an information booth, and they hadn't passed out any flyers with that information when entering the campgrounds on Thursday or earlier that day – that didn't happen until Saturday in GA+ camping. Additionally, this information was not present in the official Okeechobee app, which would've made it easier to contact them.
Nothing, however, could stop me from getting to Skream's set on Friday.
Revealed as a surprise set a week before the festival, my friends and I were over the moon for this ultra-rare opportunity to see a dubstep legend for all of our first times. The firey Incendia stage, while slightly smaller than last year, once again boasted big sound from Nomad Sound Systems. With MC Jumanji on the microphone, Skream threw down classic old dubstep to an excited crowd.
A night of flawless curation ensued after Skream as Ivy Lab b2b Mr. Carmack, Justin Martin, and Player Dave followed. The expertise in lineup curation for each day and each stage was nearly perfect at all times and a highlight of the weekend musically. Although it was difficult not to feel discouraged after Friday, I got to see some pretty insane music and couldn't wait for Saturday.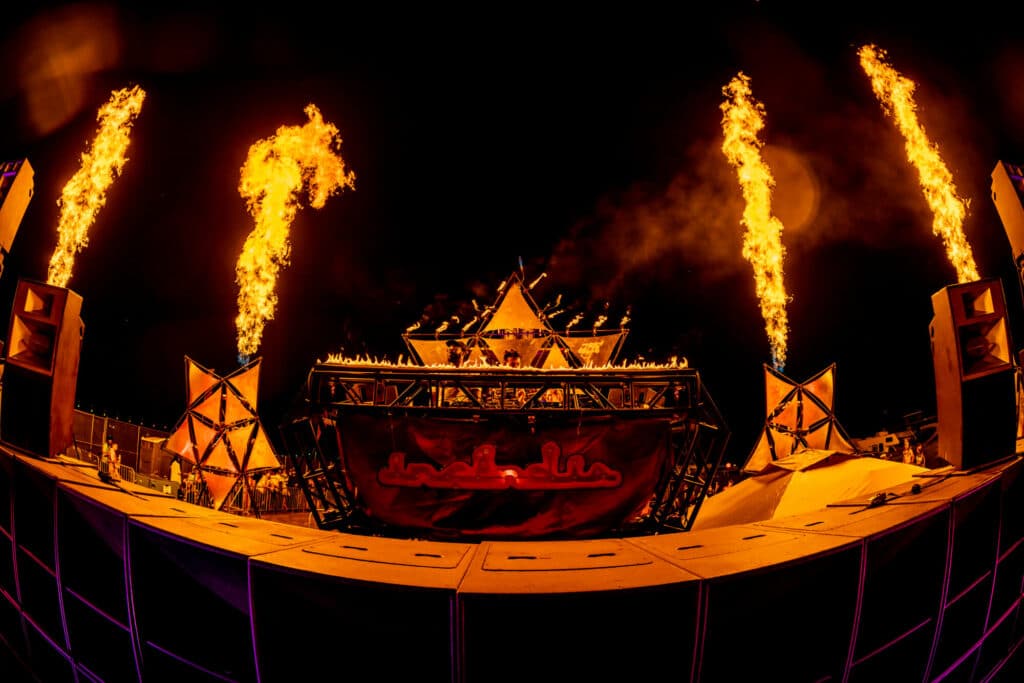 With dubstep day on the beach came the tradeoff of good sound for the shade structure that we all missed so much.
With an entire day's worth of music that I wanted to see at Aquachobee on Saturday, I knew there was simply no way I could make it out for the opening two sets without that shade structure. I knew I was going to have to last for four straight sets out there in the heat, so had there been shade, I would've loved to catch Zen Selekta and Whom? – but the beating sun kept me hiding at camp, trying my best to hydrate.
When I emerged for The Widdler and Pushloop's b2b set at 3:30, one look across the beach proved that the crowd was hurting without that shade structure. Unmoving bodies were all hiding underneath pashminas, tapestries, towels, and whatever they could find to escape the sun and with only one water station at the main entrance to the Aquachobee. The sun's glare off of the water easily makes it the hottest stage, and I was glad I didn't overdo it by starting earlier.
As the afternoon sun finally lowered, I was ready to get closer to the gorgeous Funktion speakers and made my way into the pit for my favorites, Ternion Sound.
The stage itself acted as a kind of shade structure once the sun hit that perfect spot at the perfect time to dance our hearts out to one of the best sets all weekend. Having experienced my fair share of Funktion-One sound systems at different events, these ones definitely wowed me and hit so sickeningly to the core the closer you got. The stage's perfect curation didn't stop there as Coki and TRUTH followed with more iconic sets perfect for the sound system that were highlights of the weekend.
While I'd planned to catch Earth, Wind, and Fire, a last-minute set change due to another artist's travel issues caused me to miss their set. Schedule changes are bound to happen at any festival, and the Okeechobee app attempted to update everyone, but it blew my mind that this legendary group wasn't headlining in the first place. Had that been the case, this set-change flop probably wouldn't have happened.
Earth, Wind, and Fire's set ended up being an hour earlier with last-minute notice, causing many people to miss their performance and further wonder why they weren't the act closing the mainstage, to begin with. More unique performances popped off from the Incendia late Saturday night, including a diverse set from Nikki Nair and a rare back-to-back from old and new dubstep legends Coki and Ternion Sound. There was no better way to end the night musically.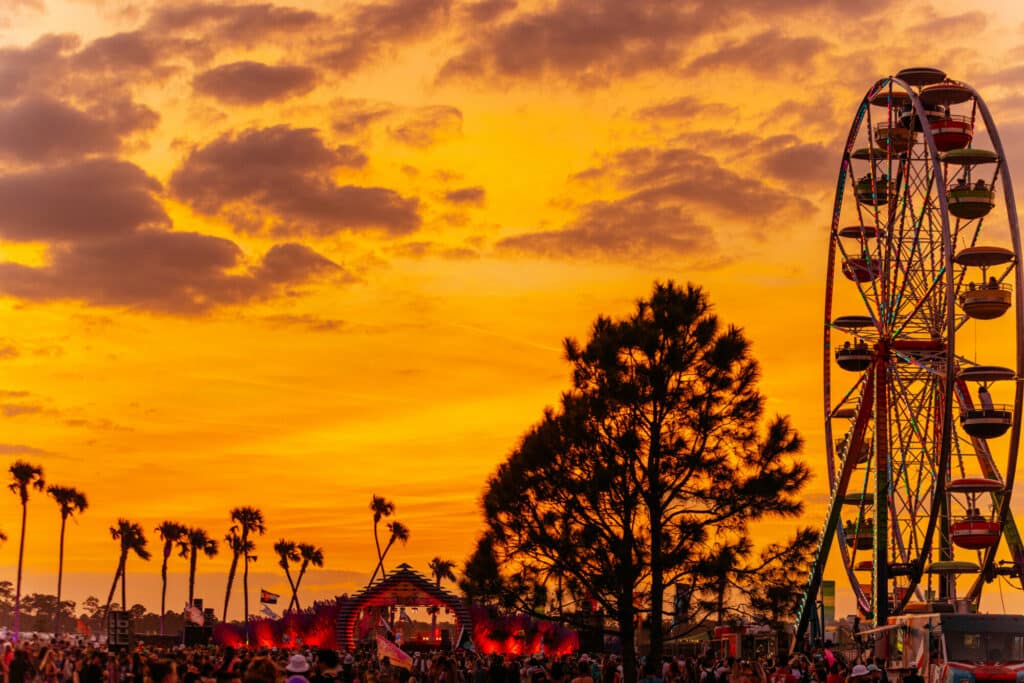 I woke up Sunday wanting to be excited for some of my favorite artists sets that day.
I was up early and exhausted, but it was time to check lost and found for a final time. I couldn't believe my eyes when I checked the online directory, and there they were. I felt instant relief as all of my anxieties from the weekend disappeared in an instant. They handed me my keys back, cracked from being stepped on, and my bank cards were missing from my wallet, of course, but I at least I had what I needed to get home.
When I returned to camp with my keys and all of my neighbors cheered, I couldn't help but feel sad still for my neighbor Kevin whose keys still hadn't been returned after his bag was stolen. I told him the magic of Okee returned my keys, and it had to return his, too.
Sunday afternoon meant it was time for one of my most-anticipated sets of the weekend, Chef Boyarbeatz, at the Here stage.
Now that I was worry-free about my keys, I couldn't wait to party. The heat took over again, and the dust was thick as ever as I made my way to the tent to discover a generator blowing had made for a thirty-minute delay. Grateful to be under the shade of the Here stage and not in the sun, we waited and got even more excited for Chef's set, where he dropped banger after banger to a huge Sunday crowd.
The second set that I was most excited for on Sunday didn't disappoint either, and that was an evening Here stage slay from none other than Nia Archives. Feeling blessed to see her in the states, I basked in the unique jungle sounds we didn't hear much of anywhere else. More key curation ensued with one of my all-time favorites, Supertask, who threw down a mesmerizing set, followed by Yheti, Mersiv, and LSDREAM. I left after Yheti to finish packing up my camp now that the hot sun had fallen.
While packing up camp, my neighbor Kevin appeared from thin air beside himself with excitement as he sprinted towards me. We didn't even have to say anything to each other because I knew; we just hugged and cried. He, too, had finally gotten his car keys back. A challenge I'd told him that we were in together from the night we both got our things stolen on Friday. I told him that's the magic of Okee, baby!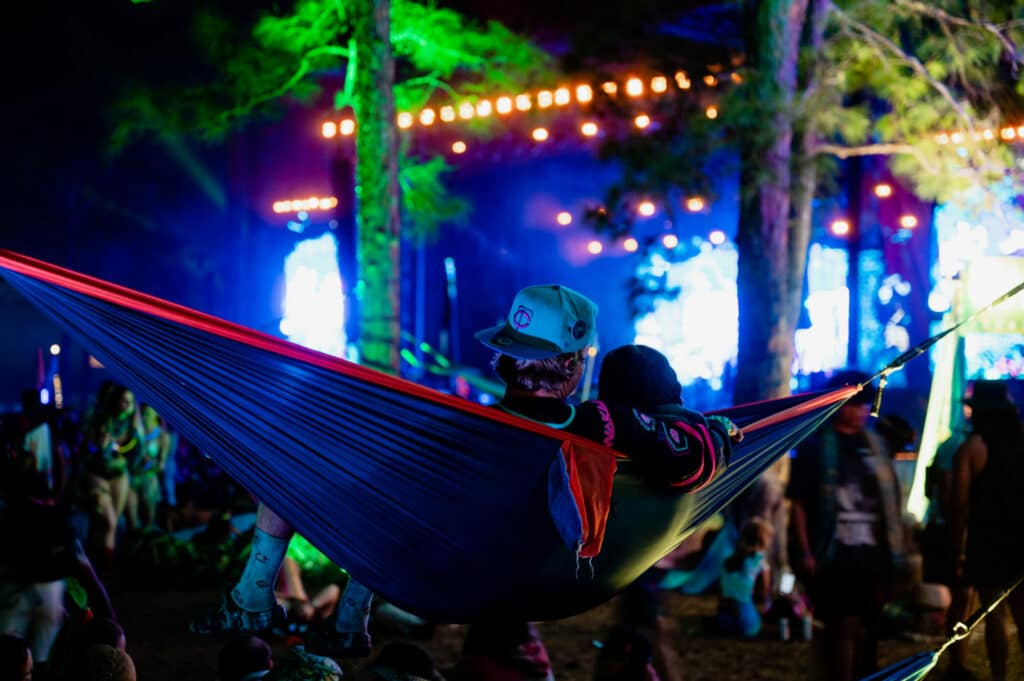 Late-night Incendia on Sunday was another instance of near-flawless lineup curation, but it was wrecked in one of the worst logistical disasters of the weekend.
The dubstep heads were already camped out early in the night at this smaller stage for insane sets from Soukii, Curra, and legendary artist Khan on the Funktion-Ones. It was after Khan that the curation took a turn when mainstage-act GRiZ was booked to play a "secret" set that really wasn't a secret at all. The Okeechobee app and all of their socials blasted this information all day to everyone, and we knew the Incendia's quaint crowd was going to get uncomfortable when it was bombarded with a mainstage-sized mass, but it was worse than I could've imagined.
It would have made a lot of sense for the second secret guest, Lab Group, to follow Khan as the styles had all flowed effortlessly well after one another all night at the Incendia. Music curation aspect aside, the HERE stage had just closed thirty minutes before GRiZ was to start on the Incendia, and when it did all hell broke loose. The Here stage exit into the existing Incendia crowd created a bottleneck from hell. It was here that I experienced some of the worst crowd behaviors all weekend. It felt like a crush situation was nearly underway by the end of Khan's set, and attendees didn't care who they were trampling to get through.
The Incendia stage simply wasn't designed for an artist the size of GRiZ to take over, not to mention his style did not match with the existing curation or the sound system. Had he been booked following Lab Group, I feel that the overcrowding situation wouldn't have been near as severe because people wouldn't have rushed to this stage all at once. As much as I love Lab Group, there was no chance I could stick out that mess of a crowd among my disappointment to hear GRiZ's song choices strike sharply across a sound system designed for low-ends.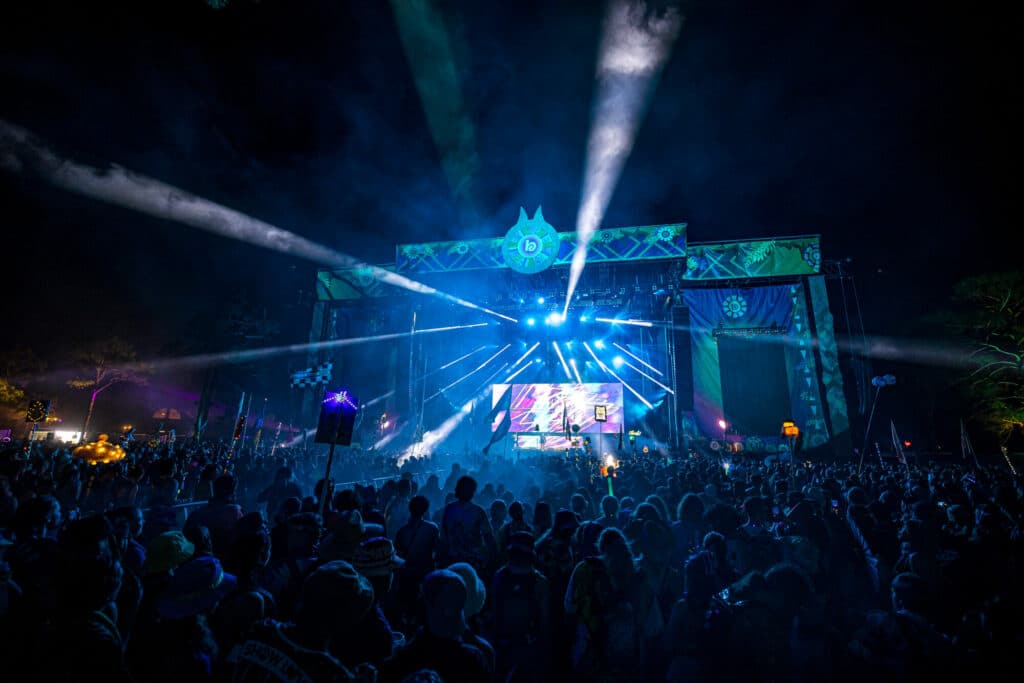 This year's edition of Okeechobee was full of ups and downs, and there's plenty of room for improvement for future editions.
Security left a lot to be desired at Okeechobee this year. My car was barely searched upon entry to the festival, while others reported that they had their entire cars torn apart, which led me to believe that they were being inconsistent from the jump. Inside the festival, security was also inconsistent, unhelpful, and seemed to be completely useless, while the vibe they gave off was that they were miserable as well and didn't even want to be there.
There were two medical tents at the festival, one near the Aquachobee stage and the other near Chobeewobee Village, but the latter of the two was not properly marked on the map that was posted on social media or in the official app. While this was the same as the 2022 edition, those prior to the pandemic had multiple medical tents spread throughout the venue, and there could've been smaller satellite ones throughout the campgrounds.
It was also later revealed that an attendee tragically passed away late Friday night at the festival. While a number of stories have surfaced on social media surrounding this incident, which according to Insomniac, is still under investigation, questions still loom surrounding what could've been done to prevent this from happening.
Could there have been more security and lights surrounding the lake at night? Should Okeechobee have prevented attendees from swimming instead of promoting the opposite, even though signs around the lake said "no swimming"? Unfortunately, we will never really know the answer to those questions, but regardless, it is always important to watch out for yourselves and your friends and be ultra-aware of your surroundings at any event.
While the time I spent at Okeechobee was filled with memories that will last me a lifetime, my hope is that changes are made for future editions to make this a safer, more comfortable experience for attendees.
---
Follow Okeechobee: