Be the most prepared for the party and stay in the know ahead of Okeechobee Music & Arts Festival 2020 with this essential info!
---
Okeechobee Music & Arts Festival is just a short week away and with the set times surfacing, the excitement is truly setting in. Attendees are getting antsy to see artists on the stacked lineup like Vampire Weekend, Bassnectar, Glass Animals, Kaskade, and more in Sunshine Grove as they make their way to enter The Portal once again.
Related: Get hyped for Okeechobee with this curated playlist from Julian Gray!
We all get those pre-festival jitters, but luckily for those attending we've curated a stacked essentials guide with all of the information you'll need to plan accordingly. Read on for all the details on this year's edition and let us know if you'll be heading to Okeechobee this year in the comments!
---
Essential Info:
Dates: March 5-7, 2020
Hours: Thursday, March 5: 12pm–2am, Friday, March 6: 8am–6pm, Saturday, March 7: 8am–2pm, Sunday, March 8: no camping admittance.
Venue Address: Sunshine Grove,12517 NE 91st Ave Okeechobee, FL 34972
Tickets: Purchase HERE
Facebook Event Page: RSVP HERE
---
Okeechobee 2020 Set Times:
Download the official app for the latest set times and updates. We'll drop the graphic below when it becomes available!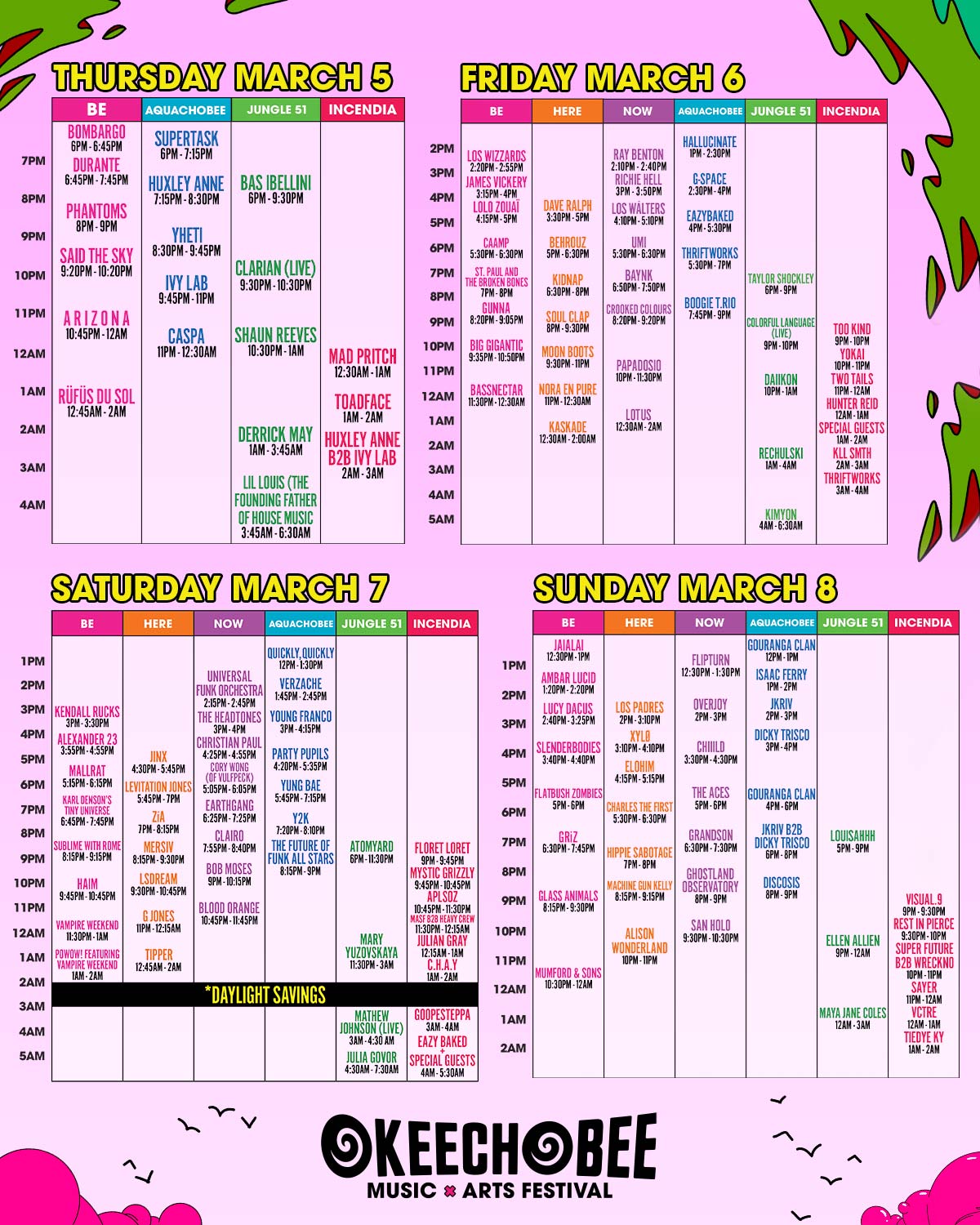 ---
Okeechobee 2020 Activity Schedule:
---
Okeechobee 2020 Festival Map: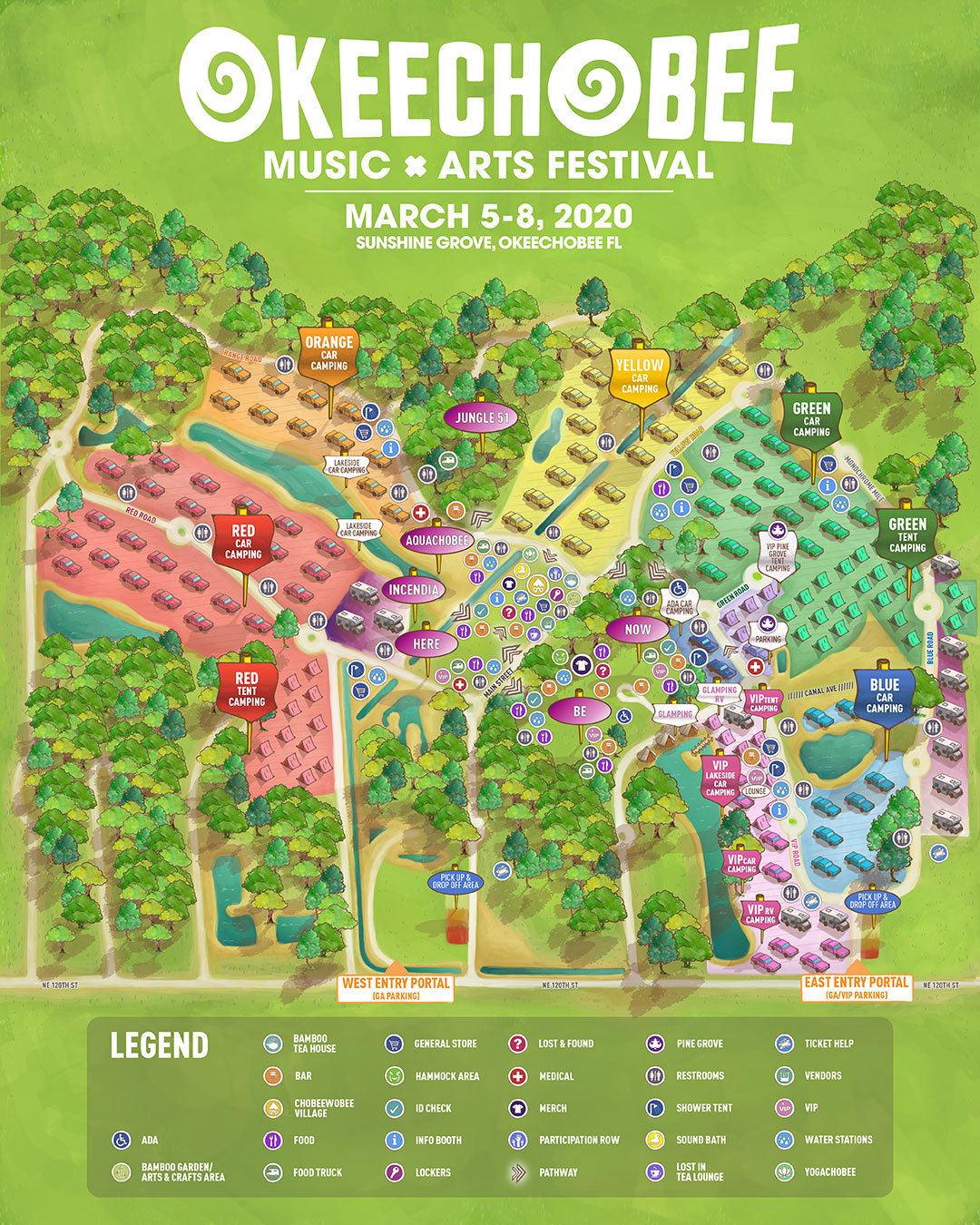 ---
Do's & Don'ts:
Prohibited Items
NO Aerosol products/cans
NO Balls or Frisbees
NO Bota bags
NO Costumes that resemble public safety uniforms (police, SWAT, fire, security, or medical) in any way
NO Drones, remote-control aircraft, toys
NO Drugs or drug paraphernalia
NO Eye drops (available inside festival at the general store)
NO Gas masks
NO Glass, cans, cups or coolers
NO Helium balloons
NO Illegal substances
NO Large metal chains or metal spiked jewelry
NO Large purses, bags, or backpacks (over 12″×12″)
NO Laser pointers or air horns
NO Liquid makeup
NO Markers, pens, or spray paint
NO Massagers
NO Nitrous dioxide (NO2) containers (no nitrous of any kind)
NO Open packs of cigarettes (upon entry)
NO Outside food or beverages (including alcohol or candy)
NO Over-the-counter medication (available inside festival at general store)
NO Pets
NO Professional photo, video, or audio recording equipment (no detachable lenses, tripods, big zooms, or commercial-use rigs)
NO Stickers or flyers
NO Stuffed animals or dolls
NO Tents, large beach umbrellas, or chairs
NO Toy guns, water guns, slingshots
NO Unsealed tampons or pads (upon entry)
NO Weapon or weapon accessories of any kind, real or fictional (including whips, lightsabers, pocket knives, pepper spray, fireworks, fake weapons/props, etc.)
Permitted Items
YES Cell phones and portable chargers/external batteries
YES Cigarettes (must be sealed upon entry) and lighters
YES Deodorant (must be sealed upon entry)
YES E-cigs/vapes (refillable liquid chambers OK, must be empty upon entry—one bottle sealed/unopened E-liquid or E-juice will be permitted)
YES Juul Pods (must be in sealed pack upon entry)
YES Earplugs
YES Fanny packs
YES Festival totems or decorated pool noodles (see Totem Guidelines)
YES Flags/banners or handmade signs (no corporate/company-branded and no hard flagpoles)
YES Glowsticks & glowing/illuminated costumes or jewelry
YES Gum (must be sealed upon entry)
YES Hula hoops, including LED hoops
YES Hydration packs with no more than two main compartments and one smaller compartment (must be empty upon entry)
YES Inflatables (must be deflated upon entry)
YES LED whips, pois & orbitals
YES Lip balm & gloss (must be sealed upon entry)
YES Non-professional flash/still cameras, handheld video devices under 6″ (Sony Action Cam, GoPro, Polaroid, etc.)
YES Personal misting fan with a bottle no larger than 1.5L (must be empty upon entry)
YES Physician-prescribed medication that is not expired (must show physician's prescription and consult with a safety officer upon entry, prescription must match ID)
YES Powder makeup (liquid makeup prohibited)
YES Rain ponchos and umbrellas
YES Selfie sticks
YES Small bags, single-compartment bags, plush bags, purses (maximum 12″x12″)
YES Sunglasses & hats
YES Sunscreen lotion (inspected upon entry)
YES Tampons and pads (must be sealed upon entry)
YES Water bottles (must be empty upon entry)
YES Wet wipes (must be sealed upon entry)
YES Wind chairs
Totem Guidelines
Maximum height is 10 feet.
Totems must be made from a lightweight material (e.g., foam, PVC / no solid metal).
Collapsible/telescoping camera extenders that follow the above guidelines are OK (lightweight/hollow aluminum/polycarbonate).
PVC, light wood, or aluminum poles must be no thicker than 1 inch in diameter.
Decorated pool noodles work great for easy entry through security.
Inflatables attached to totems must be deflated upon entry.
Any item deemed dangerous will not be allowed.
Totems promoting illegal activity or hate speech will not be permitted. Please keep the love.
Acceptable Forms of Identification for Entry
Any US government-issued driver's license or ID card containing a photograph and date of birth
US or foreign government-issued passport containing a photograph and date of birth
Foreign government-issued driver's license/ID with color photocopy of passport (Not valid for 21+ wristband. To purchase alcohol, a physical passport or US ID will be required.)
Temporary DMV documents proving you are currently renewing a license—ONLY if accompanied by passport or expired license.
Unacceptable Forms of Identification for Entry
NO School ID
NO Consular ID
NO Birth certificate
NO Expired ID of any kind
NO Photocopy of any ID (except as noted)
NO Temporary DMV license without passport or expired license
---
Reminder To Mind Your Belongings:
Unfortunately, many people have reported pickpockets, bag slashings, and theft of wallets, smartphones, purses and other valuables during this festival season. While this small number of bad apples in the bunch doesn't define an entire crowd, there are opportunistic people who come to these events to take advantage of unsuspecting partygoers and it's important to be mindful of your valuables while at Okeechobee Music & Arts Festival 2020.
Looking for tips to keep your belongings safe? Check our post highlighting some ideas!
---
Connect with Okeechobee Music & Arts Festival on Social Media:
Website | Facebook | Twitter | Instagram | Facebook Event Page