Daily Bread brings forth all the funky, old-school sounds one could crave on his 13-track album, Invisible Cinema.
---
Daily Bread is known for giving fans moments of nostalgia with his new-age twist sprinkled over retro sounds of the past. His perfected craft provides a sense of comfort and familiarity, as well as an easily palatable shock factor. With one of the most genuine communities behind him and a passion for bringing the funk, Daily Bread is the wave of change the scene may be longing for the most.
Continually trying to enlighten ears with his vintage style, Daily Bread heard cheers all around when he announced his first headlining national tour, The Invisible Cinema Tour. This trailblazer has already made stops at Okeechobee Music Festival as well as Envision and is set to play Red Rocks as direct support for Mersiv, plus many more! With a tour comes new music, and Daily Bread has finally pulled the hot loaf of fresh tracks out of the oven.
It wouldn't be a tour without some new music to showcase, and Daily Bread dropped 13 new delectable songs for fans to revel in on his latest LP, Invisible Cinema. The two teases off the album – "Moon Slips Away," followed by "Back to the Moon" – came to the surface showcasing, once again, his avant-garde take on morphing generations, and all listeners could do is count down the days until more immersive goodness would come to the light.
The wait is over. Listen to Daily Bread's latest work on Spotify, download Invisible Cinema on Bandcamp, and read on for a more in-depth look at some of the tracks!
Stream Daily Bread – Invisible Cinema on Spotify:
---
Fall into a playful timewarp once you press play on Invisible Cinema.
Picture yourself sitting on your front porch on a sunny day in your youth. You have your window open so you can hear the radio, and "Blindfold Yourself" bursts through the window screen with the help of Late Night Radio giving the PSA to get the funk down. Nothing gets you more in the mood to throw sass like "Street Treasure" and its soulful lyrics. The urge to grab the loofa in the shower and sing at the top of your lungs each time the vocals are present.
Jonah Cruzz speaks a relatable truth on "Applying Pressure" that will provoke inspiration within. As the drop becomes the focus, Daily Bread's wonky and wild side bursts through with force, demanding all ears on him. "Weary Days" will have you feeling as if you are walking on a path that lights up different colors of the rainbow with each step. Although you feel as if you can't walk on anymore from the stress of the day, the energizing beat will have you moving into the enchanting sunset like the boss you are.
We're only getting warmed up as we hit the halfway mark, and more irresistible psychedelic soundscapes are yet to come.
Adding his wisdom into the mix, Artifakts teams up on "Neighbors," bringing a mellow vibe to the table. This track sets the scene as if you're back in your roots at your makeshift studio, in the garage with your pals, freestyling about your daily life and dreams. "Storm Clouds Rising" is a refreshing track with 4-IZE and Late Night Radio's hands involved. Angelic, choir-like voices, horns will engulf listeners, and piano chords to walk them home and away from the storm clouds in sight.
Get ready to take a trip as "Close Encounter" guides you to a hidden door. You then realize you are sitting on a cloud, staring down at the world you know. You feel lightless and carefree as you float along to this airy and spirited beat. Here to slow it down, "Snickerz" comes in with a melancholy that feels like a deep exhale. Just as you feel the relief of your breath, an alien-warbled beat comes front and center with bold rapping vocals. Turning the mood back into a more laid-back setting, "Empty Like Sky" provides a chill hop vibe perfect for walking the dog.
We near our end as "Look Up At The Stars" enters the space. You can't help but feel a boost to your soul with the soundscapes present; this track is the perfect song to play as you're cuddled up, admiring the starlit sky. Bringing us to a close, "Set To The Sky" keeps the soulful groove alive with its wide-range vocals and wiggly airwaves provided by trumpets. Bodies will be cutting rugs from start to finish on Invisible Cinema. From its chilling vocalists to the nostalgic sounds of live instruments, Daily Bread has created a perfect blast into the past.
---
Daily Bread – Invisible Cinema – Tracklist:
Blindfold Yourself ft. Late Night Radio
Street Treasure
Applying Pressure ft. Jonah Cruzz
Weary Days
Back To The Moon
Moon Slips Away
Neighbors ft. Artifakts
Storm Clouds Rising ft. 4-IZE & Late Night Radio
Close Encounter
Snickerz
Empty Like Sky
Look Up At The Stars
Set To The Sky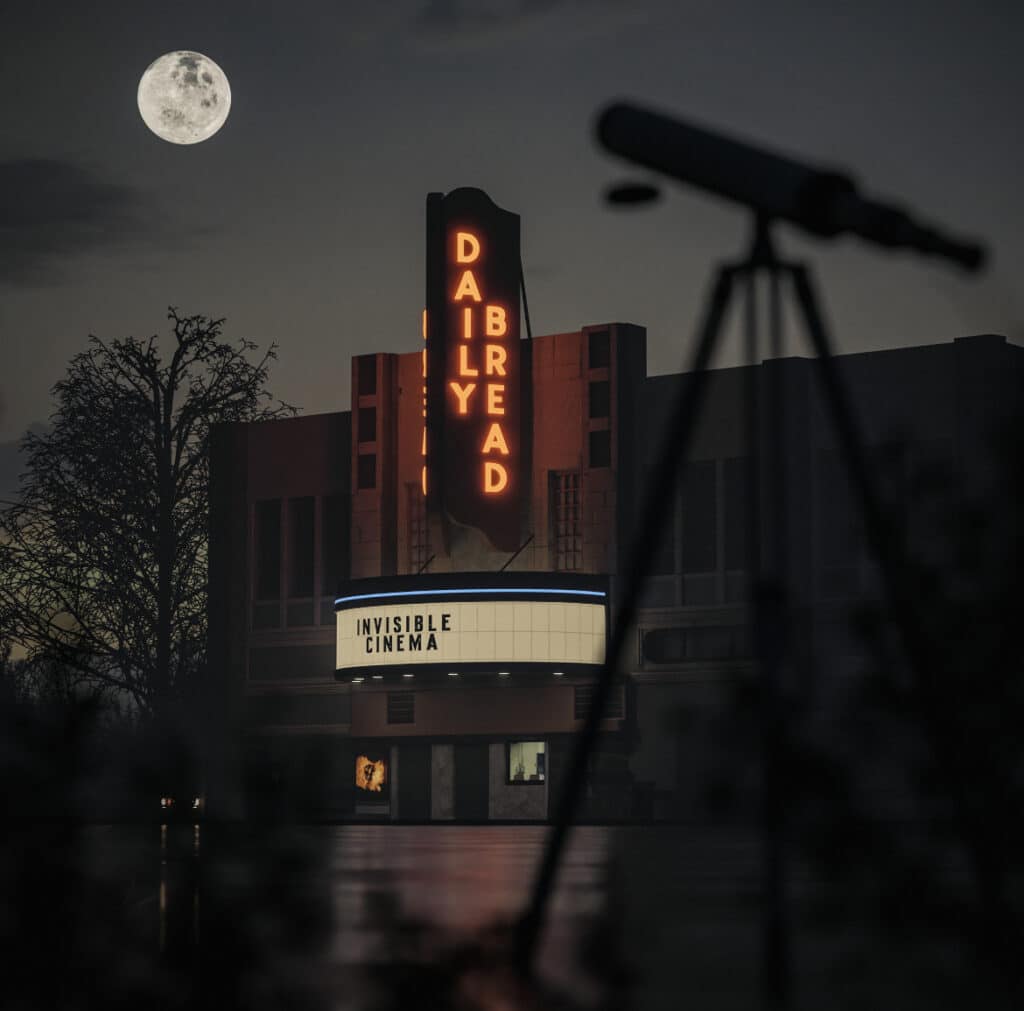 ---
Follow Daily Bread:
Website | Facebook | Twitter | Instagram | SoundCloud | YouTube