More artists are set to play Lightning in a Bottle this year on the Grand Artique, Compass, The Junkyard, and The Stacks stages.
---
The excitement continues to build as the 20th anniversary of Lightning in a Bottle grows nearer by the day. The festival is set to return to Buena Vista Lake in Bakersfield on the weekend of May 24 – 29 and will host headliners REZZ, SOFI TUKKER, and ZHU with other highly anticipated sets from artists like Purple Disco Machine, Caribou, Mindchatter, and LSDREAM, among many others. Since the release of the lineup earlier this year, Lightning in a Bottle has continued to build excitement for this year's festival, revealing the lineups for Grand Artique, The Junkyard, Compass, and now, The Stacks.
Grand Artique is a staple of the Lightning in a Bottle experience with its Western-themed aesthetic, trading post, and artfully crafted lineup. Gracing the stage at Frontierville this year will be musical artists like Hello Yes, Red Giant Project, Moontricks, and Band of Gringos, among many others, and funky fantastic programs like The Grand Artique Talent Show and The Grand Auction.
The Junkyard also returns with a stellar lineup full of house, techno, disco, and more. Some artists playing The Junkyard this year include TOKiMONSTA, Marques Wyatt, Henry Pope, Tooker, and Liam Fitzgerald, plus special guests! Additionally, the Compass will host a variety of hybrid programming like Lightcode by LSDREAM, Sunday Service with The Polish Ambassador, Bohemian Cristal Instrument, and ambient downtempo sessions at The Beacon.
Related: Revisit past Lightning in Bottle memories and take a trip down memory lane through Zach's Lens.
Lastly, whether it's leftfield, global, experimental, dubstep, glitch hop, or wonky, The Stacks will be dishing out body-rumbling frequencies all weekend long. This year's Stacks lineup includes artists like An-Ten-Ae, Beijing Junglist, The Gaslamp Killer, Edekit, Handsome Tiger, Kaipora, Lywkid, Sylust, Super Future, and Wylie Cable, to name a few. Not to mention, there will be special guest performances that will be announced closer to the date of the festival. No matter what, there will be no shortage of good music and new discoveries at The Stacks, so be sure to stop by and vibe out for a bit.
Tickets for Lightning in a Bottle's 20th anniversary are available on their official website!
---
Lightning in a Bottle 2023 – Grand Artique, Compass, The Junkyard, and The Stacks Lineups: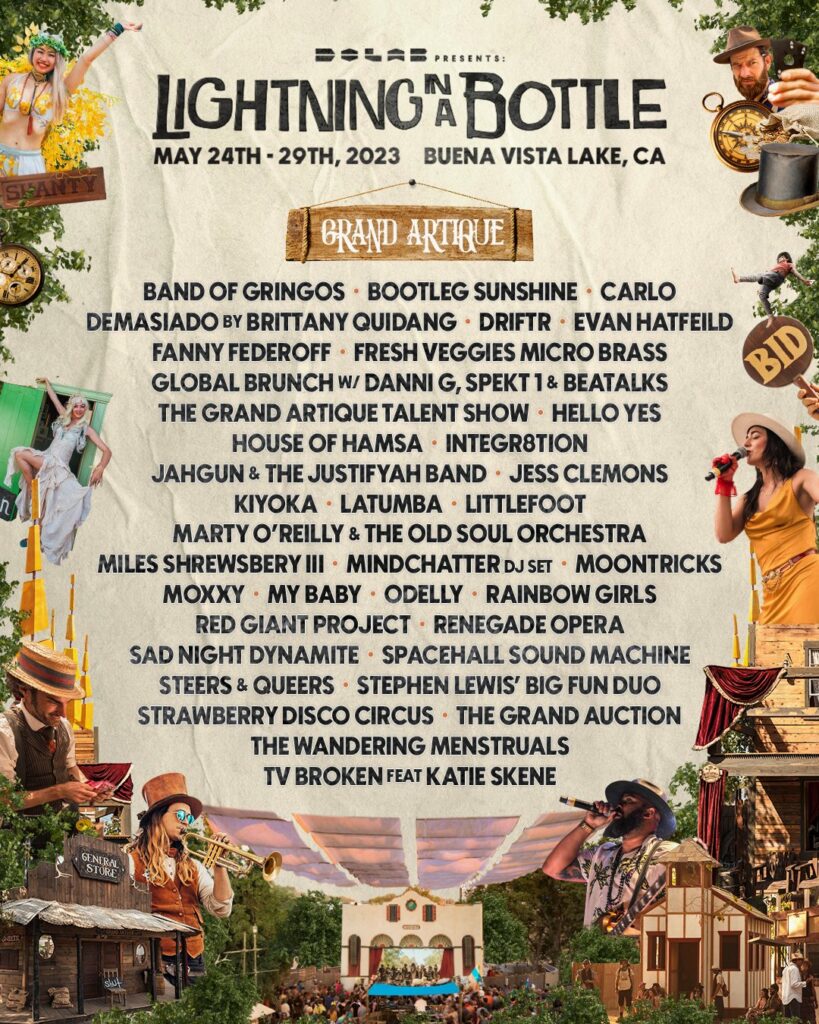 ---
Follow Lightning in a Bottle: