Kam Sator and Bucky are stepping up to the DJ booth at The Spirit Room in Rochester, NY, for an untamed night of house and techno!
---
If you're in the Rochester, NY, area on Saturday, March 25, and are looking to get your house and techno fix, then you'll want to get your dancing feet over to The Spirit Room for the launch of Grape Zebra Presents! Booked for the evening at this eccentric watering hole are Grape Zebra founder Kam Sator, and Bucky, two born-and-raised Western New Yorkers who have been paving their way through the dance music scene for over a decade.
Kicking off the night is Bucky. He has worn many hats in the regional scene including event promotion and music journalism, and now he's ready to switch things up at The Spirit Room. Up until this very moment, Bucky has been the type of music collector and connoisseur to soak up the energy from the crowd, but the drive to get up and flex his skills has taken over! For his official DJ debut, you can expect Bucky's many years of industry exploration to come into play while he serves up riveting rhythms and stimulating sound waves.
Headlining the show is Kam Sator. This is an artist who launched his DJ career back in 2013 after moving from Buffalo, NY, to the gulf coast of Alabama. After proving his talent on the club circuit he got scooped up by GlowRage, and after a successful national stint with the company, he went on to follow his heart into the techno universe where he remains to this day.
His unyielding passion for everything techno took off in Atlanta, GA, where he turned the volume up on the action at Sound Not Found – Silent Disco and other local events. Of course, he's never been one to shy away from festive tech house flavors as well, allowing the mood to flow and flex along with the crowd. For this soiree, Kam Sator plans on going full tilt because this will be the last time he'll be playing in WNY for a while as he's currently preparing to relocate to California. So, be on the lookout for Grape Zebra events coming soon on the west coast!
Grape Zebra was created to bring you quality shows with variations of house and techno, focusing on creative sounds, new talent, and mood-setting visuals that will draw you fully into the underground scene. Our shows are fully inclusive and we will always promote the come-as-you-are principle of the scene. The only requirement at a Grape Zebra event is to dance, have fun, and create new experiences you'll never forget!

Kam Sator
This is a free event, so if you're 21+ years old and want to saturate your cells with the very best in melodic, techno, and house, then mark your calendar for March 25 at 10:30 PM at The Spirit Room – 139 State Street, Rochester, NY.
---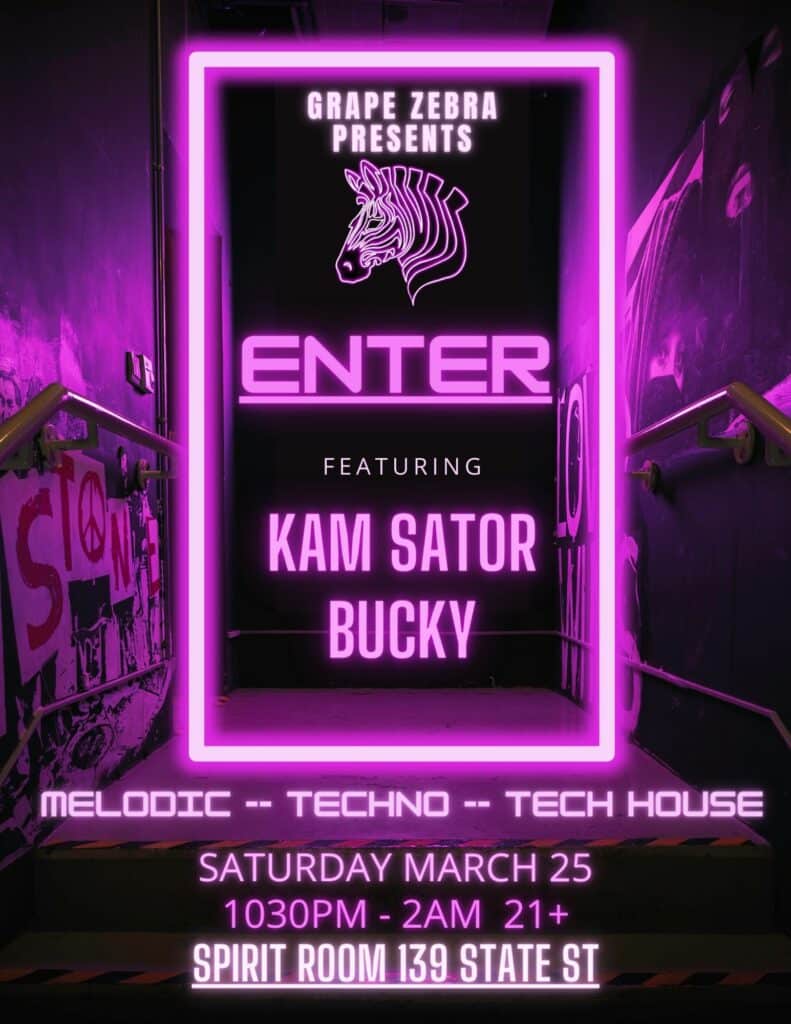 ---
Follow Kam Sator: