ARMNHMR's emotional track "Drowning" is just a preview of what's to come on their sophomore album Together As One.
---
Dynamic duo Joseph Chung and Joseph Abella, also known as ARMNHMR, have become mainstays in the dance community for crafting lush melodies and euphoric drops, blending vocals that melt into their production. The pair have always championed identity and the human experience in their music, sharing their goals for "ARMNHMR to become a global dance music brand" surrounding the release of their debut album, The Free World, in 2020.
Taking it a step further, ARMNHMR shared their desire to "show that music can truly bring people together." Now, almost exactly three years later, the pair's lead single, "Drowning," from their forthcoming sophomore album Together As One, achieves exactly that. The forthcoming album marks ARMNHMR's return to Monstercat and closely follows the success of their EP, Waiting For Love.
"Drowning" is a song about the fear of change. Sometimes we expect a sequence of events to play out perfectly, or unexpectedly, like some film script. Oftentimes it doesn't. It's about the anxiety we deal with after a sudden change.

ARMNHMR
Instead of shying away from the painful parts of human emotions, "Drowning" fuses Heleen's commanding vocals with fervent melodies to tackle the difficult topics of fear and anxiety, all while retaining its dance-ready rhythms. Featuring organic-leaning elements like punches of percussion with the synth-laced harmonies sprawled across the song, "Drowning" feels like a natural evolution of ARMNHMR's sound. As the first single off their upcoming album, it's just a preview of what's to come on Together As One, which similarly underscores the theme of the human experience.
Alongside their new single and the announcement of Together As One, ARMNHMR also announced the first phase of the album's tour, which kicks off at the Observatory Festival Grounds in Santa Ana and ends with an appearance at Tomorrowland in Belgium and includes support from Blanke, Cheyenne Giles, Fairlane, JVNA, Amidy, and Muerte.
Listen to "Drowning" featuring Heleen on Spotify or stream the single via your favorite music platform, and grab tickets to catch them on tour!
Stream ARMNHMR – Drowning (feat. Heleen) on Spotify:
---
ARMNHMR Together As One Tour – Phase One Dates & Venues: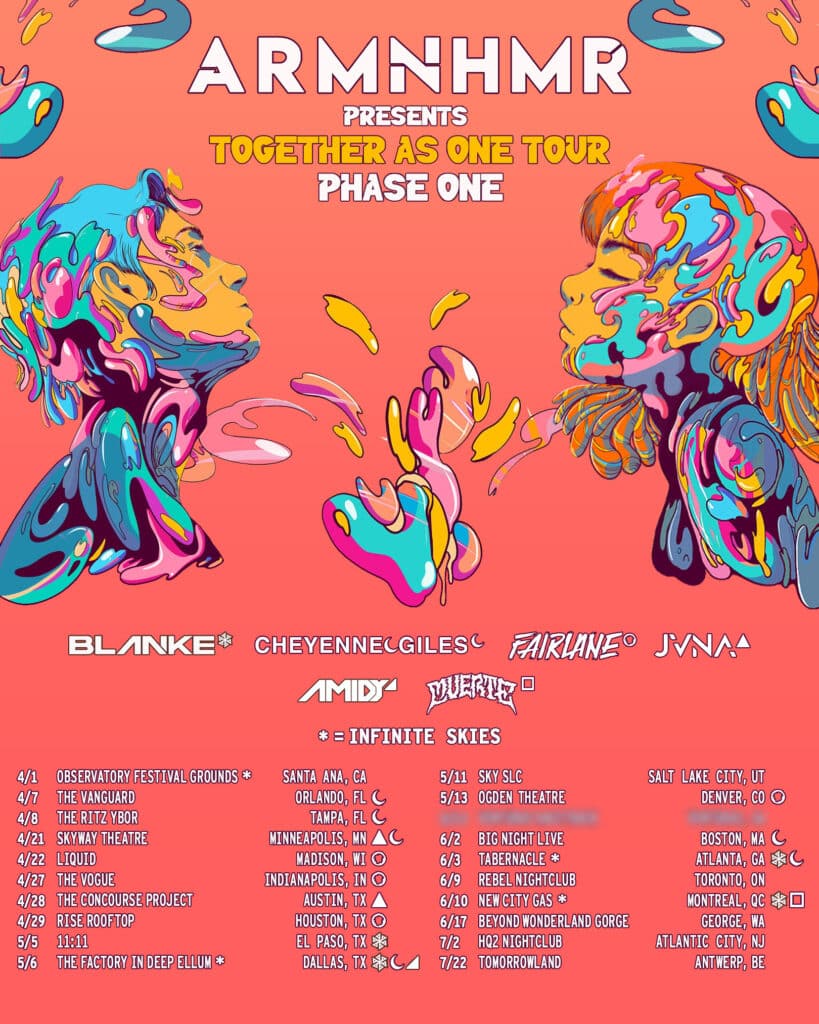 ---
Follow ARMNHMR: