As the lead-up to their spring tour of North America, Giolì & Assia record their latest #DiesisLive at the Segesta Temple in Italy!
---
Attention Giolì & Assia fans and lovers of everything deep and melodic, the girls have done it again! While the world continues to soak in the majesty of Fire Hell And Holy Water, the two kick off the new year with style and grace by taking over the Segesta Temple in Sicily, Italy. This is hands down one of the coolest locations they've ever featured on #DiesisLive, and in fact, this location is also one of the most personal as it's just a stone's throw away from Giolì & Assia's hometown.
"We love this archaeological park, so to finally have the chance to perform inside of it was a huge honour for us," said Giolì & Assia. "We really wanted to make people from all over the world know this place and with it being just 20 minutes from our home, we are also able to promote and show the beauty of our home, Sicily."
From the drone whisking viewers up for a bird's eye view at sunrise, to the girls mixing and making music in the midst of the towering temple pillars, this is a video that inspires arm hairs to raise and minds to be blown. In true fashion, you'll get to see Giolì flex her multi-instrumental flair while Assia serenades the senses with her immaculate vocals. Together they create a transcendent experience that rivals some of their most unique performances to date. To jog the memory, take a look back at previous #DiesisLive sets at Fjallsarlon Glacier Lagoon, Iceland, on a Vulcano in the Aeolian Islands, and at Calanchi of Centuripe, among many others.
If you've never experienced a Giolì & Assia #DiesisLive set then you've clearly been doing your life a disservice. These sets come to life in places that most of us could never dream of visiting and the tracklist is carefully crafted with not only the backdrop in mind but of the pure creative genius that runs deep within these fascinating musicians. But, while these sets are always kept intimate, you can witness the duo in action in a city near you as they're taking their tunes on a North American tour this April.
Check out the full list of Giolì & Assia tour stops, grab your tickets, and then smash that play button to enjoy their incredible #DiesisLive set at the Segesta Temple on YouTube!
Watch Giolì & Assia at #DiesisLive at Segesta Temple onYouTube:
---
Giolì & Assia 2023 North American Tour Dates: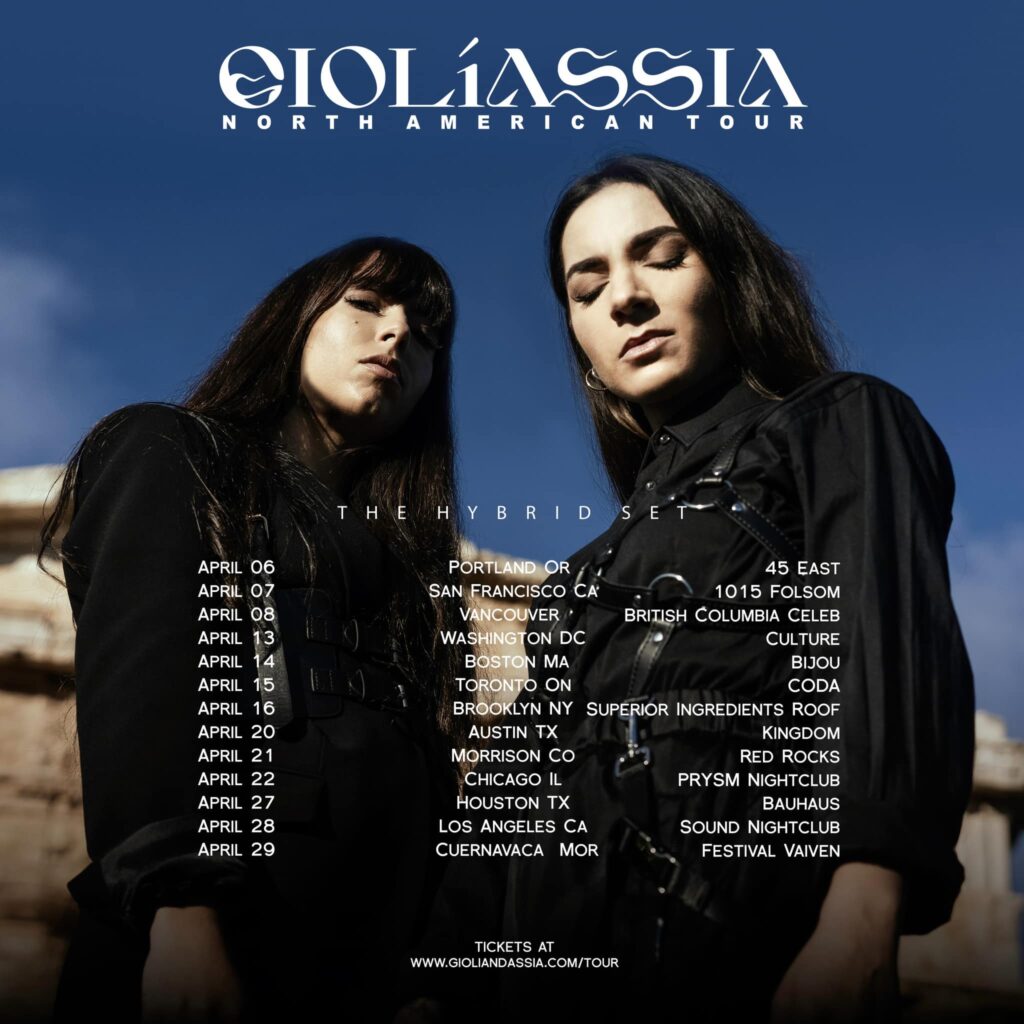 ---
Follow Giolì & Assia:
Website | Facebook | Twitter | Instagram | SoundCloud | YouTube