Going to concerts is a blast, but exposure to loud music can impact hearing, which is why using earplugs for protection is an absolute must.
---
Over one billion music fans are at risk for permanent hearing loss when not using proper ear protection. Let's be real, we've all been to a show where the bass rattles your entire body, not to mention, your eardrums. Any sustained sounds over 90dB will begin to result in damage after two hours, with most concerts being over 100dB and electronic shows even louder. It's the natural culture of the electronic scene to have booming bass and while we can't avoid it, we can do our part in avoiding the negative outcomes.
Project Decibel, a proactive service for hearing wellness, serving high-risk, unregulated populations, provides some facts about hearing loss, as well as examples of what mild-moderate to severe, profound hearing loss can be like. Through creating awareness of the issues surrounding hearing wellness and offering product solutions to remedy them, Project Decibel's mission is to "Save your ears."
One in three hearing loss cases is caused by loud exposure to sound (including symphonic bands, concerts, and listening to headphones).
Music-induced hearing disorders are permanent.
Loud sound-induced hearing loss is 100% preventable.
Over 80% of listeners listen to their personal music devices at risky levels that might cause permanent hearing loss.
The World Health Organization estimates 1.1 billion teenagers and young adults are at risk for hearing loss due to the unsafe use of personal audio devices and exposure to dangerous sound levels at entertainment venues.
74% of musicians report a music-induced hearing disorder or a combination of several disorders.
Without proper protection, those powerful bass-blasting speakers are actually slowly damaging the hair cells that line the cochlea in your ears. But never fear, there are plenty of options for hearing protection that we've listed below.
Comfort, fit, sound quality, and price – These are the most important things to think about when it comes to choosing your earplugs
Earplugs are the best when it comes to protection at festivals and shows. They also need to be comfortable to wear during those shows, because let's be honest, if you're not comfortable, you won't wear your earplugs. Also, if they don't fit well, they won't truly protect your hearing. Allowing unfiltered sound through because of a poor fit practically renders them useless, so be sure they fit and form a seal in your ear.
There are always trusty foam earplugs if you're in a pinch. Be the music fan who carries extra earplugs on you! Foam Earplugs will do just fine at any show. You should consider buying packs of Foam Earplugs for you and your friends, they will thank you later.
There's a variety of hearing protection to pick from.
For an affordable price of about $25, we recommend the EarPeace HD Concert as a great option. These use a unique design that's comfortable for most music fans that wear them. Various brands with this design provide nearly the same comfort and quality.
The most bang for your buck in the reusable category is the Etymotic Universal Fit. They go for about $15 and come with three sets of ear tips: standard, large, and foam for those that like a little less pressure in their ear. And these aren't your standard disposable foam, they contain a full filter, making them a higher quality solution than disposable at a really good price.
There are a number of others in this category, and here's a quick take on three of them:
Earasers Musicians Plugs – These are the only non-custom model we've seen that have a specific right and left designation which can make putting them in at a dark club tricky.
Eargasm Earplugs –These are actually a great option when it comes to non-custom earplugs. If you are unsure about your size, these do come with pairs in two sizes, so you can have a second pair as a backup or to give to a friend!
LiveMus!c HearSafe – These come with two sets at two different reduction levels (29dB and 23dB) so you could have a backup set that might be worth it for you.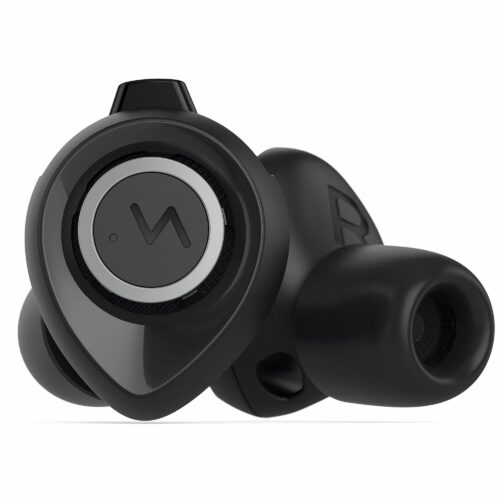 Control the noise reduction with Minuendo.
Minuendo is a great option when it comes to ear protection, these earplugs have a manual sound level adjustment feature. This means you can control how much noise is filtered in and you won't lose the music. With a price of $169, these sit right in between most mass-market earplugs ($20-$45) and custom molds (around $200). If the ability to adjust the volume is what you want or need, these are definitely your best option.
You can buy Minuendo Lossless Earplugs from Soundbrenner in the US. Use discount code EDMIDENTITYSB for 20% off all products, or search the Minuendo site for retailers near you.
Loop Earplugs are a functional and fashion-forward design.
If you're looking for a new style, look no further than Loop Earplugs. This option is another great choice you have to protect your ears when it comes to affordability. These are fashion-forward earplugs that are both stylish and functional. We recently reviewed them and they got quite a good amount of use. The Experience earplugs reduce volumes by 18 decibels and can be perfect in most club and festival settings. They're even comfortable to sleep in. The Quiet earplugs are perfect for those nights at camping festivals when you want a little peace. Now if you're looking for more noise reduction, we recommend the Loop Experience Pro which has an added insert called "mute" for an additional 5 decibels of protection.
1of1 Custom remains the winner when it comes to comfort, sound, and protection.
When we last reviewed a selection of earplugs, the winner was 1of1 Custom (fka ACS Custom), and that hasn't changed. As a fully customizable choice, it's also the most expensive option. But for how long they last and how well they work, we think it's worth every penny. In the mid-tier pricing, there are plenty of options compared to two years ago, but those options don't differ too much.
If you go to more than two festivals a year, even a couple of shows a month, and especially if you're a DJ, these earplugs are well worth the investment. They might be expensive (around $200) but think of how much you spend on the events and you'll realize that these are worth it. They'll also last around five years, so that's about $40 a year. Each ear plug is custom-made to fit your ears, and you can even select the colors and sound level filtration.
The fit is true to your ears which means that you can wear these all day long and forget about them being in. To start, you'll need to get an impression of your ear for these. If there is a local 1of1 office nearby you can get them done there (email them ahead of time for an appointment), otherwise, you would an appointment to see an audiologist. The sound is reduced equally for all frequencies without fail, something that's missing from most other earplug options. This makes for a reduced, but not at all degraded, sound.
All in all, earplugs are a must at shows, especially if you want to keep going to them for a long time coming. No one wants to lose their hearing early, whether you're a musician or a fan. That is why ear protection is the key to enjoying live music.
---
When you purchase through links on our site, we may earn an affiliate commission. Please see this page for more information.