IN / ROTATION's ROTATE Vol. 10 will get you rotating straight to the club, featuring Digital Nature, Elternhouse, Zookëper, and more!
---
Insomniac Record's sub-label IN / ROTATION is at it again, getting house heads club-ready with a fresh batch of tunes via ROTATE Vol. 10. It's always a pleasure to smash play on the ROTATE series because of its tastemaking properties, inviting the stars of the future to present a bite of what they bring to the plate. That being said, this edition is chock full of energetic party pumpers that would raise the roof of any tracklist.
With 11 brand-new offerings to enjoy, let's get into some of the highlights. Carola kicks off the dance session with the unhinged stylings of "Move For Me" featuring Libutti. This track perfectly sets the stage for a trip straight to crazy town where artists like Elternhouse, Blank Sense, Dots Per Inch, Coppa, and Fredy Lane keep the quirk pouring over in buckets. Groove lovers and psychedelic mood seekers will also have more than enough to wrap their ears around with offerings like "I Wanna" by Zookëper and "Self Checkout" by ANATTA & RachEP.
Not only does this album get you rave-ready but it also celebrates diversity with a couple of tunes that bring us south of the border. Gianni Blu taps into his Venezuelan roots with "Salsa," while Efren Valdivia invites us to his home in Mexico with "Ven Pa'ca." The former will get the hips twisting to the spicy instrumental and the latter will make listeners swoon with the romantic undertone. Keeping with an eclectic theme, LA's TOBEHONEST shows that a wood flute can be ultra-effective on the dancefloor, while duo Digital Nature serenades the senses with subtle guitar riffs.
Now that you've been properly teased, head over and grab your copy of ROTATE Vol. 10 on Beatport, stream the album below, and let us know which tracks you're vibing with on Twitter!
Stream IN / ROTATION – ROTATE Vol. 10 on Spotify:
---
IN / ROTATION – ROTATE Vol. 10 – Tracklist:
Carola – Move For Me ft. Libutti
TO BE HONEST – Focused
Zookëper – I Wanna
Gianni Blu – Salsa
Elternhouse – Accelerator
Shelco Garcia & Teenwolf – Honey On My Wrist
Blank Sense, Dots Per Inch and Coppa – Supa Dupa Type
Efren Valdivia – Ven Pa'ca
ANATTA & RachEP – Self Checkout
Digital Nature – Energy
Fredy Lane – IDLY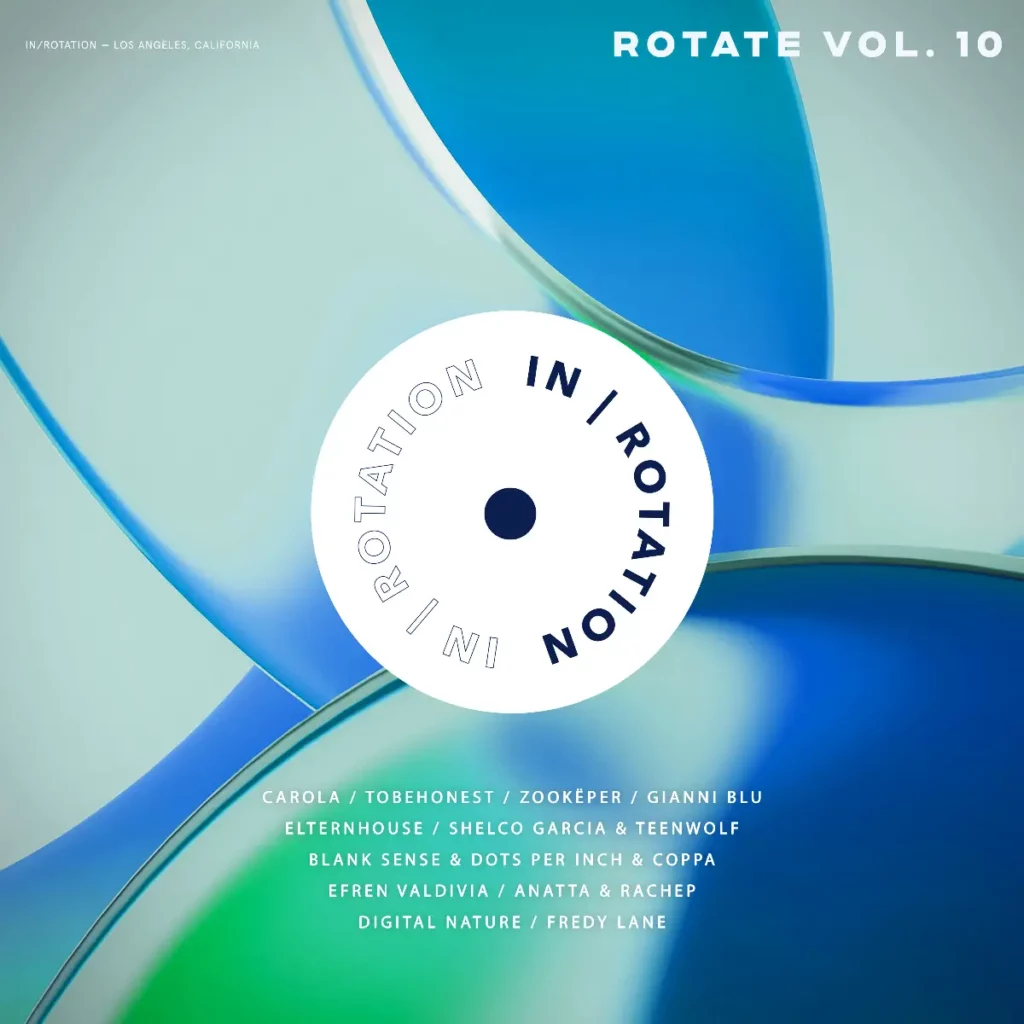 ---
Follow IN / ROTATION:
Facebook | Twitter | Instagram | SoundCloud