Bingo Players and Zookëper teamed up to produce a fresh track called "Do What You Like" and are embarking on a tour across the US.
---
As one of the artists who helped define the rise of dance music during the past decade, Bingo Players has only continued to prove time and time again that his production prowess is top-tier. Tracks like "Rattle," "Mode," and "Cry (Just A Little)" have gone on to become true classics in the scene, and his more recent tunes such as "Brighter Days," "Forever Love" with Disco Fries and Viiq, and the 2020 Remix of "Devotion" are just as impactful.
This year has seen Bingo Players keep everyone grooving to the beat by releasing "Touch & Go" with Oomloud on Perfect Havoc, and now he's gifted fans with another stunner "Do What You Like." On his most recent tune that just dropped on Spinnin Records, Bingo Players looked to Zookëper for the collaboration and the result is a disco-infused electro trip filled with an infectious groove and bold, bright vocals.
The release of "Do What You Like" lands just over a month after Bingo Players and Zookëper announced that they would be touring the US together in September. Aptly named Bingo Beach, it will take the two artists to clubs in Las Vegas, Tampa, Austin, Houston, and more – and there will surely be some sensational beats served up on the menu for those in attendance.
Listen to "Do What You Like" on Spotify or your preferred platform, and make sure to grab tickets to catch Bingo Players and Zookëper on tour this September when they head to a city near you!
Stream Bingo Players & Zookëper – Do What You Like on Spotify:
---
Bingo Players Presents Bingo Beach Tour Dates: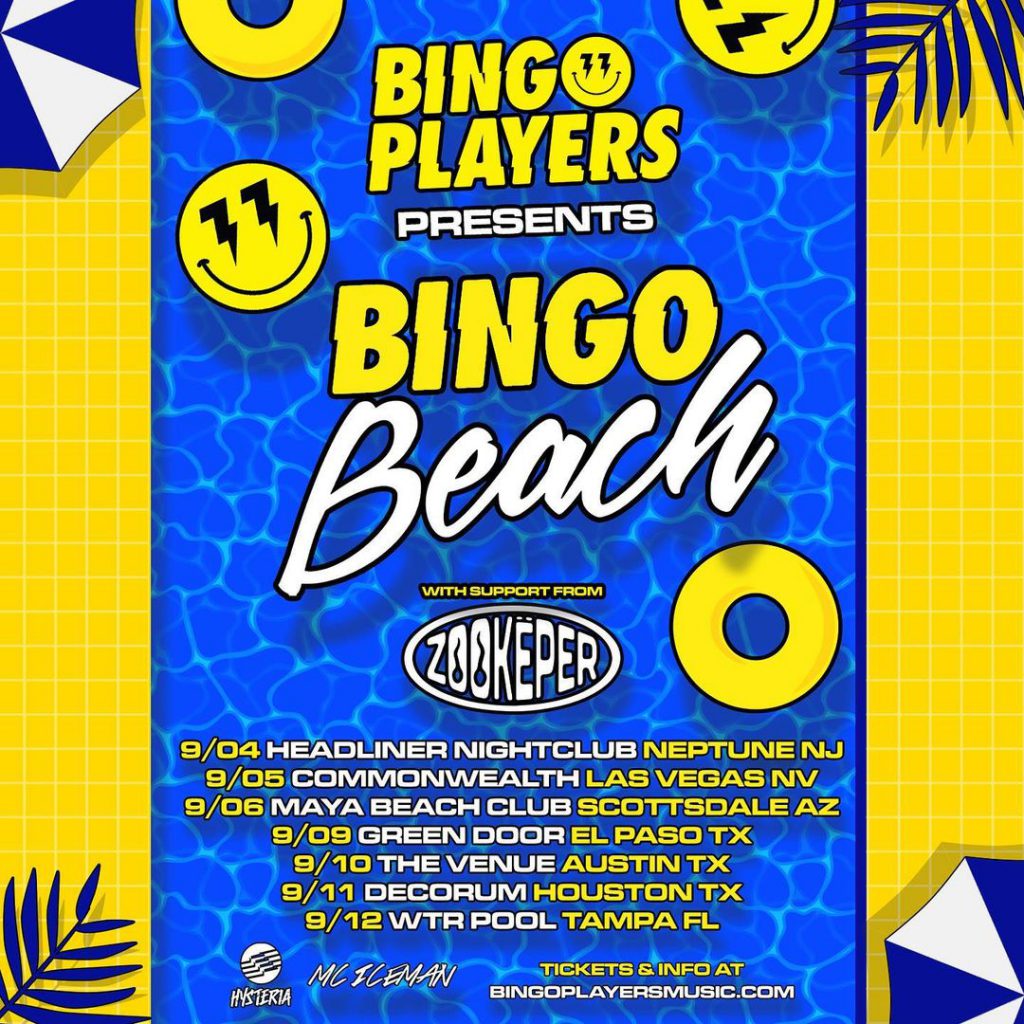 ---
Bingo Players Presents Bingo Beach Tour Dates:
09/4 – The Headliner Night Club – Neptune City, NJ
09/5 – Commonwealth – Las Vegas, NV
09/6 – Maya Day & Nightclub – Scottsdale, AZ
09/9 – Green Door – El Paso, TX
09/10 – The Venue ATX – Austin, TX
09/11 – Decorum – Houston, TX
09/12 – WTR Pool and Grill – Tampa, FL
---
Follow Bingo Players on Social Media:
Website | Facebook | Twitter | Instagram | SoundCloud
Follow Zookëper on Social Media:
Website | Facebook | Twitter | Instagram | SoundCloud