Fresh off the release of "Take Me Into Space," Dada Life and DEXTER KING chat about what it was like working with each other and more!
---
It's safe to say that since breaking out in 2006, Dada Life has won the hearts of dance music lovers all over the planet with their larger-than-life personalities, infectious positive attitudes, killer beats, inflatable bananas, and record-breaking pillow fights. In 2021, they leveled up with the unveiling of their own Crash & Smile imprint, and just when it seems like they'd done it all, they've shaken things up with a brand new debut.
Strap on your moon boots because for the first time ever, Dada Life has infiltrated the award-winning Canadian independent record label Monstercat with "Take Me To Into Space." Not only was this the first time that the duo released music outside of their own imprint since its launch, but this was a project that came to life with a bit of help in the form of DEXTER KING.
The E-Pop Of China sensation served up cosmic-level expertise when it came to his piece of the puzzle, and when you take a look at the history that brought him here, it's no wonder Dada sought him out. In fact, DEXTER was a pioneer of China's EDM boom, the first Chinese act to tour in The Netherlands, and scooped up by Monstercat to go on to have a plethora of successful releases under their faithful umbrella. His work with Monstercat even spilled over to the video game realm, making his mark on Rocket League, Fortnite, and Forza.
Together, this trio of stars have developed a dark peak-hour track that engages every cell in the body, encouraging the body to twist and contort as rave austronauts warp their way to the edge of the known universe. "Take Me Into Space" is set to do some serious damage on the dancefloor in 2023, so grab your copy on your preferred music platform, stream below on Spotify, and continue on for our chat!
Stream Dada Life & DEXTER KING – Take Me Into Space on Spotify:
---
Hello guys, thank you so much for taking time out to chat with us today! Let's get right into the point of today's conversation – your brand new collab with DEXTER KING, "Take Me Into Space." I'm curious, how did you guys come to be affiliated with DEXTER KING? Has he been on your collab radar for a while or did the work relationship develop in another way?
Dada Life: We haven't done that many collaborations during the years, but we're working on a few right now, actually. When it comes to this one, we just tried working together, and something clicked immediately. It was fun working together! And that's most important.
This actually marks the first release for you guys outside of your own imprint since launching back in 2021. What was the deciding factor to step out of Crash & Smile and venture over to Monstercat?
DL: We started our own label so we can be free and especially move fast when we feel that a song needs to be released. But when it feels right, we will work with other labels too. And this time it just felt right!
DEXTER, not only were you a leading figure in the early days of China's dance music boom, but you were also the 1st Chinese artist signed to Monstercat. Can you talk about how your professional relationship with Monstercat came to fruition, and in what ways the label has impacted your life and career?
DEXTER KING: I've been throwing music online randomly until Monstercat discovered me and gave my music a home. I'm grateful that Monstercat saw potential in me and treated me as family. To grow as a DJ / music producer in China could be very stressful. It felt like being lifted from drowning when I saw my music being released by Monstercat in such a healthy way.
Dada Life, Living in a different part of the world than your collab partner, can you give us the breakdown on how "Take Me Into Space" came together? What did a day in the studio look like for you three?
DL: The process was amazing. We sent files back and forth and chatted all the time. This song is a collaboration in the true sense. It's almost as if we would have worked in the same room – even though we never met!
Let's have a bit of fun with the track design – What are the cosmic images that you want to enter the listeners' minds based on each of the major sound elements used?
DL: I guess the huge bass just before the drop is like the actual rocket shooting us all into space. The arpeggio sound goes round and round, just like the planets or a comet in orbit. The deep kick is the force that pulsates through the universe and inside all of us.
I'm curious – if you could go anywhere in the universe, what or where would you choose to visit, and why?
DL: To that part of space where we don't know what exists beyond. Where the light hasn't reached us yet. Or maybe go inside a black hole. Who knows where you're popping out!
DEXTER, same question for you. If you could go anywhere in the universe, what or where would you choose to visit, and why?
DK: I would fly into a black hole without a second thought.
Dada Life, what did you enjoy most about working with DEXTER KING?
DL: The creative process. It was just so much fun making this song together!
DEXTER, On the same token, what was it like working with Dada Life?
DK: I've been playing Dada Life's music in every single show I've played since 2011 since they released "Kick Out the Epic MF." In this little Chinese DJ's mind, they're like Tony Stark and Hulk. This encounter felt unreal to me; the moment I knew they picked one of my demos, I flew out of my chair and then went back to working on the song immediately. No words can express my respect for them, and this song is a monument in my life.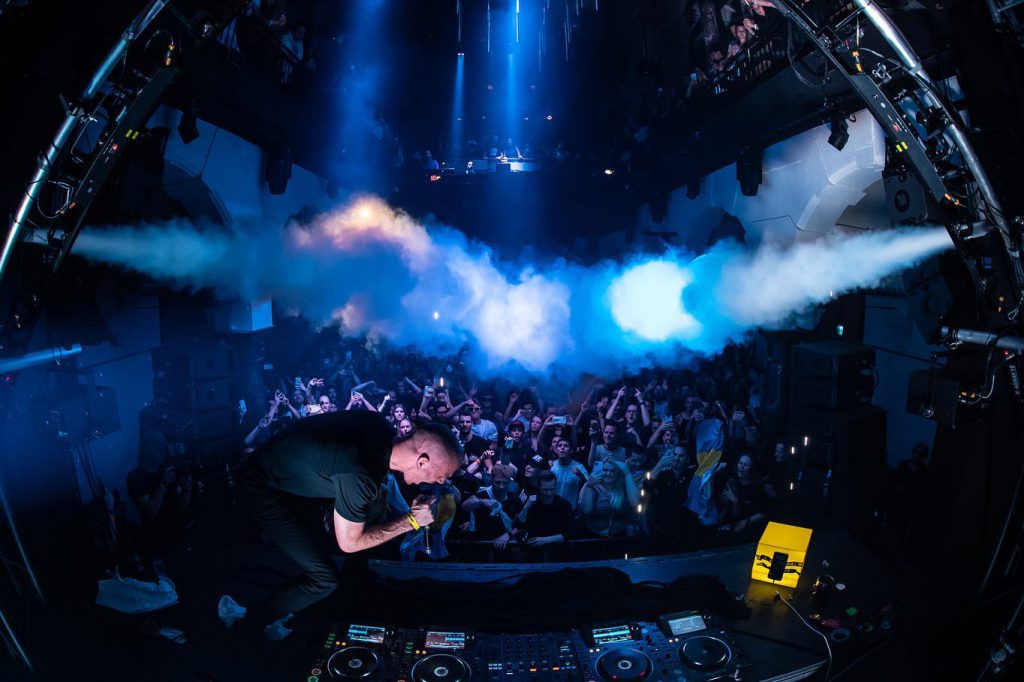 How has this collab helped push you beyond your current limits? What are some things that you learned?
DK: Dada Life really helped me discover my "dark side." I couldn't have done it without them. The first draft of this song's been laying on my hard drive for a while, with many other demos in my "club bangers" folder. I find it hard to finish heavy tracks because the process could be long and boring compared to writing colorful chords and melodies. Stefan walked me through the hardest phases and taught me so much in the process. We went back and forth a few times until it became the track you hear now. I'm super motivated to make more heavy hitters now. I don't know where this journey's gonna take me, but please come with us for an adventure.
Dada Life, now that your first release of 2023 is in the rearview mirror, you look forward to the year ahead. Can you talk about some of your goals for Crash & Smile, touring, and music production this year?
DL: More is always more. We have tons of songs coming, either ready or almost ready. We also have a lot of collaborations with fun people. But you never know with those songs, they might be ready tomorrow – or they will never be released. When it comes to Crash & Smile, we have a lot of amazing music that is ready to be released! We're so happy our little label has grown so fast since we started it.
DEXTER, How about you? What do you have your heart and head set on accomplishing this year?
DK: Apart from a lot more shows and new music than in 2022, I'll be in a new Chinese music producing reality TV series as one of the music producers in 2023. The last series in 2022 was a success; I made so much music with producers and singers I've never met before, and I can't wait to be a part of the upcoming one. It'll be a dream come true if Dada Life can come to China and start a tour with me so that we can work on some new music face-to-face as well. I believe a lot of magical things can happen.
Guys, Thank you so much for giving us the inside scoop on "Take Me Into Space!" I hope I get to experience it on the big speakers this year!
---
Follow Dada Life:
Website | Facebook | Twitter | Instagram | SoundCloud | YouTube
Follow DEXTER KING:
Facebook | Twitter | Instagram | SoundCloud