Nonfiction sat down to chat about fatherhood, changes in the dance music scene, and more following his second release on RVDIOVCTIVE.
---
Veteran DJ and producer Nonfiction has been influential in the Southern California music scene for nearly two decades. Over the years, he has held down the fort at Costa Mesa's club Focus OC and regularly treks up to Los Angeles to play at Exchange, Academy, and Sound Nightclub. While his origins are with nightclubs, he's had his fair share of festival experiences, including Coachella, EDC Las Vegas, and Beyond Wonderland, to name a few.
While the producer has an affinity for house music, Nonfiction recently released the techno-infused single "Hands On His Own" on the fourth volume of RVDIOVCTIVE's compilation series at the end of 2022, marking his second release with the label. With it, he delivers a well-balanced dose of funk, grit, and mind-melting beats that are sure to make your body move.
Following closely on the heels of this release, Nonfiction spoke with us about the new song, along with topics like fatherhood, changes in the live music scene (both clubs and festivals), and reflections from the past year. Listen to "Hands On His Own" on your preferred music platform, be sure to check out the rest of RVDIOVCTIVE Vol. 4, and keep reading below to see our full chat with this talented artist.
Stream Nonfiction – Hands On His Own on Spotify:
---
First and foremost, you're just coming back from a bit of a hiatus after the birth of your daughter! Tell us all about dad life. How's it going? 
Man – it has been crazy, and lots of new adjustments! I'm totally in love with my little girl Thalia. She just turned seven months. She's super smart, and best of all, she's healthy and has been pretty mellow and easygoing so far – we are head over heels for her! Believe it or not, I've also had a few studio sessions with her, and I've made great music while having her on my lap – she brings me good vibes and good luck. 
Now let's switch it up and talk about your track, "Hands On His Own." This isn't the first time you've dropped music with RVDIOVCTIVE. How did you connect with the folks there, and what was it like to have your music appear on another of their compilations? 
No, this is my second release with them. We booked Devon James a few years ago, and he played one of my favorite sets (I always remembered him). I saw that his label was looking for music, so I submitted some music to them. The same thing happened to me twice when I sent them tracks…I sent them the main music I thought they would be into and then "backup" tracks. They ended up signing my backup tracks instead, both times!
I really love Devon and the team. I feel like they really respect me as an artist, and the fact that they sign my more artsy/deeper music is a trip. I consider myself a house DJ and producer, but they've been signing my techno music… I kind of feel like Joey Beltram. [Laughs]
Listening back on the song "Tuff Enough" from Vol. 2 and listening to "Hands On His Own" on Vol. 4, how would you say your approach to the music differed between the two songs, especially since the former was a collaboration with J.A.M.O.N, while the latter is a solo release? 
Honestly, both of these tracks were made for fun. There were no expectations. The songs were both jam sessions – me and my machines; I hit record and then went back and put together the structure. My buddy J.A.M.O.N. passed away a few years ago. I reached out to his son, and he gave me permission to release "Tuff Enuff." For "Hands on His Own," I sat down at the computer and was like… "Let's make a techno track!" I never imagined it would be released.
Now let's travel to the past a bit. Having spent nearly the past two decades playing at clubs, including an 18-year residency at Focus OC, how have you seen the nightlife scene shift over the years?
It's very different now. It's more about the marketing and "spectacle" than ever. There's less "grooving and dancing" and more "raging and jumping around" these days. I attribute this to the crowds of former EDM kids who have turned to house and techno. They like our music, but they're bringing that main stage/main room crowd energy. They're adjusting slowly, but they still want the big drops and noisy elements that originally got them into electronic music in the first place.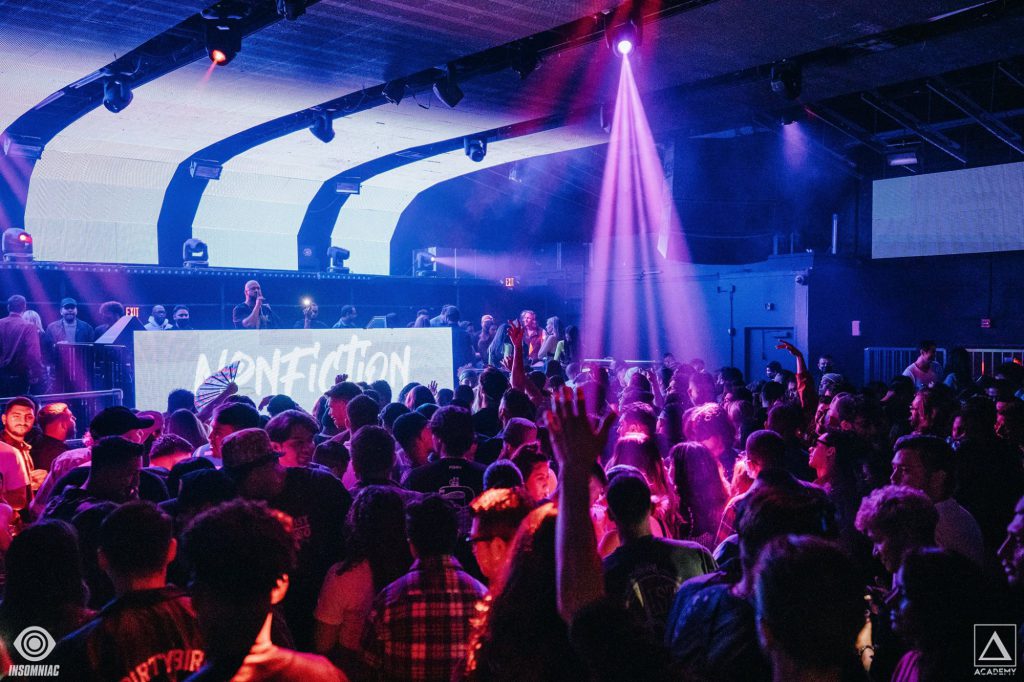 Can you share your favorite memory from your time at Focus and how things have changed for you since the club's closing? 
Our original venue at Tapas was a special and magical place and time… so underground and RAW. We booked all of your favorite DJs before they blew up. A few of them even crashed on my couch a few times. My favorite memory is probably our Focus 360 parties. The parties would be jam-packed, and we didn't even need to fly in headliners most of the time. It would just be us, plus the amazing 360-projection visuals. So vibey and always some of our best nights. Just look up "Focus 360" on YouTube, and you can see a few videos.
Is there anything you miss about the past or any previous popular trends in music that you'd like to bring back? 
I miss the record store culture. Going to Haight Street in SF or Melrose in Hollywood, or Gramaphone in Chicago, and spending entire days in the shops finding gems… it was always such a good feeling to score a record that you had been looking for or a hidden cut you didn't know you needed. I don't miss records skipping or carrying heavy bags of records to gigs, though. [Laughs] As far as trends… I've seen it all. I've never tried to label myself as a certain kind of house DJ – I consider myself a house DJ/producer in the broadest sense – but there are no limitations to what I do. I started as a hip-hop DJ, after all.
You've also spent some time at music festivals like Coachella, EDC, Beyond Wonderland, Lightning In a Bottle, and more. What was it like to go from a club setting and shift to music festivals? 
I've always said this… It's much easier to "rock" a big stage or crowd versus a smaller, intimate venue where everyone's faces are right in front of yours. I'm lucky that Focus was my training ground – we did small and large events. I learned a lot being a resident at Focus. Music festivals – especially Lighting in a Bottle have always had such great crowds – it's pretty easy to spread your wings and connect with people, even on a bigger stage. 
Reflecting on 2022, how would you say you've grown the most as a producer? What did you learn the most about yourself or how you work, and what were some major accomplishments? 
No ego… I'm a "forever student" when it comes to music production. I try to dedicate at least half of my time to learning new techniques, gear, and ideas from tutorials or friends. I try not to have expectations of my music or releases either. Instead, I focus on having fun and enjoying the process. If doing so yields results, then great. If not, then hey, at least I'm having fun and enjoying myself. Major accomplishments were signing two tracks to RVDIOVCTIVE. I think they are very picky about what they sign, so signing two releases with them is a big achievement for me.
---
Follow Nonfiction:
Website | Facebook | Twitter | Instagram | SoundCloud | YouTube