Inspired by protests and cultivated with passion, the Woman, Life, Freedom will benefit women and children impacted by Iran's unrest.
---
AIDA embodies her cross-cultural upbringing through various aspects of life, particularly music. With Iranian heritage and Canadian upbringing, AIDA demonstrates a range that only comes from lived experiences. Across the globe in Tehran, Nesa Azadikhah started performing underground at the age of six and hasn't stopped since. A longtime electronic scene stomper and the founder of Deep House Tehran, Nesa defiantly showcases Iranian dance to the rest of the world.
Together, the two women are making history with the release of Woman, Life, Freedom. This compilation on Apranik Records was born from the struggles faced in Iran since the September 2022 slaying of Mahsa Jina Amini by the country's "morality police," which led to civil unrest that has resulted in the state-sponsored murder of hundreds of Iranian protestors and opposition leaders.
Though effectively banned from singing, dancing, and nearly all other arenas of public performance, many women such as these have bravely persisted and granted listeners precious insight through their art. In an effort to raise both awareness and funds, proceeds from the collection will be donated to women and children struggling under Islamic Iranian leadership via the nonprofit Saraye Mehr.
Woman, Life, Freedom is every bit as colorful, wide-ranging, individualistic, intelligent, and worthwhile as the women who gave it life. From chilled-out, depth-driven house to war cry-esque experimental tracks, the compilation offers a bit of everything, for everyone, for a good cause. The publicly available track "Be Mahsa, Be Nika," from MENTRIX is a notably catchy and well-composed call to action, drawing heavy inspirations from both current events and "Blessed Spring," a revolutionary era Iranian hymn.
Other artists, such as SarrSew. poetically capture several delicate production ideas on "Wronka," eloquently expressing exactly why women need a well-defended fortress within the arts. Themes of strength, hope, rebellion, and perseverance reign throughout the mix. Meshcut provides listeners with a gut-punching reality check on "Dream in Dream," which emotionally highlights desires for prosperity, autonomy, and a better future despite a sick, drowning feeling in the present.
Get a taste of Woman, Life, Freedom by listening to the sampler on SoundCloud or grabbing a copy on Bandcamp. Follow AIDA and Nesa Azadikhah on social media to stay informed on future releases!
Stream Woman, Life, Freedom on SoundCloud:
---
Woman, Life, Freedom – Tracklist:
SarrSew – Wronka
KUCHULU – Raven
MENTRIX – Be Mahsa, Be Nika
Roody – Nazanid o
AIDA – None of Your Business
ROW92 – Tensionless
Sharona Lico – Freedom
Golbon Moltaji – Sepahbod Xorshid
Meshcut – Dream in A Dream
XEEN – Urn
Nesa Azadikhah – Sarnevesht
Kimia Koochakzadeh-Yazdi – Emanation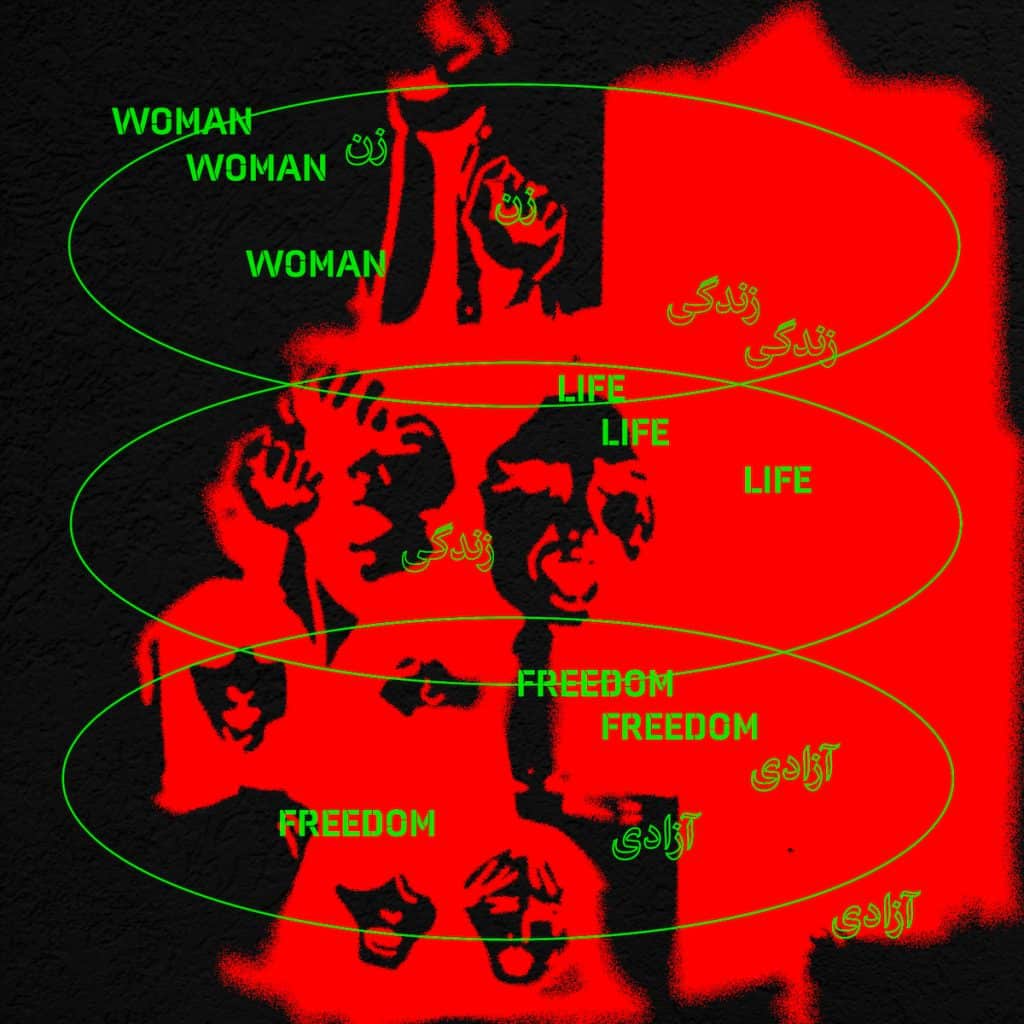 ---
Follow AIDA:
Facebook | Instagram | SoundCloud
Follow Nesa Azadikhah:
Website | Facebook | Instagram | SoundCloud
Follow Apranik Records: