Valentino Khan drives dance floors with the release of his latest single, "Tidal Wave," in support of his upcoming hometown takeover in LA.
---
Since the widespread release of In Khan We Trust in 2014, Valentino Khan has amassed well-known productions for himself and some of the music industry's biggest names across various genres. Known for his top-tier production skills and never-ending work ethic, 2022 saw him take the stage at EDC Las Vegas, HARD Summer, Escape Halloween, and even Wrestlemania with fresh releases like "Goin Up," "Move It," and the pkg EP, which landed this past spring.
Now, Valentino Khan is ever-focused going into 2023 and is delivering one more gift to fans this year with "Tidal Wave," a rhythmic house dream that's sure to get listeners grooving. This track sees him team up with NEVRMIND who guides listeners gently with vocals while Khan's signature bounce house beats take control of your body. The combination of soft lyrics about an embrace, thriving drum patterns, and prominent piano melodies offers a cross-spectrum delight that easily brightens the darkest of winter days.
Paired with the release is another announcement from Valentino Khan, a perfectly timed Cinco de Mayo show, drawing inspiration from his neighborhood and those who make it special. His strengthened ability to break away from musical norms is largely accredited to his multicultural and creatively-minded upbringing in Los Angeles, where he'll return to pack the Hollywood Palladium for one special night with other artists joining him, such as NITTI, Taiki NuLight, ETC! ETC!, and Rayburger.
While the show is sure to give a nostalgic nod to longtime supporters at home, Valentino Khan always keeps his performances fresh with his seemingly limitless ability to compose, step back, and recompose. Catch "Tidal Wave" on Spotify or your preferred platform, and make sure to grab tickets to High Power at the Hollywood Palladium so you can see him live!
Stream Valentino Khan – Tidal Wave on Spotify:
---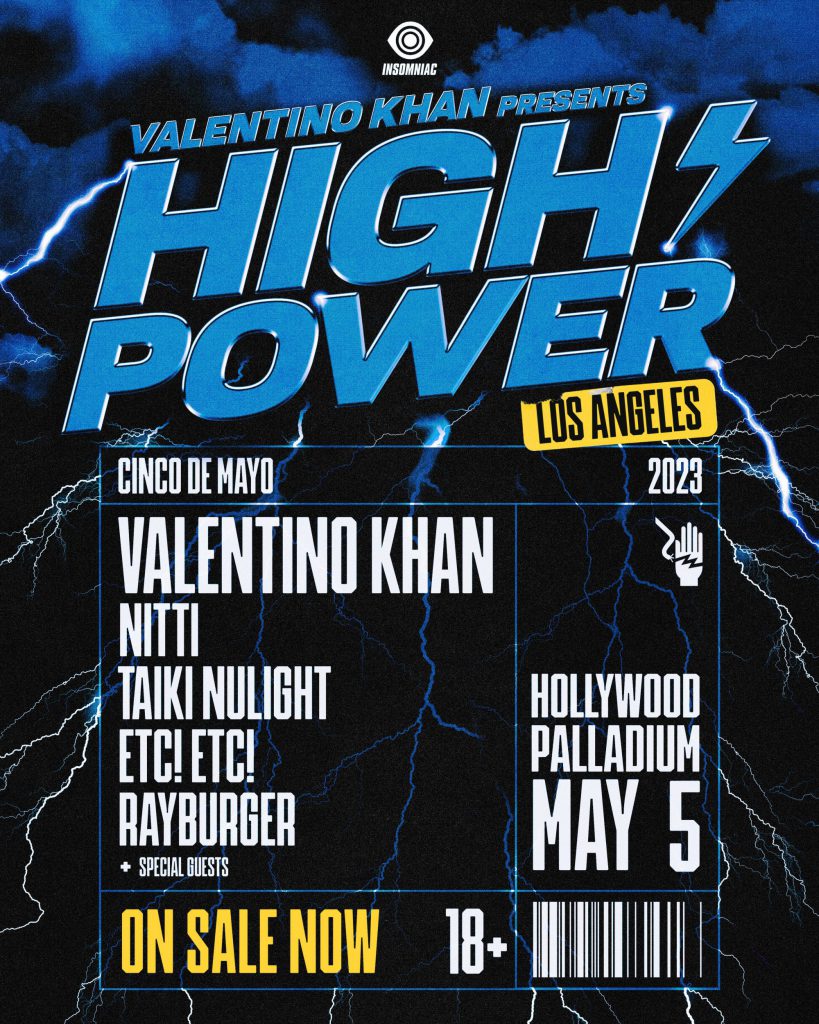 ---
Follow Valentino Khan:
Website | Facebook | Twitter | Instagram | SoundCloud