On the tail of his latest single, "Bad Acid," KEETZ takes us on a trip through his musical background, production process, and much more.
---
It's nothing revolutionary to say that over the years, mau5trap has bred some of the hottest up-and-coming artists to exist within the current realm of dance music. If you've been staying up to date with everything the label has to offer, it's likely that the name KEETZ has crossed your radar at one point or another. Whether it's the diverse mix of genres that spans throughout his discography or the infectious energy he puts into each of his tracks, KEETZ consistently makes a point of keeping things fresh and exciting for his listeners.
2022 has been a major year for KEETZ, as the year brought forth a slew of great releases that showcased the expansiveness of his sound. While "Terminal" and "Royal" both found him venturing into the more tech-influenced side of house, his electro-tinged track "Blight" proved perfect for mainstage play. The latest from the producer comes in the form of "Bad Acid," which brings dark and brooding energy through its thumping beat and touches of techno. Releases aside, KEETZ reached another massive feat back in September when he played his first festival slot at North Coast, throwing down a vivacious set that got the crowd amped up and showcased his irresistible stage presence.
To give us some more insight into his artistry and offer a further exploration into his sound, KEETZ spun an incredible mix for us that features a range of vibes to soak in. Featuring originals like his bootleg of deadmau5 and Lights' "When The Summer Dies" to appearances from other mau5trap artists like No Mana, there's a lot to enjoy within the runtime of this mix. He also stopped by to talk with us about his local scene in Michigan, sonic influences, and plans for the future, so be sure to stick around for a look into our chat with KEETZ and check out the mix while you're at it!
Stream EDMID Guest Mix 352 || KEETZ on SoundCloud:
---
Hey KEETZ, thank you so much for talking with us! To start things off, let's rewind time and get an idea of your musical beginnings. When did you first discover your passion for music, and were there any specific artists (electronic or otherwise) that served as inspirations for you?

Hey, excited to have the opportunity! It started at a pretty young age, actually. I remember waking up really early to watch Looney Tunes and Tom and Jerry before my parents would get up for work and being obsessed with the orchestral music in the background. Specifically the episode of Tom and Jerry where they fight on the piano. I loved that song and would try to play bits and pieces of it by ear on my electric keyboard. That led me to ask my parents for piano lessons and for about five or six years after I studied classical piano. Chopin and Liszt specifically, their music really inspires me. I'm really thankful I had that opportunity and that my parents were supportive of my musical curiosity. Even today, I believe a lot of what I learned back then is reflected in my productions.
I think I was around 16 or 17 when I first heard deadmau5's 'Random Album Title' and that really left a huge impression on me. I was so impressed by the production and specifically remember thinking, "Man, a lot of this reminds me of my favorite styles of classical piano." It shared similar themes with more complex melodies and chord progressions than what I had previously heard from other electronic music at the time. I was really inspired by it and fascinated to learn more about electronic music as a whole. It was around this time that I also discovered Skrillex, Tiesto, Feed Me, and Porter Robinson. When I learned that a lot of them didn't have a piano background, I thought, "Hey, maybe I could do this too if I practiced hard enough." 
You're based out of Michigan, home to some of the biggest pioneers in house and techno. What's your experience been like with your local scene there?
Really good! [Laughs] I'm from Kalamazoo, which I would say has a great local scene. It's where Western Michigan University is located and where I met Sully and Peekaboo in college. We heard of each other's music through the local scene and became good friends while DJing parties, doing open deck nights at a spot called Papa Petes, and just hanging out at our apartments working on music. There was almost always something happening on the weekends, which allowed us to share our songs and ideas with a community that was just as excited to hear it as we were to share it. 
Speaking of the midwest dance scene, you played North Coast at its most recent edition this past September. What was going through your mind as you were up on that stage playing your first-ever festival booking? (Congratulations, by the way!)

Thank you! Not gonna lie; prior to the show, I had some seriously insane anxiety! [Laughs] But when it came time to play, I was able to convert that into something that helped me focus. I loved every second on stage. The crowd, the production, the sound, all of it was fantastic. I specifically remember looking at my phone to check the time and realized I only had ten minutes left in my set. At that moment, all I could think of was, "this can't be the last time I do something like this." My family and friends know how long and hard I've worked for an opportunity like that, and to be there living an experience I've only previously dreamt of, it was just a crazy full circle moment I'll never forget.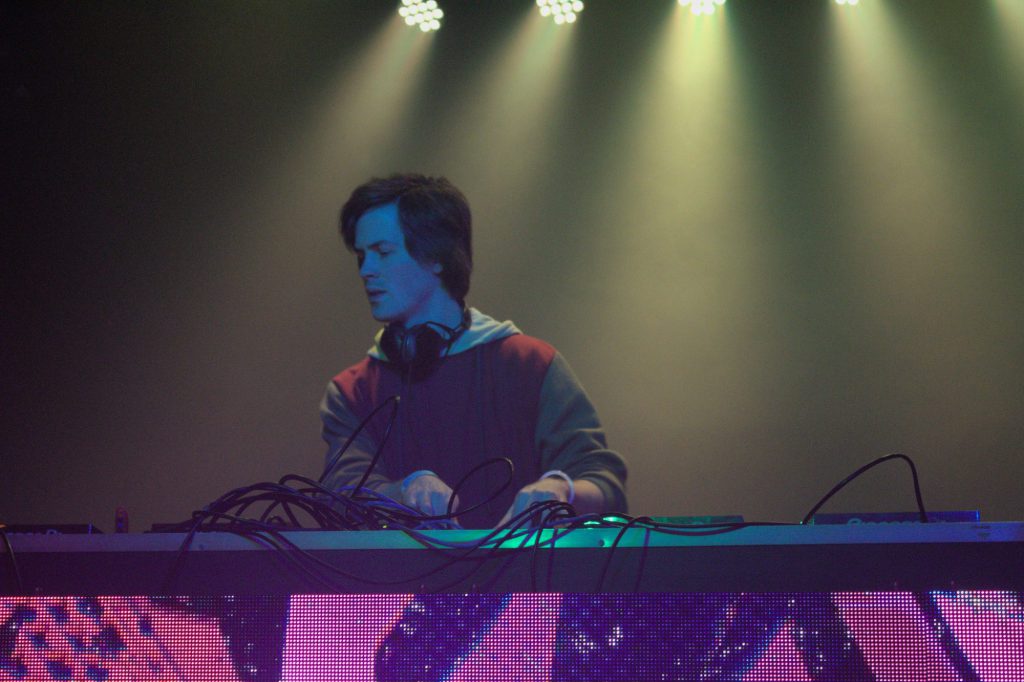 Journeying through your discography, you've done a little bit of everything over the years – from electro house to tech house, to progressive house stylings. Is there one specific genre you are more keen on than others, or do you prefer to keep switching things up?
I feel like my biggest inspirations are producers that are able to do a bit of everything. Take deadmau5 and No Mana, for example; both are able to shift the sub-genre they're working in while still staying true to their own sonic identity. It's something I really admire about both of them. Like you know it's their song, you can hear it's them even if it sounds different from what you're expecting, and I think that is so cool. I feel like that makes things more interesting for fans as well. 
How has being a part of the mau5trap roster helped you to shape and develop your sound?
It's made me want to push my sound design and production skills as best I can. Being a part of that roster has always been a day-one goal of mine, and now that I am, I want to keep up with the new talent that's being showcased on the label. In the mid-2010s, when I was beginning my production journey, I would religiously keep up with the label and the new artists that were being featured on it. I would compare the ideas I was working on with what was being released on the label and would try to achieve the same levels of clarity and professionalism. It was a really difficult task, but I loved the challenge. There is no doubt in my mind that the songs and artists on mau5trap helped make me the producer I am today. It's another really rewarding, full-circle moment for me. 
Listening to your latest release, "Bad Acid," it's clear how you capture the essence of the title within the production. What's your creative process like when coming up with ideas for new tracks and subsequently carrying these ideas out?
Thank you! I would say half of the time, I'll start with an idea that's already in my head, and other times I'll mess around and have a random sound or chord progression inspire the rest of the idea. When the latter happens, I'm usually able to hear the next minute or two of the track in my head and go from there. I'd consider myself a slow writer, and I am definitely a perfectionist. Typically it takes me anywhere from three to six weeks to go from nothing to a finished song.
I have a ton of ideas I love that have been on the shelf for months to even years that I know are worth the time and effort to finish. But my ADHD gets in the way of that a lot of the time. A large part of my brain rationalizes the idea of "it's more fun and exciting to start something new" rather than going through the work of polishing and finishing an idea that I've heard a hundred times. I'm sure this is a common producer conundrum, but in recent years I feel like I've made good progress in finding a healthy balance between perfectionism and having fun. Which, at the end of the day, is what you should be doing when writing music. That's something I remind myself of when I'm getting frustrated or get hit with writer's block.
Just for fun, what are some other passions and hobbies that you like to pursue outside of making music and playing shows?
I've always been interested in computers and video games ever since I was a kid. I grew up on an old Compaq desktop playing games on Mini Clip and Newgrounds, along with my Gameboy Color and N64. I also play a lot of League of Legends with friends. I certainly have a love/hate relationship with that game. I'm sure anyone who has played it before can agree with me on that lol. I also love getting outdoors, going on hikes, and disc golfing with friends.
I recently got back into snowboarding which was something I used to do a ton when I was in middle/high school. I broke my collarbone this February, getting ahead of myself in the terrain park. I was so stoked to be landing old tricks that I hadn't done or attempted in years, and near the end of the day, I did the infamous 'one more run,' and that's when I caught my front edge on a rail and ate shit. I'm excited to redeem myself this winter, though!
Aside from what I mentioned above, I also do a lot of mixing and mastering for other electronic producers, as well as lessons with students who are trying to improve their own productions. It's a really rewarding job, and I love helping people along their production journey.
Finally, how do you hope to continue developing your artistry in 2023 and beyond?
Well, with the pandemic more or less over, I'm excited to travel and play more shows which I have a few in the books for next year. More music is in the pipeline of course, and I'm also really excited to continue expanding on the ideas I have for the KEETZ brand and character. In my head, all of my songs have a scene or idea behind them, and I'm excited to continue working with artists and animators to bring those ideas to life. I'm really inspired by what Porter Robinson has done in recent years with his live shows and how he's merged an incredible visual experience to go along with the music. I want to continue working to create my own version of that with KEETZ.
---
Follow KEETZ:
Facebook | Twitter | Instagram | SoundCloud | YouTube | Twitch