Lil Texas is set to bring homegrown hardcore power to cities like Los Angeles, Honolulu, Houston, Denver, and more on his Texcore USA Tour in 2023.
---
American-grown hardcore cowboy Lil Texas has been on quite the bull ride in 2022. From releasing his FASTER album in April between worldwide stops, this jester on the decks brought his American hardcore sounds to Wasteland, Masters of Hardcore, EDC Las Vegas, and Electric Love, among many others. This American hardcore sound he produces is a term he coined as texcore – which serves as inspiration for his 2023 tour title.
While fans might have gotten their high-intensity fix of his dynamite texcore sounds at festivals earlier this year, including at Lost Lands this past September, those craving to hear more high-speed heat and kicks are in luck with his newly announced tour. Wrangling several dates with his lasso, Lil Texas' tour starting next year will take him across North America on the Texcore USA 2023 Tour. This is set to include support from a handful of other homegrown hard dance DJs, including Dead X, Dionysus, Yosuf, and Water Spirit.
Kickstarting the rodeo on January 20 in Los Angeles, Lil Texas will herd fans in cities including Salt Lake City, Houston, Brooklyn, Washington D.C., Minneapolis, Miami, Seattle, and Honolulu, even adding international stops at Calgary in Canada, Olten in Switzerland, and Ramonville-Saint Agne in France. More dates are still to be announced, but you can expect this cowboy to bring his earth-shattering kicks at 200+ BPM well past April.
Snag tickets for this high-speed rodeo are on sale now – head over to his website to make your purchase! Don't miss this hardcore and uptempo-filled tour of intensity at a stop near you that's sure to get you moving.
---
Lil Texas Texcore USA 2023 Tour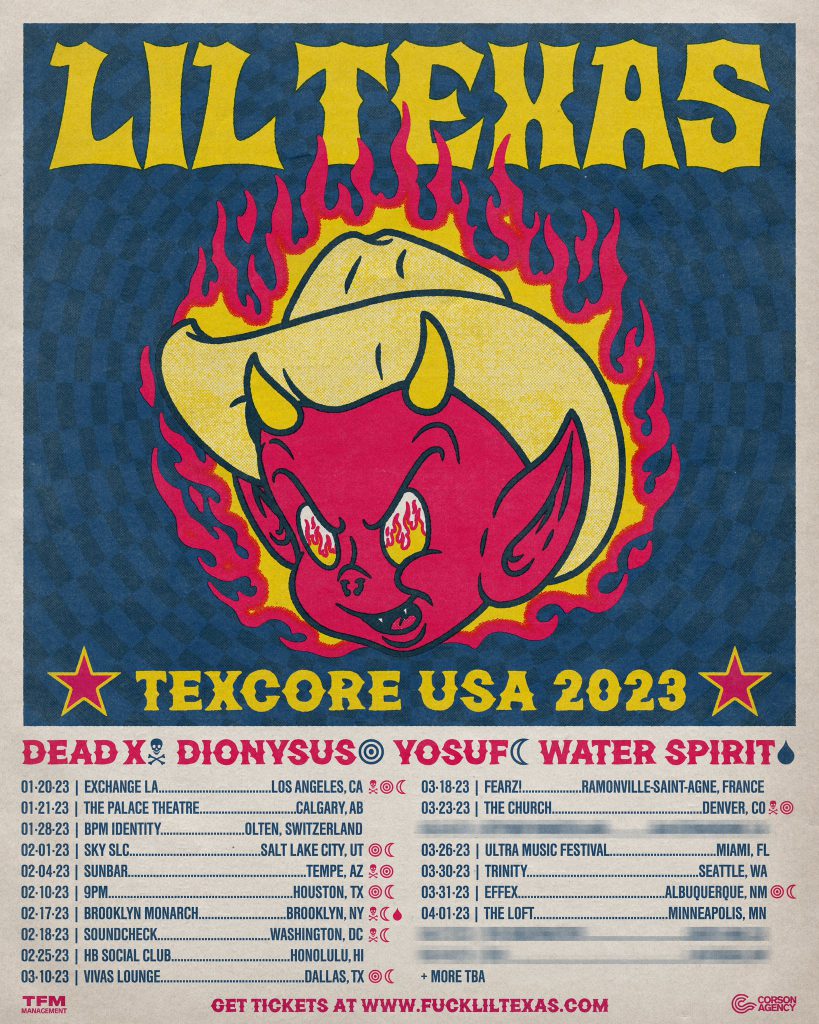 ---
Follow Lil Texas on Social Media:
Website | Facebook | Twitter | Instagram | SoundCloud | YouTube