Joel Corry lit up the dancefloor at his sold-out show in New York, and we caught up with the star before he took the stage.
---
Hailing from London, Joel Corry has emerged onto the international scene and taken it by storm. His rise to stardom has been nothing short of meteoric as he effortlessly taps on his signature electro-house style to connect with audiences all around the world. Since breaking out with the intoxicating release "Sorry" in 2019, he has continued to leap into the forefront with remarkable collaborations with the likes of David Guetta, Jax Jones, Charli XCX, and Saweetie.
Joel Corry propelled himself even further in 2020 when he dropped "Head & Heart" with MNEK, a piece of creative house excellence that massively propelled him forward as a skyrocketing talent. It is hard not to instantly recognize the track for its infectious beat and pounding bassline. This year, he teamed up with burgeoning artist, Tom Grennan, to turn on the heat with witty flows and infectious flavor in their collaborative project, "Lionheart (Fearless)." Being an avid soccer fan, he jumped at the chance to rework a timely World Cup rendition of the song in full support of the Three Lions in Qatar "to bring it home."
On the performance front, Joel Corry held down coveted residencies in Ibiza and Las Vegas alongside a global tour that brought him to the mainstages of Tomorrowland and Electric Zoo. More recently, he made his way to New York's Avant Gardner for a sold-out night that featured a highly enthusiastic crowd. The flawless set featured highly enticing visuals that fit the aesthetic of his vibrant set perfectly. It was a non-stop party from the time Joel swooped in to open his set with the crowd-favorite "Head & Heart" before dishing out addictive tunes like "Lonely," "HISTORY," and "BED."
Before taking the stage for his debut show at Avant Gardner, we had the pleasure of speaking to Joel Corry. During our light-hearted conversation, the charismatic DJ shed light on everything from his creative processes, tour life, new music, and even his favorite soccer team. Listen to Joel Corry's latest release with Tom Grennan, "Lionheart (Fearless)," on Spotify or your preferred platform, and read on for our conversation.
Stream Joel Corry and Tom Grennan – Lionheart (Fearless) on Spotify:
---
Hey Joel! Thank you for chatting with us today – I'm excited to catch your set tonight! Before we go into that, we want to say congrats – this year has been a massive one for you! Music-wise, you had studio releases, a sold-out residency at Ibiza's Rocks, and a global tour that brought you to the mainstages of Tomorrowland and Electric Zoo. How have you been, and what are you feeling right now before your performance?
Thanks so much. It has been the most amazing year of my life! You know, post-pandemic, this is the first year I've got back on tour properly, so here I am in America. I've been touring America for the last year; it has been a big dream of mine. I have been playing on a lot of the big stages and a lot of the big festivals around the world this year, like Tomorrowland in Belgium, Creamfields in England, and EDC in Las Vegas. These are things that I have always dreamt about doing, and it has happened this year for me; I love it!
I am lucky to be working with a lot of amazing artists like you said, Becky Hill and David Guetta, and my new single as well, with Tom Grennan. It has been great collaborating with those guys! Yeah, just looking forward now to 2023; we are going to keep moving!
So great to hear! Avant Gardner is definitely one of the iconic venues in New York! It has hosted many incredible DJs, artists, and major events throughout the years. You came over here from a show in Montreal yesterday with Oliver Heldens; that one was so wild! How does it feel to be playing here in this venue for the first time?
Yes, it's my first time in Avant Gardner! I have played in New York quite a few times already, and I love New York. It is definitely one of my favorite cities in the US. This is the biggest show I have done so far in New York, and having a look out there earlier, so many people have already turned up, it is so exciting, and I can't wait to get out there; it is going to be special! Also, Montreal last night with Oliver, what a great night that was!
For sure! You've been collaborating with so many artists over the years, and most recently, you released a version of "Fearless" in support of England's Three Lions at the World Cup! This is such an amazing and thoughtful idea! Is soccer something that you're passionate about on top of music? Are you an avid soccer and/or Premier League fan?
Oh yeah, definitely! Obviously, I am from England, and everyone loves football; we call it football! [Laughs] We are not going to stop that! I have been playing football since I was a teenager. You know, with the new song "Lionheart," we just want to have a bit of fun with it. We made a World Cup version and saw it got such a good response, so I'm hoping England wins the World Cup! The game with the USA wasn't great, but it's okay; at least we got a point and going to the next round!
Now that you're in the US, it's a bit of a dilemma, isn't it?
No, definitely support England! [Laughs]
Do you have a favorite Premier League team?
Oh! Arsenal! [Laughs]
I'm a Liverpool fan!
Do you know what? I like Liverpool! At least you didn't say Tottenham. That's alright! [Laughs]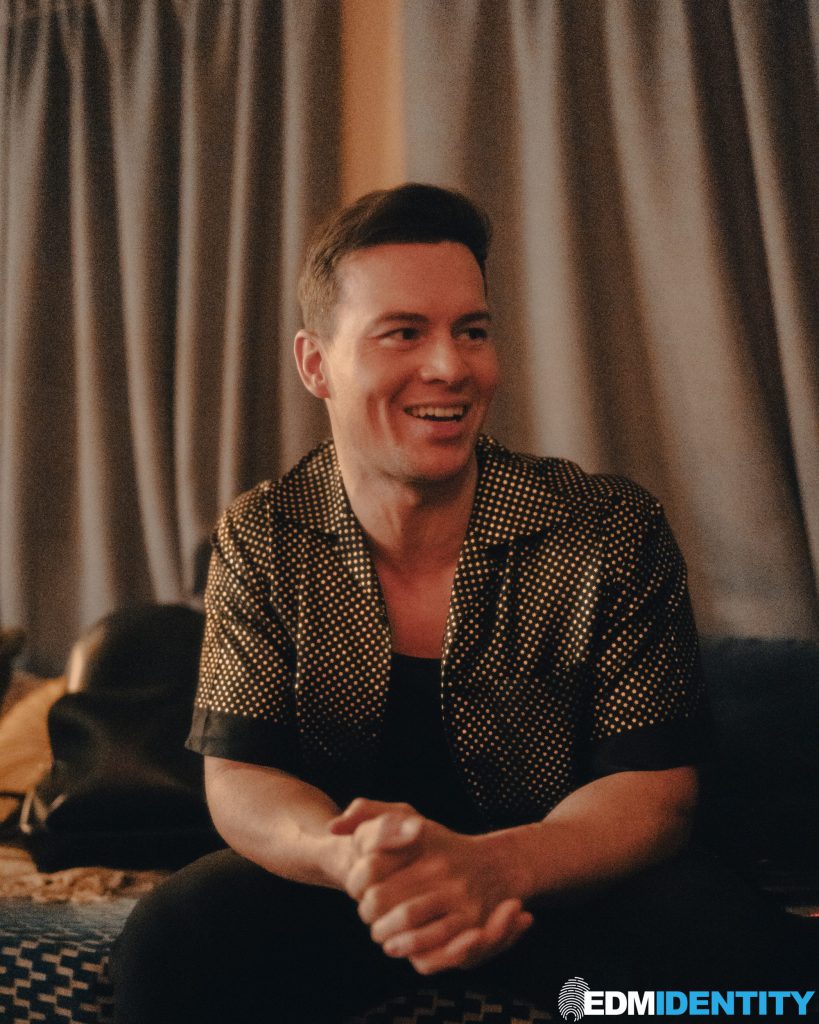 That's good to know! Going back to the music, you have also dropped a bunch of remixes this year, from your own songs and those from other esteemed artists, such as "Summer is Over," "Hold Me Closer," and "Take Me Back." What is your creative process behind these remixes and doing new mixes of other songs? How do you specifically select the artists you'd like to work with?
With remixes, if I get asked to do a remix, and I love the record, and I feel that I can add something to it, and I feel like I can make a version of it in my DJ sets, then I am up for it. I am lucky to have remixed some huge records. recently I've remixed Elton John and Britney Spears' track, "Hold Me Closer," which is really special and also got to know Elton John at the back of it, so that was amazing.
Apart from that, I am always working on new music, and I always got records on the go. I gravitate towards one record that I am working on, like "this is the one," or "this is definitely the one that is coming next," and when it is time to start the next campaign, I am ready, and we go for it. Basically, I work on a lot of new music at one time, and then I choose what my real favorites are when it comes to releasing.
You're inevitably going to keep sprinting up the stairs of success into 2023, and we cannot wait to see you do that! Can you let us further in terms of releases – Do you have new music coming out? What can the fans expect from you in the new year?
Yeah, I have actually got a new club record coming in two weeks' time with Cedric Gervais! It is called "MOLLY." It is a remake of his song from ten years ago, I am putting a new spin on it, and we are bringing it out together, so I am excited about that. It is more of a club record, so it is one for the clubs. Going into next year, let's see what happens; I am probably releasing another record in February or March. I am not sure yet just which one, but we will see what happens. I have got some time off over Christmas, so will be in the studio a lot; whatever happens will come to fruition at that time.
I'm excited about it! I recalled the global smash hit "Head & Heart" with MNEK taking the world by storm in the summer of 2020, and it continues to be a mega anthem at club events and festivals! Why do you think the song stood out as an anthemic banger, and how does it feel like to have your song being played in so many venues and DJ sets worldwide?
It's amazing! That song was like a moment in time. It was a record that affected a lot of people's lives, especially during the lockdown when people needed a bit of positivity, so it resonated with many people. For me, that was really special. When people mention to me that the record got them through lockdown, that's amazing to hear, and it will always be a special record to me. It will be a timeless record; it will be there forever. I am proud of it!
Did you expect it to be such a huge hit?
No, I knew it was a big record, I knew it was special, but I don't think you ever predict you are going to get a number one single, but when it happened, it was just like the best moment of my life, and it was great for MNEK as well who has become a really good friend of mine.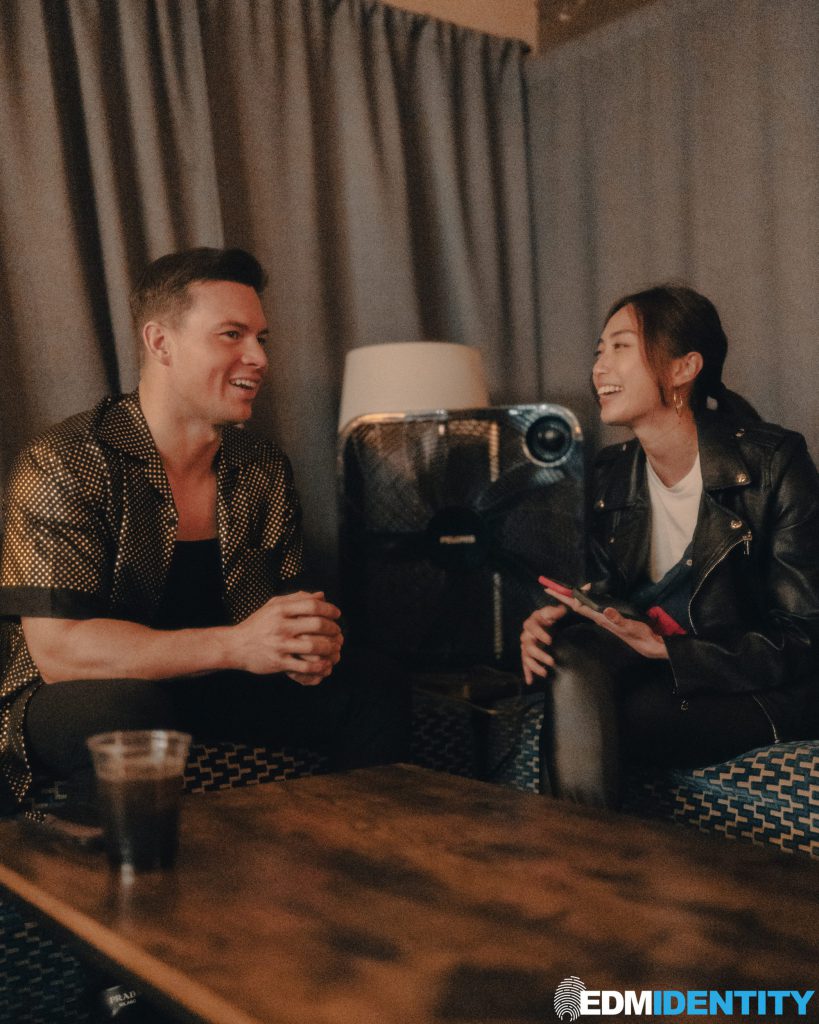 We all love it as well! It's really special! Speaking of your performance coming up, do you have any pre-show rituals? Anything you'd do to get hyped up or keep calm before going out there?
I like to kind of go on my laptop and listen to some beats, get into the zone in my head, and have a drink! Maybe a shot of tequila. It always helps. [Laughs] Nothing crazy, I'm just saving my energy for when I get out there. Just focusing, getting my head right, a little drink maybe, and we are ready to go! Once I am out there, the party starts!
I like that! Do you have any new artists you're absolutely obsessed with right now? 
I love Fred Again..! I love listening to his new album; he made a huge impact on dance music and brings really fresh ideas into the scene. I love his music, and right now, I'd say he's probably the top artist I'm listening to and making new movements, and the stuff he is doing live as well is crazy. You see a lot of his videos on social media, and you are like, "wow, this guy is on a different level!"
Fred's latest album is so special! Last but not least, do you have anything you want to say to your fans?
Yeah! Thank you so much to everyone who has supported my music and come to the shows! This is really the best year of my life, and I'll see you in 2023!
That's awesome! Have a blast of a show in a bit! We'll catch you out there!
---
Follow Joel Corry:
Website | Facebook | Twitter | Instagram | SoundCloud | YouTube