Criminal Mayhem expands his sound and concept beyond genre constraints as he masterfully combines rawstyle and techno on the GRIT E.P.
---
For over a year, Criminal Mayhem has been on a mission to combine hard techno and rawstyle music to create a lethal hybrid that catapults both genres into the future. His idea of combining these genres has helped him experience great success, such as moving up from Theracords Lab to the main imprint, Theracords. In addition, he launched a new rawstyle and techno live act named Against The Grain, where Criminal Mayhem blurs the lines between the genres with exclusive live edits and unreleased music. The German-Italian producer has been on an absolute tear through the industry, and there's no doubt he will reach great heights in the scene.
Today, he's back with his first-ever hard techno EP, GRIT. This record begins with "Prologue," an introduction that creates a haunting aura for the rest of the release, preparing listeners for the destruction to come. "Tenacity" comes next and immediately sends listeners into a nightmare setting with big kicks and dark melodies. The second drop ties all of the elements from the first drop together with aggressive rawstyle kicks before reverting to pure techno.
The gritty vibes that Criminal Mayhem established in the previous track continue on "1-0-0-7" as the vocal sample guides listeners into a dark abyss that ultimately leads to monstrous, drifting screeches backed by distorted kick drums and a sprinkle of subtle 303 basslines. "Silhouette" focuses heavily on the hi-hats to keep listeners on their feet with a classic techno feel. The mood becomes darker with an eerie vocal sample and synthesizers that evoke a creeping dread before unleashing into pounding kick drums.
"Negative Sheltering" is the last full-length track on the EP and will leave listeners mesmerized with rolling basslines, hard-hitting percussion, and grainy atmospheres. The 303 bassline comes out in full force on the second drop and eventually leads into another drop combined with ground-shaking kicks. This track closes off by returning to the pure techno sound to end this horrific trip listeners have embarked on. "Epilogue" brings back the dark elements from the opening track, offering no promise to listeners wishing for a blissful ending to their journey. Although the final track doesn't offer any hope, it does signify that this is only the beginning and there's much more gruesome music to come.
Crank up the volume and embark on the brand-new concept that Criminal Mayhem has contrived for listeners on the GRIT EP by listening on Spotify or your preferred platform.
Stream Criminal Mayhem – GRIT E.P. on Spotify:
---
Criminal Mayhem – GRIT E.P. – Tracklist:
Prologue
Tenacity
1-0-0-7
Silhouette
Negative Sheltering
Epilogue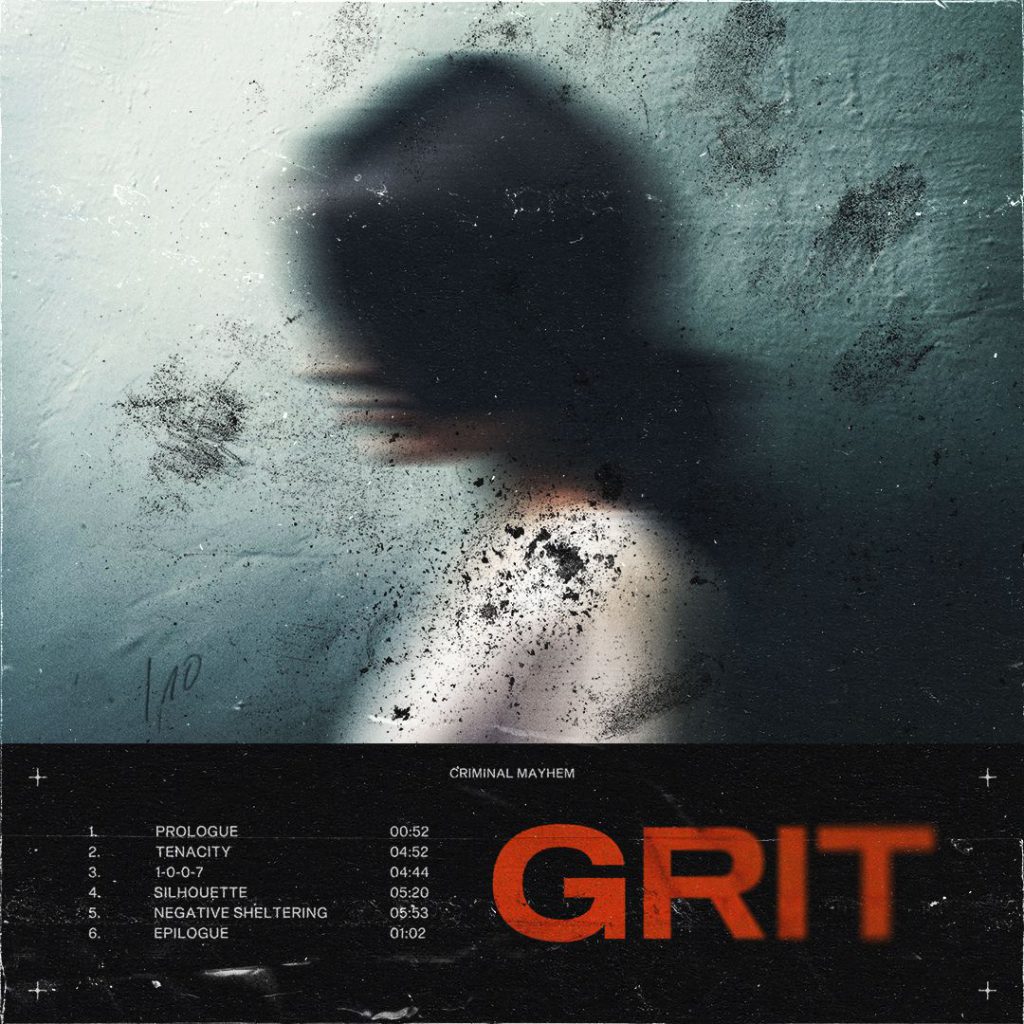 ---
Follow Criminal Mayhem on Social Media:
Website | Facebook | Instagram | SoundCloud | YouTube | TikTok | Spotify