DJ Glen teams up with Luke Andy on a two-tracker that's out of this world called 2 Tha Moon / Europa, and it's out now on Rules Don't Apply!
---
Climb into your spacesuit and bid farewell to this spinning rock in the cosmos because DJ Glen and Luke Andy are taking their fans moon hopping. As they prepare for what will be an epic b2b at Darkstar in Tempe, AZ, on December 1, they inspire otherworldly anticipation with the release of a brilliant collab, playfully titled 2 Tha Moon / Europa. This two-track EP is available now on Walker & Royce's blossoming imprint, Rules Don't Apply, and is a tried and true package of beats rinsed at club events this past summer by the label bosses themselves.
Taking flight just days after the launch of Artemis 1, the expedition sets an initial trajectory to the Earth's lunar friend, rocketing listeners "2 Tha Moon." This track softly glows with crackling tones and a rocky bassline that contradicts the release of gravity's hold. There are gritty vocals that morph and short out like failing electronics, a possible outcome as the moonwalk floats listeners out of range. The intensity of this glitch increases as the track pushes forward, ultimately reaching maximum distortion.
The b-side lays on the thrusters and delivers us to the moons of Jupiter, more specifically, the planet's fourth largest satellite, "Europa." Known as the smoothest solid object in the solar system, Luke Andy and DJ Glen have reimagined the floating structure to have a more rigid design, using bouncy synth notes and chaotic waveforms. This tune goes as far as to implant visions of its icy terrain due to its frigid and unpredictable auditory details. It may verge on terrifying, but this is a trip worth the risk!
If you're ready to take flight 2 Tha Moon, then stream it on Spotify or your preferred platform, and let us know what you think about the music on Twitter!
Stream DJ Glen & Luke Andy – 2 Tha Moon / Europa on Spotify:
---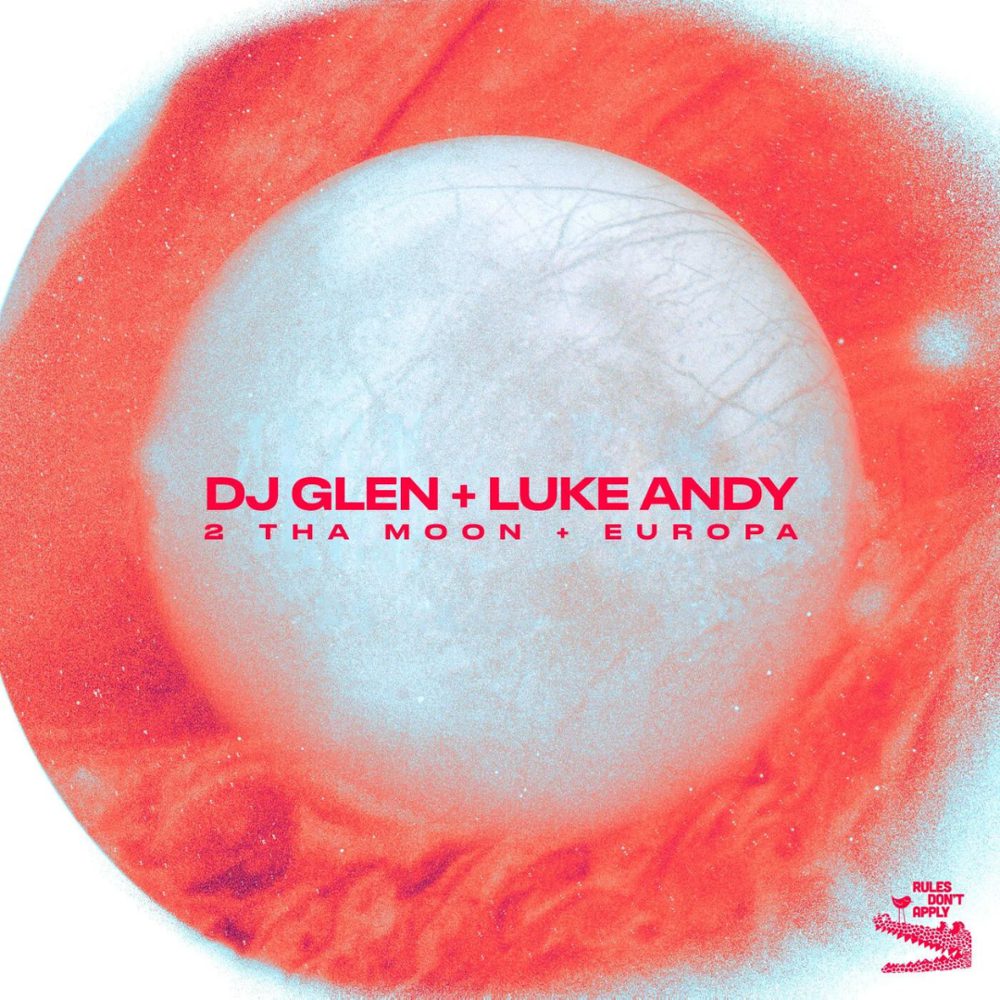 ---
Follow DJ Glen:
Facebook | Twitter | Instagram | SoundCloud | YouTube
Follow Luke Andy:
Facebook | Twitter | Instagram | SoundCloud | YouTube