Chicago house legend Gene Farris has relaunched his sub-label Farris Wheel Limited, and we caught up with him to get all the details!
---
When it comes to Chicago and house music, you simply can't have a conversation without bringing up the one and only Gene Farris. He's been manning the party helm for over three decades, sending the dancefloor into overdrive with an array of flavors that range from classically groovy to wildly off the wall. Just take one listen to tracks like "Nursery, "On A Bender," "Space Girl," or "Gimme Your Love" alongside fellow Chicagoan Cajmere, and it's easy to see why Gene is so beloved.
Throughout his career, he has graced noteworthy labels, including Toolroom, Cajual, Relief, Dirtybird, and Defected, but any fan will know to keep their sights set on Farris Wheel Recordings, Gene's very own imprint that music lovers have been joyfully riding since 1998. What started with The Copa Cabana EP has brought the world years of delight, all the way up to the present with his latest Farris Wheel offering, "So Dope." But there's another release platform that Gene unleashed back in 2001 – a branch off of his main label called Farris Wheel Limited.
Farris Wheel Limited was initially created as an alternative avenue for friends and family to release without all the extra BS, kicking off with Lowend's Do You Like Robots. Unfortunately, Limited entered hiatus just a few years later, and while some things are better left in the past, Limited is certainly worthy to make a grand return. Lucky for fans, just this past month, ringmaster Gene made the official announcement that Limited is back!
The re-launch kicked off with "Do What I Want" alongside the Basura Boyz, and from the looks of it, we can expect to see a pumped-up version of the original Limited vision going forward. So, without further ado, press play on "Do What I Want" below, and while you get spun into delirium, continue on for our chat focused on Farris Wheel Limited! In addition, make sure to preorder your copy of Farris Wheel Limited's forthcoming release, "Move It Like This" by Gettoblasters, Love & Logic, and Born I.
Listen to Gene Farris & Basura Boyz – "Do What I Want" on Spotify:
---
Hi Gene, congratulations, and thank you so much for taking the time to chat with us today about the relaunch of Farris Wheel Limited. Before we get into the details surrounding the relaunch, let's revisit the original, launched back in 2001. What was your original vision for the label, and what were a few stand-out tracks that we should revisit?
My original vision for Farris Wheel Limited was to create a safe space for myself, friends, and other producers to come and put out the music that they truly loved to make, no politics. I believe we have achieved that goal and are still pushing that narrative to this day. Tracks to revisit – I would say Roomsa's "Tonight," Behind the Groove's "Calling Your Name," Lowend's Do You Like Robots EP, and my track "The Spirit."
Fast forward two decades, and Farris Wheel Limited is back after a hiatus! Why did you put a pause on the imprint, and what inspired you to bring it back?
Thanks, we're very excited about returning with Farris Wheel Limited; this will be our bigger flagship with bigger artists and titles. We were really focused on rebranding Farris Wheel Recordings and having a solid presence, and now that we have achieved that, we wanted to do something bigger, and Farris Wheel limited was resurrected.
Will Farris Wheel Limited retain its original vision, or will it be driving in a totally different direction? If new, what can listeners expect?
We're gonna do a bit of what we did in the past with Farris Wheel Limited for sure, but also putting out big club bangers and chartbusters. We want the bigger artists to be attracted to us, and we're working in that direction. The first single was with myself and the Basura Boyz, the next one is from Gettoblaster, and the third one is a banger from Dead Space – John Summit's old partner in crime.
You relaunched with "Do What I Want," a ferocious collaboration between you and Basura Boyz. How did this collaboration come to fruition? Did you always have them in mind when thinking about the relaunch or is this a production that happened first, and then you realized it was the perfect choice for the label relaunch?
Me and the Basura Boyz are friends, and we've made a few jams together that will be coming out soon, so it was an easy, natural decision. We made this song, and for me, it was a no-brainer that it had to be the single that launched the return of Farris Wheel Limited – it's a massive track, and it smashes in the club.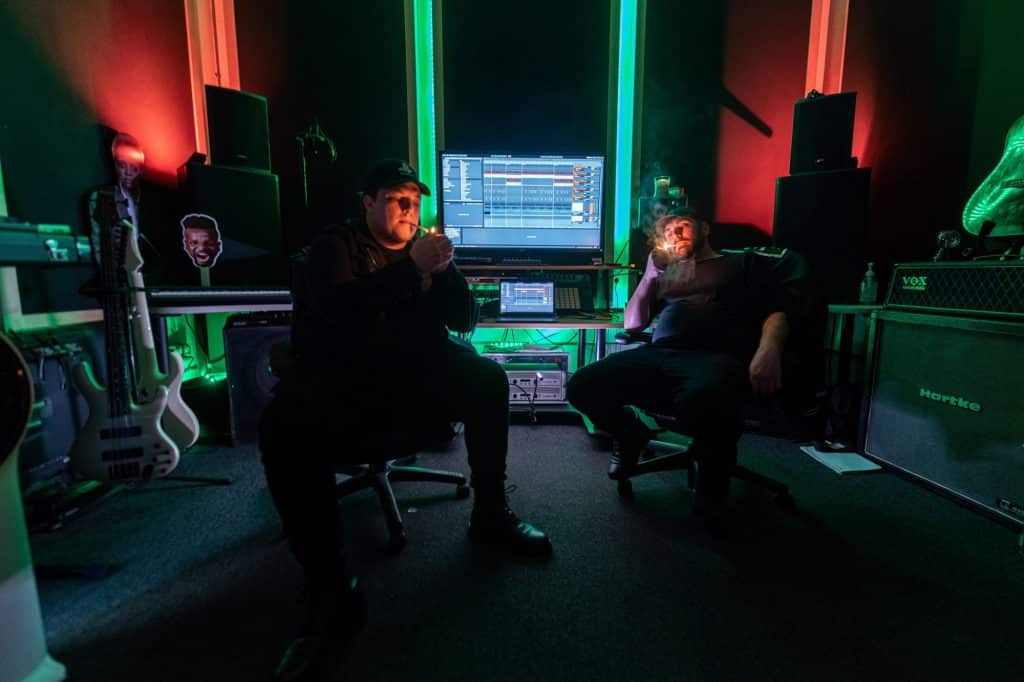 In terms of production, can you break down your contribution to "Do What I Want" and what Basura Boyz brought to the table?
When I first heard the song, the original idea was already there. I just knew if we did it together, I could make it better. So I got the parts from them, changed a few things, and added my flavor to it production-wise, laid the vocals down, which were actually written by Nick Gio Mazzei from the Basura Boyz, and it slapped so hard. We're all definitely happy the way it turned out.
Who are some other producers that you have your eyes on for the Limited brand?
We would love a single from Shiba San, he's the homie! Also from Dombresky, he's a good friend, and the return of Sonny Fodera to Farris Wheel – my brother from another mother, would also be nice!
Finally, can you give any tips to producers hoping to one day land on Farris Wheel Limited? What will you be looking for when sifting through demos?
Just be true to yourself, keep it tight, and test it on the dance floor multiple times if possible; if it works, it works, if it doesn't, it doesn't, and that's ok, "Rome wasn't built in a day"! And finally, don't make us your second choice! Make us your first stop.
Gene, once again, congratulations on the relaunch, and we look forward to watching and listening as Farris Wheel Limited shakes up the dancefloor!
Thanks a lot for having me!
---
Follow Gene Farris on Social Media:
Facebook | Twitter | Instagram | SoundCloud | YouTube