Bleu Clair delivers a mesmerizing experience packed with layers of texture on his five-track EP, New Age of House.
---
Indonesian producer Bleu Clair has staked his claim in the realm of house with his distinct style. It's something that has captivated fans and fellow artists alike and has also brought him to labels such as Insomniac's IN / ROTATION, STMPD RCRDS, and Moksi Family, among others. After launching his own imprint back in April, BLEU LABEL/MCMLXXXIII, with his single "Funk Accelerator," Bleu Clair is back to deliver a brand new EP, New Age Of House, ahead of his set at EDC Orlando this month.
Starting with the hard-hitting single "Aura," Bleu Clair and Jargen craft a sultry atmosphere that's only elevated by Annaca's breathy voice. The song's introduction simmers with rapid hi-hats and thick basslines that interject between vocal chops. It feels apt for Annaca to sing the lyrics "I'll take you places your mind's never been," as it applies to the entire EP.
The transition from "Aura" to "Sand Dunes" is seamless as Bleu Clair follows up with another sweep of claps and hi-hats, bringing back the signature, powerful bassline. The shift in the music begins as vocals are folded into the mixture, and the song begins to charge forward with a more bass-house-leaning sound. It's not the only shift within the song, with Bleu Clair finding ample places to explore edgy sounds. The song is a standout from the EP, delivering mountains of high energy and illustrating how powerful his production talent is at the forefront.
"Killer Bee" with OOTORO, featuring Chyra, is entirely a massive delivery of tech house. The satisfaction of Chyra's repetitive lyrics lull listeners deep into the music, and the only thing capable of momentarily fracturing the deep pull is the song's breaks, where the subtle changes of dotted, deep synthy sounds replace the vocals.
Like every song proceeding it, "Peanut Butter" with Dances With White Girls brings out Bleu Clair's energy amid hypnotizing beats. Sharper tones are punctuated across the track, culminating in a groovy breakdown that marks a capstone. This one showcases how Bleu Clair easily marries vocal talent alongside his own talent, finding space to highlight both and flawlessly fusing the two.
Ending the EP is "Love Capsule Pt. 2," which sees the return of Kara Chenoa, who also appeared on the 2018 "Love Capsule." More than any song across New Age of House, this one finds plenty of areas for a groovy delivery. It's also deceptively simple, but with an attentive listen, it's clear the track houses an array of spikes in energy, fluctuations of beats, and deluges of melody. And as seen, or rather heard, across the EP, Bleu Clair's brand of house captivates with every second – mesmerizing without ever feeling dull with layers of effective textures.
Check out New Age of House on Spotify or grab your copy of the EP on your favorite music platform.
Stream Bleu Clair – New Age of House on Spotify:
---
Bleu Clair – New Age of House – Tracklist:
Aura (ft. Annaca) with Jargen
Sand Dunes
Killer Bee with OOTORO (ft. Chyra)
Peanut Butter with Dances With White Girls
Love Capsule Pt. 2 (ft. Kara Chenoa)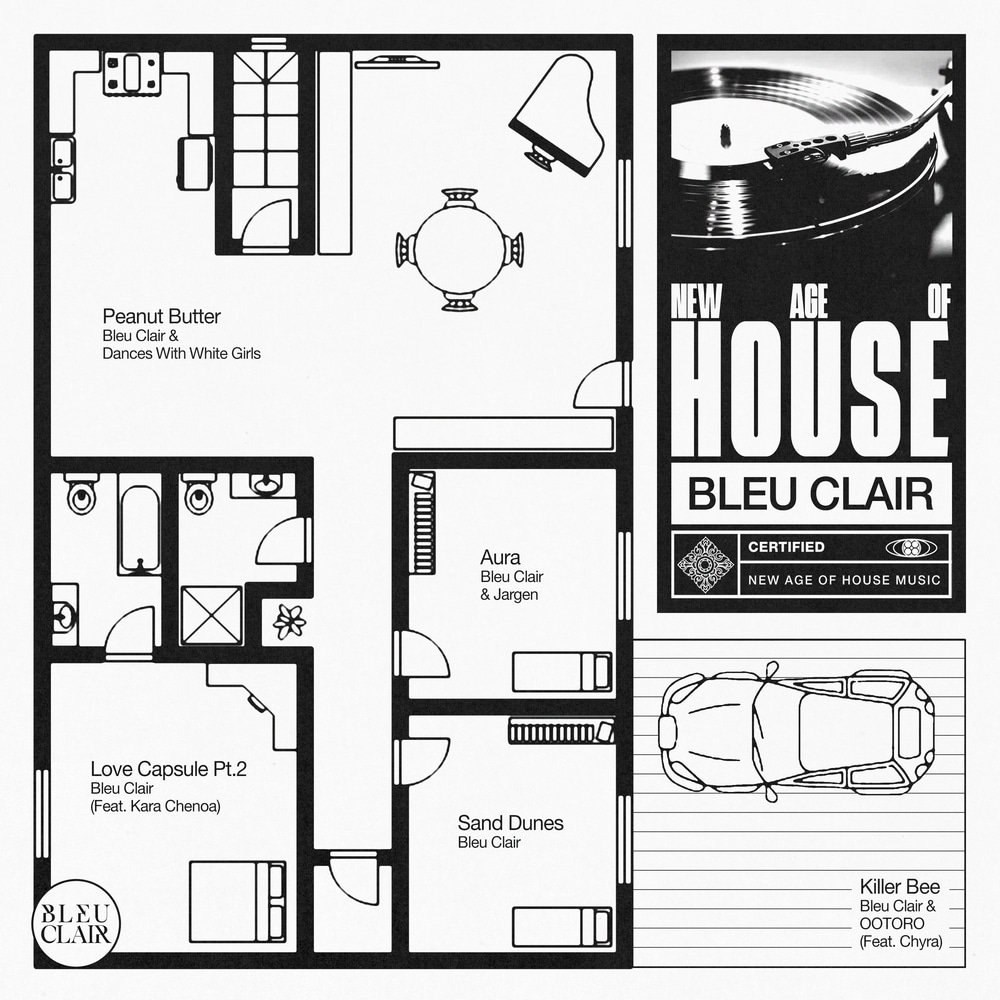 ---
Follow Bleu Clair on Social Media:
Website | Facebook | Twitter | Instagram | SoundCloud