Dragonette puts the influences from her youth and where those experiences led her on full display with her comeback album, Twennies.
---
Beloved Canadian artist Dragonette has been a massive influence on electronic music since she first stepped onto the scene in 2005. Over the years, she's brought undeniable musical nostalgia while layering in modern rock and electronic music elements for added effect. While her solo work has been profound, her collaborations with everyone from Martin Solveig on the chart-topping "Hello" to Kaskade have been just as fantastic, and she even co-wrote for Cyndi Lauper. Additionally, Dragonette has gained quite the following and made a massive name for herself, taking the stage alongside Duran Duran, Ke$ha, Major Lazer, and so many others on the biggest stages around the world.
Since releasing her debut album, Galore, in 2007, Dragonette has been all over the place between collaborations and releasing tracks of her own. After six years, she is back once again with her fifth studio album, Twennies. Partnering with renowned producer Dan Farber to bring this album to life, they capture a plethora of retro elements and modernize them to create this stunning body of work as Dragonette enters a new chapter in her life.
Check out Dragonette's Twennies on Spotify or your favorite streaming platform, and read on to dive deeper into the tracks.
Stream Dragonette – Twennies on Spotify:
---
"Seasick" begins the Twennies journey with a jazzy drum intro before cascading synths fall over the bassline.
Dragonette's well-known vocals begin in a flowing manner paired with the tempo and beat, emulating the movements of the sea. "Hysteria" follows with the strumming of the guitar and a static-like sound as a steady drum beat and vocals enter with a slower BPM. As this track picks up, male vocals back up her powerful voice, which echoes throughout the chorus. This song perfectly blends '90s beats with modern house music, emphasizing the feeling of nostalgia, as it will continue throughout the album.
Bringing in acoustic drums with electronic synths, "New Suit" balances contemporary energy while still maintaining the sentiment of earlier times. This retro, upbeat track emphasizes the use of old-school synths, which takes you back to your youth and reminiscing on what is familiar to them while still holding onto what the new world has to offer. The title track, "Twennies," starts with a darker tone, letting the initial bassline and raw vocals pique your interest. Though the somber tone continues, the speed picks up, bringing disco to the modern era as the lyrics remind us of earlier times. The raw drumline towards the end provides the ultimate rock n' roll feeling leading into the final chorus, emphasizing the sound Dragonette has brought to the electronic music scene.
"T-Shirt" has a prominent bassline and swirling elements to create the scene of a late-night drive.
"T-Shirt" is an electro-pop track that creates a nostalgic soundscape with an 80s-style synth while still using modern electronic and rock music elements. Soon after, "Winning" slows down the album filling your ears with its acoustic guitar and heartfelt lyrics about doing better off without someone. The airy synths vibrate alongside the acoustic instruments, which evoke emotions when paired with her longing vocals. Maintaining the slow pace, "Stormy" focuses on Dragonette's voice and a guitar accompaniment. Electronic elements, backup vocals, and the subtle sounds of nature add a dramatic element to this stunning ballad and emphasize the song's title.
"This is All You Get" is s short yet sweet track features a touch of static vocals and is once again accompanied by an acoustic guitar. The pace slightly picks up with "Good Intentions," and the lowered tone has a groovy feeling, emphasizing an eighties soundscape once again. With the tempo changes, Dragonette bridges the gap between musical nostalgia and utilizing modern elements of electronic music, which this song portrays spectacularly. The final track on the album, "Outie," brings a beachy feeling to the album, using a ukelele and tambourine. This charming piece has relatable lyrics, quirky instrumentation, and a unique take on electronic music, making this the most elegant way to end Dragonette's comeback album.
Dragonette succeeded in her mission to evoke nostalgia on Twennies.
Not missing a beat, Dragonette stops at nothing to bring her youth to life through the production and lyrics from start to finish while dashing expectations along the way. This album is a testament to her unique sound and songwriting ability and takes listeners on a journey through her influences from childhood to how much she has learned throughout her life.
---
Dragonette – Twennies – Tracklist:
Seasick
Hysteria
New Suit
Twennies
T-Shirt
Winning
Stormy
This Is All You Get
Good Intentions
Outie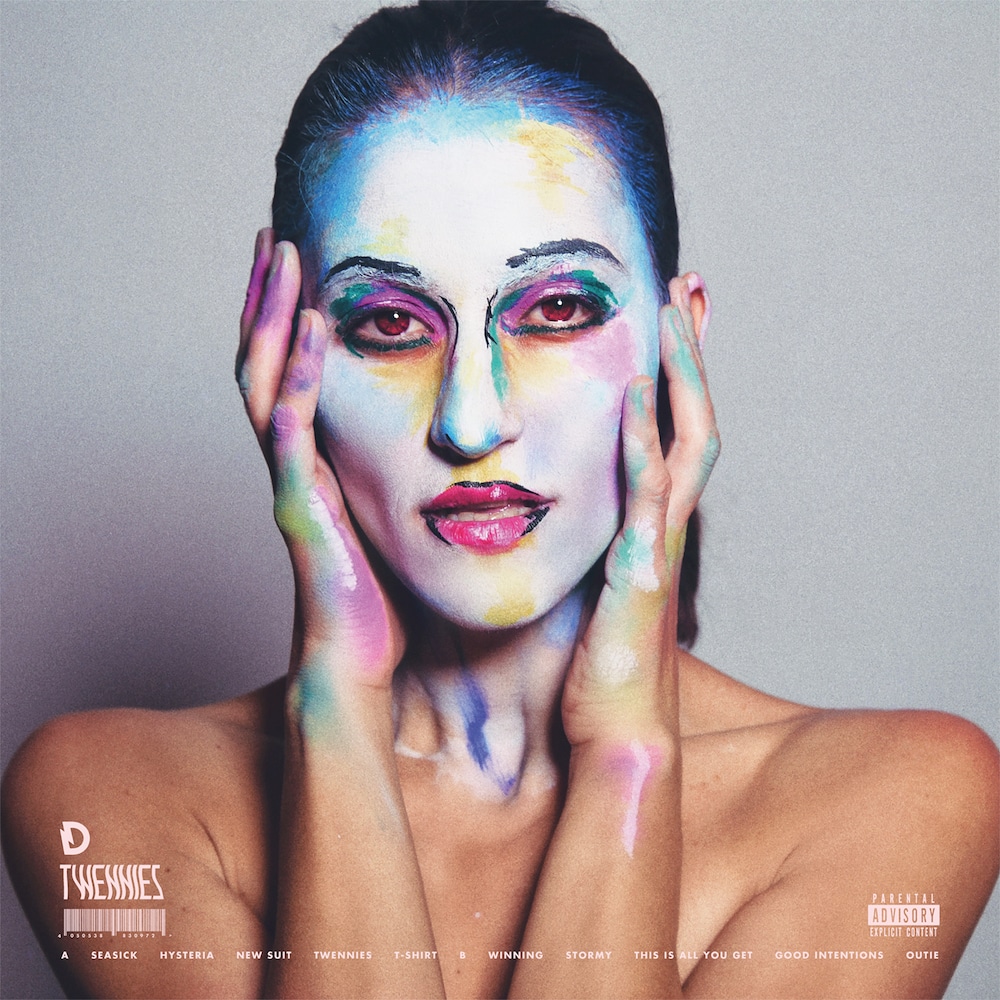 ---
Follow Dragonette on Social Media:
Website | Facebook | Twitter | Instagram | SoundCloud | YouTube