Colorscapes Volume Four has arrived, featuring three distinct remixes from PRAANA, Matt Fax, and series newcomer, Estiva!
---
Enhanced Music's sublabel Colorize has worked its way into the hearts of melodic, deep, and progressive house lovers, and the creation of the Colorscapes compilation series only cemented their sought-out status in the scene. Today, Colorscapes Volume Four floats gracefully through the airwaves with three new mixes, and this time PRAANA and Matt Fax are joined by the exciting Dutch beat maker Estiva!
One thing that allows Colorscapes Volume Four to stand out from many other compilation projects is the fact that almost all the music that made the cut is previously unreleased. To push these brand-new tunes even further into the dancefloor atmosphere, Colorize will host its largest European event to date, held as part of the Amsterdam Dance Event (ADE) at Nova on October 20. So, while you pick out your best dancing shoes for the event, let's explore some of the highlights of this emotionally uplifting body of work.
Colorscapes Volume Four begins with a glorious mix by PRAANA who gently places listeners into a trance with the opener, "Nondual Reality," before closing it out with the meditative splendor of "Path Of Yoga." In between, the enigmatic duo weaves music seekers through a vibrant maze of thoughtful melodics and organic rhythms brought to life by artists like Modera, Hessian, Boy North, and Gabben. "Treading Dawn (Existence, Consciousness, Bliss)" by Wilde and Enriu is definitely a contender as one of the most intriguing tracks of this mix, telling a story of life and one's true nature as the introspective instrumental sends waves of euphoria through the mind.
While PRAANA's mix turns the listener inward, Matt Fax looks to bring out our curious excitement-seeker side with the help of music makers like Datskie, Lipless, Rokazer, and AUTOFLOWER. "Fearless" by Alex Breitling drives this theme home with a punchy drive that encourages the body to get off the couch and groove, while tunes like "Set My Body Free" by RIKO & GUGGA and "Close My Eyes" by Matt Fax and Jack Dawson will leave you begging for a debaucherous night at your favorite club. This mix is chock-full of smoldering energy that grows in strength with each change of the track.
Last but certainly not least is Estiva's mix. Even though he's new to mixing the series, he understood the assignment and delivered a group of festive beats primed and ready for your next open-air gathering. Tracks like "Mesa" by Estiva, "Becrux" by Rokazer, "Invidia" by Fanizza, Carl Fath, and Amaliantis, and "Ferdinand" by Khåen will have party people booking a ticket straight to Tulum. No matter what track you land on, expect to emerge completely re-invigorated, like you've been blasted with a pure dose of oxygen straight to the brain.
Without further ado, it's time to explore the stunning soundscapes for yourself. Grab your copy of Colorscapes Volume Four on your favorite music platform, stream the compilation below on Spotify, and let us know which mix you're vibing the most with on Twitter!
Stream Colorscapes Volume Four – Mixed by PRAANA, Matt Fax, and Estiva on Spotify:
---
Colorscapes Volume Four – Tracklists: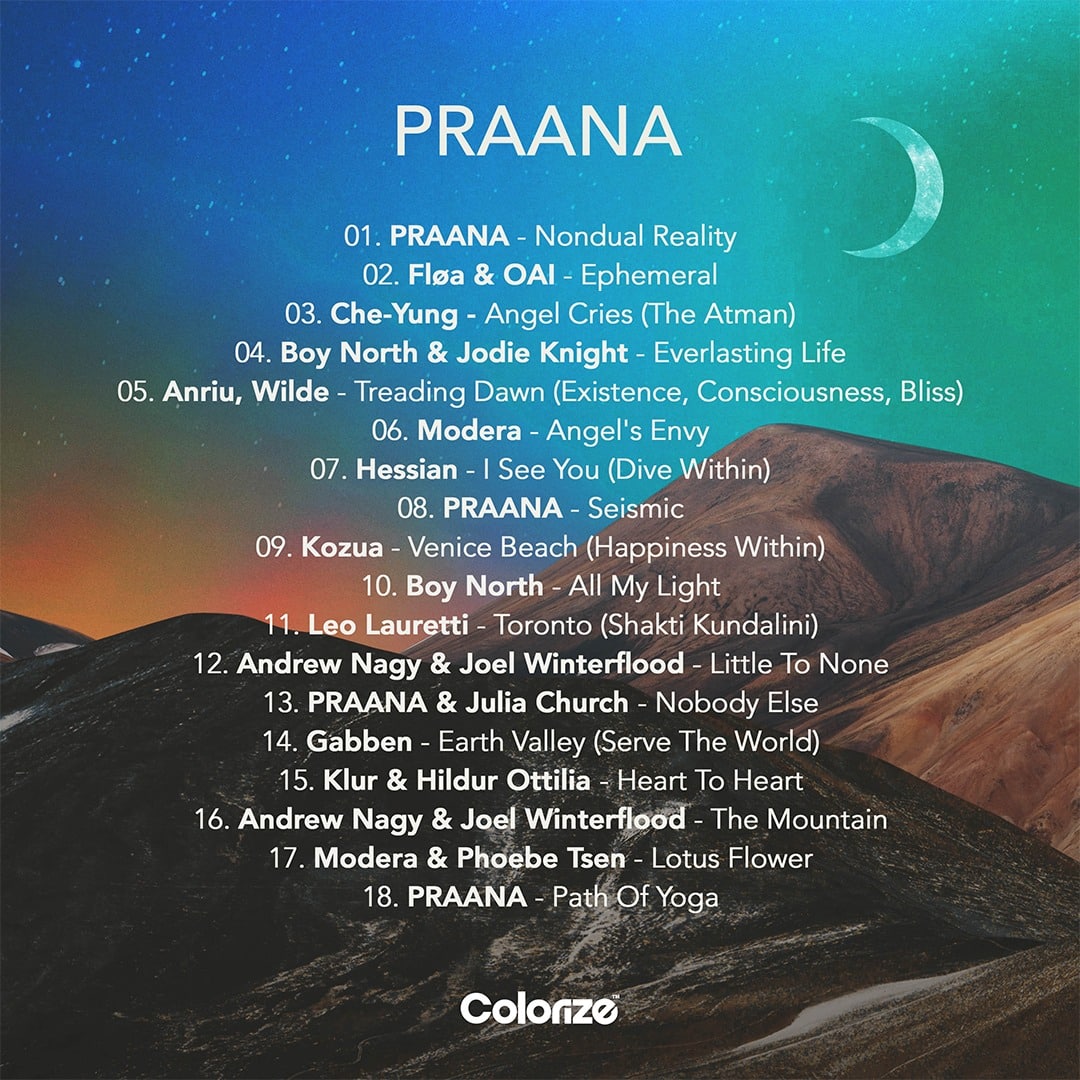 ---
Follow Colorize on Social Media:
Website | Facebook | Twitter | Instagram | SoundCloud | YouTube