Groove Cruise founder Jason Beukema swung by ahead of the upcoming Cabo sailing to give insight on the party at sea that also gives back.
---
If you speak with Jason Beukema for just a few minutes about his "babies" (Groove Cruise, Whet Travel, and Whet Foundation), we dare you not to get caught up in his enthusiasm. His passion is infectious and likely a huge part of what has made the Groove Cruise brand what it is today. Not only is his longstanding brand in the scene known for its amazing parties, themes, and destinations, but it also uses all that energy to do some good. In Jason Beukema's words, "We want to leave the communities we visit in a better place than we found them."
Aside from the annual editions of Groove Cruise, Jason Beukema also dedicated himself to charity with the Whet Foundation, which has so many initiatives we couldn't touch on them all when we sat down to chat with him. That's an amazing feat – to effectively be a successful festival organizer who spends more time figuring out how to give back rather than how to put more money in their pocket. Then again, shouldn't this be the part of the PLUR ethos that festivalgoers claim to live by? Groove Cruise makes it easier for revelers to give back without figuring out the "how" in those efforts.
Beyond philanthropy, Groove Cruise sailings are wild parties with endless activities from the moment you board the ship until you disembark at your home port. Jason Beukema books boldfaced headliners to provide beautiful beats on the high seas, like Claude VonStroke, Markus Schulz, John Summit, Gareth Emery, and Blond:ish, to name a few. Additionally, cruisers visit many beautiful port cities, can partake in activities and parties off-ship and have 24/7 access to meals, drinks, and snacks.
Ahead of the upcoming embarkation of Groove Cruise Cabo, we caught up with the mastermind behind it all for a quality chat. Read on for the full interview with Jason Beukema, and again, we dare you not to get caught up in his enthusiasm!
---
Hi Jason, thanks for sitting down with us today. Many people know the Groove Cruise brand but not the Whet Travel and Whet Foundation brands. What are each of these, and how are they all related?
Whet Travel is the parent company, and whet means "to excite or to simulate." "We excite people's lives," and that's our tagline. I started Whet Travel and the Groove Cruise sub-brand at the same time, almost 19 years ago, and Whet Travel hosts festivals and corporate events on cruise ships. We charter cruise ships from Royal Caribbean, Carnival, Norwegian, Celebrity, Princess, and MSC and transform them into a once-in-a-lifetime experience for the community we're targeting. 
We've done a lot of music themes, including electronic music (Groove Cruise), rock, heavy metal, and country. There's also a board game cruise coming up and a dental hygienist continuing education cruise called Smiles At Sea. We bring like-minded people together on a cruise to share their passion and lifestyle.
You've got several Groove Cruises upcoming. How is each of these similar and different?
Groove Cruise has been continuously sailing out of Miami and the South Florida area since 2004. We've also been sailing from the west coast since 2015, but not every year. The most significant differences are the ports and destinations. 
For example, we have Groove Cruise Cabo coming up in October, sailing from Los Angeles. We've also done Catalina Island and Sonata from there. Out of South Florida, we've sailed to the Bahamas, Cozumel, Mexico, Costa Maya, Mexico, and Jamaica. Our next one is coming in January and sails to Labadee, a private peninsula of Haiti. It's my favorite cruise destination, and I've been on over 145 cruises! It's absolutely stunning.
And then, in terms of the onboard experience, it's pretty similar for each Groove Cruise, and the types of people that go are very similar.
You mentioned the October Groove Cruise Cabo sailing from Los Angeles. This cruise includes several Whet Foundation initiatives. Tell us a little about these initiatives in particular.
I started Whet Foundation 10 years ago, and it's truly been a labor of love. It's a 501(c)3, which means it's a legitimate, tax-exempt organization that no one owns. I don't own it. Yes, I started it, but it's owned by the public, if you will. Finances are all transparent, which is important to me. We used to work with outside groups, but I wasn't sure that the money was effectively getting to the kids and families that needed it, so I started Whet Foundation to oversee this.
The Whet Foundation component of Groove Cruise is called Destination Donation, and in Cabo, we're working with a local orphanage. We ask them what they need, and then we ask everybody on the cruise to bring things like used cell phones, iPads, clothing, school supplies, and books. Somewhere between 50 to 100 volunteers will then participate in bringing these items to the kids. We'll also cook for them, play games, and perhaps do an art project with them. 
One group needs a new refrigerator, so we're buying them a commercial refrigerator. Another needs to build a home for a single mother, so we're working to buy all the materials so they can build that home. We want to leave the communities we visit in a better place than we found them. And our favorite part is that when the post-cruise surveys come back, those that did the Destination Donation rate this as their most memorable experience!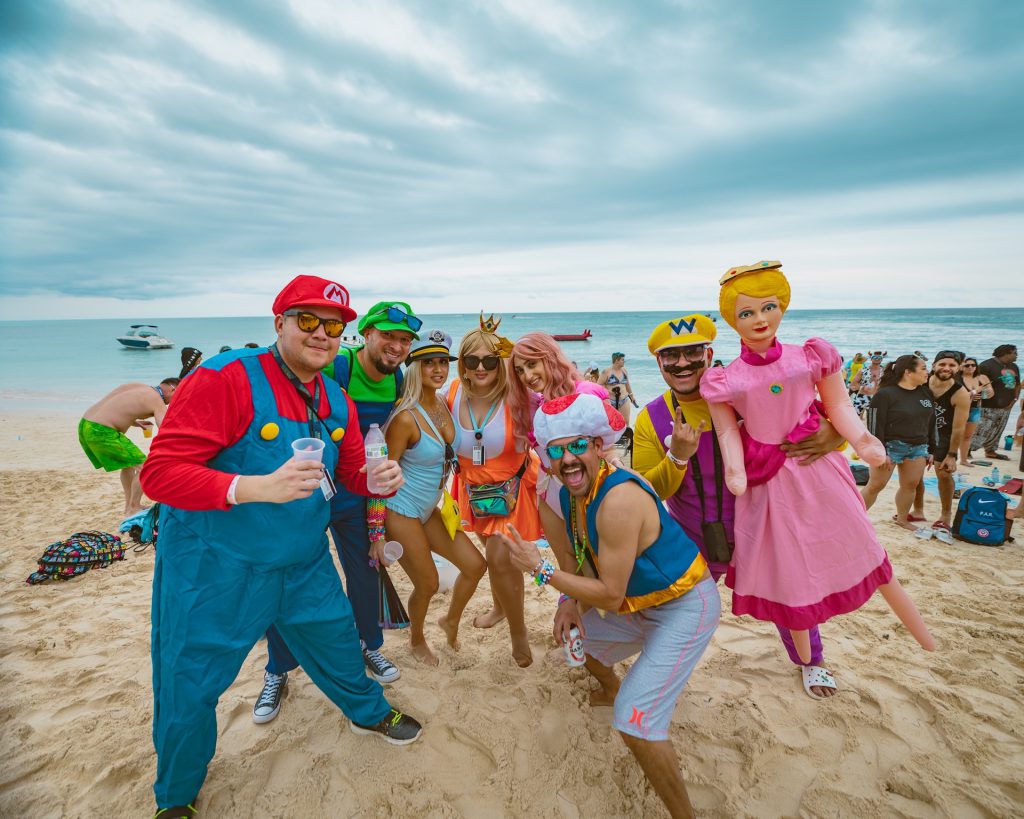 We understand this cruise will visit Solmar Foundation and Heart4Cabo to serve breakfast and interact with local children. How did you select these programs, and what can attendees expect from these visits?
The actual facility is Casa Hogar, which is the orphanage we're visiting. Heart4Cabo is an important partner, and they are made up of DJs, so we really connect with them. Attendees who volunteer get free transportation and priority departure from the ship. We all go to the orphanage and participate in activities with the kids. At the end of the day, they are bussed back to the Groove Cruise party and meet up with the rest of the attendees for the night. It's a pretty amazing day to experience!
There's also a mental health initiative, right?
Yes. Every human has dealt with mental health issues at some point, and for me, it was early in COVID. I was watching my baby, these cruise events, die overnight. I was depressed, and I didn't know what to do. These issues are close to home, with my sister-in-law speaking publicly about her issues and even having spent a few months in a facility. This past January, our Groove Cruise production manager committed suicide. So this has been very personal.
After working through my own needs, I came up with a multi-track program. We're going to have a bunch of artists talking about how they deal with mental health issues, how they deal with being on the road, how they deal with playing hundreds of shows a year, being in and out of nightclubs, partying, drugs, etc. That's going to be an open conversation with several artists. 
Then we partnered with When The Music Stops for a suicide prevention track. Founder, Josh Donaldson, has been a total blessing to work with and is a suicide prevention counselor. He's had his personal, very, very difficult things that he's dealt with. 
If we save one person's life or help someone have a mind-opening experience that puts them on a different trajectory for life, we call it the one-millimeter rule. That one-millimeter change is not a big change, but it's a massive change over time. I think we're doing the right thing.
You mention that the Destination Donation is often the most memorable for attendees, and they are obviously here for the parties, too. Aside from the incredible music from the likes of Green Velvet and Said The Sky, what other activities are in store?
Over a 5-day cruise, there are ten themes, one each day and night. The first thing after you board the ship is called Represent, so you can showcase where you are from, your heritage, and your favorite sports team – it's a bit of an icebreaker. Then there are so many other themes like Burlesque & Bowties, Naughty Neon, Mythology & Moonlight, and Flotation Infatuation, to name a few. Regardless of the activities that go along, people get into them! It's less awkward than doing this at home because you are in a judgment-free zone from the moment you get dressed to the moment you hit your bed. You can also change outfits many times a day because your room is just a few minutes away.
For the activities, it's really cool because we're one of the few places you can get artist interaction. So you can play bingo with Claude VonStroke, do a tequila tasting with Said The Sky, or do a hot pizza challenge with Trivecta.
You already mentioned the recurring ports for Groove Cruise. Are you considering adding others in the future?
There was a Groove Cruise New York in 2009 that went to St. John in New Brunswick, Canada. Part of the challenge with New York is that for a short cruise can only go there or to Bermuda. And we've also done one from Barcelona to Ibiza. We're always looking at New York and other options like Texas, the Great Lakes, or perhaps Asia.
Is there anything else that Groove Cruise fans should look forward to for 2023 and beyond?
I'm not skipping over West Coast 2023; we're still seeing if that's an option. But January 2024 will be the 20-year anniversary and the biggest ship we've ever done. The most ridiculous beach parties, the most insane lineup, we're going all out. We have this partnership with Martian Circus, a 5D experience – they play improvised music for 8 to 10 hours straight. They bring in all this decor, actors, performers, and band members. I'm not sure what it will turn into, but it sounds cool!
And we're always listening to our captains. They steer the ship and send us ideas. Hey, I saw this at this festival. That's how I've prided myself in building Groove Cruise over the years, just listening to our captains.
One last fun question. What's your favorite food or activity offered on the Groove Cruise ships?
Ah, good question! My favorite food is definitely soft-serve ice cream. As soon as I get on a cruise ship, I don't know what it is that comes over me because I don't really eat ice cream, but I beeline straight to the free ice cream machine, and I get my chocolate vanilla twist. I eat several of those every day. And for my favorite activity, it's definitely the Whet Foundation destination donation experience. That one, for sure!
---
Follow Whet Foundation on Social Media: