Kölsch stopped by ahead of his sets at Audio SF and Exchange LA to give us some insight into life on the road and more.
---
Danish techno artist Kölsch has become a force to be reckoned with in the scene over the past few decades. First getting his start on the production front back in 1995, he's delivered countless releases that have received praise. This includes his albums 1977 and 1989, while he's also been the mastermind behind tracks like "Calabria," a massive hit that landed in 2003 and has been remixed, updated, and sampled by many artists since. More recently, Kölsch has only further built on his legacy by dropping Speicher 119, Time / Sleeper Must Awaken, and Hold / Clear, along with a flurry of remixes.
This year has seen Kölsch flourish even more as he made a grand return to the stage to play at Tomorrowland Winter, Tomorrowland, and Awakenings, among others. On the release front, he's collaborated with Dubfire on "ULM" and "Louisiana" while also putting his spin on tracks like Tiga's "Mind Dimension" and Kevin de Vries' "Dance With Me."
Fans of Kölsch in the US won't have to wait long to catch him take the stage as he's currently gearing up for a massive run of shows across the country. This weekend will see him play at Audio in San Francisco, Exchange in Los Angeles, and Palms Beach Club in San Diego before jetting to cities like Miami and New York later this month.
Before his upcoming shows, we caught up with the legendary techno artist to pick his brain about life on the road, his recent releases, and more. Listen to Kölsch's remix of "Dance With Me" on Spotify, grab tickets to catch him live, and read on for the full conversation.
Stream Kevin de Vries – Dance With Me (Kölsch Remix) on Spotify:
---
Hello Kölsch, thank you so much for taking the time to chat with us. Let's get right into this week's focus – your upcoming performances in California! Can you give us a little insight into what you have planned for the first two stops on your US tour?
The first stop of the tour is Audio in San Francisco. It's one of my absolute favorite clubs in the world. The sound system is incredible, and the crowd is on Point. Coming off a crazy summer of festival stages, I can't wait to play some deeper music. For Exchange, I have some serious goodies planned. I'll be doing a 3-hour set, so plenty of time to play all my new and upcoming tracks and drop a few classics.
Factory 93 is hosting your performance at Exchange, and you're no stranger to the brand, having played the Carl Cox Invites show at Grand Park in 2020. Looking back, can you share some fond memories of that party?
It was such an experience, and I loved performing downtown, surrounded by historical buildings. The energy in the crowd was unreal, and playing with Carl is always great. The set was recorded too. It's on my SoundCloud.
In addition, what do you love most about visiting Los Angeles? Do you have a favorite spot to eat or a favorite activity outside of the club scene?
So many things I love about LA. I can't help but go to Venice, have a coffee, and watch the skateboarding. I used to skate a lot, so it has deep roots in me. I'm into art, so I try and visit the Getty when I can. Always an experience. Other than that, it's all about food. Tour of taco trucks has to happen, and NIght+Market is a favorite.
Moving on to the next date, you will be playing the FNGRS CRSSD event at Palms Beach Club in San Diego on October 9. Can you talk about your creative vision regarding separating your previous nightclub set from your beachside set for fans making the journey to both events?
Beachside sets are the perfect excuse to bring out records that are more uplifting. There is a huge difference between nighttime sets and daytime on the beach. I'm really looking forward to big smiles and the warm air. Nothing beats dancing outside.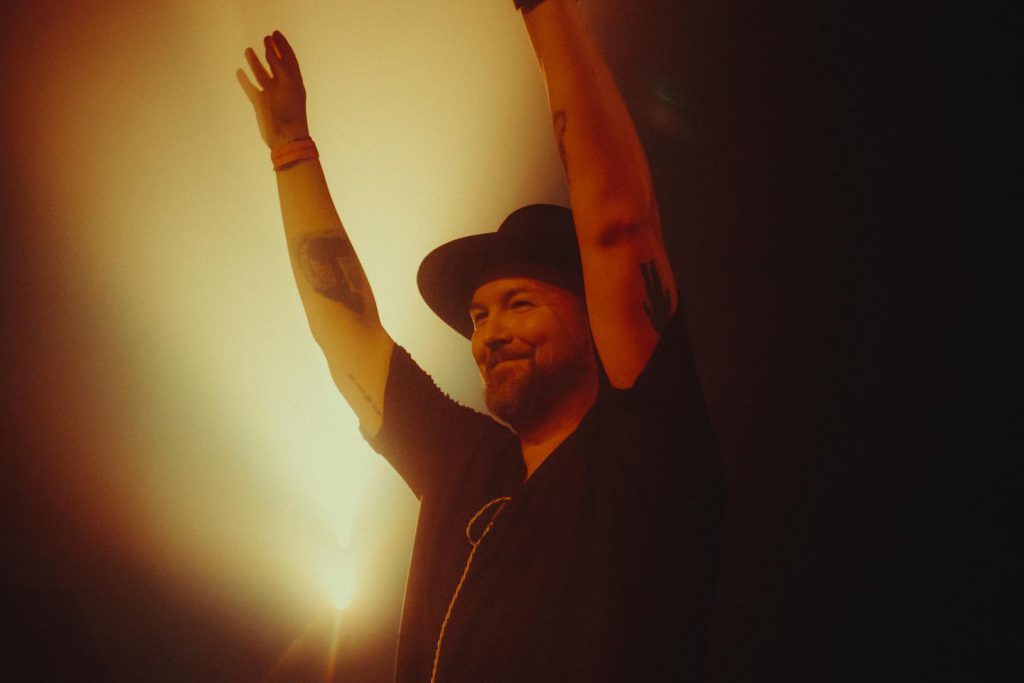 After SoCal, you're sticking around in the States, making stops in NYC, Miami, Orlando, and Denver. Being on tour in another country, do you work on music or focus solely on performing?
I'm constantly working on new material. The beauty of traveling is that inspiration strikes at any moment. I produce on flights and in hotels everywhere I go. Right now, my setup on my laptop is a perfect virtual clone of my home studio. All my hardware units I have as plugins on my laptop, so I can easily integrate them when I return to my studio. It's a super efficient way to work.
Speaking of new music, you just released your remix of Kevin de Vries's "Dance With Me" on Afterlife. What inspired you to take on that particular track, and what has the response been like?
Kevin sent me the original early this year, and I just knew it would be huge. So many releases fly under the radar these days, but Dance With Me sounded so different yet familiar. He asked me to remix it, and I figured id add a synth theme to the remix so that it would differ from the original.
It took a while to get the sound just right, but the response has been immense. [It's] definitely the track of the summer, in my opinion.
As an artist who has experienced decades in the dance music scene, what are your thoughts on its current state? Is there anything you would change?
I've always been one to embrace progress. I wouldn't have it any other way. Electronic music was and is still the only genre fully focused on the future. No other music form has pushed sound design, production techniques, and songwriting more. That being said, constant reinvention is a challenge. I find myself struggling with that at times. Expressing emotions and pushing boundaries don't always go hand in hand.
For the scene, I miss a certain amount of creative freedom. I feel that a lot of artists seem to play it too safe. It was bound to happen with Techno's explosive popularity over the past few years. I wish there was room for more experimenting, though.
Finally, what are some things you do to get your mind and body back on track after a lengthy run of shows?
I love to go biking when I have time. It's the perfect way to clear my head after a hectic touring schedule. Other than that, it's mostly gym, cooking, and listening to music at home. I'm obsessed with the Police right now. I have these phases of different music or bands, so I listen to all their albums.
Thanks again for the chat, and we hope you have an incredible time in SoCal!
---
Follow Kölsch on Social Media:
Facebook | Twitter | Instagram | SoundCloud | YouTube