Nocturnal Wonderland brings a magical weekend, and camping on-site enhances that experience with special sets, activities, and more.
---
A widely cherished festival, Nocturnal Wonderland returns once again at the beloved Glen Helen Regional Park for its long-awaited 2022 edition. Known for creating a magical experience for attendees, this has become a highly sought-out festival since its inception in 1995. This festival experience differs from many of the other ones hosted by Insomniac as there's the bonus addition of onsite camping.
Nocturnal Wonderland's camping experience is unlike any other. Filled with morning activities, games, afterparties that run deep into the night, and more, it completes the magical world while creating a community for campers during their time there. And knowing that it will be another hot, dry weekend in Southern California, the waterpark will surely be filled to the brim with campers looking to cool off.
Related: Be sure to come prepared with our Camping Festival Essentials and Tips to have an amazing weekend at Nocturnal!
The weekend starts early for those camping on-site, as many will arrive before the festival to set up camp, play open decks, and get ready for the pre-party on Friday. As everyone gets settled in, many will make friends with neighbors, creating unforgettable connections through the music and nature of the community around them.
As the night falls, the atmosphere lights up, and the partying really begins.
Nocturnal Wonderland kicks off with the pre-party that takes place on Friday night. This year will see a wide range of artists take the stage, from Cloverdale and Nostalgix to JOYRYDE and Discovery Project winner Buzz Junior. As it gets later in the evening, the silent disco will begin bumping, with Shmitty and Mark Lizaola taking control of the decks until 3am.
The silent disco itself is the place to be for attendees after the main festival concludes each night. Running from 12am to 4am, this year will see artists like SAYMYNAME, Kendoll, Wenzday, and Matroda keep everyone moving to the beat and burning off the rest of their energy. And while the big afterparties are fun, only a few know that Camp OG is the place to be for the best vibes at Nocturnal Wonderland. If you want to experience Nocturnal camping to the fullest and go all night long, we highly suggest you find their camp this year!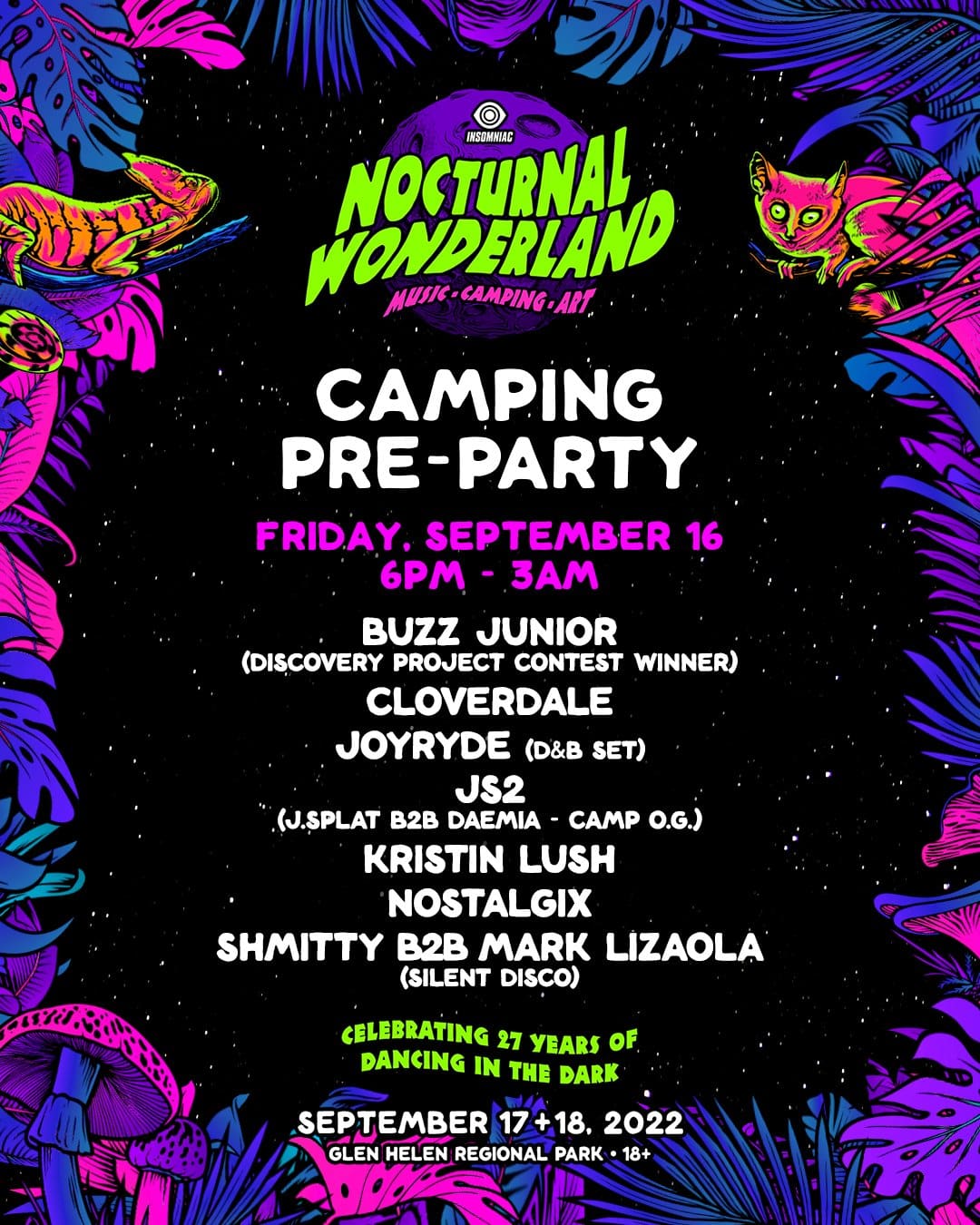 The music is just one portion of the camping experience at Nocturnal Wonderland.
Waking up early each morning opens doors to endless activities, including yoga, guided meditation, a waterpark, art classes, kandi workshops, shuffling workshops, and more. The fun never ends during Nocturnal camping, as you can go all night, then freshen up and come back to life in the morning with relaxing activities.
Of course, we can't forget about the delicious food found throughout the camping grounds. From acai bowls and fusion foods to tacos, there's something for everyone to savor when you're not up to cooking or when you're away from camp.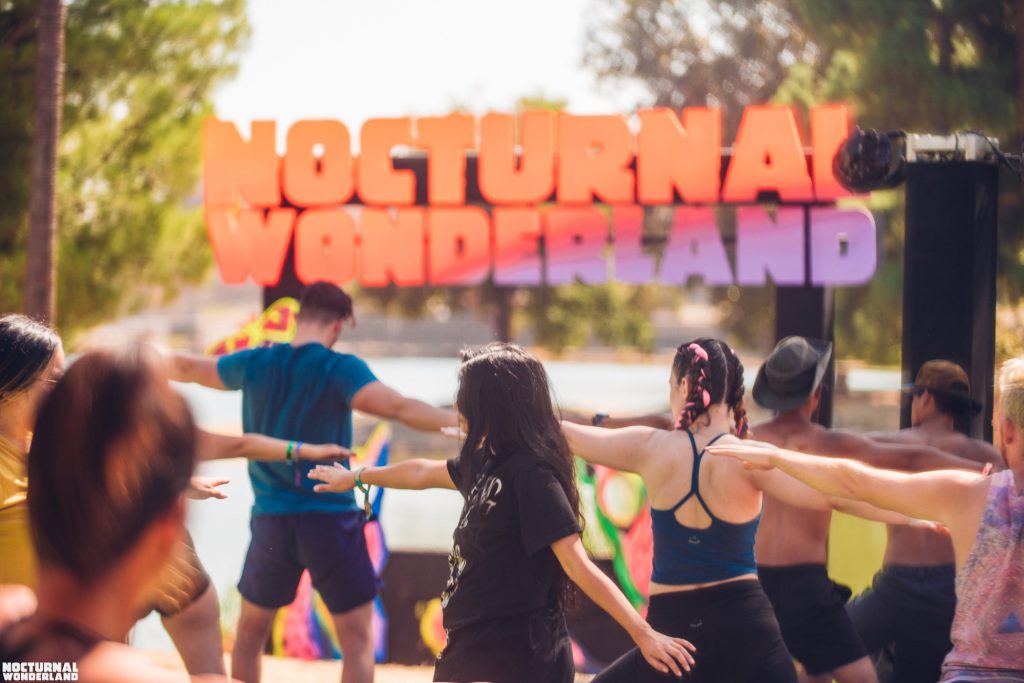 Finally, the best part of camping at Nocturnal Wonderland is that it's an easy walk to get inside.
Instead of wasting time in traffic getting to Glen Helen or spending the sometimes hours-long wait to leave the parking lots each night, camping allows you to get the most out of your weekend. Not only that, but the walk from the campsite into the festival grounds with friends (both old and new), ready to dance all night long, brings the rush of euphoria we always look forward to. And if you forgot something at camp or just want to take a breather, have no fear because you can go in and out of the festival grounds and retreat to your campsite all weekend long.
Check out the map for this year's edition of Nocturnal Wonderland, and let us know if you'll be staying on-site at the festival this year on Twitter!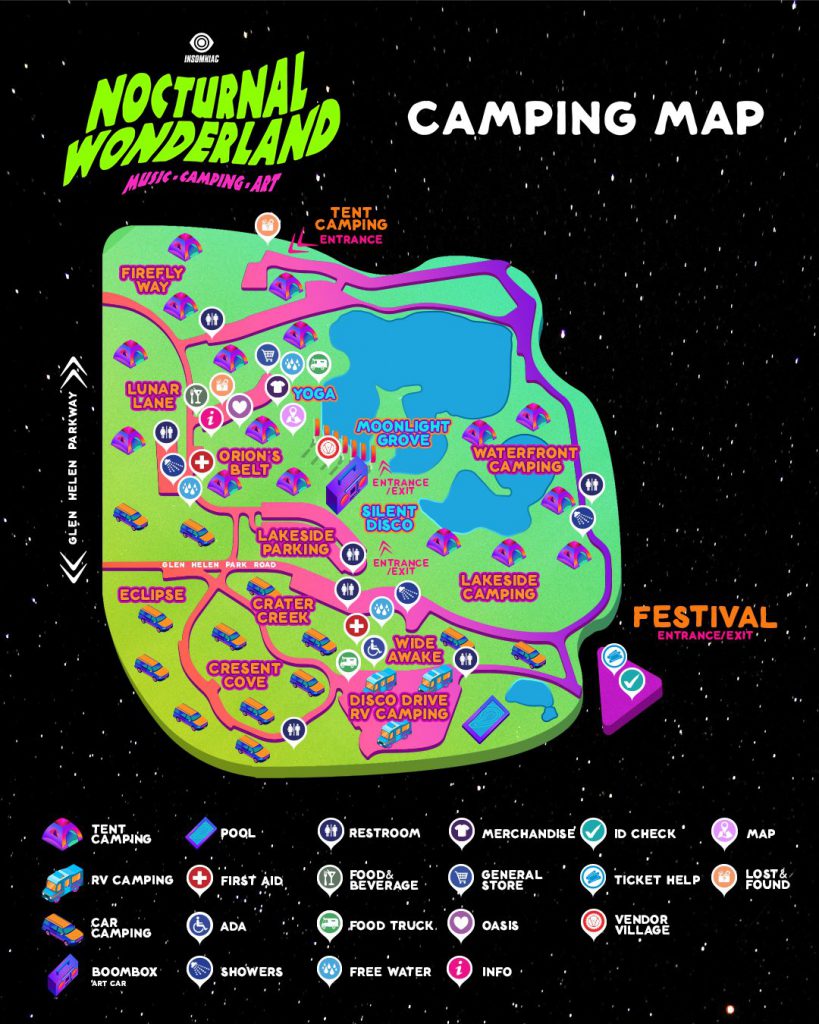 ---
Connect with Nocturnal Wonderland on Social Media: