Buffalo went bonkers for deadmau5 and his mau5trap companions BlackGummy, Kasablanca, and NERO on the We Are Friends Tour!
---
The sun was shining, the temperature was comfortable, and music lovers, young and old alike, were gathered at the Buffalo Outer Harbor on Lake Erie for a refreshing evening of music hosted by mau5trap. The lineup for this We Are Friends tour stop was quite impressive, boasting beloved artists BlackGummy, Kasablanca, NERO, and the mau5trap king himself, deadmau5.
It had been a while since I saw deadmau5 in action, the last time being in Atlanta at The Dome, where he took his Testpilot alias out for a spin. And since I'm hopelessly devoted to his unique sound and style, I knew this event was not to be missed. Going in, I had high expectations, but I understood that open-air events can often be a bit tricky, especially when it comes to the logistics behind safety, vendors, sound, etc.
From the moment I walked inside the venue and was greeted by the smiling security, I had a deep feeling in my soul that I wasn't going to be let down. After a much-appreciated and comforting weapons check, I made my way through a mini-tunnel to the Lakeside Lawn, where the musical magic was getting underway.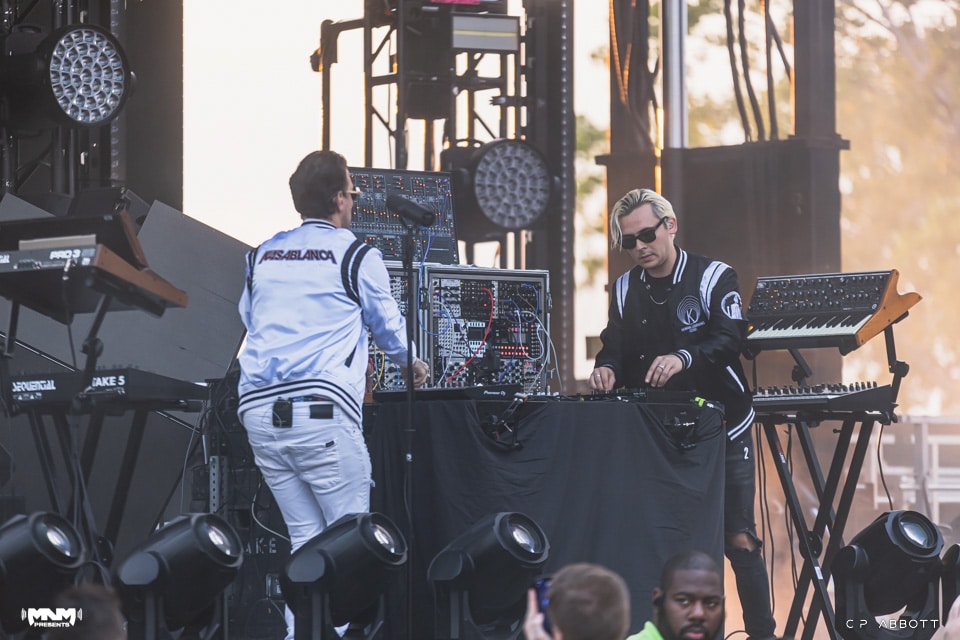 Lake Erie was sparkling under soft blue skies and altocumulus clouds, and for a brief moment, I had visions of The Gorge in Washington.
The setting was reminiscent of my time at ABGT250, where just beyond the stage lies a gorgeous view of nature in all its glory. Birds soaring high and soft organic scents added to the ambiance as BlackGummy set a grand progressive tech-fueled tone, which would remain the theme for quite a large portion of the night. Kasablanca took it a step further and proved that DJing is a true art form with a multifaceted live performance.
Once one-third of NERO took over, the atmosphere slid sideways into bass territory. Since I'm pretty deep in the house and techno scene, I'm not usually one to headbang, but my head was certainly banging during this set. I even discovered how fun it is to plaster on a bass face and rage! To my delight, NERO even wove in a jaw-dropping drum and bass tune as Dimension's remix of Sub Focus' "Timewarp" boomed through the speakers.
While NERO most certainly brought out the animal in me, it was deadmau5 that left me a puddle on the grassy dancefloor. From "Escape" to "Avaritia," "Channel 43" to "When The Summer Dies," "XYZ" to "Take Me High," and everything in between, deadmau5 served up a clinic! I can honestly say this was my favorite set from him that has ever graced my ears.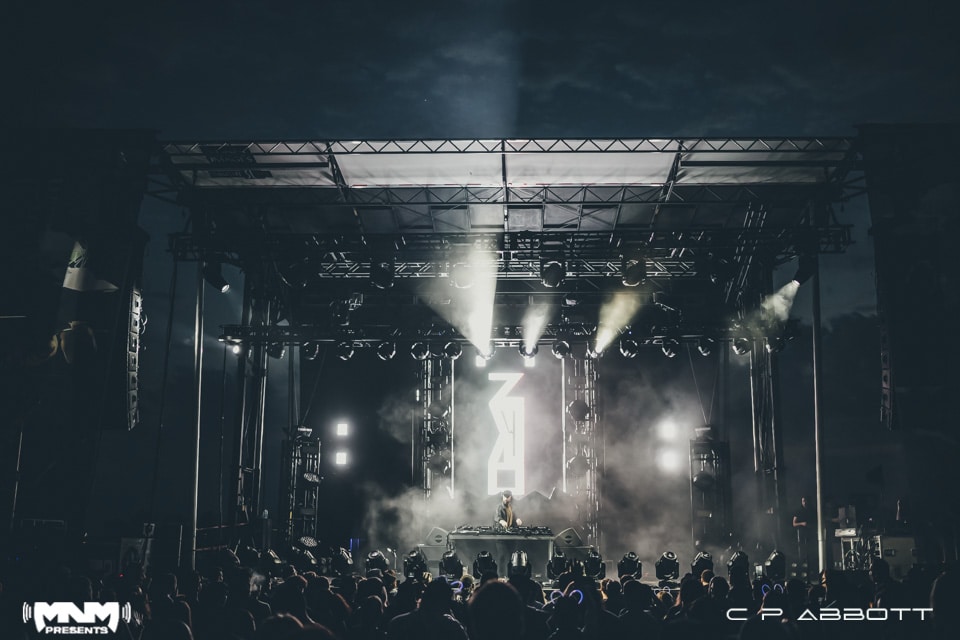 The easy access to amenities added extra pep to my step.
As soon as you enter the Lakeside Lawn, attendees could stop by the drink and food ticket tent. Each ticket was $1, and depending on your order, the cost was roughly around nine tickets for a beer and around ten tickets for food. While the GA bar was close to the ticketing tent, the food trucks were on the left side of the venue. There were options ranging from Mexican to Caribbean, and of course, American favorites like the delicious cheeseburger I practically inhaled.
Another well-received addition to the venue was the section of lounge chairs for anyone to take advantage of. This was great for families with small children (yes, this was an all-ages event) and for the dancing maniacs who needed to give their feet a moment of respite. Off to the right side of the stage was the VIP chill tent, VIP bar, as well as the ADA viewing section. And with a VIP ticket, you also gained access to the best spot on the dancefloor.
In fact, the entire front of the dancefloor was sectioned off for VIPs. Behind that was fencing for the photo pit, and behind the photo pit was where you could find GA ticket holders. This limited GA ticket holders to viewing behind the sound booth and on the left side of the stage, and it was a bit odd to see the front of the dancefloor pretty much wide open until deadmau5 took over. But, realistically, no matter where you stood on that lawn, the sound was booming, and the energy was infectious!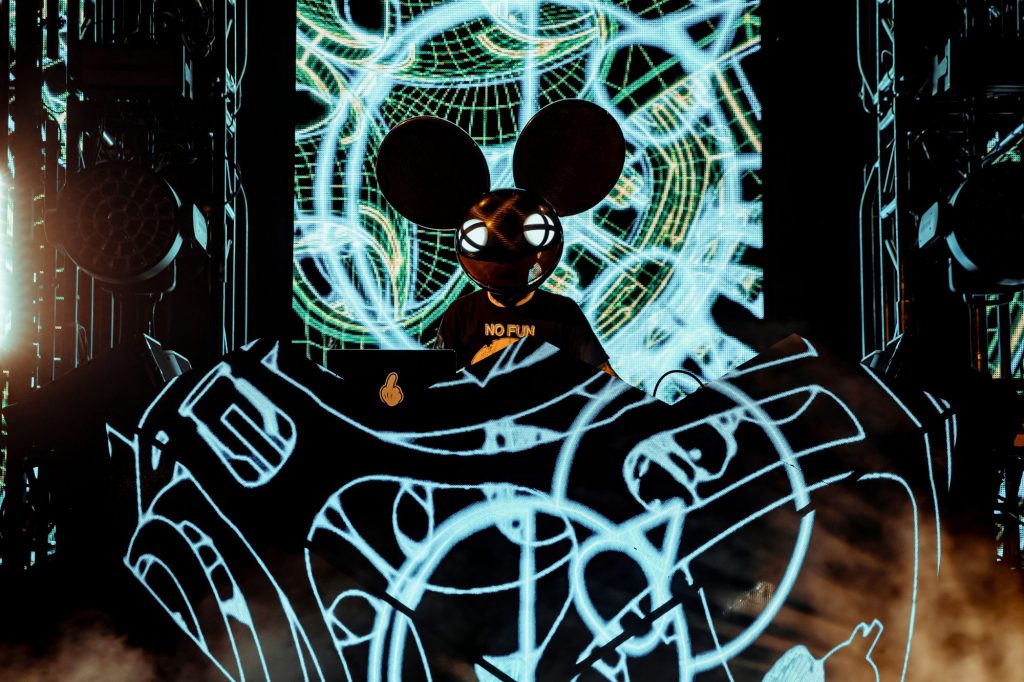 Final thoughts – If you haven't seen deadmau5 on the event circuit, do yourself a favor and buy a ticket immediately!
When it comes to the deadmau5 experience, Joel and his team leave no stone unturned. The lighting production and visuals are future-forward, the flow between the classic deadmau5 sound and his fresh vision keeps the dancefloor undulating, and the masterful group of beat-making buddies he brings along on tour are second to none. But above all else, it's his amazing fanbase that keeps me coming back for more. PLUR was very much alive on this night, and it was wonderful to see that my home city still knows how to get down!
The We Are Friends Tour is only about halfway complete, with Chicago on the radar for September 23. Check out the remaining dates, and if he's coming to a city near you, call your friends and purchase those tickets because this is a party you'll be reminiscing about for many months to come!
---
Follow deadmau5 on Social Media:
Website | Facebook | Twitter | Instagram | SoundCloud | YouTube