Same Same But Different might've just ended, but the hype for next year has already begun as they've dropped pre-sale tickets for 2023!
---
This year's edition of Same Same But Different has been on the minds of attendees since they returned home. This year showed that good music, a strong sense of community, and high spirits will always prevail, no matter the weather conditions. Despite the relentless weather at this year's event, nothing seemed to disrupt everyone's positive attitude over the course of the weekend. Positive vibes were so high that it's impossible not to reminisce on favorite moments made at SSBD while looking forward to another round in 2023.
Those who are planning to make a return trip to Same Same But Different or experience the festival for the first time will be delighted to know that it's set to happen once again on September 21-24, 2023, at Lake Perris State Park. The festival continues to grow in its bookings, community, offerings, and more, so if you are trying to lock in a ticket for next year's experience, it's recommended that you look into grabbing your passes as soon as possible.
Related: Want to dive into the Same Same But Different experience? Check out our review of this year's edition!
Luckily for you, the SSBD team has dropped the details for the pre-sale, which is happening now. To show their thanks for an incredible festival this year, the festival is offering a Same Same Community deal of an $11 Down Payment Plan for tickets to the 2023 edition. But you'll have to act fast because this exclusive sale featuring a limited number of tickets will end on Sunday, September 26.
While we're still months away from the lineup dropping, you can be rest assured that the 2023 edition will feature a plethora of talented artists. This year saw heavy-hitting headliners, including GRiZ, Chromeo, and Tipper take the stage, along with an incredibly stacked undercard, so make sure to stay tuned for more updates.
Lock in your discounted passes to Same Same But Different 2023 before the limited number of pre-sale tickets sell out. Pre-sale tickets are available now through Sunday, September 26, via the Same Same Different website!
---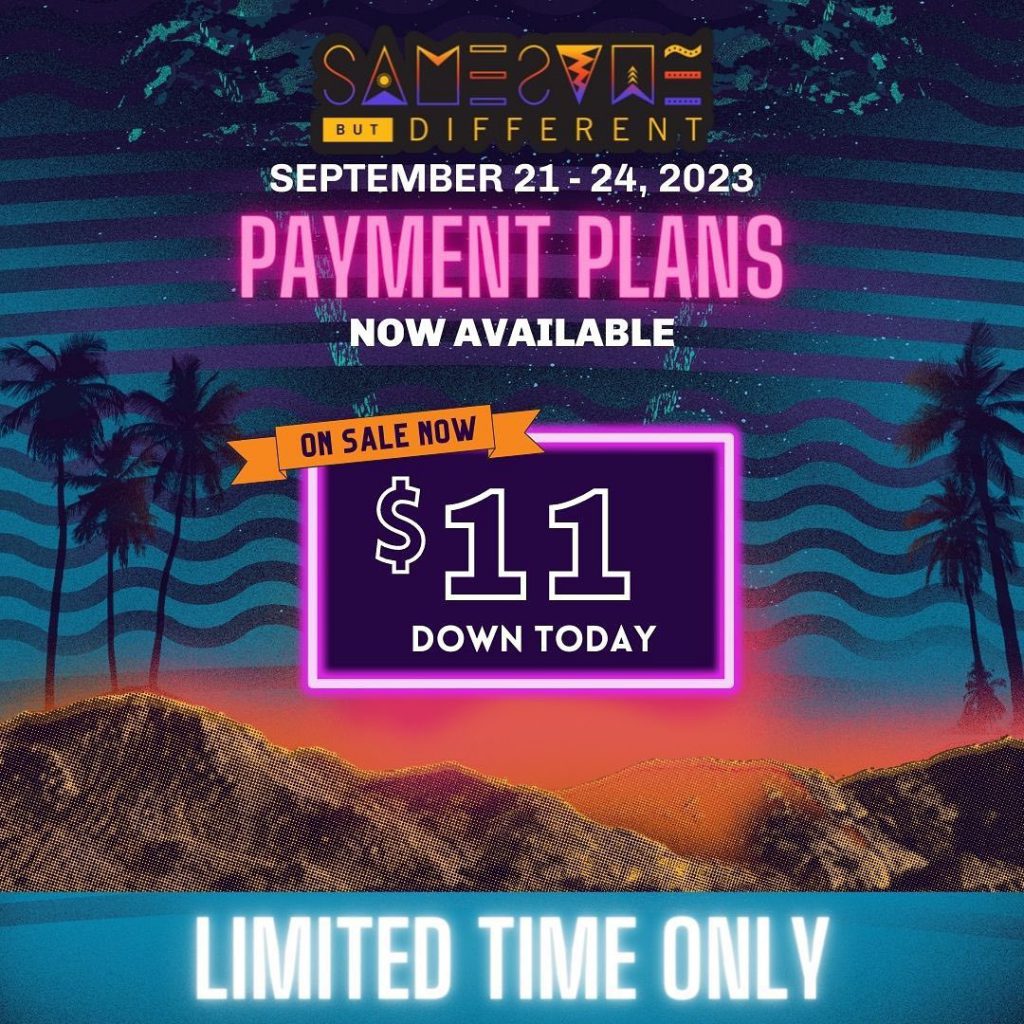 ---
Connect with Same Same But Different on Social Media: