Rising bass house phenom Nostalgix dives into her sets at EDC Las Vegas, the creation of "My Type," and how she's adjusted to touring.
---
One artist who has truly come into their own over the past few years in the bass house scene is Nostalgix. Causing a stir in the scene early on with releases on Night Bass and Confession, this Canadian artist blossomed even more once she relocated to Los Angeles just under a year ago. Since then, Nostalgix has dropped a flurry of stunners such as the Black Mirror EP on Deadbeats, "Bust It" with BIJOU, and "Friends" with AMY MIYU, while also becoming a force to be reckoned with behind the decks at festivals like HARD Summer.
This year has seen Nostalgix continue to flourish as she joined Tchami and AC Slater on the Confession vs. Night Bass Tour and delivered three singles in May alone – "Ghost" with Dr. Fresch, "Badman," and "My Type." Three was the magic number for her at EDC Las Vegas as well, as she not only played her heart out at the stereoBLOOM and Corona Electric Beach stages but also opened kineticFIELD on Sunday with an insane b2b with Wenzday.
In between her three performances at EDC Las Vegas, we were able to catch up with Nostalgix for the first time since 2020 to discuss everything from how she crafts her sets to how "My Type" came to life. Check out her set from stereoBLOOM on SoundCloud, read on for the whole conversation, and make sure to catch her when she plays near you if you're on the hunt for an energetic experience!
Stream Nostalgix Live at EDC Las Vegas 2022 on SoundCloud:
---
Hi Nostalgix, thanks for taking the time to chat with us today. How has your experience been at EDC Las Vegas so far this year?
Honestly, it's just been really magical because seven months ago, I was performing at my first EDC on an art car. And this year, I'm back performing at kineticFIELD, stereoBLOOM, and Corona Electric Beach.
That's a lot of sets. 
It's a lot of sets, and every set has been really special in its own way. So I'm just really grateful to be here.
So speaking of the three sets, one of them was with Wenzday, and the other two are solo sets. How do you put yourself in the right headspace and know which songs you'll play during each one?
It just took a lot of planning because I made so many mash-ups, and I was trying to finish a lot of new music to tease. Because each set, I wanted to play my own songs and keep it different because I want to make sure every set that people come to is going to give a little bit of a different vibe, but it's all going to be me.
When some artists go back to back, they try to plan some stuff out, but some artists just have synergy. For the set with Wenzday, did you guys talk beforehand? What was that process like?
We're actually friends as well. So I feel like we just naturally mesh together. We work well together, and our styles complement each other well. Because naturally, the music that she makes and the music that I make, when you mix it together, it's really fun. We've done a couple of back-to-backs when we just went in and just had fun with it and vibed, and they went really well. But for EDC, we wanted to make sure to do something special and play the songs we wanted to and make crazy edits. So we met up a couple of weeks before and did a little bit of planning, but we still like to just go with the vibe.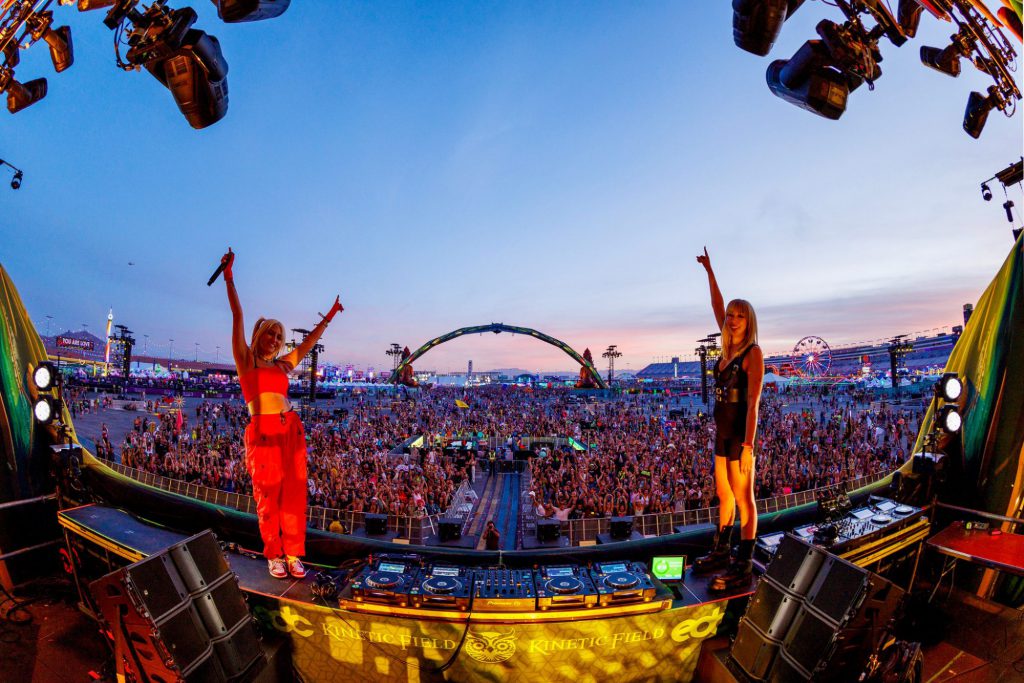 That's awesome. This is arguably the biggest festival back since the pandemic. Even last year's EDC felt smaller than this in terms of attendance. You've also been touring and doing a lot of other shows as well. What has it felt like getting back into a groove after the dust settled from the past two years?
It's just been insane. To put it simply, it's been crazy because I moved from Vancouver to LA last summer. The way things have evolved has been incredible. From January until now, I've been touring nonstop, like every single weekend, so I'm not in LA often. It's funny, I just moved there, but I barely live there. I love what I do, and I'm really happy that I get to do it.
That's awesome. How do you keep up with everything as a rising artist? Have you struggled with that at all?
It's definitely a learning process. There are just things that you don't know, and naturally, you learn, and you get better at it. And I feel like when I was getting into it, I was just really excited, and I wanted to do everything. I do a lot right now, but I turn down a lot – like I only take on the things that make me feel fulfilled and make me feel really happy. I just want to make sure I'm putting my time into the things that make me the happiest. But yeah, I just feel like naturally, the more you do something, the better you get at it. So I feel like now I'm at a point where it's just kind of go with the flow, and I feel like I am getting into my groove.
Do you ever think, "Oh, I gotta decompress – I just need to be in my hotel room and chill"?
Oh my gosh, I used to be so bad at that. But I've been learning to give myself time and the practices that keep me sane. Making sure to stay on top of my health and work out and meditate because those are the things that just keep me in a good mindset. That's number one.
So, switching gears to the music side of things, you just released "My Type," and it's a fantastic song. What was the production process like on that one? Where did the concept come from?
"My Type" was one of the first songs I actually wrote when I moved to LA. I was playing around with the vocals, and I got the idea for the "You're just my type, type. That's what I like, like." I put together this idea; I think it was around EDC last year, actually, and I immediately loved it. I love the vocal, and I thought it was really fun. 
I put a lot of time into the production because I made the song, and I kept going back to it. It was ready to go for months, but I wanted it to be exactly what I envisioned. So I would just give it a little space and time, play it out, and test it out to get it to the point it's at now. 
It's funny because one day I was sitting in Starbucks, because sometimes I'll just take my laptop to a coffee shop and work while I'm touring, and I just got a little idea to record a voice memo. So I just stepped outside of Starbucks, and it's the first thing you hear when the song plays, and it says, "Have I ever told you that you're just my type." And I just literally recorded that on my phone, like outside of Starbucks, and you can hear these buses going by. I love it because it brings me back to the moment when the song came together.
I think that's super cool too. But it was just like a field recording in a sense. So you built the whole song around the vocal idea, which I feel how a lot of artists I've spoken with build their tracks as well. 
I do it both ways. Sometimes a random sample inspires me, or sometimes a drop, but lately, it's been vocals. I'll just sit down and randomly start freestyling, and something will stick out. Something that I'm either going through or something that I'm feeling, or if I'm just having a great time in life. When I made "My Type," I was just living my best life, you know?
Do you typically let your songs marinate as long as this one? Is that a common theme with you as a producer?
I used to not; I used to want to finish it and move on and make more. But lately, I've been giving things time and space and keep coming back to them to make sure I love everything about it and want to put them out. I know perfection doesn't exist, but I'm a little bit of a perfectionist, and I just want to make sure that you know everything I put out is exactly how I want it.
Yeah, exactly. It's like 99% perfection.
Exactly. As close as I can get it. If I listen and nothing is sticking out, it's ready.
This track came out on Night Bass, and you've also received a lot of support from Confession. As a rising artist, what has that felt like to receive such immense support from two of the most beloved labels in dance music right now?
It's been incredible because when I got into this and was just doing it for fun, I always went to Night Bass and Confession. Those were the labels that I downloaded everything from when they were dropping Wax Motif's "Make It Rain" and all the OG Confession songs; that was the era I started really getting into music. I was just a really big fan of both of those labels.
So it's kind of like a full-circle moment.
100%. Going on tour with them was the biggest thing for me. It was insane.
That tour was so interesting. Hopefully, there's another one.
I hope so, too, because I knew it'd be dope. But to actually be there and experience that kind of love and that sense of community was next level. I felt like I was part of something.
Definitely. And then what's the biggest piece of advice you've ever been given in your career?
That's a big one. I feel like I've been given a lot of great advice lately. But I feel like the one that's really sticking with me right now is just don't stop. Don't stop doing what you love, and just keep moving forward. Like no matter what's going on around you, if you have bad days, whatever it happens, just don't stop.
Finally, aside from the shows, because you have a number of those coming up, what other goals do you hope to achieve this year?
Outside of those shows, I'm working behind the scenes right now on music. I can't go super into details about this, but I'm working on a lot of music that I've been working on for a long time. It's some of the craziest stuff I've made and things I'm just so proud of. And when I'm not on tour, I'm always working on that and working in the studio, and it's just something I'm excited to get some finished. Not to spill too much, but lots of great things.
Well, that is all I have. Thank you so much. It was great to be able to chat with you.
Thank you for having me!
---
Follow Nostalgix on Social Media:
Facebook | Twitter | Instagram | SoundCloud | YouTube