Cloverdale swung by ahead of his performances at EDC Las Vegas this year to chat about his recent releases and more.
---
The future is brighter than ever for artists in the house music scene and Cloverdale is one who is carving out some significant space. Propelled by his high-octane tech house sound, this Canadian DJ and producer has delivered some serious stunners since first breaking onto the scene that landed him looks from labels ranging from Confession to IN / ROTATION.
Tracks like "Hell Yeah" with Tombz, "Watch That Tongue," and "Open Up" really showed off Cloverdale's style, but after taking on the mixing duties for Best Of IN / ROTATION: 2021 early this year he's come into his own. This has included heaters like "Ice Age," "Hit The Dancefloor," and "Nothing Gonna Stop This" with Truth x Lies, while he's continued to go above and beyond by curating tunes on his imprint, VIBRANCY.
Last year saw Cloverdale take control of the decks at EDC Las Vegas and now he's set to make his return to Sin City this year for another round of fun under the electric sky. Prior to the madness ensuing this weekend at the festival, he swung by to chat about his upcoming set, recent releases, and plenty more. So make sure to check out his sets, give his exclusive mix a listen and read on for the conversation!
Stream EDMID Guest Mix 324 || Cloverdale on SoundCloud:
---
Hi Cloverdale, thanks so much for taking the time to chat with us today. How has 2022 been treating you so far?
Man, 2022 has been a whirlwind! I'm loving it! It's been strange and amazing all in one haha I feel so much of my growth happened during the pandemic that ever since Canada opened back up, it was like I was just tossed right into the thick of it. I just got my US Touring Visa, signed a bunch more records, and am confirming gigs all across North America… things are really kicking into overdrive. I feel in a few years when I look back on my career, this will be the big pivotal year I remember.
In just a few short days you'll be taking the stage at EDC Las Vegas. Are you excited to be playing when it isn't as chilly out in Las Vegas compared to last year? What can fans expect from your set at the Allegiant Rave Hanger and on the Forest House Art Car?
Oh my god. My manager just texted me the weather for Vegas this weekend. Over 100 Degrees during the day! My cold Canadian ass is going to be SWEATIN! But that doesn't mean we're slowing down. So excited to be playing two sets at EDC Vegas this year! The first is Friday at 12AM at the Allegiant Rave Hanger… I figure with the name 'Rave Hanger' I have to go full rave for this one! I'm digging for those high energy almost techno-type records. I won't be holding anything back for this set.
Then Saturday, the Forest House Art Car is hosted by In/Rotation from 10:45PM to 12AM. This is the set Cloverdale fans will love – nothing but new never before heard IDs of my own, Vibrancy IDs, and of course some Cloverdale classics. I'm really trying my hardest to do my own thing with these sets, a sound that is uniquely me and a party that you'll never forget.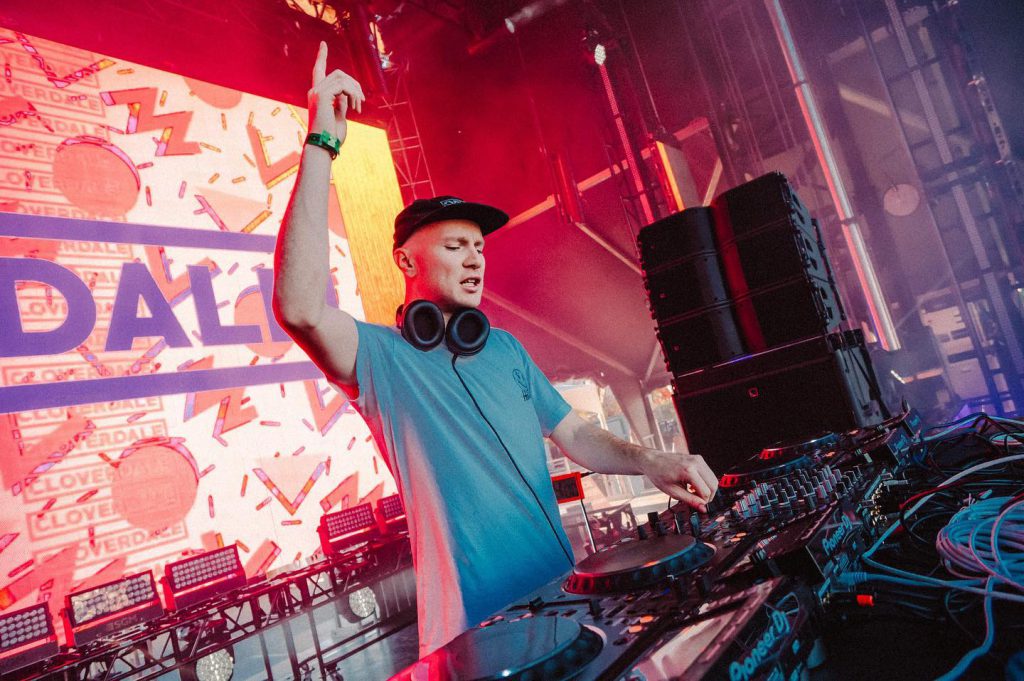 Let's dig into some of your recent releases really quickly. You dropped some quality collaborations this year like "Talkin" with DJ Susan and "Nothing Gonna Stop This" with Truth X Lies. How did these collaborations come about?
With any collaboration, the most important thing is mutual love and respect! And that's all that happened here! I've been huge fans of both DJ Susan and the Truth x Lies boys for years and have all been gassing up each other's music online. With Susie, we straight up became instant friends the moment we started DMing each other. I love his energy and the love he puts out into the world is infectious. We were both so stoked on Talkin that we had to whip up a pile more tunes too. You'll have to watch out for those soon – including our infamous Welcome to the Jungle.
As for Ryan & Ian of Truth x Lies – man I love those guys! We met online during the pandemic and we were both special guests on each other's twitch streams. I have so much respect for everything these guys do for the community, especially during the pandemic. Two of the most stand-up dudes in the game. I also find I probably share more fans with them, than any other act. This collab was a match made in heaven really! We definitely need to get another one on the go! 
"Ice Age" is your most recent single and unlike its name, it's an absolute heater of a tune with a high-octane beat and vocals that hit just right. What was the production process like on this track?
For any of my tracks, it's all about the drums! I have to get a super hype, clean and perfect drum groove before I move on to anything else in the production process. Ice Age is a perfect example of this. The bassline is pretty simple and just chugs along but the drums are what keep the track driving forward. Fluttered in with a bunch of short hits and stabs it filled up pretty quick. As for the vocals, I'm always trying to reach for tough, hard-sounding vocals. Chopping up rap samples creates a hype factor like no other. I feel like I gotta credit Joyryde for being my influence there. 
You also just dropped a fiery remix of Dr. Fresch and Nostalgix's "Ghost." What was your approach to twisting this particular tune in your own way? Was there something specific that drew you to remix it?
When Dr. Fresch hit me up asking if I wanted to remix it I was so stoked. Tony has become one of my closest friends and mentors in the industry. He was the first to sign a Cloverdale EP back in 2019 and has been there ever since. I had to do this remix… despite not having any time in my schedule at all. So I ended up writing it on planes, in hotel rooms, and at my mom's house – all while I traveled to Miami Music Week and then onward to LA for a few gigs there.
In the end, it turned out great! I had a blast taking a midtempo record and cranking it up a notch into a signature High Octane weapon. 
Earlier this year you took on the mixing duties for the Best of IN / ROTATION: 2021. Can you share what it felt like to receive that honor? What's your relationship with the imprint like?
We love In/Ro so much! They are pushing the newest and freshest records around. The ones at the forefront of where modern, polished, unique house music is going. I've been lucky enough to have signed a few records with them and performed at the In/Rotation Art Car takeover at last year's EDCLV so they must've trusted me. Watch out for some more Cloverdale on In/Rotation soon!
Speaking of imprints, you also founded Vibrancy, which has become a home for some of the hottest tracks in the house scene right now. What do you look for when bringing new artists into the fold on the label?
Vibrancy really has been my team and I's passion project. I am so proud of everything we've done there. We started in 2020 with a mission of delivering music in new and exciting ways. We pair each release with a visual artist (Painters, Jewelers, Sculptors, etc) and have them both collaborate on a release. We then focus heavily on getting the music in front of as many people as we can, that is why all our tunes are available for free download, including the stems for bootlegging! We'd rather people have access to the music than us getting the $0.50 from Beatport. A bootleg remix is ultimately just great promo for the original track, so hey, go wild!
All that being said, we want to work with artists that really get down with this vision. The tunes of course come first. Music that is super fresh, high energy, and the opposite of cookie-cutter are what we're after. On top of that, we love working with artists that are highly motivated to get involved with our community as a whole – via Live Demo Feedback, Track Breakdowns, Q&As, IG Takeover, etc.
What's one piece of advice would you give other artists who are climbing the ranks of the house scene right now to help their tunes stand out more?
Focus on your mixdown. There is so so so much good music out there today that if your mix isn't perfect, people often won't even get past the first few seconds of your demos.
Try to write music that breaks rules. Step outside your comfort zone. Stop trying to make records that sound like other people. 
Try to make your records super DJ friendly! Easy to mix in and out is so important if you want DJs to play your tracks.
If you're going to use a splice vocal, it better be done very well! However, I'd still avoid it if you can! Working with original vocals is a big plus when sending to labels, they love to see that.
Just for fun, your bio states "Where Cloverdale goes, the party always follows," so with that in mind, what are your top tips to create a party anywhere you go?
It is all about getting people to relax, let loose, and be immersed in a collective experience of like-minded humans. You gotta get everyone moving. Even the dudes at the back that never dance, how do you get those dudes comfortable with letting loose? A lot of that comes from your energy on stage! Playing the right tunes at the right time and never taking yourself too seriously is what it's all about for me.
Finally, what goals do you have for the rest of 2022 and beyond?
My team and I aren't slowing down whatsoever! I got my sights set high. More touring. More records. More good times!
We're currently working on a few Vibrancy branded events that I am so excited about. We've just signed a few more big records. And we've been in talks about some bigger touring plans this fall. Things are in motion and I can't wait to meet so many more fans all around the world!
Thanks so much for having me do this! Had a blast sharing my experiences and can't wait for everyone to see what's in store next! 
---
Connect with Cloverdale on Social Media:
Facebook | Twitter | Instagram | SoundCloud