Boss Wave Massive is bringing Nero, Pendulum, Coki, Space Laces, and more for a unique, AI-driven experience in Pennsylvania.
---
This year's edition of Boss Wave Massive is set to take Harrisburg, Pennsylvania by storm. Kicking off on October 14-15 at the Harrisburg Midtown Arts Center, the weekend-long experience from the minds of NXT LVL, QMP Designs, and Obskure is bringing together various realms of bass music and perfectly combines old school with new to spark the attention of bass lovers from all niches of the scene.
Topping the incredible lineup are legendary acts Nero and Pendulum, who will both play DJ sets as headliners during Boss Wave Massive's two-night run. EPROM, Modestep, Space Laces, and 1788-L are billed next to add a range in variety with everything from dubstep to midtempo.
Coki is a name you don't see very often on lineups and one that every dubstep fan should get to experience live. While he's sure to throw down some proper bass sounds, so will The Widdler, Emalkay, and ENiGMA Dubz, along with Beardthug and Levitation Jones during their b2b set. And the undercard includes a variety of takeovers from collectives, including NXT LVL, The Gradient Perspective, and more. Josh Teed, Resonant Bass, and Undehfined are just a few of the names on the undercard that is packed with up-and-coming talent
Hennesy Sound Design will be on duty at Boss Wave Massive, where they'll be debuting their largest indoor sound setup to date. While the sound will be top-tier, so will the entire audio-visual experience. The team behind the event is introducing not only a 3D visual experience but one that is fully controlled by artificial intelligence to bring a storytelling element to the live music. With everything the Boss Wave team has up their sleeves for this one, it sounds like it's going to be an incredible weekend.
Tickets to Boss Wave Massive are on sale now via their website, so be sure to grab yours if you plan on attending this brand-new experience.
---
Boss Wave Massive 2022 – Lineup: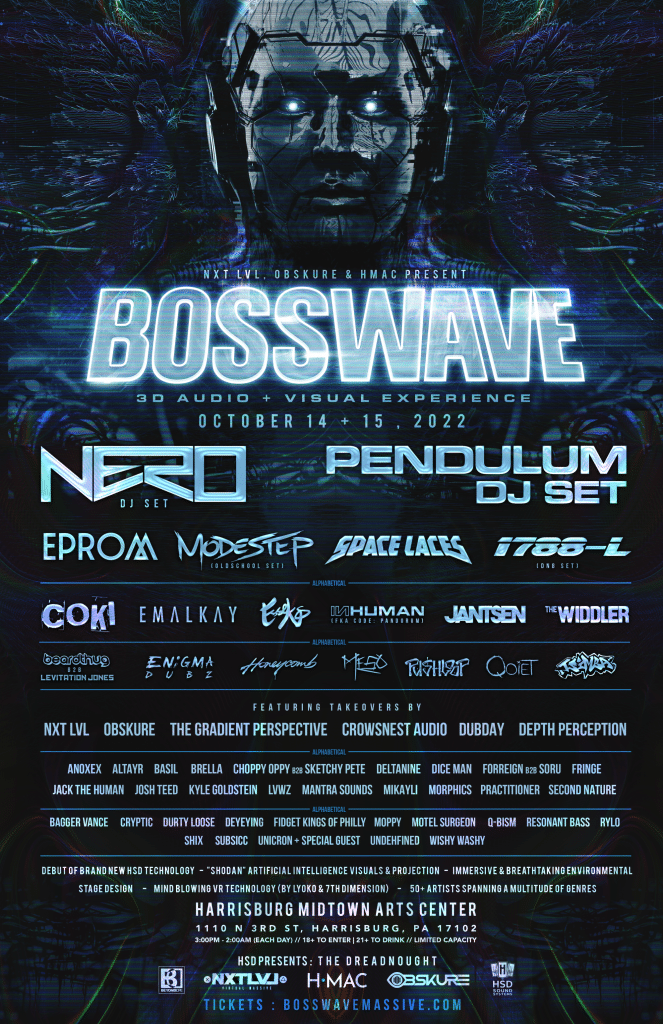 ---
Follow Boss Wave Massive on Social Media: