There's only one way to cool down when the heat reaches its peak in Palm Springs, and that's music served poolside at Splash House.
---
Each year in August, thousands of attendees don their colorful bathing suits, pack on the glitter, and grab their floaties for a weekend of fun at Splash House Palm Springs. Hosted across three hotel venues in the downtown area, each boasting a unique lineup, Splash House attendees embark on a choose-your-own-adventure festival experience. Whether you want to kick back on your balcony to some electro-pop tunes or get soaked in the pool as a house banger drops, there's no end to the party.
What makes Splash House so unique are the venues. There's nothing quite like the convenience of staying on-site at the festival, completely surrounded by people there with the same weekend plans. With free shuttles between the hotels, getting to and from each was super easy. Everywhere you go, the energy is tangible with open doors with music pouring from them welcome you to enter, and strangers quickly become friends. And with temperatures climbing to nearly 110°F for the first August edition, the hotels provide a sanctuary and respite from the heat.
This year, wristband pickup took place indoors at the Palm Springs Convention Center adjoining the Renaissance Hotel. Though lines could get long, they moved quickly. A merch booth was set up inside, and there were food trucks outside as well. This made grabbing some cute apparel, fans, on-trend bucket hats, see-through visors, and a snack easy prior to entering the festival.
Back to the wonderfully colorful venues, as in the past, Splash House took place at the Renaissance Palm Springs Hotel, Margaritaville Palm Springs, and the Saguaro Palm Springs.
Known as the "main stage" the Renaissance is definitely the largest hotel, offering five stories of accommodations. Between the stage and pool was a large turf area, which was great for those who wanted to dance but didn't want to get wet. Around the pool were activations from Quay Sunglasses, a glitter station, and plenty of bars. The entire area was shaded by colorful sails strung from one palm tree to another that was quite the sight from the balconies. The music here ranged from pop-forward Łaszewo and funky Franc Moody to vibey and progressive Tinlicker and Nora En Pure.
Named after the beloved Jimmy Buffet track, Margaritaville offers a bungalow-esque escape complimented in blue and green tones. Tropical and surf motifs all throughout really bring the point home. The setup here is different as the pool is quite a bit smaller and comes right up to the stage so those wanting a true front row view have to be in the water. A large A-frame structure encapsulates the stage, adding to the tropical jungle feel of this hotel.
Here, many bitbird artists, including Duskus, DROELOE, and Chet Porter, performed, as did Elohim and Dabin. Perhaps the most talked about set of the weekend was from none other than John Summit, who had Margaritaville at capacity hours before he was set to come on. Of course, when he did, nothing but absolute madness ensued, and the pool was jam-packed!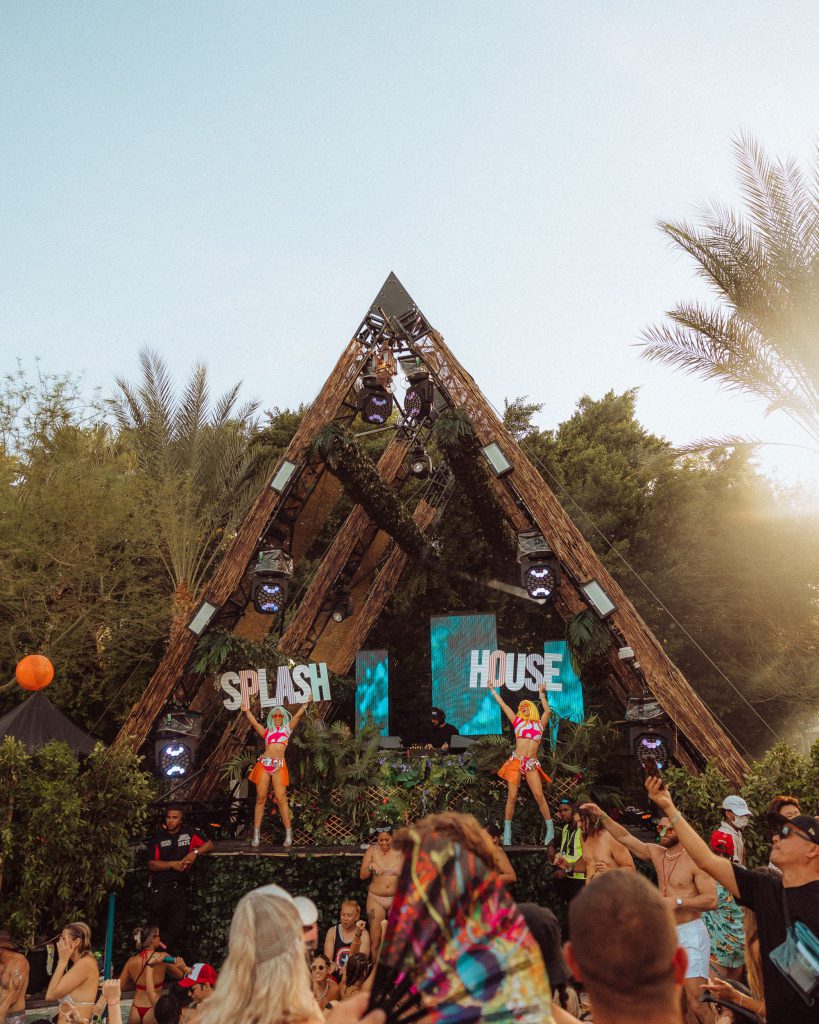 Rounding out the three hotel venues – perhaps the most iconic setting with its chromatic, rainbow palette– is the Saguaro.
At the Saguaro, attendees could enjoy drinks from Ghost Tequila and canned cocktails from Cutwater. Bouncing house beats and groovy disco-infused sets were served up here from the likes of Dombresky, PNAU, Joshwa, and Young Franco. On Sunday, Yung Bae and Surf Mesa closed out the weekend with a surprise b2b.
With the rooms encircling the pool, it's hard not to be captivated by the rainbow accent walls and decorated themed balconies. Each year, Splash House attendees are encouraged to decorate their balconies and go all-out with matching costumes. They can be entered into the Bitchin' Balconies contest for passes to the next year's festivities.
This opens the door for some creative and hilariously punny ideas. This fun competition is unique to Splash House, and each year, people do not mess around. From waving arm inflatable tube men with Nicholas Cage's face on it to Space Cowgirls with cowbells to boot, everywhere, you looked was a new delight to behold.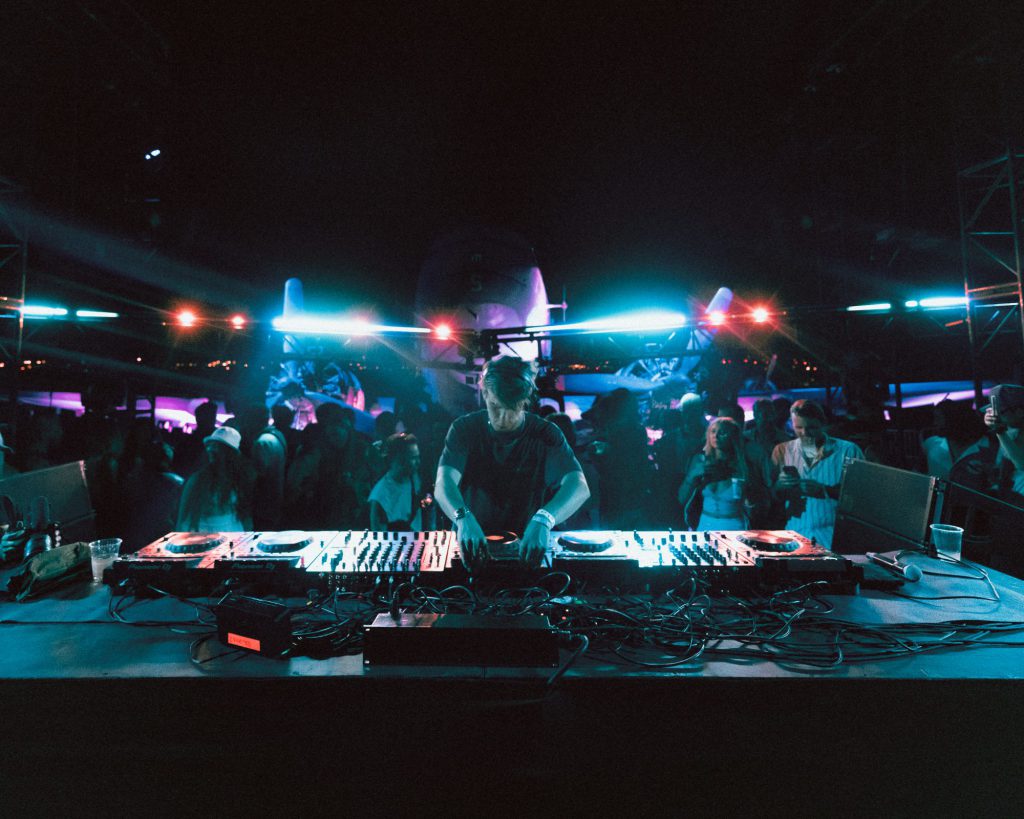 Though the pool parties ended between 8:30 – 9 PM each night, the party continued at After Hours.
Held at the Palm Springs Air Museum, attendees could catch extended DJ sets in an open-air setting. The plane hangars served as the backdrop with a dedicated VIP space within one of the hangars itself. Being surrounded by large planes made it feel like a movie scene; a large propeller plan even sat right behind the stage, making for a cool visual experience.
Friday night was packed with house heaters from Nala and a three-hour set from Claude VonStroke. Saturday night saw Sweet Like Chocolate and Mindchatter take to the decks before SG Lewis served up a DJ set featuring unreleased remixes of his new double A-Side. Fans expecting a more traditional set from these artists were taken on a ride through more free-form, genre-bending DJ sets. Instead of hearing just their hits, they were treated to fun mashups and reimaginings.
Closing out Sunday night was the Last Splash featuring artists from the weekend. Torren Foot, Offaiah, and Dombresky tore it up in a hot, sweaty club setting. It was a great way to cap off the weekend. Splash House is such a fun, colorful weekend festival that we recommend everyone try it at least once. You can choose to chill from your balcony or rage from start to finish at the main festival to the afters and into the hotels.
If you need a summer break in the picturesque desert, head to Palm Springs for Splash House!
---
Follow Splash House on Social Media: