NYC house duo Truth x Lies stopped by to chat about "Like This," creative challenges, health and safety on the dancefloor, and more!
---
NYC is lucky to have house duo Truth x Lies and the rest of the world is falling fast in love! Their moniker represents the duality of their craft, balancing their diverse styles with new school meets old school, in the quest to bring a unique flavor to the party. After landing the Discovery Project at Beyond Wonderland SoCal and releasing "Controlled" featuring Jake Herring on the same imprint, they went on to exhilarate the masses on colorful labels like Country Club Disco, Techne, and Slothacid.
It's impossible to sit still when you have tracks like "The Drip" or "Kink" slapping your ears and charging your endorphins, and the insanity reaches a fever pitch when these boys take the stage. In fact, they've been dominating the dancefloor at some of the hottest parties in the country including Miami Music Week and the massive EDC Las Vegas, and are prepared to set their city aglow at Electric Zoo this September before joining Sacha Robotti in San Francisco on Oct 1.
It looks as if there is just no stopping these rising stars, and as their career continues to blossom, so does their discography. Just this past month Truth x Lies dropped an infectious throwback to Kelly Rowland called, "Like This" via Glasgow Underground. This track not only runs with the songstress' sample but oozes with a fierce tech house attitude, instigating your body to bop from wall to wall. In honor of their latest release, we caught up with Truth x Lies to have a little chat. So smash that play button and continue on to get to know the boys behind the beats!
Stream Truth x Lies – "Like This" on Spotify:
---
Hello Ian and Ryan, thank you so much for chatting with us today!
Thank you so much for having us!
You looked to 90s R&B, and more specifically, Kelly Rowland, as your muse for your new track "Like This." Who are some of your other favorite artists from that era, and is there someone else you're dying to grab a vocal sample from for a future release?
This was the first official release we put out with an R&B sample. We have a few other tunes we're working on with some other samples from 2000s hip-hop to a super old sample from the 1940s, but nothing from the 90s planned yet. Honestly, we just try and find something that speaks to us at the moment. Man, we would kill to get our hands on a Chaka Khan vocal though…
When you reminisce about your studio career, ranging from your 2017 breakthrough hit "City Lights" to your recent club banger "Like This," what are some of the biggest production lessons you've learned along the way?
Try to make as much music as possible. "City Lights" was our first original, we recorded my wife doing the vocals and pitched them down. Just write what you love to write, seek help and feedback from other producers, and don't try to be too much like anyone else.
The dichotomy of your artist moniker, Truth x Lies, stems from "a balance of old school and new school; a wheelhouse that isn't in one style, it's all-encompassing." Can you talk in-depth about how staying outside the box has opened up major opportunities for you in regard to both label signings and bookings?
Our music has a lot of underground aspects and some aspects of commercial appeal, which is why I think we have done well. We sent a playlist to Guz with all our demos. He listened to them all and wanted "Mirror Mirror" for Sink or Swim, which was not something I expected because it wasn't like a lot of the stuff they released.
Doing original vocals is the other thing that helped us stand out. Both of our wives have done vocals, Ian's done vocals, and some of our best friends have too, like Josh Tobias, who did the vocals for "Kink" and Slim Dymondz, who did the vocals for "Work."
Staying outside the box has definitely opened opportunities, but in some ways, it has also made brand growth more difficult since we aren't really making "mainstream" music. It's been a slow and steady climb, but I feel like we're starting to reap the benefits of staying true to our own sound. 
For the up-and-coming artist who may find that they're stuck in a genre box, what is some advice you would offer them?
We were chatting with Disco Lines about this at our Echostage show, and we shared the fact that we have been writing a bunch of different genres for many years. You can learn sound design from bass music and apply it to tech house. You can use progressive house melodies in techno tracks. It's important to evolve as artists too, so don't try to write what is a hit now.
In the long term, you are much better off building your own unique sound. It will take a while to develop, but you will create a demand for your music that you will be able to leverage to your advantage.
Speaking of getting stuck, do you guys ever deal with creative block? And when it happens, what are some of the unique ways that you get your engines revving again?
Yeah, 100% we deal with it. We go through periods where we will write eight to nine songs in a month, or instead go a month without getting an idea that's good enough to complete. Going to shows and hearing new IDs always gives me inspiration, but also taking time off and working on other creative things.
During the pandemic, the big thing that we did that helped was doing demo streams and giving other producers live feedback on Twitch. It forced us to listen to music and think about it differently than we do when we write music. 
As a duo fast on the rise, your fans look up to you as refreshing representatives of the dance music industry. That comes with a lot of responsibility, especially in a time when dance floor safety has become a major concern in regard to sexual misconduct, fentanyl lacing, covid, etc. Your voice has an impact, so, what are your thoughts on how we can make music events a safe space again?
Dance music was always supposed to be inclusive and supportive, and it's sad that a small percentage of people don't respect that environment. Even as artists we aren't immune to this stuff. Ian was roofied this year at our show in Chicago on New Year's Eve. We've had to deal with people being inappropriate towards us and our wives at shows. It's just not a good time when that stuff happens.
As far as sexual misconduct goes, it does not have a place anywhere. Venues/promoters should not allow registered sex offenders to attend their events by using NSOPW, to start. In terms of drug use, I think that it has, and frankly always will be a part of the dance scene. However, we think that testing kits should be much more accessible at shows and festivals, as they truly do save lives.
Ultimately, venues, promoters, and festivals should do a lot more in advocating for a safer environment publicly and behind the scenes.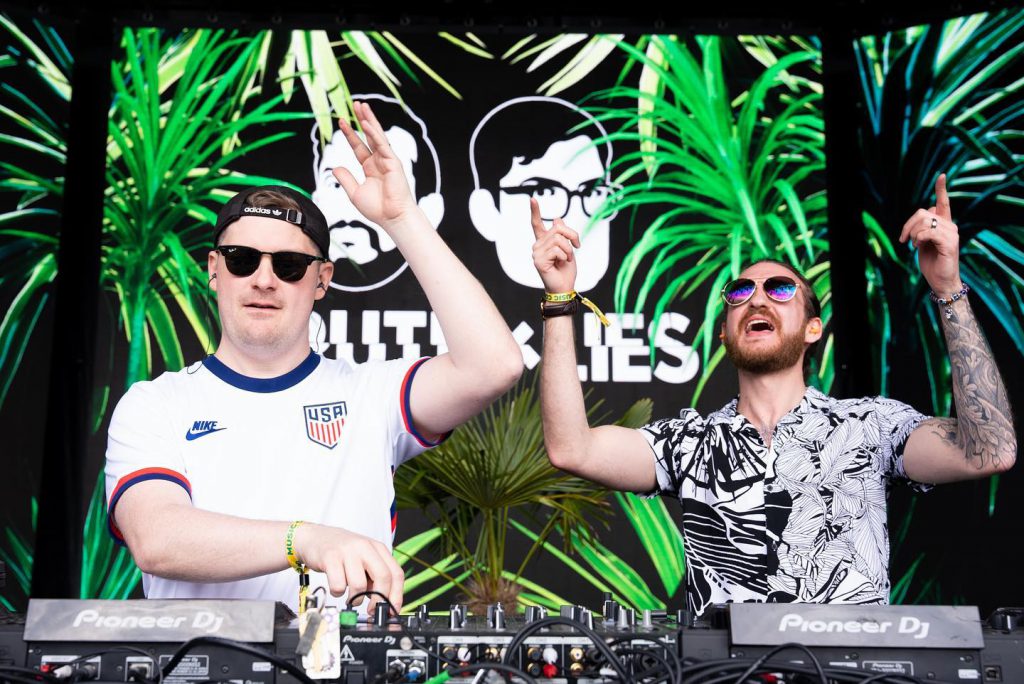 Moving from dancefloor safety to mental/physical health. As you continue to take over the scene, your schedule is getting more and more intense. What are some ways that you keep your body and mind in tip-top shape, and how do you personally deal with the pressures of the party lifestyle?
Learning how to travel while playing shows is no joke. Part of it is planning a sleep schedule with traveling, trying to eat healthily (but if you know us, we can't turn down a good In-N-Out), and not drinking too much while touring. There's a lot of peer pressure to party hard these days, and there are times that we DO party pretty hard, like at Miami Music Week. Also, when we're not touring, we try to rest up and we don't really go out too much; Taking time during the week or an off weekend to relax, go to the gym, and recharge mentally. 
Let's end on a fun one. In your Beatport bio it states that you love to eat a lot of food! If you had to pick only one thing to eat for the rest of your life, what would it be, and where are your favorite places to eat in NYC?
Ryan: If I had to pick one thing to eat for the rest of my life, it would have to be the chicken wings from Duck's Eatery (pandemic casualty) in New York City. For places that people should try in New York City, I would do pizza at Lucali, Ivan Ramen for ramen, Dinosaur BBQ in Harlem, and going to Death & Company for the real NYC speakeasy drinks.
Ian: My mom is from Argentina, so I'm going to have to go with some Milanesa and French Fries. Such a comfort food for me!
---
Follow Truth x Lies on Social Media:
Website | Facebook | Twitter | Instagram | SoundCloud | Twitch