Blvk Sheep blurs the lines between genres and ascends to even greater heights with IMMORTAL!, his debut EP on Bassrush Records.
---
Blvk Sheep has rightfully risen through ranks in the realm of all things bass and trap. The budding producer rapidly laid claim to attention after winning a remix competition hosted by NGHTMRE and Boombox Cartel for their song "Aftershock." Since then, the journey has only been on an upward trajectory.
Following a run of singles, remixes for Herobust, Wuki, and others, along with his 2020 EP, Dark Matter, Blvk Sheep maintains his ground in the bass sphere with his newest EP, IMMORTAL! via Bassrush Records. As the title suggests, the producer is unequivocally immortalized through the sounds across his thundering EP as he crafts up a genre-bending experience.
The EP's opening track, "SCUD!," sees Blvk Sheep team up with VRG. It begins with an eerie loop alongside trap elements and doesn't take long before the track shifts into the cut-throat lead. In the second drop, the song once again shifts gears with an alternate beat while still maintaining the elevated energy. Then, "INTERRUPT!" spends time ruminating in the space where ambient chords fill the air. The build-up is lengthy but well worth it as the song erupts with heavy wobbles. By nature, it plays out in a more toned-down and minimalist style compared to its predecessor.
Keeping in tune with the apt changes across the EP is "ARRIVAL!" This collaboration with FOCUSS and JOZIE finds itself settling into the same ambiance as "INTERRUPT!" The first 30 seconds are stripped back as a slow knocking paves the way for vocals that quite easily are reminiscent of emo days in the best way possible. It's cinematic, dark, and intense all at once, driven by immense notes.
The transition to the closing song, "AFTERLIFE!" with Apollo Vega, is seamless. This one offers the same quiet build before emerging with emotive vocals and a drop that feels synonymous with melodic bass as it fills with vast notes. It's an apt song to end the EP with as it comes full circle, illustrating the depth of Blvk Sheep's robust production.
Be sure to check out IMMORTAL! on Spotify or stream it via your favorite music platform!
Stream Blvck Sheep – IMMORTAL! on Spotify:
---
BLVK SHEEP – IMMORTAL! – Tracklist
SCUD! (with VRG)
INTERRUPT!
ARRIVAL! (with FOCUSS and JOZIE)
AFTERLIFE! (ft. Apollo Vega)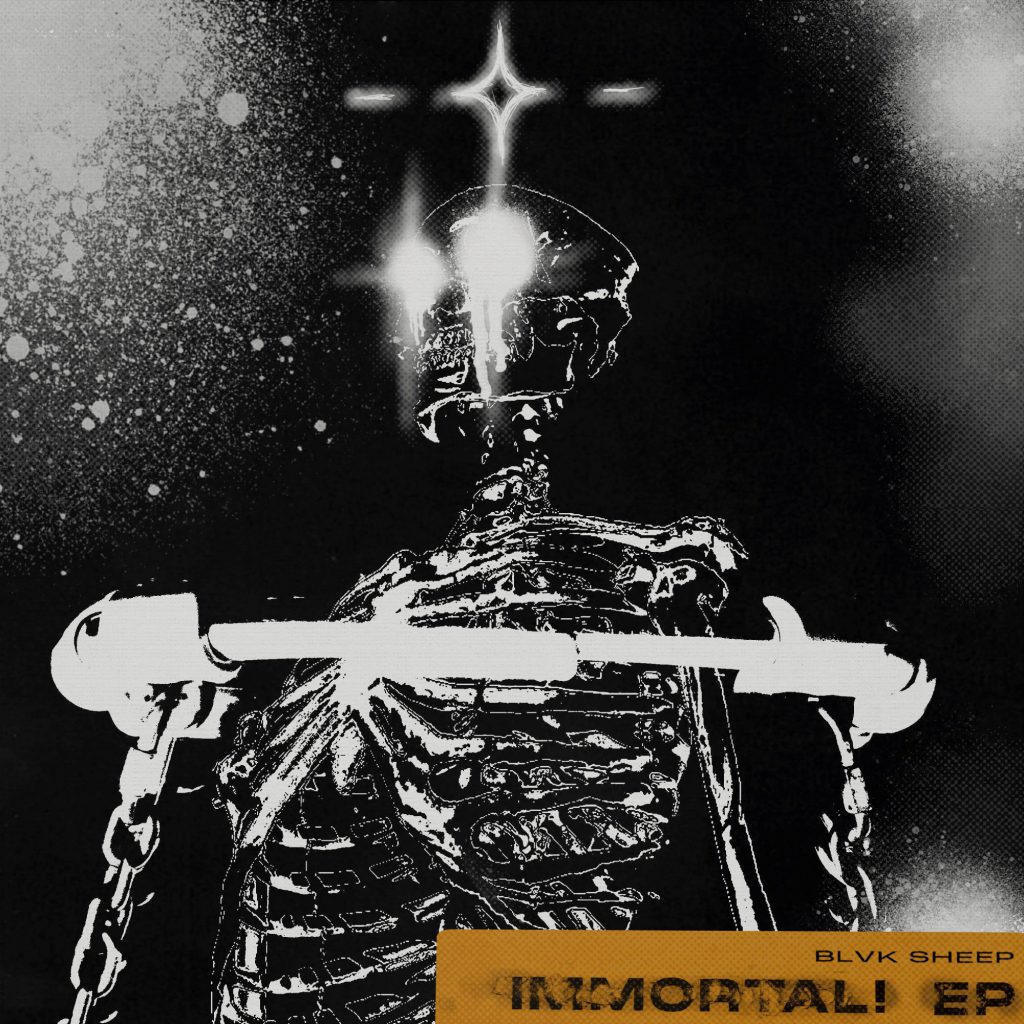 ---
Follow Blvk Sheep on Social Media:
Facebook | Twitter | Instagram | SoundCloud