Miane stopped by to chat after the release of "For One Night" and shared some insight about her tracks, festival appearances, and more!
---
Amplifying the crowd's energy is always a priority for creating an inviting space for Miane. This Ibiza-based DJ and producer has seen exponential growth over the past few years with releases on imprints like REALM, Repopulate Mars, Hot Creations, and Black Book Records. Miane's infectious beats found on tracks like "Not Today," "Lonely," and "My Girls" helped showcase her unique take on house and helped set the tone for an even greater explosion for her this year.
In 2022, Miane blended even more ingredients to create a perfect concoction for house lovers to gravitate to. Her satisfying brew of sweet, melodic buoyancy was front and center on tracks such as "Don't Wanna Lie" and "Broken," both of which saw her return to Black Book Records. More recently, she delivered her latest track on the Chris Lake-led label, "For One Night," which sees her offer yet another groovy house gem with a hypnotic bassline and perfectly placed vocals.
After appearing at HARD Summer and Shambhala earlier this summer, it became even more clear that Miane can serve up some house goodness wherever she goes. Luckily for us, we had the chance to chat with her to get some added insight into how she cooks up such savory tunes and plenty more. Give "For One Night" a listen on Spotify or your preferred platform, and read on for the conversation.
Stream Miane – For One Night on Spotify:
---
Hi Miane! Thank you so much for taking the time to chat with us today!
Hello, It's a pleasure!
Your latest release, "For One Night," is out now on Blackbook Records, featuring longing vocals and a funky drive that keeps the heart pumping. What did the production process look like when you were setting the foundation for the song, and how did it morph along the way?
This track is one of my most important of this year, it has been a long wait, but we are very happy with the reaction of the public.
In this track, I wanted to expose a bit more of my more melodic side with the more rhythmic bass, and also, I wanted to show my more "romantic" side. [Laughs] I think many of us have lived or are living something similar to the message of the track, and I thought it was perfect to release something like this.
We'd love to hear about your experience with a couple of the major labels you've worked on, including Repopulate Mars and Black Book Records. What have you learned about the music signing process that you can pass to up-and-coming producers?
Black Book Records has treated me like one of the family from the beginning, and as time goes by, I am happier and happier to be on this label. I've always felt very familiar with their sound, and it's impossible to hide how comfortable I feel with them.
Repopulate Mars is another label that I have always loved, the sound they have is very personalized, and they carry a line that is quite unmistakable. They keep their own style, and I love it. I'm currently having several dates at their party in Ibiza. They are also supporting me a lot, and I'm very grateful for that too.
We're currently immersed in the heat of the summer, and your production style has an equally energizing warmth in tone. But, if you were to personally describe your style using two ingredients, which would you choose, and why?
Oil, because I try to make it impregnate in the audience. Sugar is my more melodic side! [Laughs]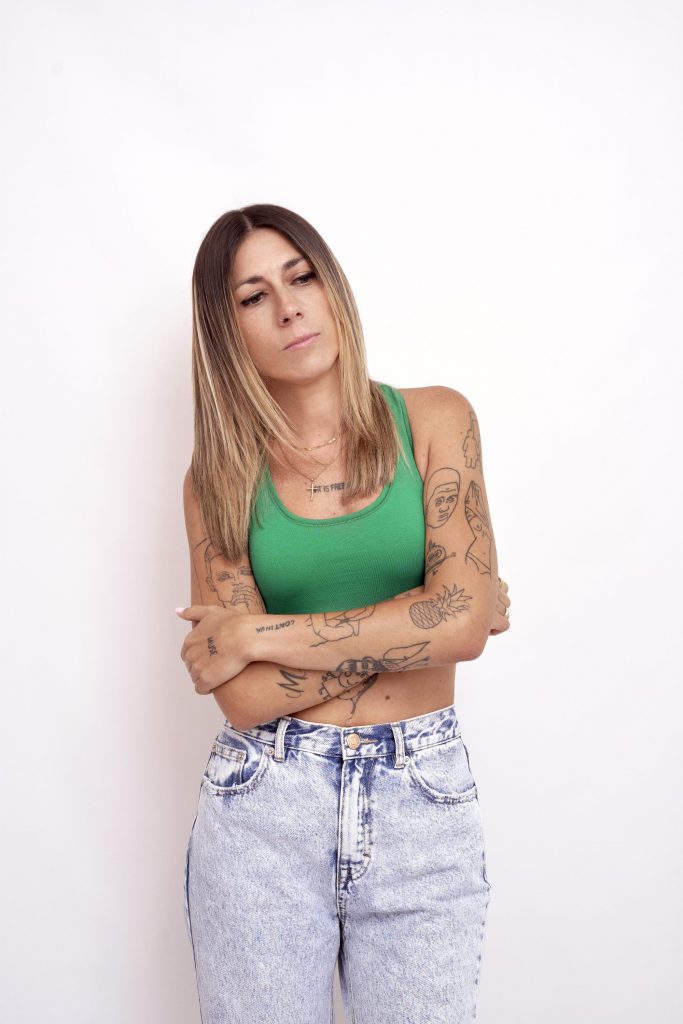 As an empowering female producer and DJ, what would be some advice for younger women looking to make their break in the industry?
Do not give up. There are going to be many difficulties along the way, but just as there are difficulties, there are opportunities. You just have to be prepared to take advantage of them. And also, the only person you have to compete with is yourself.
This year you've hit a number of festivals like Shambhala and HARD Summer, in addition to preparing to hit the stage at ARC in Chicago. What has your experience been like during this year's festival season?
The truth is that I'm playing at many festivals, and I'm living a dream. I'm enjoying each one of them as if it were the first and it's incredible, so many experiences, so many cities… it's truly unbelievable.
You've also recently embarked on your For One Night Tour, congratulations! Besides those festival experiences, have there been any stops that have been special for you so far or ones you're looking forward to the most?
New York, I really wanted to go there. When I was playing at Brooklyn Mirage, which was amazing, it was the moment I thought, "wow, I'm here, and thanks to my music." That was one of the moments that life shook me up and made me realize that I'm going where I'd been dreaming for so long from my studio.
Finally, let's shine a light on some other artists in the scene really quick; which three tracks have you been rinsing the most in your sets lately that aren't yours?
Chris Lorenzo – Mami
Teklow & Wolfire ft. Xojordan – Make A Flip (Extended Mix)
PAJANE – Back Once More (Extended Mix)
We appreciate your time, and we are so excited to see you light up hearts on the dancefloor this year! Take care, Miane.
Thank you for supporting me. Greetings!
---
Follow Miane on Social Media:
Website | Facebook | Twitter | Instagram | SoundCloud | YouTube