After a two-year hiatus, Shambhala Music Festival proved it still contains the friendly community and magical experiences it was founded on.
---
Shambhala Music Festival this year was an incredible experience and worth the three years it took to come back to fruition. To give an accurate review of this year's Shambhala, you must know what Shambhala encompasses. Shambhala music festival is a 3-day festival at the Salmo River Ranch in the gorgeous forests of British Columbia.
Though it's advertised as a three-day festival, attendees can arrive as early as Tuesday, leave as late as the following Tuesday, and most do. This is an excellent way for attendees to beat the line traffic getting in, meet their neighbors, and decompress and sleep after the festival to prepare to drive home. Music starts Thursday, but sound camps throughout the campgrounds go all hours. Having been unable to attend Shambhala since 2019, I was excited to make my way back to the festival – and I was impressed by the experience.
The line to get into Shambhala is usually horrendous, and this year was a mixed bag for attendees.
Even with all the additional days to enter, it's been anywhere from three to upwards of 16 hours with only one available entrance. In 2019, arriving at the early hour of 7am still had us waiting six hours to enter. This year, an additional entry was added for staff which maybe cut the line down but not by as much as you would think. Though many Shambhala veterans have mastered the best times to try and enter, other first-timers this year mentioned wait times ranging from two to nine hours. Issues were credited to new software and being short-staffed.
That being said, although Shambhala was understaffed this year, they held it together incredibly well. The staff was very attentive, and even though medical crews were picking up extra shifts, every call was handled with care and alertness. I truly commend the Shambhala staff and volunteers for holding together what could have been a problematic disaster. The shortage was barely noticeable while being in attendance, and all in all, the event was handled smoothly.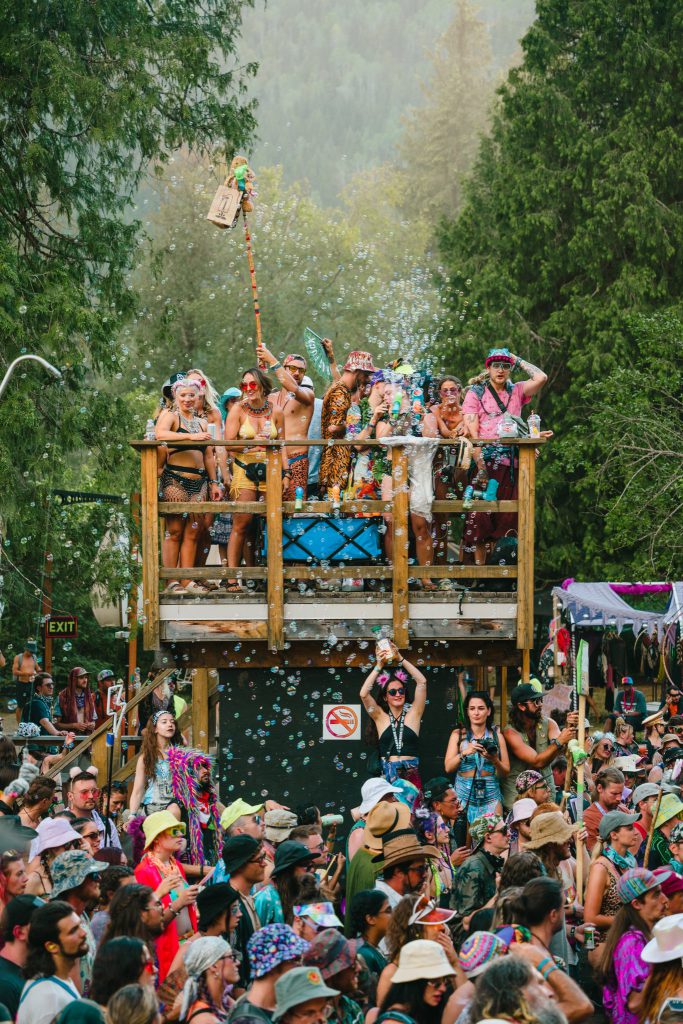 In terms of the production, Shambhala absolutely killed it!
From the incredible lasers at the Pagoda stage to the intense bass at the AMP stage, absolutely nothing was lackluster. Everywhere you turned, there was some sort of fascinating piece to look at or explore. For example, inside the festival grounds, there was a treasure hunt that I followed. We would stumble upon a box and a QR code next to it.
That QR code led to a personality quiz that ended with a riddle. The answer to the puzzle would unlock the box, which had little trinkets to take, and then the next riddle would lead you to the next box. Ultimately, the final box contained Shambhala merchandise! This treasure hunt was a great way for us to interact and meet other attendees also trying to figure out the riddle.
At each stage, there was an art exhibit walk-through that contained some of the most remarkable pieces of art I've ever seen. One notable piece interacted with an app on your phone, which, when held up to the painting, made it slightly 3-D and made the painting move and transform like a trippy scenic clip.
Shambhala is superb in creating areas around the event grounds and near stages that ideally offer places to sit or lay down and still enjoy the music and production. One of my favorite hangout spots was sitting in the bench areas out by the Grove stage and hanging by the beachside of the Salmo River, listening to the Living Room stage.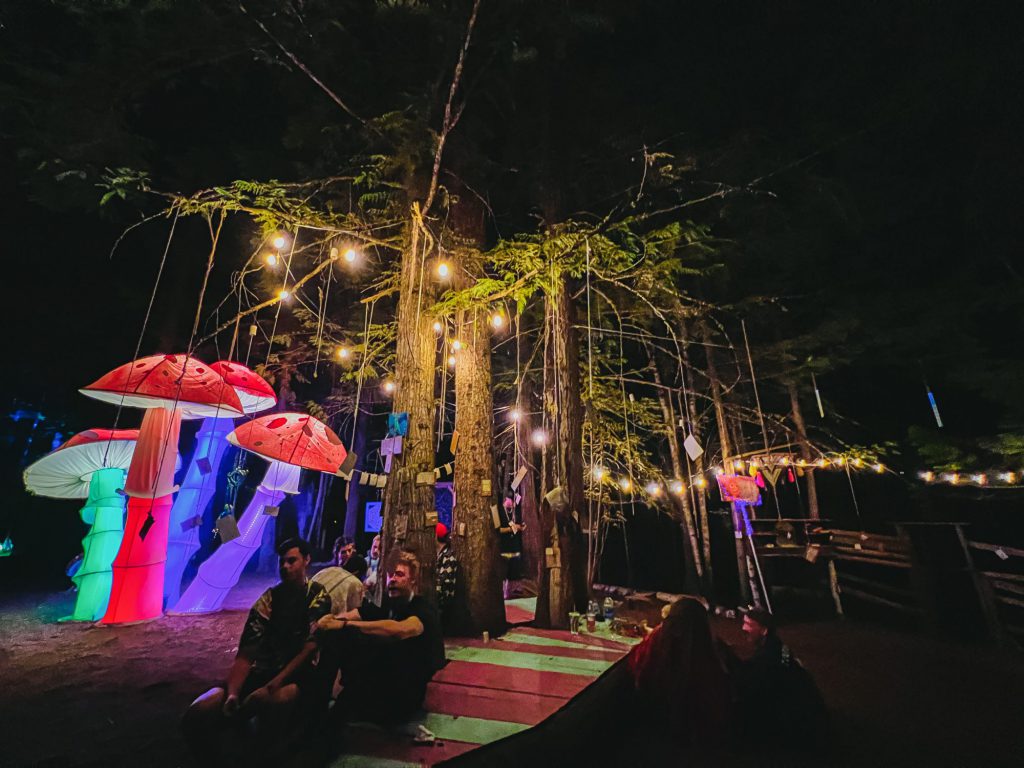 When it came to the food, the selections were delicious and varietal.
I made it my mission to try every single vendor at least once, and some of the standouts for me were the warm ricotta balls, a great snack at the end of the night when it was colder, and the cold salad wraps, perfect for the sweltering sunny day. One of the better parts of the food vendors here compared to other festivals is that the portion sizes are larger; therefore, you get more bang for your buck.
The only concern I had with the meal amenities was that the food was only sold within the festival grounds, which was a bit of a walk for attendees out in further camping areas. In the future, it would be nice to see more of a camper's "lounge/vendor" area, where attendees could grab a coffee, food, or merchandise closer to the festival grounds.
One of Shambhala's most interesting rules is being an alcohol-free event.
While some don't enjoy this rule, I find that it creates the best atmosphere. Being someone that attends many festivals which sell and allow alcohol, I've seen that it can create disruptive and sloppy attendees and, in some cases, dangerous; when people mix alcohol with other substances. Rarely did I see any attendees being rude or unable to function. It was so refreshing to have a high-spirited and loving crowd around at Shambhala instead of seeing people passed out everywhere.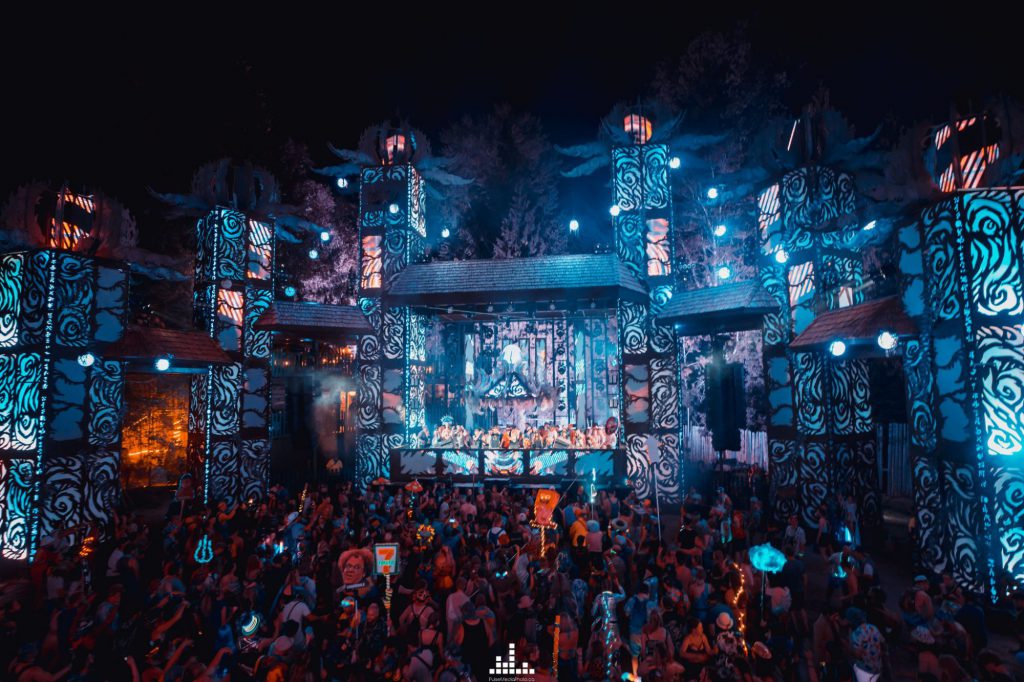 As for the music, Skiitour brought the energy needed to start the weekend off on Thursday.
It was so fun seeing the buzzing excitement pulsing every time someone mentioned the return of Shambhala after three years. Additionally, A Hundred Drums gave a standout performance on Thursday, flowing through a tantalizing groove of heavy, deep bass that entranced the crowd and connected to the heart of Shambhala.
Friday's new Village Stage Grand Opening was undoubtedly an incredible display of talent.
Trapeze artists, flow artists, and an incredible vocalist came together to put on a 45-minute complete show unveiling the new, upgraded stage. The artists of Le Cirque de la Nuit gave one of the best performances I have seen, adding elements of fire, heights, swords, and heavy structural objects while performing to a custom score by Hollywood composer Zain Effendi. The unveil showed the replacement of the old geodesic structure with a new updated dojo-inspired stage design.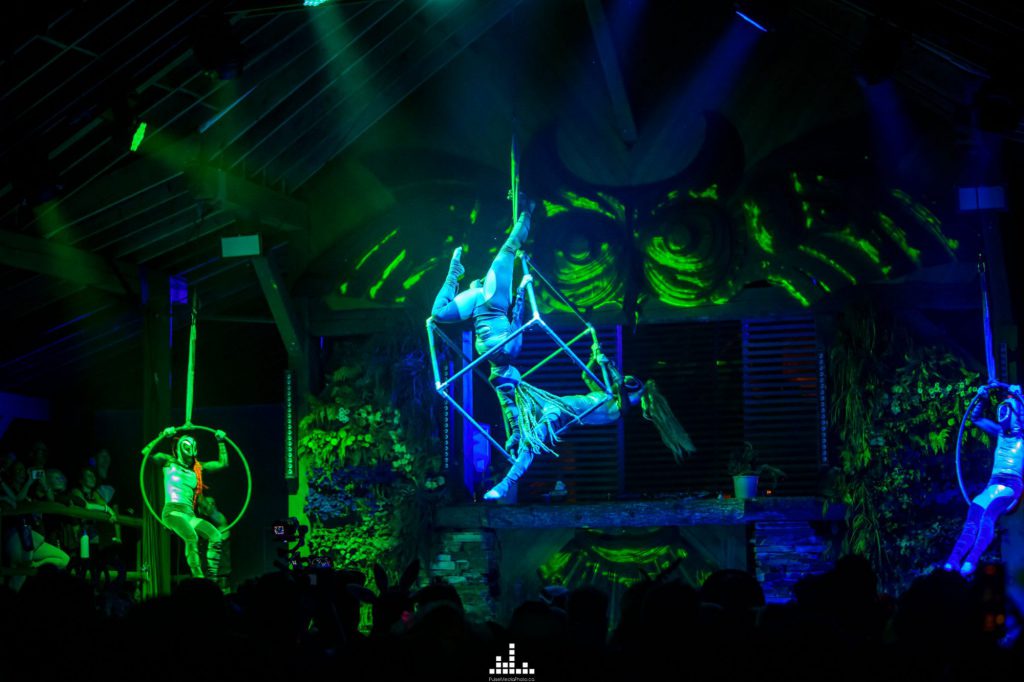 Later that night, the surprise artist featured the return of Shambhala's pride and joy, Excision.
Having become renowned for his past performances at the festival, it made sense for Excision to christen the newly developed stage with a performance. He delivered one of the best classic sets I have seen from him in a while, reminiscent of his earlier years. The energy level from him and the crowd was unmatched as he cycled through multiple genres and had every single person jumping and dancing.
Other notable performances of the weekend left crowds in a stunned state of mind.
This included the spectacular visual array CloZee brought to the Pagoda while blessing us with a new unreleased track she had with Ganja White Night. The Sponges and Defunk brought funky vibes to the Fractal Forest, while the DNB Girls Takeover threw down in an epic three-hour showdown. Additionally, Deathpact unveiled on Sunday that the mysterious artist is actually two artists, leaving attendees with more questions than answers on who they could be.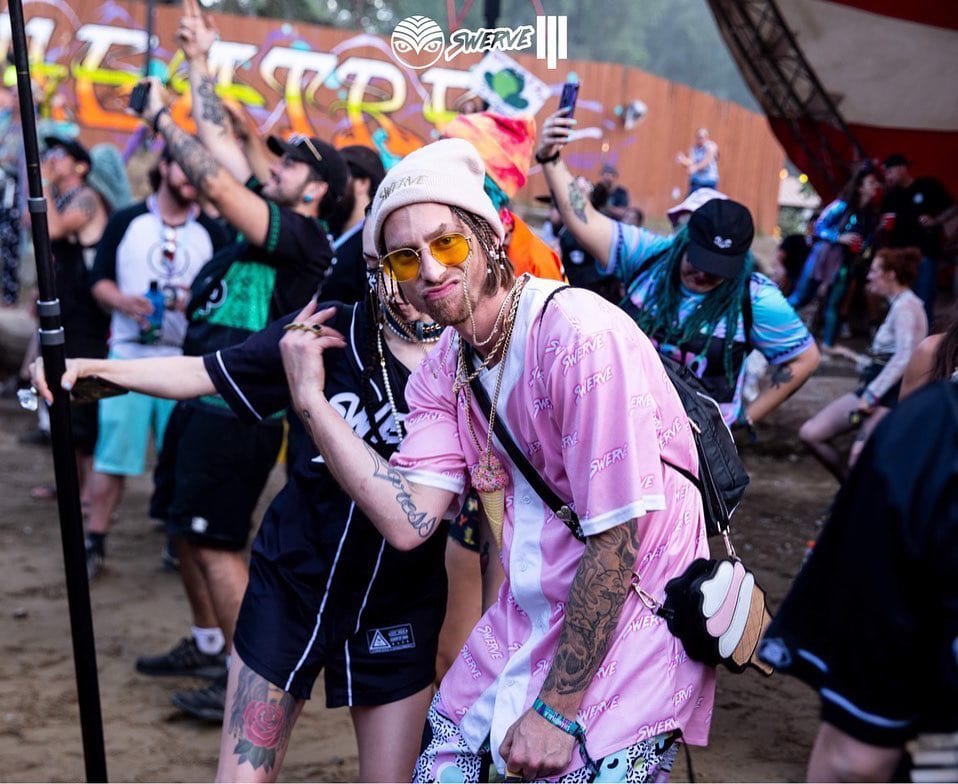 The best part of Shambhala is the people you meet and the 'Farmily' surrounding this event.
This year, the Shambhala antics were a highlight for me. Some of these moments include seeing a sporadic, fun lightsaber fight ensue in the food market, volunteering to teach a silly water aerobics class in the river, and seeing random dance circles pop up with someone towing a prominent speaker around.
Starting from the first day of attendance, I befriended neighbors around my campsite and created friends I will continue to hold in my heart. A crew of Canadian Shambhala veterans welcomed us into their inner circle and were adamant about showing us around new artists and spending time including us in their ventures.
From hanging out on a giant ducky in the middle of the river to watching one of their friends, Metafloor, absolutely crush it with some deep, bass-heavy beats at the Cedar Lounge, complete with their own dancing pole and gumball machine, this crew truly embodies the spirit of Shambhala. We even participated in their group's themed outfits created by their merchandise line Swerve Supply Co.
A notable moment for many attendees was the number of animals in attendance. I'm not talking about service animals; this one is aimed at the farm animals. Starting Friday night, the cows in a nearby fenced-off pen managed to escape and roam around the campground tents. Though the cows were harmless, animals such as wild turkeys and bears, which are known to be more aggressive, were also roaming the campgrounds.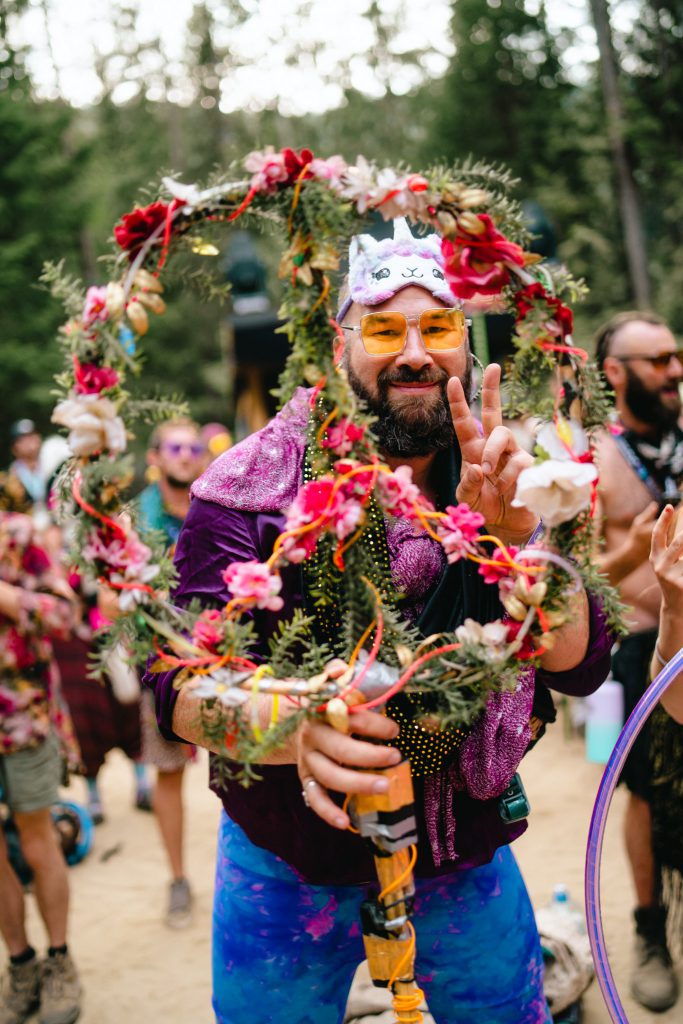 Overall, the vibes at Shambhala were at an all-time high, and I can't wait to return once again.
As the 'farmily' expands, a few logistical items can be reviewed to improve future experiences. Water stations this year were few and far between, as many of them were rarely full over the weekend. Many attendees in the ShambaLodging had to go inside the festival grounds even to get water. Additionally, the water stations were not distinctively marked within the grounds, and for newcomers, they proved challenging to find, especially as the heat levels rose.
Shambhala has proven time and time again that it truly is a safe and loving place that brings in not just an array of exquisite music but also the community festivals first began with. If you haven't been yet, I strongly recommend it; you won't regret the experience and the friends you make.
---
Follow Shambhala Music Festival on Social Media:
Website | Facebook | Twitter | Instagram | SoundCloud | YouTube