UK-based producer Cristoph sat down to discuss his new label, Consequence of Society, as well as taking the stage at Tomorrowland and more!
---
Over the years, few artists have cemented their name as one of the most consistent producers of house music as well as Cristoph. After breaking onto the scene back in 2015 with his debut EP, Consequence of Society, catapulted him into the upper echelons of house music in a flash. In the following years, there has been immense growth from the esteemed producer as he has taken the stage at some of the world's most prestigious events and has crafted his unique sound under the watchful eye of the legendary Eric Prydz. 
Now the time has come to take his career to the next level. Cristoph has unveiled Consequence of Society Recordings, a new home for all things Cristoph. As it becomes more common for artists to take the liberty to release their music into their own hands, he strives for artistic freedom in his own right. Not only acting as a diving board into all of his future releases, but the label will also be home to new collaborations, projects, and producers that compliment his powerful, driving sounds.
As Consequence of Society steps into the spotlight, Cristoph has ushered in his new era with the labels first record, "Turning Away," featuring stunning vocal work from Ross Quinn. A robust yet beautifully refined single transports listeners into the smoke-filled warehouse vibes that have become synonymous with Cristoph's addictive dance floor-centric sound. We had the chance to sit down with the blossoming producer as he dishes on rocking the stage at Tomorrowland, working alongside the iconic Eric Prydz, and much more. Read on below to get a closer look at the one and only Cristoph. 
Cristoph's latest single, "Turning Away," featuring Ross Quinn, is out now. Listen on Spotify or your preferred platform and read on for the conversation!
Stream Cristoph – Turning Away (feat. Ross Quinn) on Spotify:
---
Hey there, Cristoph. Thank you so much for taking the time to chat with us today. First of all, congratulations on your latest single, "Turning Away," featuring Ross Quinn. The powerful vocals are airy yet transcendent and act as the perfect balance to your gritty industrial production that seems perfectly fit for a smoke-filled warehouse. Can you tell us a bit about how this single came to life?
Hey, no problem at all; thanks for the chat. I've been a big fan of Ross's voice for a while now, and during lockdown, I decided to drop him a message on Instagram to see if he fancied working on something. He was instantly up for it, so I sent him a quick project I was working on, and he delivered a stunning vocal. I went away and worked on it, and we ended up with about 4/5 different versions. Once the lockdown lifted, I tried a few more versions that would fit more into my sets and were influenced from the venues I was playing – as you say, those smokey, industrial warehouses. 
The funny thing is, when we actually got speaking to each other more we found out that our families actually know each other from years ago and his aunty was my mam's best friend throughout school, but unfortunately, they had lost touch. So it's been amazing on that front to put them back in touch after so many years. 
When you sit down in the studio to write a new record, are there specific formulas you like to follow in unearthing your stylistic sound or is each writing session a unique experience? Any personal rituals you try to follow to get the creative juices flowing? 
To be honest I normally take influence and ideas from the prior weekend's sets. If there's an area where I feel I wish I had a new track of mine to fit in, I will go away and try to write something to fill that gap. If there's nothing noted, I normally go off how I'm feeling on that day. For instance, if I'm feeling a bit subdued, I may write something darker. Or if I've been watching a really intense programme or film the night before, I'll try and take ideas from that and maybe write something with a longer breakdown and try to build some tension there.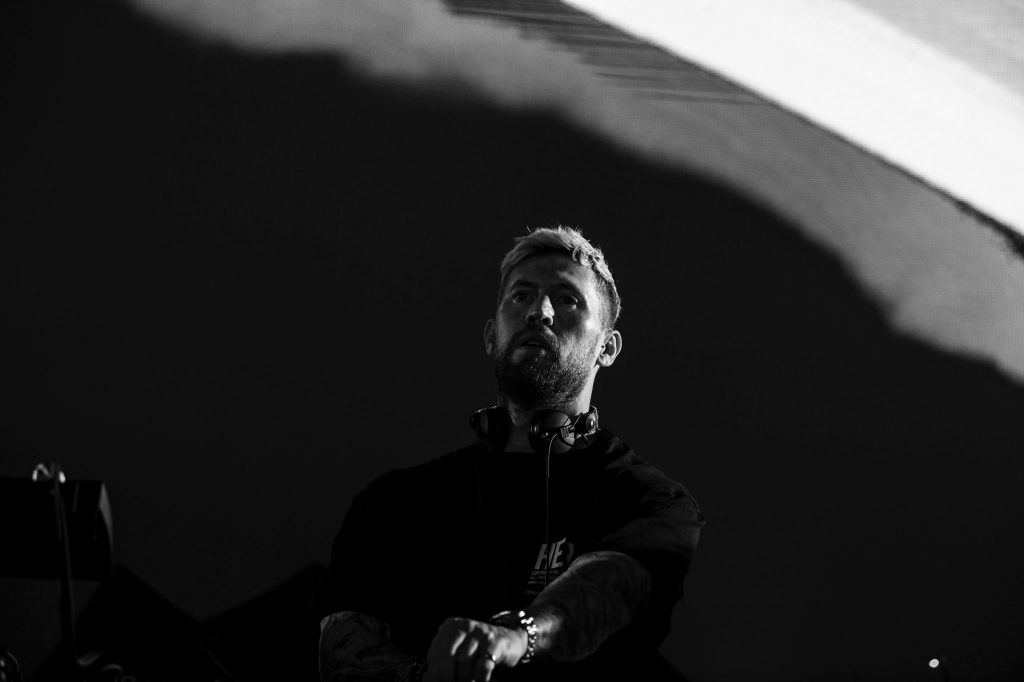 Further congrats are in order on the debut of your very own label, Consequence of Society. As a reflection of your 2015 EP, how do you feel you've grown as an artist from when you released that EP until now, heading up your label? 
Thank you, I appreciate that. As an artist, I always want to grow and evolve. I believe that if I sit still too long, I will become lazy and complacent – that's just how I am as a person. So, setting up a label was always a goal of mine; it was more just a matter of 'when' rather than 'if.' Since 2015 I've most definitely matured and understand the industry as a whole a lot better. I feel my productions have become a lot more layered and complex but also still true to who I am as an artist and a person. This being said though, there's a very long way to go until I reach a lot of the goals I have set for myself.
Is there a specific sound that fans can expect from Consequence of Society? Besides this initial release of "Turning Away," what can fans expect from the label moving forward? Any future releases you can divulge? 
Anyone who knows me and who has listened to one of my sets will be able to tell that I do enjoy music across the whole house and techno spectrum. Some lean more towards the more melodic side and others towards a darker driving side, and the label will be no different. I just want to release music I like to play and listen to, and because I have quite a large unreleased back catalogue, having something I'm 100% in charge of allows me to get the tracks that people want from me out at a quicker pace rather than signing it to other labels.
There's another version of 'Turning Away' coming out soon, then there's a short list of tracks I will decide on which has the likes of 'Swoon,' 'Tha Music,' 'The Curse,' and 'Trigger' on. However, I'm still aiming to write a new track every week, so the shortlist is constantly getting things added and taken off. 
You recently came off of playing arguably the biggest festival in the world, Tomorrowland in Belgium. It must be a significant milestone for any DJ. Can you tell us a bit about what that experience was like for you?
I've played there four different years, I think it is now, and all I can say is – Tomorrowland is insanely good! It was an honour to play all 3 weekends, and the Freedom Stage really did blow my mind. It was absolutely massive, so for someone who suffers badly from nerves, the first weekend was a bit overwhelming. However, by weeks two and three, I knew what I was walking into, allowing me to settle and enjoy the experience even more. It's great to meet and catch up with so many fellow artists, and I also love getting to see them play. The new HOLO show blew my mind! 
Over the years, you worked under one of the biggest names in dance music, Eric Prydz. How do you feel his influence on your music has benefited your productions over the years? Does the launch of your new label mean you'll be stepping away from that realm?
Eric has been, and always will be, a huge influence on my music. I've learned a lot from him, not only production-wise, but about the industry as a whole since I've been working alongside him. The launch of Consequence Of Society (COS) Recordings definitely doesn't mean I'll be stepping away from that realm; we still have a lot of shows planned together and are discussing other things too. On top of that, we are both managed by the same manager, so I'm pretty sure more projects will be put together in the future.
We've seen more and more individual artists turning to a similar path of fronting their labels and truly taking control of their music. How do you feel this benefits artists themselves as well as the community of fans as a whole? And has the process been easier or more complicated than you expected?
I believe most people will want complete artistic freedom; having your own label definitely helps that. Also, artists may write a track that they feel they need to release very quickly, so again, having their own label will allow this as you don't have to fit into a schedule or anything. Personally, I think I will still release on other labels as well if I feel they are fitting to what I do because I'm a firm believer in building relationships in this industry. The whole setting up of the label was far more complicated than I ever imagined. It's been a really enjoyable experience, though, and it will be a huge learning curve trying to build it from the bottom up. 
Now that house music and tech-house have gone mainstream globally, do you think that opens up space for artists like yourselves to thrive within the sub-culture? 
It's been amazing to see both house and tech-house breaking into the more mainstream areas. This can only benefit us as a whole as hopefully more people will pay attention to the sounds coming from the underground genres. I'll just continue to keep writing music I enjoy making and playing, and hopefully, it will allow me to grow within the industry as an artist. 
Finally, after growing up in the UK and playing more and more shows at different locations worldwide, how does your experience with the crowd differ from place to place? How are the scenes in London compared to a place like Chicago? 
I love the fact that different countries/regions all differ from one another. It really keeps you on your toes when you are constantly touring. You may find yourself going down a bit more of a tougher route, shall we say, in the U.K., then you fly over to America, and they may prefer a more progressive sound. It just means you have to try your best to keep improving on learning how to read a crowd and seeing what is working. I always try to get to an event at least an hour or so early to try to take in the vibe and read what the crowd is into.
---
Follow Cristoph on Social Media:
Website | Facebook | Twitter | Instagram | SoundCloud | YouTube