Nosferatu brings a sinister collection of high-speed hardcore hits on his latest album, Demonic Playgrounds, out now on Border Town.
---
Pushing the limits of hardcore sound, the devastating kicks of Nosferatu are sure to summon your darkest fears from the deepest corners of the earth. With a star-studded career of milestones only many could dream of, this hardcore heavyweight has made anthems for festivals such as Masters of Hardcore, Harmony of Hardcore, and Free Festival. In addition, this demonic titan has played at dozens of the biggest festivals, such as Defqon.1, Decibel, Masters of Hardcore, and Thunderdome.
Now, after making a post-apocalyptic return from Dominator Festival, Nosferatu released his fifth album, Demonic Playgrounds, which will take you to the brink of madness with its 14 tracks. He called upon hardcore demons such as Angerfist, Ophidian, Tha Playah, and Furyan as collaborators to help create this masterpiece that maintains a dark theme throughout its runtime to transport souls to where sinners lie.
Additionally, Demonic Playgrounds also acts as the debut release on his new record label, Border Town. This Dutch master's limitless inspiration for the future of the label has incepted with this diverse album bringing a range of heated kicks, satanic lyrics, and excruciating madness.
Listen to Nosferatu's Demonic Playgrounds on Spotify or your preferred platform, and keep reading for our take on the producer's latest body of work.
Stream Nosferatu – Demonic Playgrounds on Spotify:
---
Question your reality and push the limits of your destiny with the album's opening track, "Adagio for the Wicked."
"Adagio for the Wicked" summons you to push your limits with the famously known vocal sample of Zodiac Mindwarp and The Love Reaction's "Wolfchild Speech." This speech tells you to fear nothing and defy the logic of alphabets, that nothing is impossible. These lyrics are belted over and between Nosferatu's dark synths, heavy basslines, and psychotic kicks. Maintaining these elements, Nosferatu's remix of Miss K8's song "Icebreaker" introduces an orchestra of flat-key strings and dark, demonic vocal samples.
Continuing the use of heavy basslines and blasting kicks, "The only life I'll ever know" transports you to the underworld of melodic synths and vocals that command you to "take ownership" and "lead yourself." These lyrics, akin to the opening track, emphasize the theme of pushing limits and taking control.
Capturing the signature maniacal laugh of one whose gone insane, "Madness" will make the dancefloor go mental when played on large speakers. Similarly, the collaboration with Alee, "Crazy," will make you wake up in the asylum and lose your mind when you listen to its high-speed kicks and fear-mongering lyrics.
A "Sinister Connection" is made when you dive into the lyrics of this collaboration with Angerfist.
Upon listening to the lyrics of "Sinister Connection" with hardcore royalty Angerfist, the mentions of vampires allow you to think deeper about the intention of its addition to the song. The word "nosferatu" literally translates to "vampire," creating a perfect link to the producing artist. Comparatively to how vampires are predatory, Nosferatu is not afraid to prey upon the boundaries of the hardcore sound.
Continuing the satanic feels of tracks, "A Sinner's Descent" displays earth-shaking bass and creates hellfire in its supernatural kicks. Akin to the unearthly sounds of the previous tune, "Beginning of Time" with Tha Playah will transcend you to hardcore hell of brain-melting madness with the exception of its melodic break.
The title track "Demonic Playgrounds" creates an immortal sound to welcome you to its wretched gates.
In collaboration with Disarray, the title track "Demonic Playgrounds" provides heavy bass and high-energy vocals in a combination of eerie chants for those in search of a possessing tune of mortality. The lyrics chant that the "time is running low" and proceeds with the booming ticks of a clock to symbolize tranquility and comfort as you progress to a place of pushing boundaries and questioning reality.
Finishing the album with kicks of brutality and a higher BPM, "When The Devil Knows Your Name" is an uptempo grand finale to this dark, otherworldly album. With the insertion of the Holy Prayer, vocals chanting statements like "Lucifer," and screeching kicks, this track brings high-speed energy to the most maniacal of those on the dancefloor. This contrast of divinity and demonism creates a perfect combination.
Just as the literal translation of Nosferatu's name is of dark origins, his latest album stays on theme with this definition as a debut of Border Town. Nearly all the track names throughout this album promote the wicked theme of the underworld, and Nosferatu transports everyone through the nine circles of Hell from start to finish. This well-crafted work forms a cohesive asylum of power, precision, and darkness that pushes the limits of hardcore.
---
Nosferatu – Demonic Playgrounds – Tracklist:
Adagio for the Wicked
Icebreaker – Nosferatu Remix
The only life I'll ever know
Madness
Crazy
Sinister Connection
A Sinner's Descent
Beginning of Time
Demonic Playgrounds
Worst Nightmare
Comforting Evil
Beat the system
Hard uit me plaat
When The Devil Knows Your Name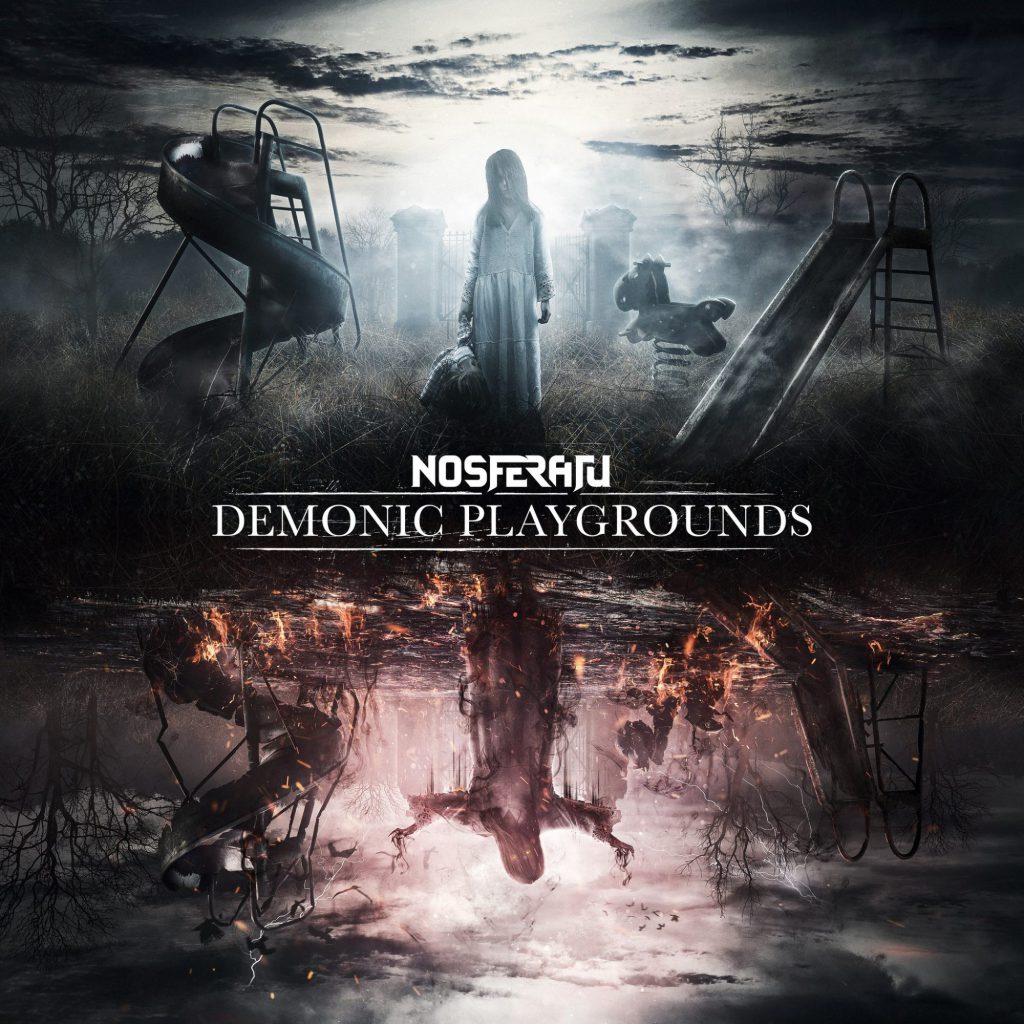 ---
Follow Nosferatu on Social Media:
Website | Facebook | Twitter | Instagram | SoundCloud | YouTube