SVDDEN DEATH announced his first festival, Summoning of the Eclipse, and dropped a lineup filled with some of the best in the bass scene.
---
There's seemingly nothing stopping SVDDEN DEATH from continuing his ascent to dominate the bass scene. He's released some of the heaviest tunes that can be heard today while also throwing incredible standalone shows and taking the stage at festivals near and far. Now, SVDDEN DEATH is laying claim to more territory in the bass realm with the launch of his latest project, a festival called Summoning of the Eclipse.
Set to take place on October 21-22 at The Caverns in Tennessee, Summoning of the Eclipse won't just be a regular experience at the unique venue when SVDDEN DEATH returns for the third time. Attendees will be able to catch sets in the cavern itself while also seeing top-tier acts take the stage above ground at the Blood Woods Amphitheater for the first time ever. Additionally, the camping option will allow anyone to stay on site for even more madness to ensue.
But the expanded venue isn't the only aspect of Summoning of the Eclipse that will turn heads as the lineup is teeming with talented artists beyond SVDDEN DEATH, who is set to play a VOYD set and b2b with Marauda. Joining him for the two-day affair are artists including ATLiens, Eprom, Sullivan King, and Wooli, as well as Eptic b2b Space Laces and Must Die! b2b Aweminus – and that's just the top of the list. Other standout artists who are set to make their way to The Caverns this fall include Lucille Croft, HVDES, Benda, Leotrix, Saka, Versa, YOOKiE, Sweettooth, Hekler, and IMANU.
Head over to the official website for more details, and make sure to sign up for pre-sale access before tickets become available on August 4.
---
Summoning of the Eclipse 2022 – Lineup: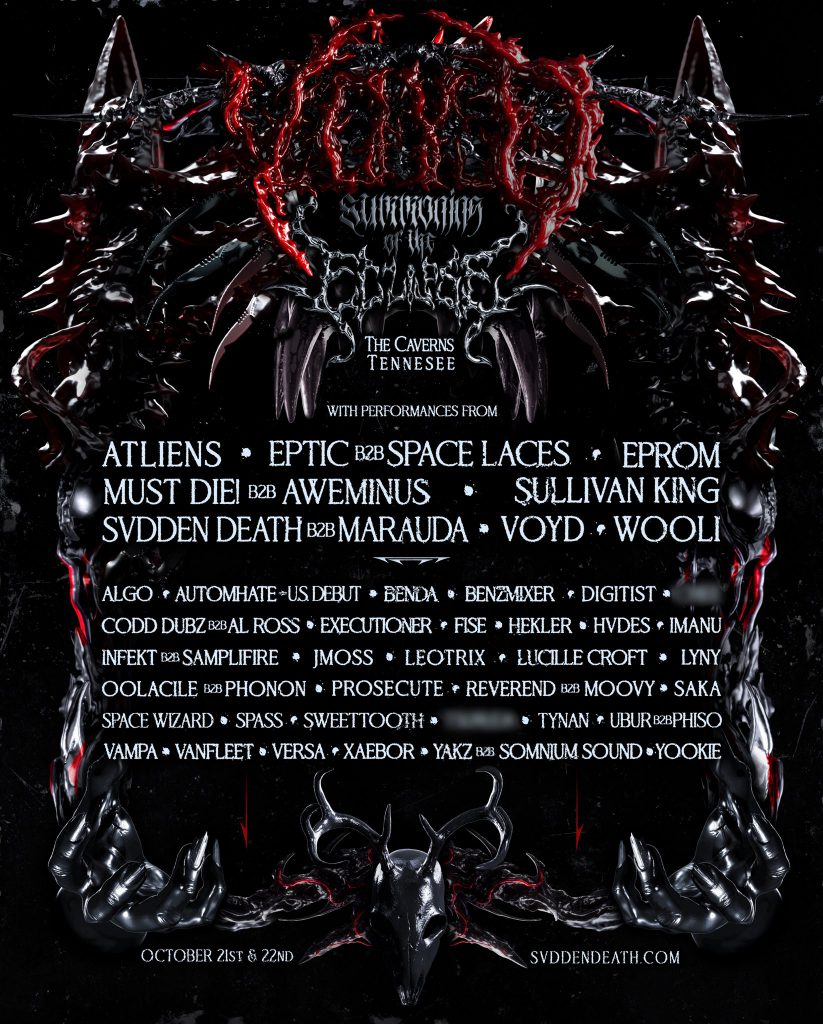 ---
Summoning of the Eclipse 2022 – Lineup By Artist:
ATLiens
Eptic b2b Space Laces
Eprom
Must Die! b2b Awminus
Sullivan King
SVDDEN DEATH b2b Marauda
VOYD
Wooli
Algo
Automhate (US Debut)
Benda
Benzmixer
Digitist
Codd Dubz b2b Al Ross
Executioner
Fise
Hekler
HVDES
Imanu
Infekt b2b Samplifire
Jmoss
Leotrix
Lucille Croft
LYNY
Oolacile b2b Phonon
Prosecute
Reverend b2b Moovy
Saka
Space Wizard
Spass
Sweettooth
Tynan
Ubur b2b Phiso
Vampa
Vanfleet
Versa
Xaebor
Yakz b2b Somnium Sound
YOOKiE
---
Follow Summoning of the Eclipse on Social Media: