Bigfoot Electro is returning for their second year with a stacked lineup featuring Truth, DMVU, The Widdler, Mr. Bill, and more.
---
Bigfoot Electro Festival is heading to Tracy City in Tennessee on May 26-29 for a proper Memorial Day Weekend celebration for bass lovers in the region. After making their debut in 2021 and seeing success, they continued to build upon the hype by announcing their initial lineup. Keeping the flame lit, the second phase has now arrived and is sure to cause a ruckus.
Headlining Bigfoot Electro this year is Truth, the duo undoubtedly will bring forth soundwaves that will cause the ground to rupture. Also joining in on the fun is The Widdler to keep the earthquake of deep wubs flowing. Along with two Yheti sets and Mr. Bill, bringing his own special flair to the festival.
While the headliners alone are enough to convince many to purchase their ticket asap, the lineup only grows with head-turning talent on the next line. DMVU, Ternion Sound, and tiedye ky are all making their appearance to contribute to the madness. To keep the eyes and ears enchanted, Supertask is also blessing the crowd with an A/V set. Further, Flintwick and Intergrate will surley throw some unique and unforgettable sets that you won't want to miss, trust us on that.
It wouldn't be a festival without a few takeovers, right? Try to catch the Eternal Drip Takeover and Juice Collective Takeover for some possible new favorites to add to your roster. Continuing, the undercard is full of drool-worthy artists like Frostbyte, Mad Salvy, Ujuu, Quite Possibly, and Vusive who definitely deserves your full attention just as much as the headliners. Attendees heading to the festival on Saturday will be treated to a special event dubbed The Wheel, which will consist of an open deck game show-like experience hosted by Levitation Jones and J Blu.
Whether you want to soar above the crowd on a zipline, create some memories playing some disc golf, or just simply experience the great outdoors on a beautiful nature hike, Bigfoot Electro has it all. Not to mention, if you accidentally headbang too hard, there are massage sessions available on site as well!
Those planning to attend can access all of the ticket and camping options available via their website, which include Car, RV, and Reserved camping.
---
Bigfoot Electro 2022 – Lineup: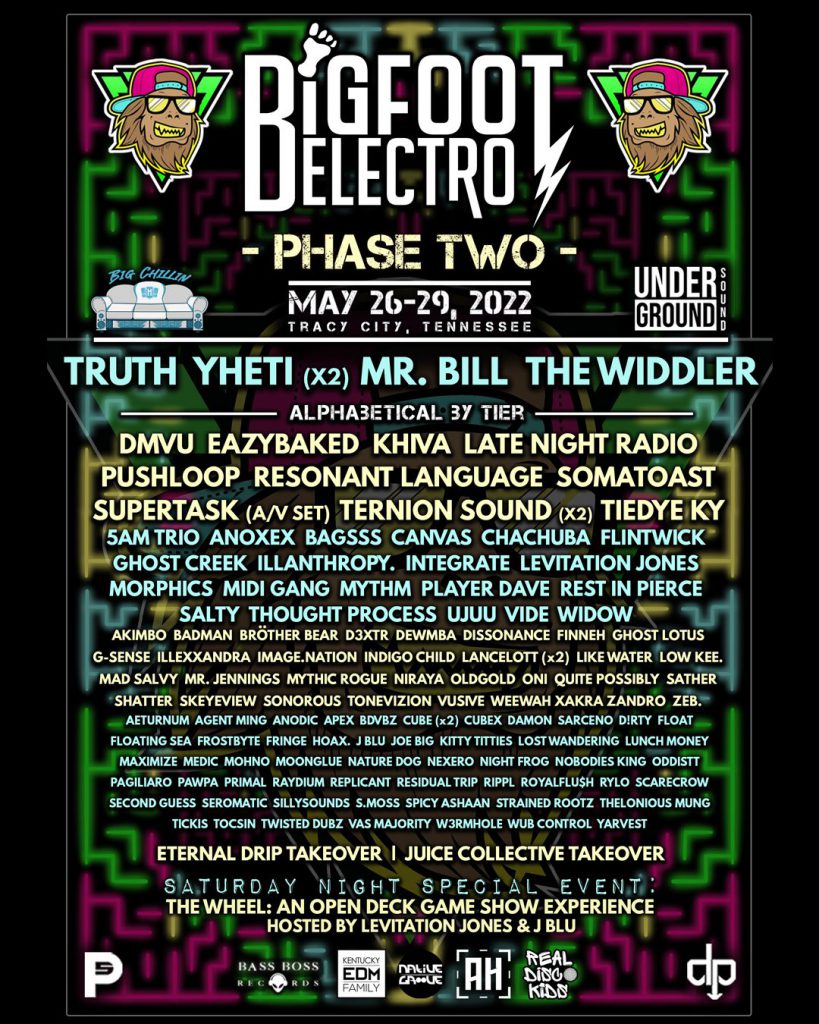 ---
Follow Bigfoot Electro on Social Media: